Have you ever wanted to try your hand at driving an excavator or bulldozer? Today we are sharing our epic guide to Dig This Las Vegas!
Where you can make these dreams come true!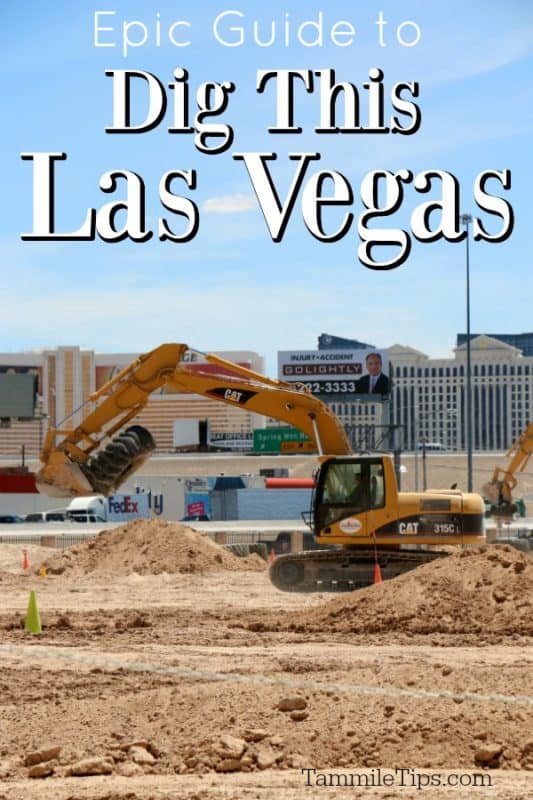 Epic Guide to Dig This Las Vegas
Growing up I liked to play in the dirt and mud. I had a dump truck and toy trucks and I would spend my afternoons getting muddy and just playing.
Over time I gave up the toy trucks and moved to dolls and other toys. Yet I always wondered what it would be like to drive a big piece of machinery.
I always wondered when I saw the people running excavators and bulldozers what it would be like to maneuver a big piece of machinery.
Would I be scared?
Would it be a total rush of adrenaline?
How in the world would I convince someone to let me sit at the controls and work their excavator?
I have had these thoughts for years. Always wondering but never really thought I would have the opportunity to actually fulfill this bucket list dream.
Thankfully dreams come true daily! My dream came true in Las Vegas where I had the chance to drive and use an excavator at Dig This Vegas!
Dig This Vegas invited me to visit during our trip and experience my bucket list dreams.
Let me just tell you if this is one of your dreams or bucket list items it is so much fun!!!!
My experience at Dig This Vegas started with my very first breathalyzer test. I am happy to say I blew a 0.00! Each customer is required to take a breathalyzer test before starting the safety orientation.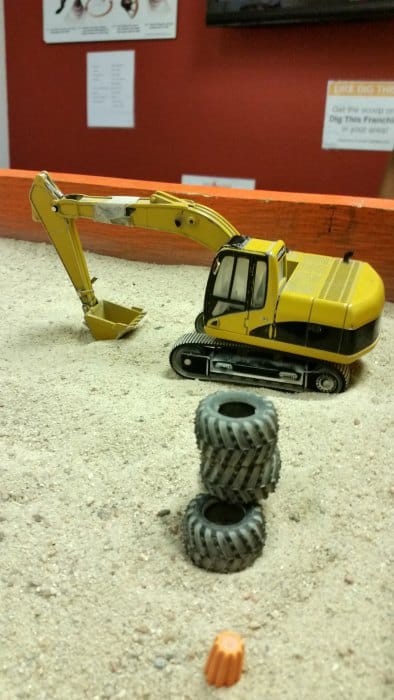 The safety orientation covered the equipment we would be using and the safety zone that are set up in the construction yard.
My class consisted of 4 of us from around the country. Each of us excited and a bit nervous.
As we walked out to the yard the other female in the group asked if I had ever driven one before. We smiled at each other knowing that we were about to fulfill a lifetime dream that always seemed unattainable.
We exchanged the look of 2 people who are nervous, excited, and hoping we don't kill anyone with the giant piece of machinery we are about to hop into.
Once I was in my excavator I took a deep breath and sent John a quick text message that I was excited, nervous, and praying that he took a ton of pictures of my experience.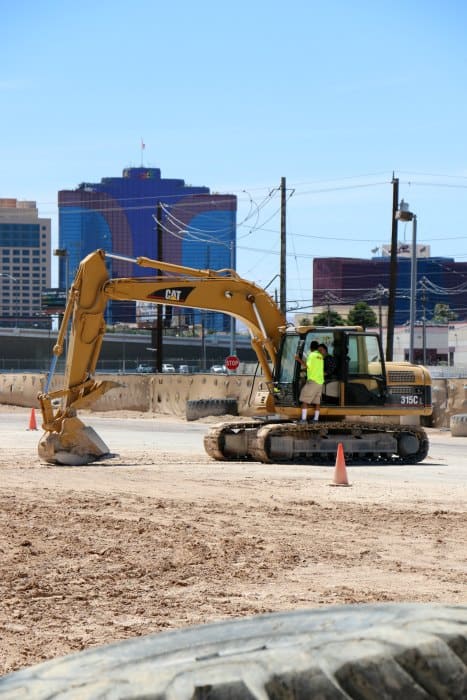 Our instructor was amazing! He talked us through basic maneuvering of the excavator before we started any of the exercises.  We learned how to maneuver the boom and open and close the giant bucket.
We also learned how to drive the excavator which is really different than driving a car.
Our first task was to maneuver forward and dig a trench. This is about the time I broke into a giant grin and just giggled.
There is nothing that quite describes the feeling of scooping dirt and creating a big pile. I flashed back to being a kid and playing in the dirt. I found myself relaxing and having an almost zen moment.
I was so at peace in the excavator just digging a big hole. I didn't think about anything other than just digging a hole. It was so dang fun and relaxing.
Once our holes were dug we had moved our excavators to another area in the yard. Can I just tell you that moving a big excavator is thrilling, bumpy, and a bit nerve-wracking? Holy cow those things are giant!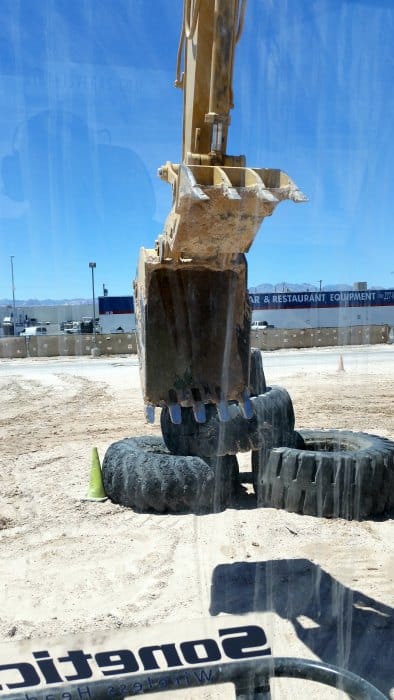 Our next skill was to move giant tires from one end of the field to another.
I had never really thought about how strong the buckets of an excavator are until I picked up a giant tractor tire and it folded in half in the bucket. Note to self never get in the way of an excavator bucket

We moved tires from one end of the yard to the other and stacked them on top of each other. This was a lot of fun and a took a bit more concentration and finesse than I had expected it too.
I took this video with my cell phone while maneuvering one of the tires. It was a bit interesting driving an excavator one-handed but I made it happen 🙂
Driving an excavator and maneuvering it is truly an art. I have so much respect for the guys and gals running these daily.
Our final task was basketball with an excavator.
We had to pick a basketball up off a cone and try to make a bucket in a tire. Remember when I mentioned that the bucket can squish a tractor tire in half easily…..imagine trying to get a regular size basketball into the bucket and not smash it.
It was one of my favorite moments of the entire experience. Slowly but surely lowering the bucket and gently picking up the basketball was so gratifying ….when I made the bucket I let out a huge giggle and totally had a moment of joy.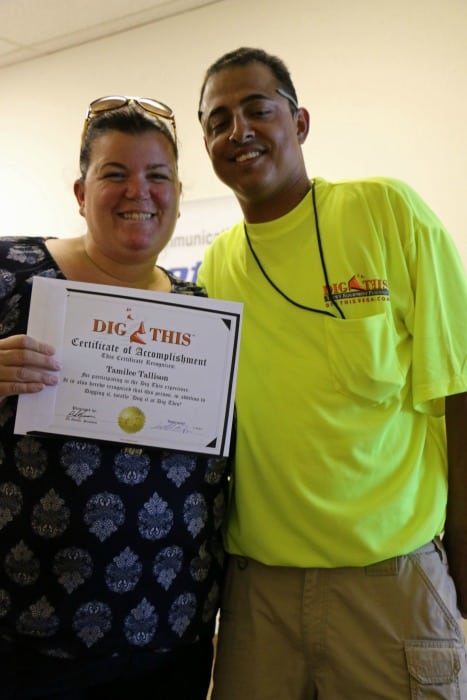 Our session ended with receiving our certificate of accomplishment for safely driving our excavators and not killing our guides.
The time I spent at Dig This Las Vegas was beyond amazing! This location offers each of us an opportunity to fulfill our bucket list dreams of driving big machinery in a safe environment.
If you have always wanted to drive a piece of big machinery I highly suggest visiting Dig This Vegas during your vacation or travels to Las Vegas! IT IS SO WORTH IT!!!!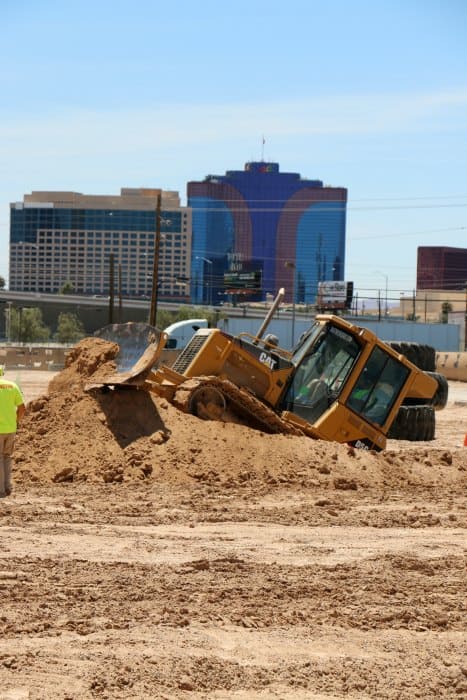 You can also drive a bulldozer at Dig This! Check out this great video showing the bulldozer in action
Important Details - Dig This Las Vegas 
Location: 800 W. Roban Ave., Las Vegas, NV 89044
Dig This is located on a 5-acre site adjacent to a 6000 sq. ft. reception/office/classroom/retail area
Dig This is 10 minutes from McCarran Airport & Mandalay Bay & 2 minutes from Speed Vegas
Phone - 702.222.4344/888.DIG.THIS (344.8447)
Hours - 7 days/week, 8:00 am - 6:00 pm
Reservations - check out how to book a session online 
Minimum Age Requirements:
- 3 yrs. (w/adult assistance) for 301.7D Mini Excavator
- 6 yrs/more than 48" tall can operate 301.7D Mini Excavator solo
- 8 yrs. for 279D Skid Steer & 305.5E CR Mini Excavator
- 12 yrs. for 315CL & 315FL Excavators
- 14 yrs. for D5K Dozer & Aggression Session
Equipment Fleet:
Bulldozers:
2 Caterpillar D5K Track-Type Dozers (machine specs) - "Bugsy" & "Harvey"
Excavators:
3 Caterpillar 315CL Hydraulic Excavators (machine specs) - "Atlas", "Brutus" & "Maximus"
1 Caterpillar 315FL Hydraulic Excavator (machine specs) - "Jake"
2 Caterpillar 305.5E CR Mini Excavators (machine specs) - "Barney" & "Fred"
4 Caterpillar 301.7D Mini Excavators (machine specs) - "Buster", "Pebbles", "Rubble" & "Trax"
Skid Steer Loaders:
2 Caterpillar 279D Skid Steer Track Loaders (machine specs) - "Badger" & "Pacman"
Additional Las Vegas Resources
101+ Things to do in Las Vegas
Downtown Las Vegas and Fremont Street
Free things to do in Las Vegas