I have to start off this post by thanking Carnival Cruise Lines for hosting us on the Carnival Breeze. We had an amazing time on the Breeze and can't wait to head out on another cruise!
Balcony Stateroom on the Carnival Breeze
This was our 8th cruise and the first time we have had a balcony room.  We were really not sure what we would think about having a balcony room.
Would we love it? Would we have a hard time going back to an inside room? Would it be really bright and hard to sleep in? Would it be loud from people walking by on the decks? These are just a few of the questions we talked about as we were preparing for our cruise. We honestly were not sure what to expect but were super excited to find out. Walking into our balcony room was AH-mazing! oh my! There is just something amazing about looking out your window at the world going by.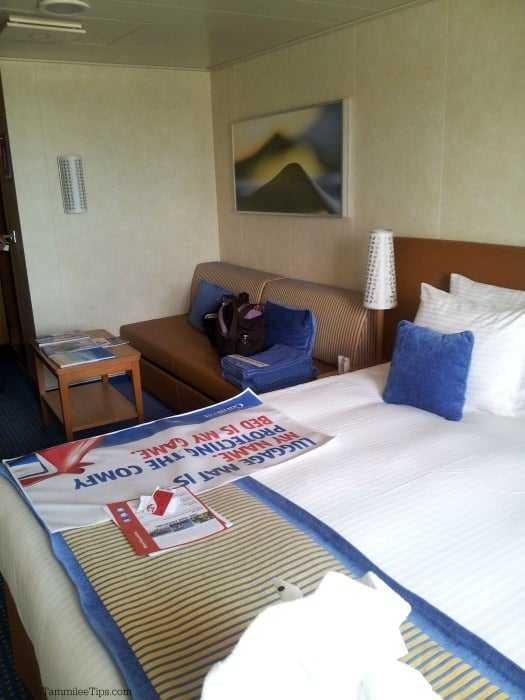 The balcony stateroom on the Carnival Breeze felt huge! I kept telling John there was so much space in the room I couldn't believe it. I felt like I could have lived in the room for months on end and been completely comfortable.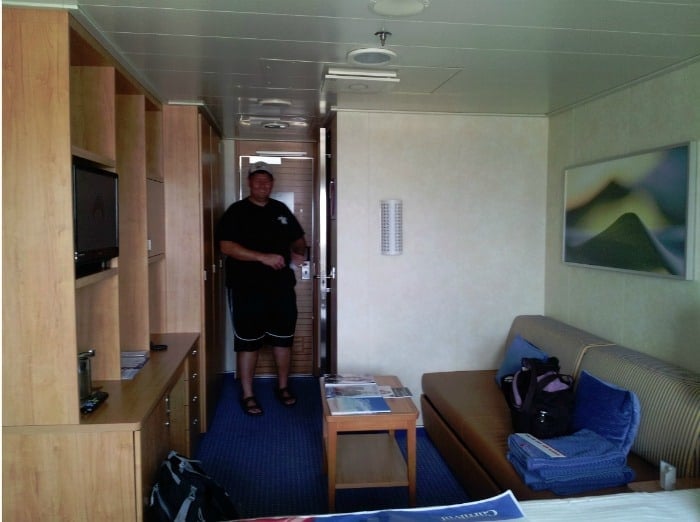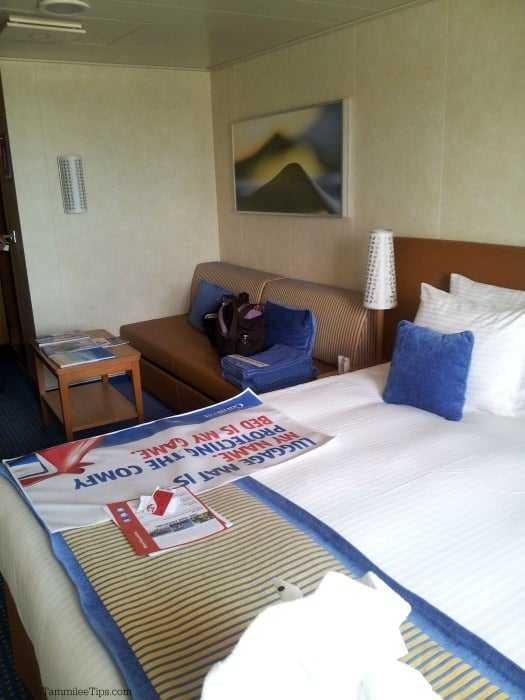 There is a fantastic couch in the balcony stateroom that is great for watching TV or collecting towel animals.  Our couch became home to our towel animals as the week went on. It was so much fun coming back into the room and seeing them lined up. Our room steward even made sure they were fashionable and ready for the beach with sunglasses and a whistle.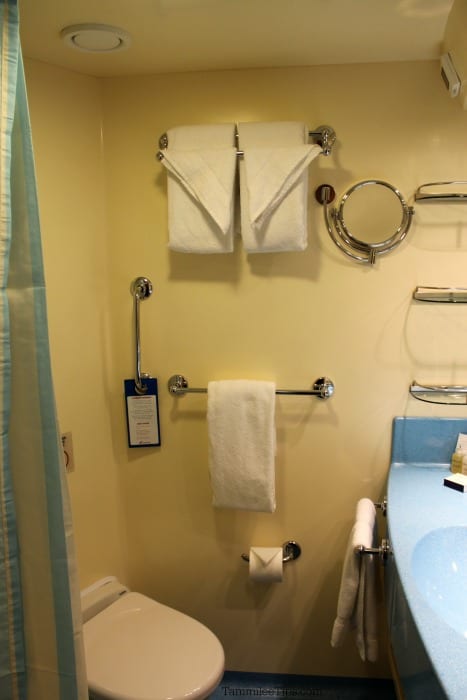 The bathroom is not huge but has everything you need. There are shelves for toiletries along with some counter space.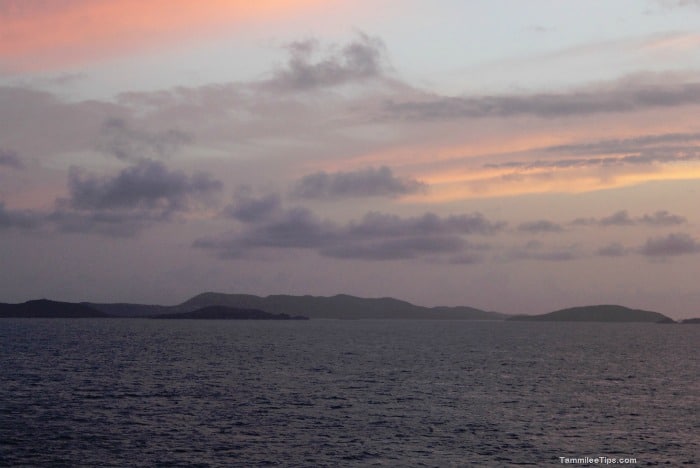 We spent so much time on our balcony. I figured we would end up spending a little time out there in the mornings pulling into port or to see what the weather was like. We ended up spending a LOT of time just relaxing on our balcony. We watched amazing sunsets, spent time together talking,  and just enjoyed being in the moment.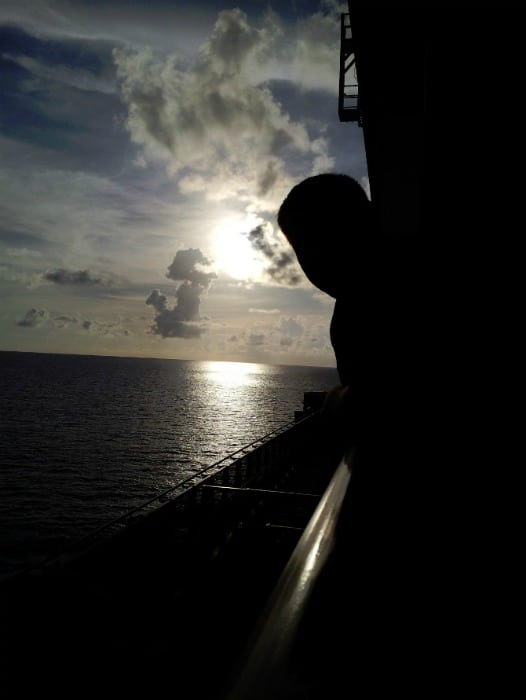 One more sunset shot since I think I took a few hundred of them from the balcony. It was so relaxing sitting with our feet up watching the sun go down.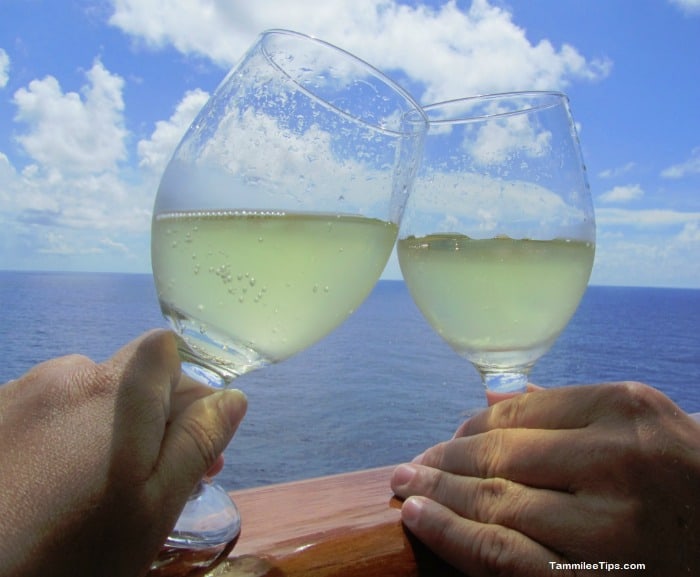 Now that we have had a balcony room I am not sure we will go back to an inside cabin. It was so relaxing sitting outside together. We ordered room service and ate lunch on our balcony, enjoyed a champagne toast for my birthday on our balcony, and just loved spending time together. Being able to have an area that was just the two of us was amazing.
Yes, there were people walking by on the deck below but it didn't really interfere with our relaxing. Every once in a while we could hear other people out on their decks but it was so beautiful outside we were not bothered.
Now that we have had a balcony I am dreaming of taking an Alaska cruise and sitting on a balcony watching the glaciers go by. How cool would it be to sit on your balcony and watch whales and glaciers? Holy cow that just sounds amazing!
Before the cruise we kept hearing once you have a balcony you will never go back and I must admit here in writing that just maybe true!
Additional Carnival Resources
Cruising to National Parks - Caribbean Ports of Call
 Looking for more information on the Carnival Breeze? Check out all of our posts on the Carnival Breeze