Epic Carnival Radiance Premium Vista Balcony Stateroom on deck 8. Check out what it is like to stay in this epic wrap-around balcony stateroom.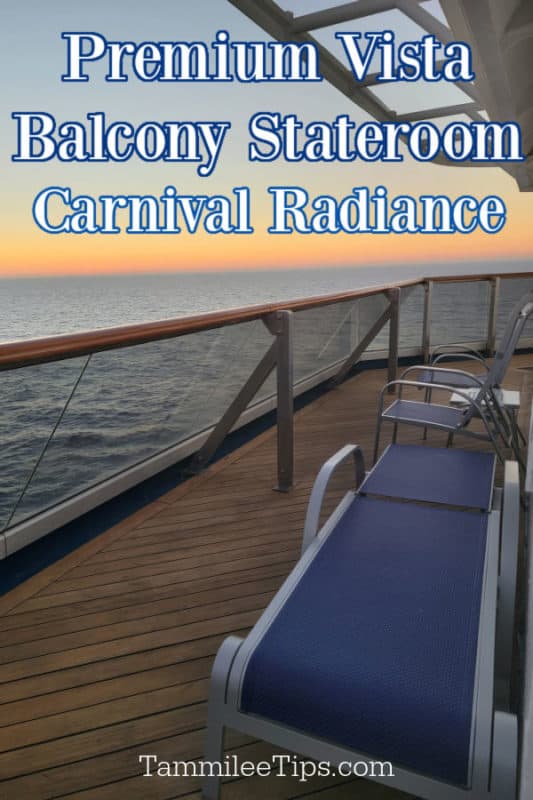 Carnival Radiance Premium Vista Balcony
Room - #8428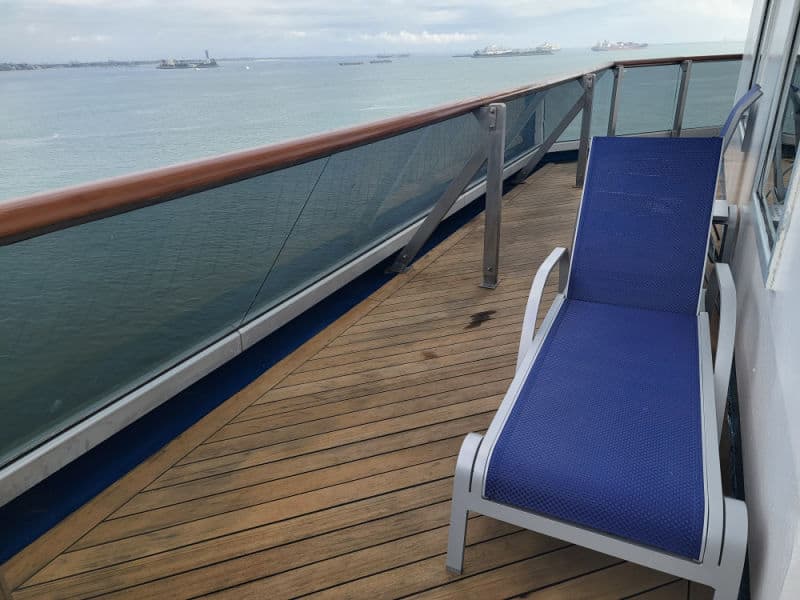 Premium Vista Balcony
The premium vista balcony is honestly a bit amazing. When we first walked out on it we could not believe how big it is.
The balcony wraps around the back of the ship. We had 2 regular patio chairs and 1 lounge chair available on the deck.
This would be the perfect balcony for an Alaska cruise or a Panama Canal Cruise.
We found ourselves lounging on the balcony at least once a day during our cruise. It was the perfect space for watching the sunset.
Being able to walk around the corner of the ship to get the perfect photo was amazing.
We are talking about booking a vista balcony or at least an extended aft balcony for this summer on an Alaska cruise. We also thought about the fact it has been a while since we did a Panama Canal cruise and maybe we should look for one of those.
Check out epic cruise deals on Expedia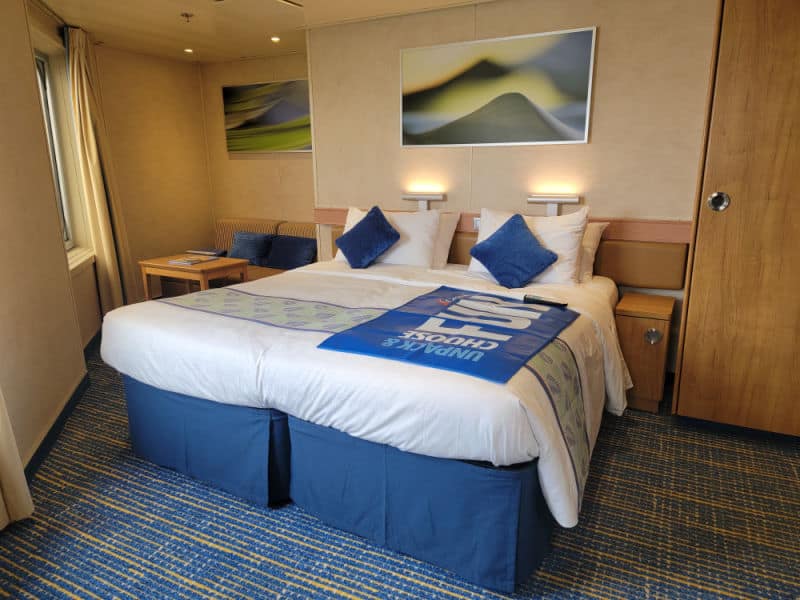 Bedroom
One of the best features of this stateroom is how the bed is situated. From the bed, you can look out two picture windows and a glass door to see the water and views.
The bed can be placed as 1 king or 2 twin beds depending on who is staying in the room.
There are two small nightstands next to the bed with lights directly above each person that can be controlled from the middle of the headboard.
The bed had four large pillows on it plus two small decorative pillows.
We found the bed to be pretty comfortable. It is a bit firm but that didn't stop of from taking multiple cruise ship naps and getting a good 8 to 10 hours of sleep each night we were on the Carnival Radiance.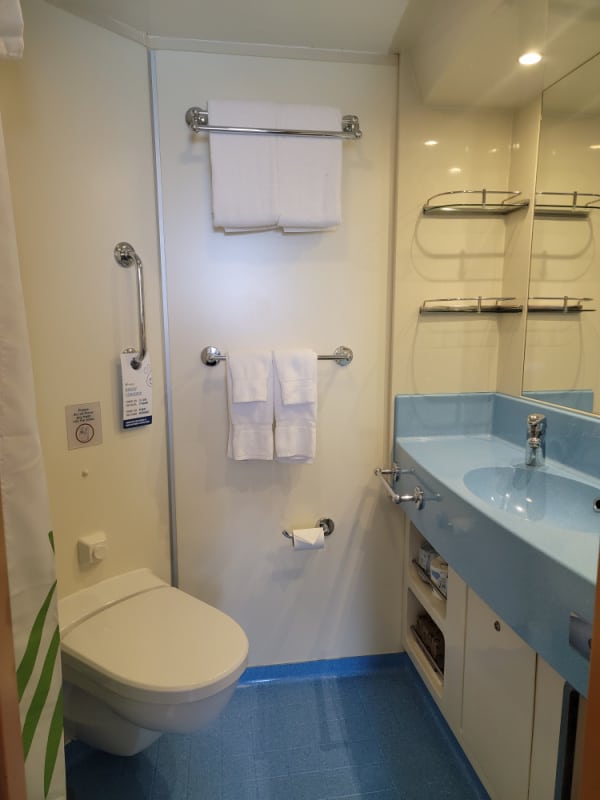 Bathroom
The bathroom is a typical Carnival cruise bathroom. There is a sink, toilet, and standing shower. Above the sink, there are four small shelves for personal items.
The shower has a shower curtain which is nice if you are plus size and don't want to feel like you have to be closed into a plastic door.
The bathroom is not huge but it has everything you need for your cruise in it.
There is a small step up to get into the bathroom.
Sitting Area
The sitting area in the Premium Vista Balcony stateroom includes a couch that can comfortably seat two people.
The cool thing about the couch is it is next to one of the picture windows. You can relax on the couch and watch the world go by without having to be outside.
This would be fantastic for an Alaska cruise if the weather was chilly and you wanted to warm up.
There is a small table in front of the couch that is perfect for a laptop if you need to work. I am comfortably working at it as I type up this article. 🙂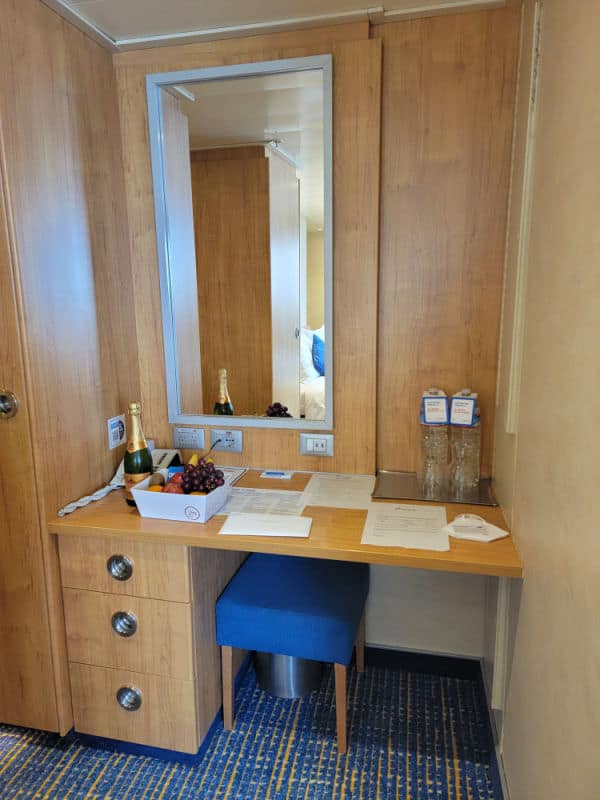 Storage/Closets
The closest and storage are the biggest change we found from a normal Carnival Balcony Stateroom. The closets are divided into two sections to fit the shape of the room.
There is a closet near the bed that has hangers and a shelf that can be folded down if needed. One thing to know is the hangers go in a different direction than you might expect.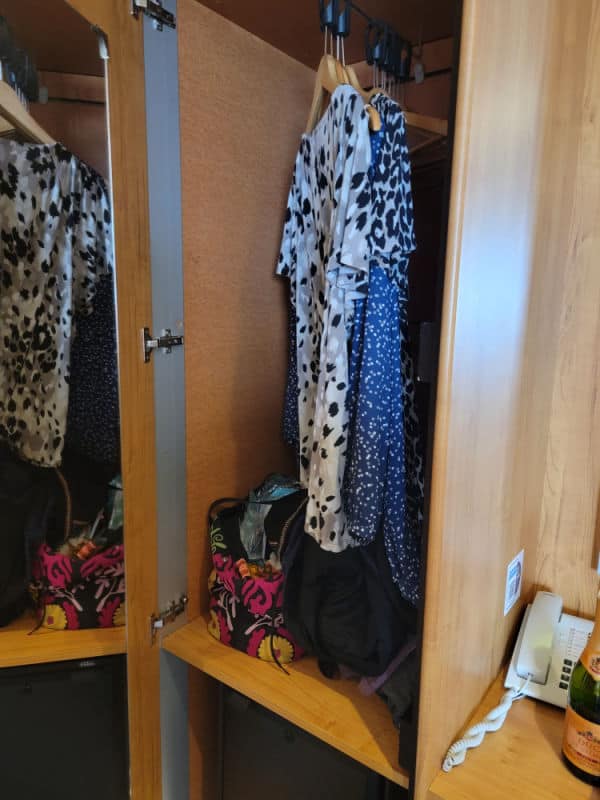 They go front to back instead of side to side so you have to reach back to reach the clothes. A random quirk for the room but something to know if you have any back or mobility restrictions that include not reaching back for things.
There is a desk area with a mirror along with three drawers near the walkway into the room.
There is a small stool to sit on if you want to use the mirror to get ready. This mirror does not have any lights around it to make putting makeup on easier.
The drawers have a small hairdryer and then 2 open drawers.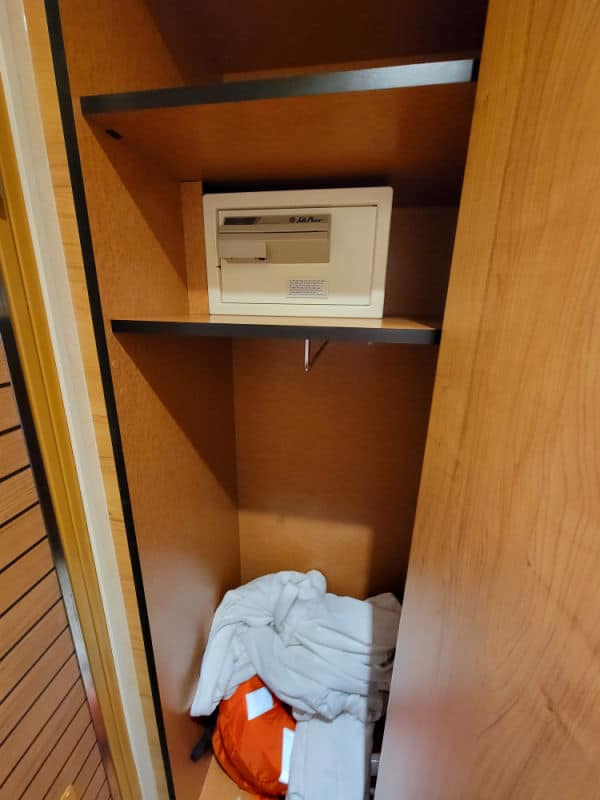 There are also 2 additional closet areas near the desk. The larger one includes a small refrigerator and additional hangers for clothes.
The smaller closet has an accordion door and is not large. There is a room safe, shelf, and space for the lifejackets along with some storage.
The storage is the one area that we had to think about when we unpacked. We are so used to a regular balcony stateroom set up that we had to pause for a moment to make sure we figured out where to put everything.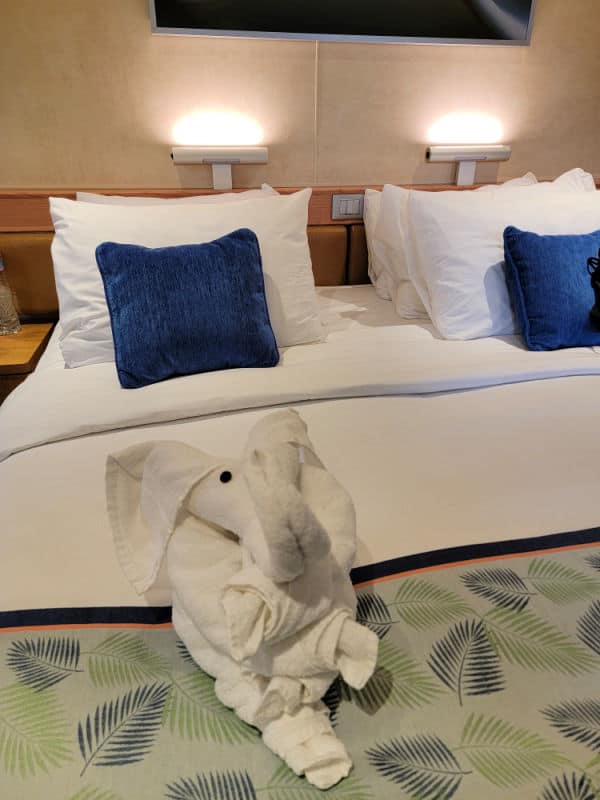 Review
Overall we fell madly deeply in LOVE with the Premium Vista Balcony Stateroom on the Carnival Radiance.
My husband asked if we could just book the next cruise and not have to fly home. It was hard to pack our bags knowing that the view from our bedroom does not include sweeping vistas of the ocean.
We loved being at the back of the ship and having easy access to the elevators. It was quick and easy to reach any place on board that we wanted to visit.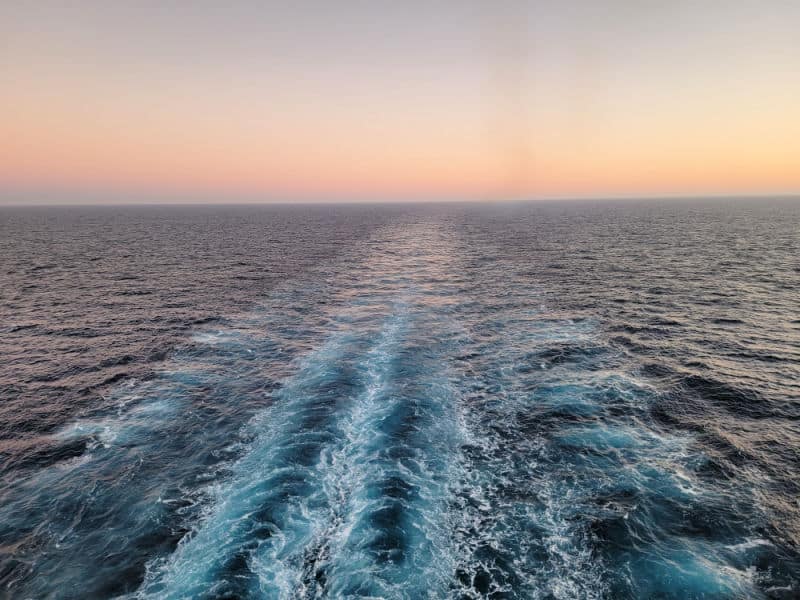 Additional Carnival Cruise Articles
Epic Guide to the Carnival Radiance
Shaq's Big Chicken Restaurant - new on the Carnival Radiance and Carnival Mardi Gras.
Epic Guide to the Carnival Hub App
Check out all of our Carnival Cruise Guides. We have over 100 articles written about Carnival Cruise Line!