Are you planning a trip to Curacao? We absolutely love visiting Curacao! The beaches are amazing!  There is so much to do on the island of Curacao. We thought we would put together our best Curacao Travel Tips.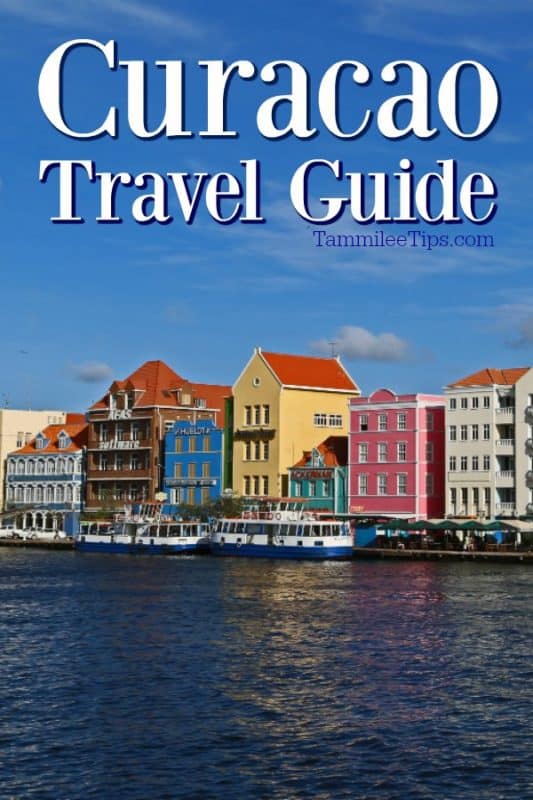 Curacao Travel Tips
Here are our best Curacao Travel Tips to make your vacation the best it can be.
What to buy – Wooden shoes, painted porcelain windmills, and Curacao Liqueur are island favorites for shopping.
What to do – Curacao offers a huge variety of things to see and do. You can visit an ostrich farm, sea aquarium, spend time on the beach, check out the flamingos in the salt ponds, and so much more
There are over 40 beaches on the island of Curacao ranging from white sand beaches to rocky pebbled beaches. All of the beaches are cove or lagoon beaches. You won't find huge stretches of white sand beaches on this island. Many beaches charge a daily entrance fee. There is also a fee for chairs or palapas on many beaches.  Most beaches are accessible by dirt roads but there is good signage telling you where to go.
Curacao is a great island to rent a car because you can't really get too lost. There is the main ring road and then side roads from there. You drive on the same side of the road as you do in the United States so you don't have to worry about that. There are no highways on the island. Traffic is mainly stop and go with round-about to keep speed in check.
Visit Christoffel National Park and see the natural wonders of Curacao.
Visit the Otrobandas Floating Market to see a great selection of tropical fruit and vegetables unloaded from Venezuelan schooners.  Check out the spice stands! The Floating Market in Punda, is not to be missed. Venezuelan vendors sell their fresh produce along the waterfront, directly off their small fishermen's boats, which double as living quarters between trips to and from the island. The color and variety of fruits and vegetables is a delicious photo opp.
Tour a Curacao liquor factory and taste the island's famous liquor.
What to eat
Curaçao's ethnic diversity is evident not only through its people, but its cuisine. Due to arid conditions and rocky soil, the island remains heavily dependent on imports resulting in its international cuisine, prepared with local flair. More than 200 restaurants showcase the island's eclectic and diverse flavors.
Don't be surprised that goat stew is an island favorite. There are a lot of goats on the island and well there is also goat stew. The local food also focuses on fresh fish.
Marshe Bieuw in downtown Willemstad offers the most authentic local meal around. Individually operated stands each offer a range of local favorites prepared on-site, including stoba (stew), funchi (similar to polenta), kabritu (stewed goat), fresh fish like Red Snapper, and a favorite, pumpkin pancakes. Politicians, shop owners, area residents, and tourists all gather at rows of tables and benches and enjoy their afternoon meal side by side.
Keshi Yená, Curaçao's traditional dish, translates to 'stuffed cheese' and is exactly that. A dish steeped in the island's slave history from when kitchen workers would stuff the scooped-out cheese rinds with bits of discarded meats and scraps, steam it, and turn it soft again. It's now prepared in all types of gourmet ways and a signature island dish.
Iguana soup is considered an aphrodisiac and eaten by men on the island. We were told it can have a lot of bones in the soup so be careful when eating it. Iguana is exotic meat offered in a handful of restaurants, but Jaanchie's Restaurant on Curaçao's West End is a favorite. Locals attribute iguana to healing qualities, serving the meat stewed or in the soup to cure various discomforts. (It's also said to be an aphrodisiac!) It tastes just like chicken.
Kos Dushi is Curaçaoan sweets such as Sunchi - Meringue "kisses," made of sugar, egg whites, and food coloring; Panseiku - a kind of praline: toasted peanuts and almond essence, in a brittle glaze of dark brown sugar; and Kokada - freshly grated coconut patties, held together in sugar syrup.
Batido stands offer a custom blend of fresh fruits and juices for a sweet and healthy frozen smoothie-style treat.
Rijstaffel was integrated into Dutch traditions after the colonization of Indonesia by the Dutch in 1782. Literally meaning "rice table," the Indonesian favorite was cross-pollinated with Dutch-Caribbean influences in Curaçao to create the current flavors now found in the island's version of the cuisine.
Truk'i Pan is the original food trucks. Small trucks found throughout the island serving late-night eats from 9 pm to 4 am to satisfy the post-party craving.
Kadushi cactus is among the most abundant resources on the island. Locals have harnessed the organic and energetic properties of the plant for a hearty soup. The preparation process of removing the spiny needles is a skill best left to the pros.
Random info
There are no regulations for painting your house in Curacao. You can paint your house any color that you choose or any pattern.
Parrots, Parakeets, Crested Caracara is known locally as the Wadi Wadi bird and flamingos can be found on the island.
The north side of the island is incredibly rugged with a lot of waves and wind. This is a beautiful area for exploring but probably not where you want to think about going swimming or spending the day relaxing.
Curacao has an amazing Carnaval with 8 or 9 parades to celebrate
Some days there is a haze across the island that is actually caused by Sahara Sand!
The scenic city center of Willemstad is a UNESCO World Heritage Site
Curaçao's highest point is the summit of Mt. Christoffel at 1,227 feet.
It is rumored that founding Governor Albert Kikkert feigned migraines to have the town buildings painted in vibrant colors, to spike sales of his paint company.
Curacao Details:
LOCATION: Located in the southern Caribbean, just 40 miles off the coast of Venezuela. 12° north of the Equator.
CAPITAL: Curaçao's capital, Willemstad, is the island's only city.
CURRENCY: Netherlands Antillean Guilder (Nafl) also called florin. Dollars are widely accepted. The US dollar is at a stable rate. $1 USD = 1.77 Nafl.
LANGUAGE: Dutch and Papiamentu and English are recognized as the official languages, although Spanish is widely spoken.
CLIMATE: A warm sunny climate is typical year-round with an average temperature of 80 degrees. The rainy season is between October and February and marked by short occasional showers, mostly at night. Annual rainfall is about 22 inches.
POPULATION: Curaçao is home to 150,000 people representing over 55 different cultures including African, Dutch, German, Indian, Spanish and Portuguese.
GOVERNMENT: Parliamentary Democracy
AIRPORT: Curaçao International Airport (Locals refer to it as Hato International.)
GETTING to Curacao: Daily flights on AA and Insel Air from Miami, weekly flights on Insel Air from Charlotte, NC, and seasonal service from Toronto on Air Canada, WestJet, and SunWing. Charter flights also available. Additional connections from neighboring islands, The Netherlands, and Germany.
ENTRY REQUIREMENTS: US and Canadian citizens require a valid passport and airline ticket.
Additional Caribbean Travel Articles
Best things to do in Curacao on a Cruise
Check out all of our Caribbean Travel Guides