There is nothing better than ice cream on a hot sunny day! We are so excited to share the best ice cream Spokane guide! We did the not so hard work of visiting every ice cream shop in Spokane we could find to taste test as many flavors as possible to bring you this guide. From artisan ice cream to fro-yo we have you covered!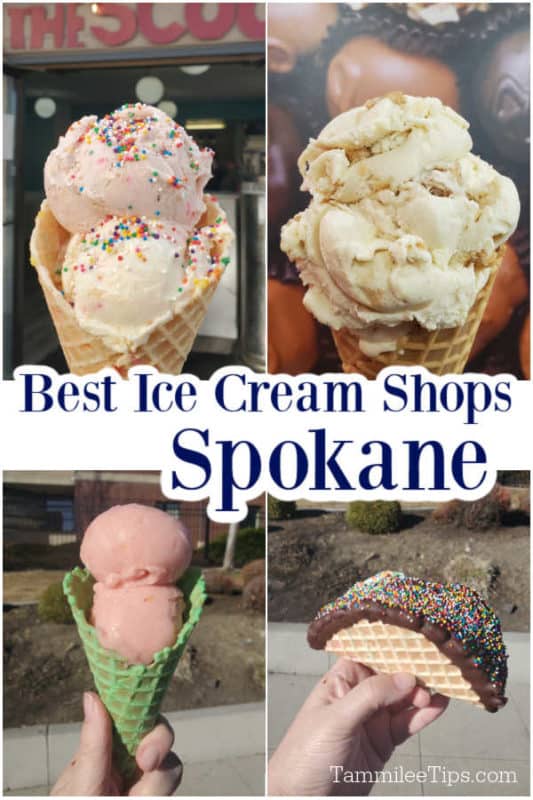 Best Ice Cream Spokane Guide
Our goal with our Best Ice Cream Shop in Spokane guide is to highlight local Spokane ice cream shops that are making amazing ice cream. Spokane does have national ice cream chains like Dairy Queen, Ben & Jerry's, Baskin Robbins,  and others but we really wanted to highlight local small businesses.
These local businesses are the heart of our community and we want to help support them as much as possible.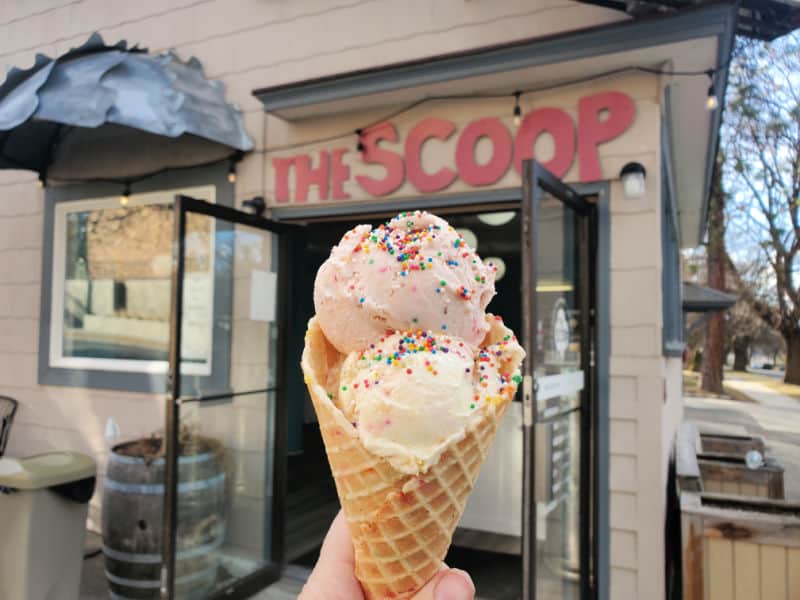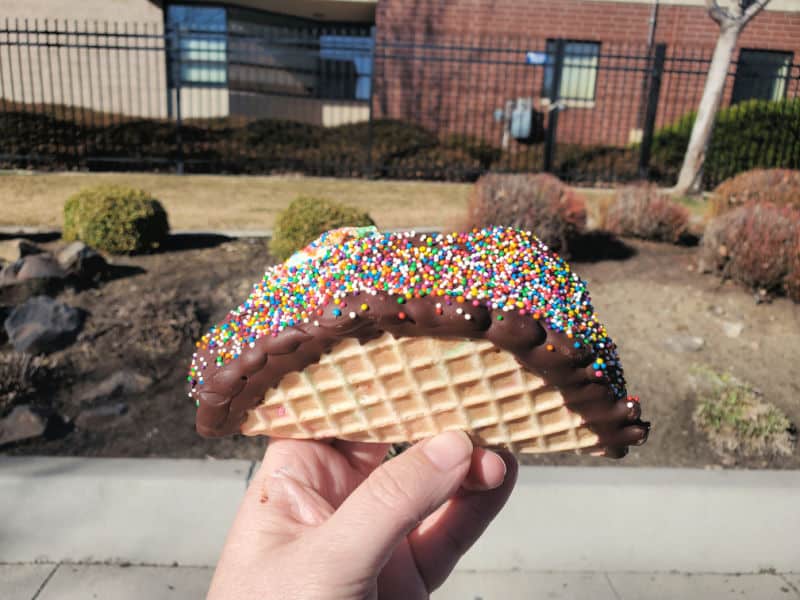 The Scoop
Locations - Kendall Yards, South Hill
The Scoop has an ever-changing menu of house-made ice cream that is simply delicious. Their Instagram page has me drooling all the time over new ice cream flavors and fun specials.
They have bubble waffle cones which are a fun remake of the classic waffle cone. I love that on some Tuesdays they have taco Tuesday ice cream style with waffle cone tacos.
One cool thing about The Scoop is they use liquid nitrogen to make their ice cream. This creates an amazing smooth creamy ice cream that tastes amazing. They also offer super fun flavors I haven't seen anywhere else.
The last time we went by the Scoop I tried their Twinkleberry Ice Cream which was strawberry ice cream with sprinkles and twinkie pieces inside. HELLO YUM!
They have amazing vegan gelato that is delicious. Packed with flavor and so good.
Don't miss visiting one of the Scoop shops either in Kendall Yards or the South Hill.
The South Hill shop carries Pineapple Dole Whip and the Kendall Yards location serves homemade gelato.
The Scoop South Hill Address - 1001 W 25th Ave, Spokane, WA 99203
The Scoop Kendall Yards Address - 1238 W. Summit Pkwy 99201
They took over the location that was previously brain freeze ice cream.
Doyles Ice Cream
Doyle's Ice Cream has been a landmark in the West Central neighborhood since 1939. Doyles has been making their own ice cream since 1939 and is Spokane's last working vintage soda fountain.
They have huge banana splits, Awful-Awful ( vertical banana split), old-fashioned shakes, sodas, and floats.
All of their drinks are made from scratch ( syrup and carbonated water from the antique gooseneck).
Doyle's Ice Cream Address - 2229 W Boone Ave, Spokane, WA 99201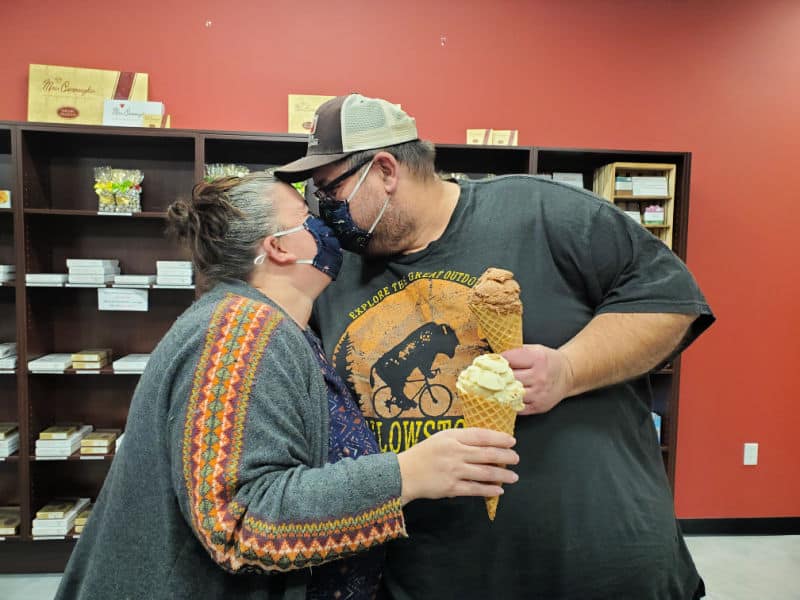 Mrs. Cavanaugh's Chocolates and Ice Cream
Mrs. Cavanaughs makes their own ice cream which is half custard half ice cream, this makes it richer than normal ice cream!
They opened just over two years ago in North Spokane. This Spokane Ice Cream shop is part of a Utah-based ice cream and chocolate company. Many of the ice creams available in-store are made with their housemade chocolate.
I need you to try the Penoche Ice Cream! This brown sugar fudge ice cream is drool-worthy. Every single ice cream flavor we have tried at Mrs. Cavanaugh's has been delicious.
We were so impressed with Tish who helped us at the store. She took our photo since we were on an ice cream date and we had so much fun talking with her.
Mrs. Cavanaughs is also part of our best candy stores in Spokane because their chocolates are that good.
Mrs. Cavanaughs Ice Cream - 513 E Hastings Rd, Spokane, WA 99218
Sweet Peaks Ice Cream
Location - Downtown
Sweet Peaks Ice Cream started in Whitefish, Montana, and has made its way to Spokane! They are located a block from the Red Wagon and Riverfront Park making them a great place to visit after playing in the park.
Classic Ice Cream Flavors include Lafaza Madagascar Vanilla, Chocolate Love, Huckleberry, Espresso, Mountain Mint, Cupcake, Salty Caramel, and a variety of dairy-free sorbets and egg-free sherberts.
They also have specialty flavors by season so there is always something new to try. Recent specialty flavors have included Lemon Pie, Confetti Cake, Mud Pie, Bananas Foster, and Triple Chocolate Vegan.
Sweet Peaks Ice Cream Address - 415 W Main Ave #0213, Spokane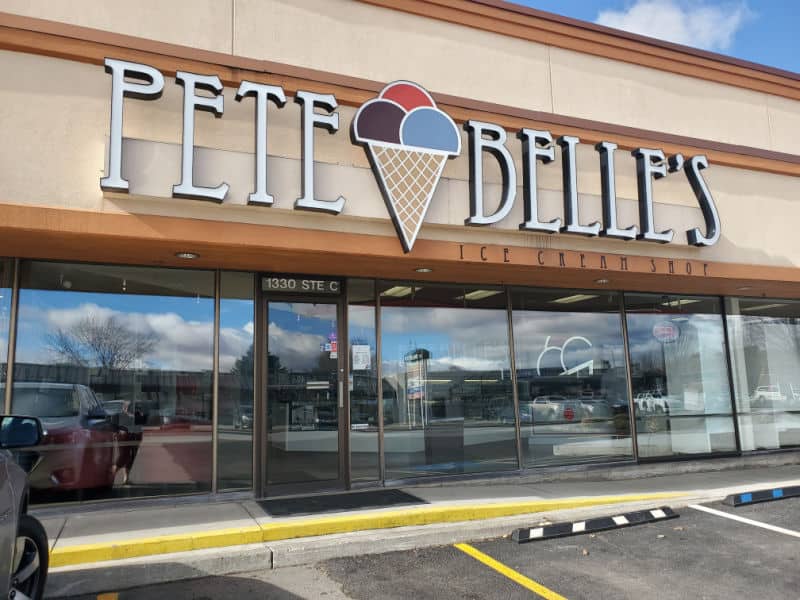 Pete & Belle's Ice Cream
Locations - Spokane Valley on Argonne and Spokane Valley Mall
Pete & Belle's offers a large variety of ice cream in their Spokane Valley Ice Cream shop. You can get ice cream by the scoop, pint, or quart. This great ice cream shop also has housemade caramel apples in a ton of flavors, chocolates, truffles, and more.
Every time we visit I have a hard time deciding what to get there are so many options.
Ice cream flavors you need to check out
Fat Elvis - Sweet banana ice cream all shook up with a salty peanut butter ripple and rich chocolate chips.
Heaps of Love - Oreos, brownies, cookie dough, pecans, caramel, and chocolate ripples all packed into vanilla ice cream.
Kitty Kitty Bang Bang - Irresistibly smooth cheesecake ice cream mixed with a sweet raspberry ripple, Oreo cookies, and soft chocolate chunks.
Yippee Skippee - Creamy peanut butter ice cream loaded with salted caramel ripples, soft brownie chunks, and crispy chocolate-covered pretzels.
Banana Cream Pie - Your favorite comfort food now on a cone! Banana ice cream churned with a marshmallow ripple and real Nilla Wafers.
Address - 1330 N Argonne Rd, Spokane Valley, WA 99212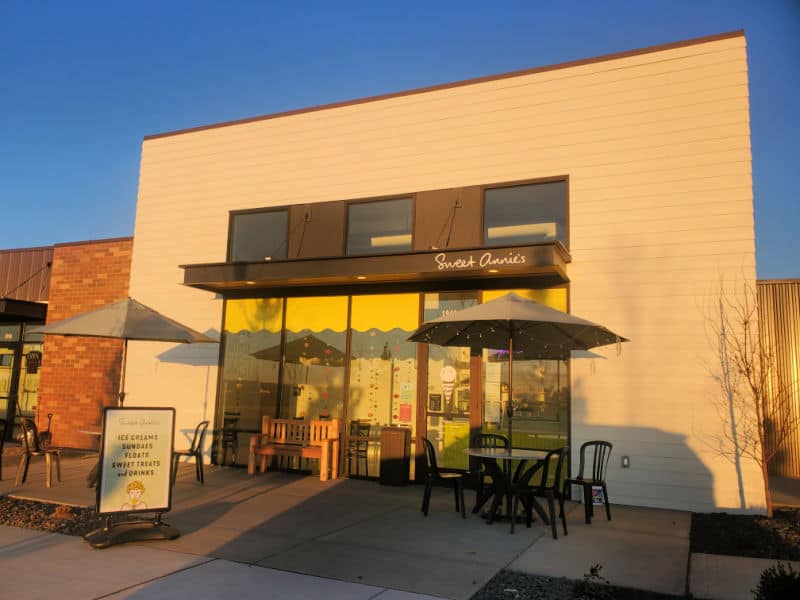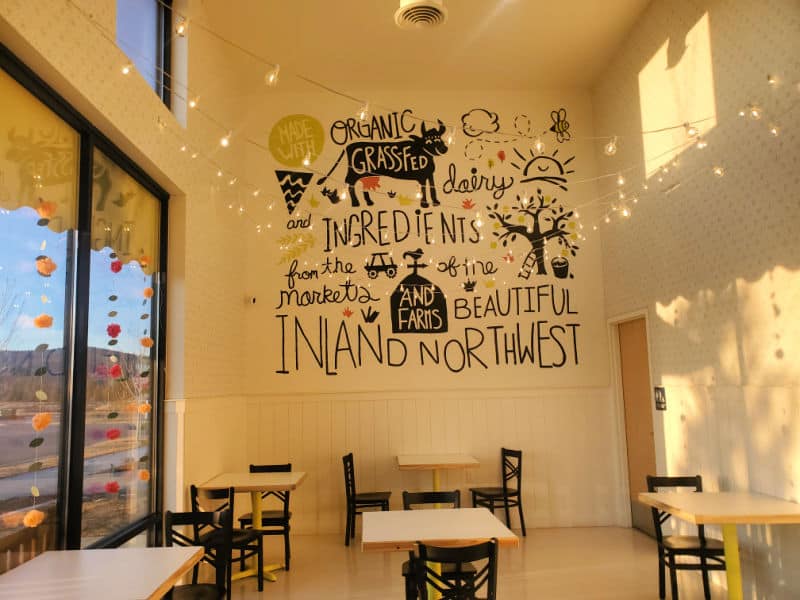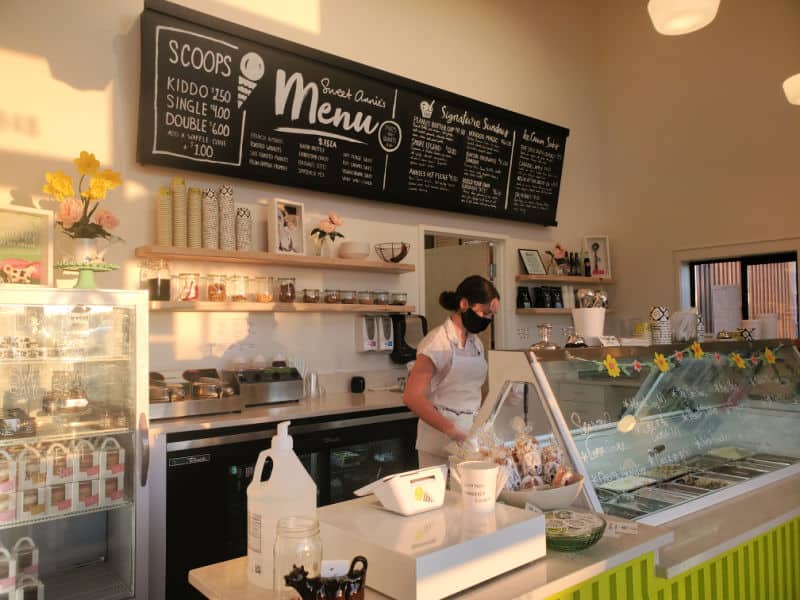 Sweet Annies Artisan Creamery
Location - Liberty Lake
Sweet Annies Artisan Creamery is so cute!!! Seriously this ice cream shop in the Spokane Valley is cute, family-friendly, and has amazing ice cream! The ice cream shop is completely instagrammable and their cones are fantastic.
They offer a fun variety of ice cream flavors that are great for all ages. Some of their epic flavors include The Bee's Knees (Butter flavored ice cream with swirls of local honey and house-made honeycomb candy), Amond Joy (Vegan coconut ice cream with non-dairy fudge ripple and french almonds), Bourbon Bananas Foster, Five Star Chocolate, Mint Chip, Strawberry Bubblegum, Coffee Almond Fudge, Malted Milk Jam and Lime in a Coconut.
They also have seasonal flavors that they rotate frequently.
Sweet Annies Artisan Creamery Address - 1948 N Harvest Pkwy, Liberty Lake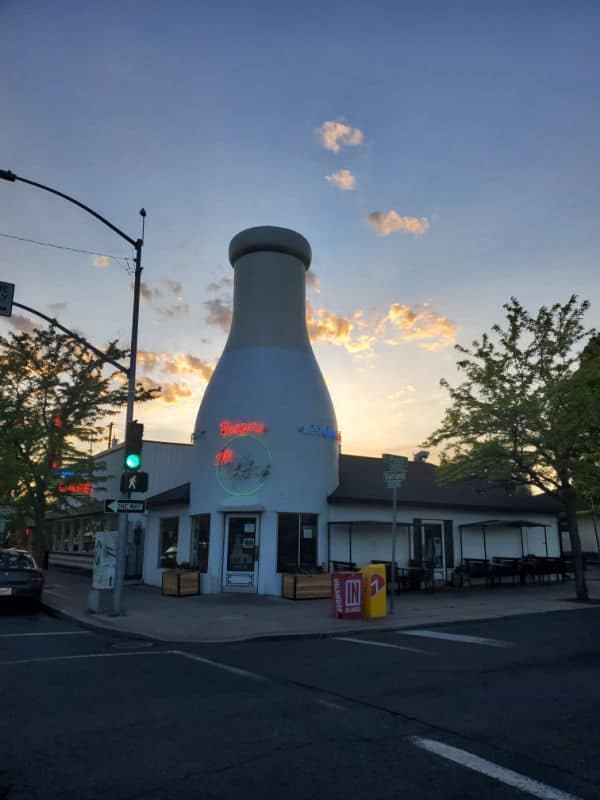 Mary Lou's Milk Bottle
Mary Lou's Milk Bottle has its own ice cream that they use for their milkshakes. It is super creamy and oh so delicious.
You may recognize the exterior of Mary Lous Milk Bottle from the Benny and Joon movie starring Johnny Depp. The exterior of the restaurant was filmed for the movie while the interior was done at Fergusons Cafe.
Mary Lou's Milk Bottle Address - 802 W Garland Ave, Spokane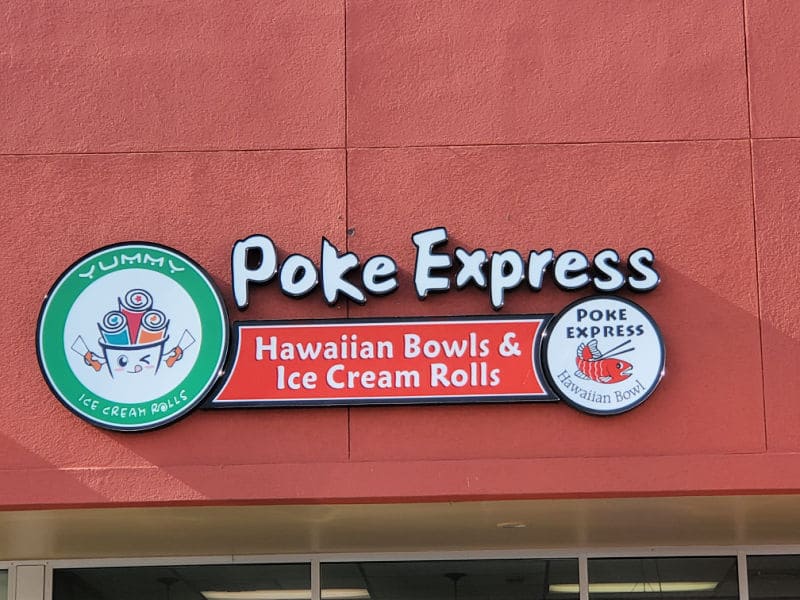 Yummy Ice Cream Rolls
Yummy Ice Cream Rolls is the first place in Spokane to serve Thai-inspired ice cream rolls.
If you have never had rolled ice cream this is an experience you need to enjoy! You pick your favorite flavors and they mix them together fresh to create gorgeous rolls of ice cream right in front of you. If you have kids that love ice cream they are going to really enjoy this Spokane ice cream shop.
They have a ton of base ice cream flavors and then you pick your favorite toppings! This is an ice cream sundae perfect for Instagram.
Yummy Ice Cream Rolls Address - 1509 N Pine Rd., Spokane Valley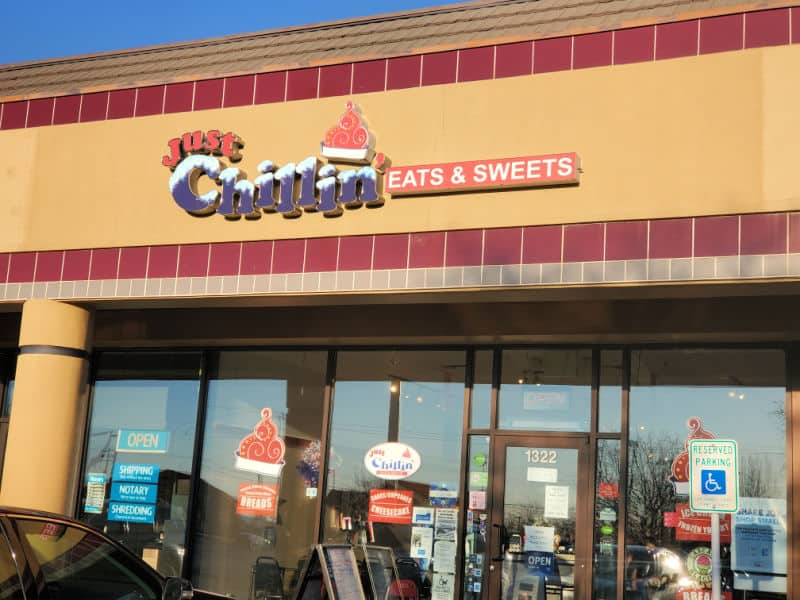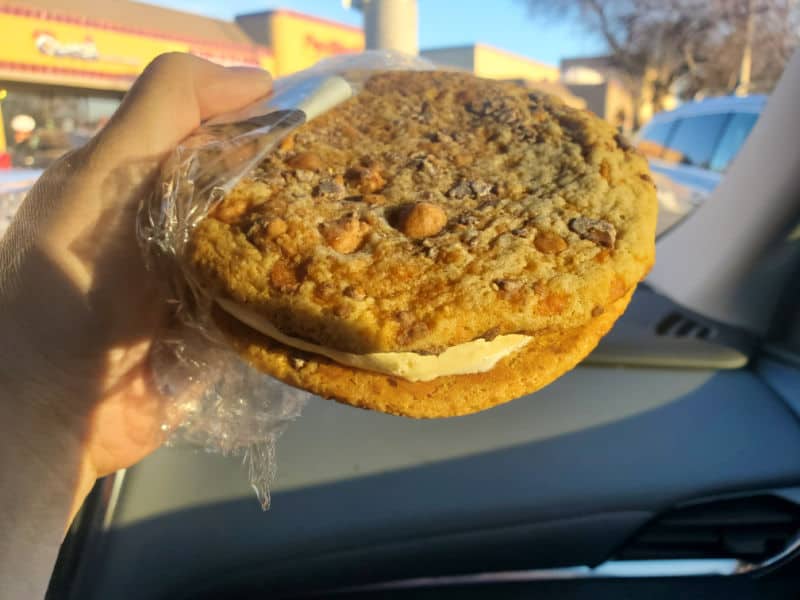 Just Chillin Eats and Sweets
Location - Liberty Lake
Just Chillin Eats and Sweets is a frozen yogurt shop that also offers ice cream and baked goods. You need to try their Butterfinger ice cream sandwich!
Just Chillin Eats and Sweets address - 1322 N Liberty Lake Rd, Liberty Lake, WA 99019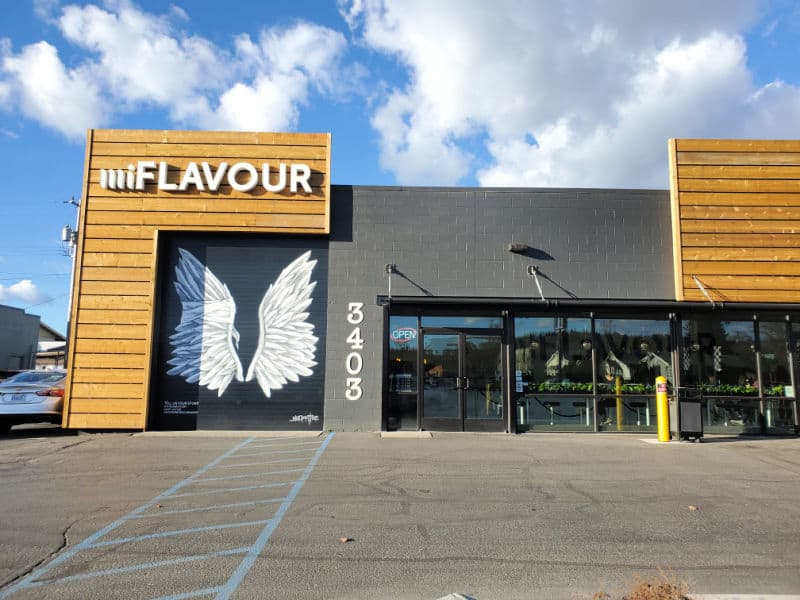 MiFlavour - Volonti Gelato
MiFlavour which is one of our favorite bakeries in Spokane recently started a new sister company with Volonti Gelato and it is delicious!
You do not want to miss their Macaron Ice Cream Sandwiches! Hello yum!
They offer delicious gelatos and sorbettos in unique and classic flavors. One great thing is the Sorbettos are vegan.
The gelatos and sorbettos come in stunning cups, pints, and even bulk 5 liters sizes.
Flavors you need to try include:
Passion Fruit Gelato -  It is sweet and creamy with swirls of tart passion fruit puree.
London Fog Gelato -  Earl grey tea whirls through this unique gelato.
Pineapple Mango Habanero Gelato - Sweet pineapple and mango with a punch of habanero will make your taste buds rejoice.
Banana Pudding Gelato - Rich banana gelato swirls around vanilla wafers.
Strawberry Basil Sorbet - Super light and refreshing
Poppy Unique Frozen Treats
1908 W Northwest Blvd, Spokane, WA 99205
La Nueva Michoacana: Paleteria y Neveria Homemade Ice Cream
La Nueva Michoacana is located off of Sprague Avenue across from Winco. They offer ice cream, raspados (shaved ice), popsicles, and more.
La Nueva Michoacana Address - 9827 E Sprague Ave, Spokane Valley, WA 99206
Fannie's Ice Pops
While I know Ice Pops are not ice cream they are still delicious and kind of fall in line with the frozen sweet treat theme we were going for. We were first introduced to Fannie's Ice Pops at the Kendall Yards Night Market and we quickly fell in love with them.
I mean really anyone who can make a chai ice pop that tastes amazing has my instant love!
Here's a list of the various stores in Spokane, WA that you can always find Fannie's Ice Pops at:
Main Market
Rocket Market
My Fresh Basket
Lucky Vintage and Pretty Things

291 Brewhouse (Suncrest)

Sweet Peaks Ice Cream (WA, ID, MT)

Five North Coffee + Gifts (Deer Park, WA)

Cherry Hill Orchard (July only)

The Scoop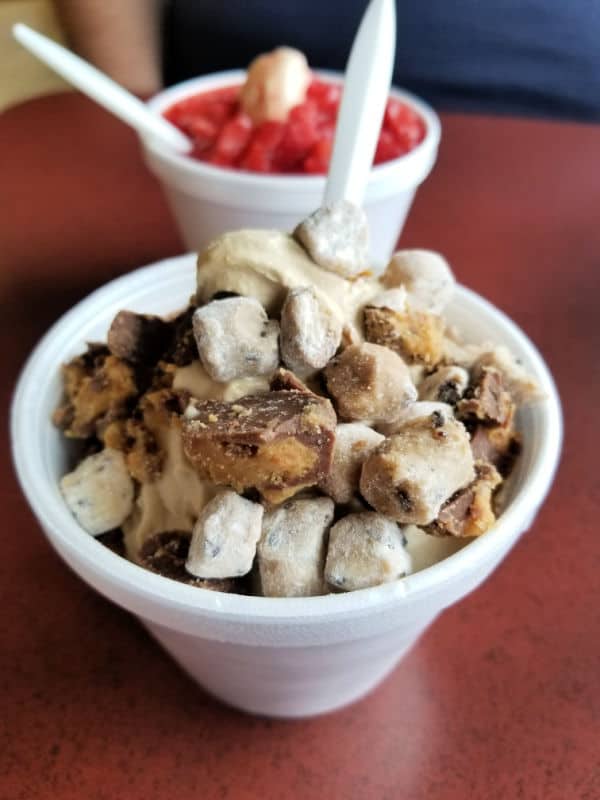 Didier's
Didier's offers a rotating selection of Fro-Yo! They have an epic Tuesday special on Fro-Yo that is worth making a trip for.
This is our go-to Spokane Fro-Yo shop. They always have great flavors and mix-ins plus the staff is fantastic. I will fully admit that we tend to go to Didier's at least once a week all spring and summer long. It is that good!
Didier's Yogurt and More Address - 10410 N Division St, Spokane
How we picked the Ice Cream Shops in Spokane
We have lived in Spokane for close to twenty years. When we are not traveling and exploring the world we are spending time exploring our local area. Our goal with our Spokane Food Guides is to share with you the best food Spokane has to offer.
We have seen how much the Spokane food scene has changed in the past 20 years and we are excited to share all the amazing places you can enjoy in town.
With that being said we only share food and restaurants that truly impresses us. We want to make sure that when you go and spend your money you get the best bang for your buck you can get. If you don't see your favorite Spokane restaurant listed on one of our guides that could be for a couple of reasons. We may not have visited there yet or we possibly didn't have a great experience and have it on a list to revisit soon.
When we don't have a great experience at a Spokane restaurant we try to go back again a few months later to see if the restaurant has improved or things have changed.  All of us have bad days and moments so we try not to judge a restaurant by one bad experience.
If there is a Spokane Ice Cream shop we missed that you think we have to try please comment or send us a note so we can add it to our must-visit soon list.
Additional Spokane Food Guides
Best Pizza Restaurants in Spokane
Great outdoor seating in Spokane
Don't miss all of the epic things to do in Spokane!
Check out our Spokane Restaurant Guide for tons of fun places to eat in Spokane and neighboring cities.