This week I am exploring the Christmas Capitol of Texas! Grapevine, Texas! Woohoo!
I have heard that everything is bigger in Texas so I can't wait to see how they share the holiday spirit!  My time in Grapevine is filled with all things Christmas and holiday celebrations and I can not wait!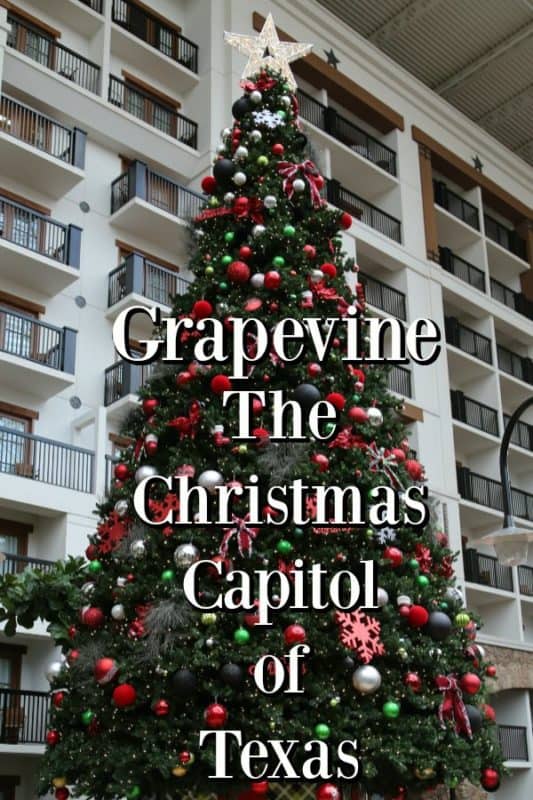 Grapevine Texas Christmas Guide
Seriously how can I not get over the top excited to get in the holiday spirit. Check out this great info on Grapevine!
Here, in Grapevine, we are proud of our very rich heritage. General Sam Houston negotiated the Treaty of Peace and Friendship on Grapevine soil with ten Native American nations in 1843.  Grapevine was founded a year later which was one year prior to when the Republic of Texas became a state.  Grapevine's Main Street is listed on the National Register of Historic Places.  In keeping with our agricultural roots, Grapevine is now home to the Texas Wine and Grape Growers Association and Texas is the 5th largest wine producing state in the country.

Grapevine offers that small town feeling through our preserved downtown and the relaxing atmosphere of Lake Grapevine and surrounding green belts.

We'll see the more than 80 locally owned shops, restaurants, jewelry stores, winery tasting rooms and more along Historic Main Street.
Did you know that Texas is the 5th largest wine producing state in the country! Woohoo!!!
I am staying at the Gaylord Texan Resort and it is just amazing. I stayed here years ago for a corporate conference and barely had a chance to see the hotel. I am so excited to be back and have time to explore more of the hotel.
Guess what...Grapevine has Wine Tours and a Wine Train...I think I may have found wine heaven!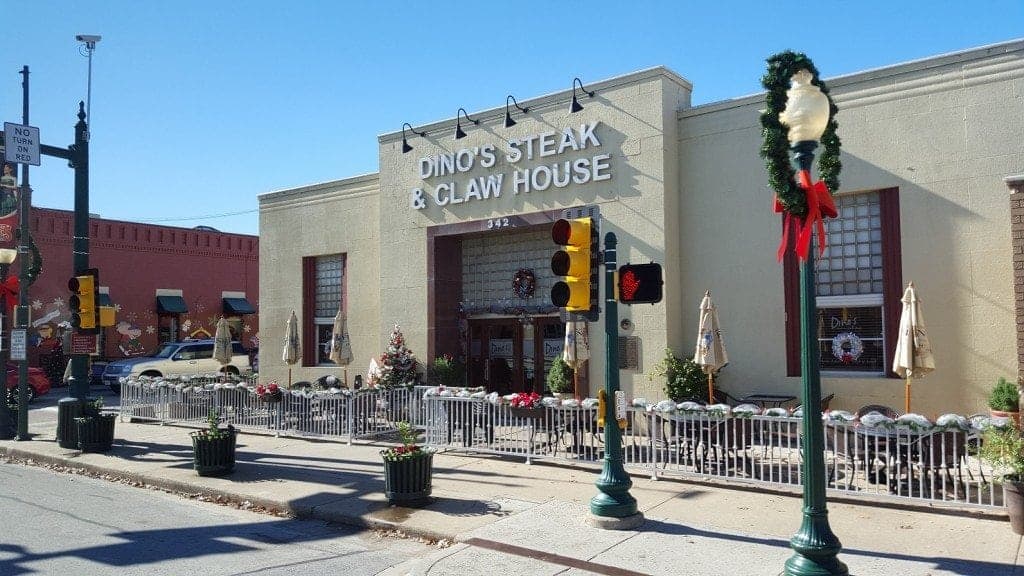 From the moment I landed at Love Field, this trip to Texas has been amazing. I kicked off my trip by having dinner at Dino's Steak and Claw House. This Grapevine restaurant is housed in a vintage bank building.
Hello Yum! I think I might have shed a tear of joy over their butter. Yes I said butter. This is not something I ever thought would bring me to tears but it was that good. They drizzled a sweetened balsamic reduction over the butter. Y'all know how much I love balsamic reductions. Do you like how I threw in y'all since I am in Texas. LOL!
After a dinner filled with more than just butter I promise! There was also mac and cheese, potatoes, and creme brulee. You know the 4 food groups were covered. Butter, Sugar, Cheese, and carbs!  We headed out for a driving tour of historic Grapevine. The city is covered in beautiful holiday lights and is quite the sight to see.
I was in awe of the number of lights everywhere. If you are near here this is the perfect place for a last-minute holiday photoshoot. The city has set up photo opps all over the place that are amazing.
Walking into the Gaylord Texan is pretty jaw-dropping. The millions of lights that decorate the hotel make it hard to decide where to look first. I slept so well that I woke up in awe of how relaxed I was.
My room overlooks the area where Santa sits for pictures. I woke up to light holiday music floating into my room. It was fantastic. I spent the morning taking tons of pictures as I wandered around the hotel. I easily got in 5,000 steps for the morning just wandering around the hotel looking at the holiday decorations.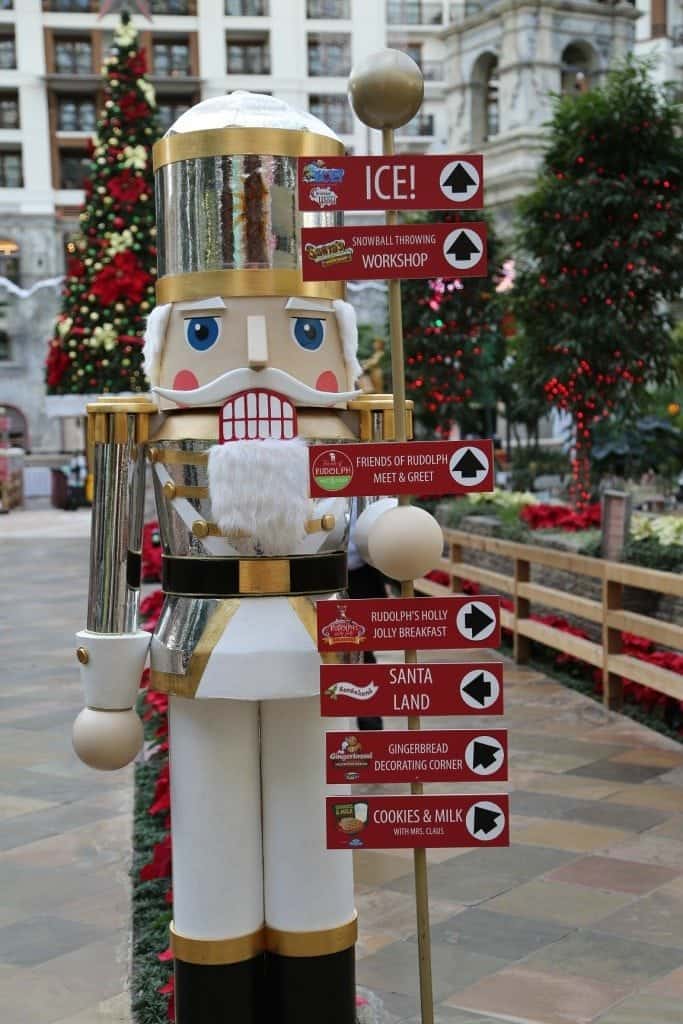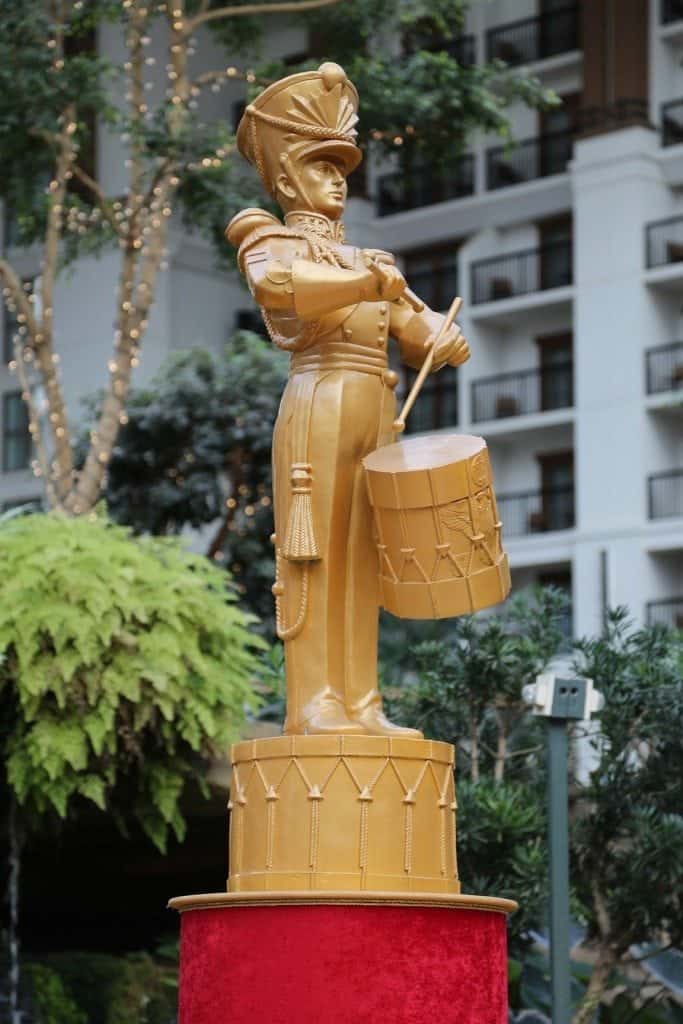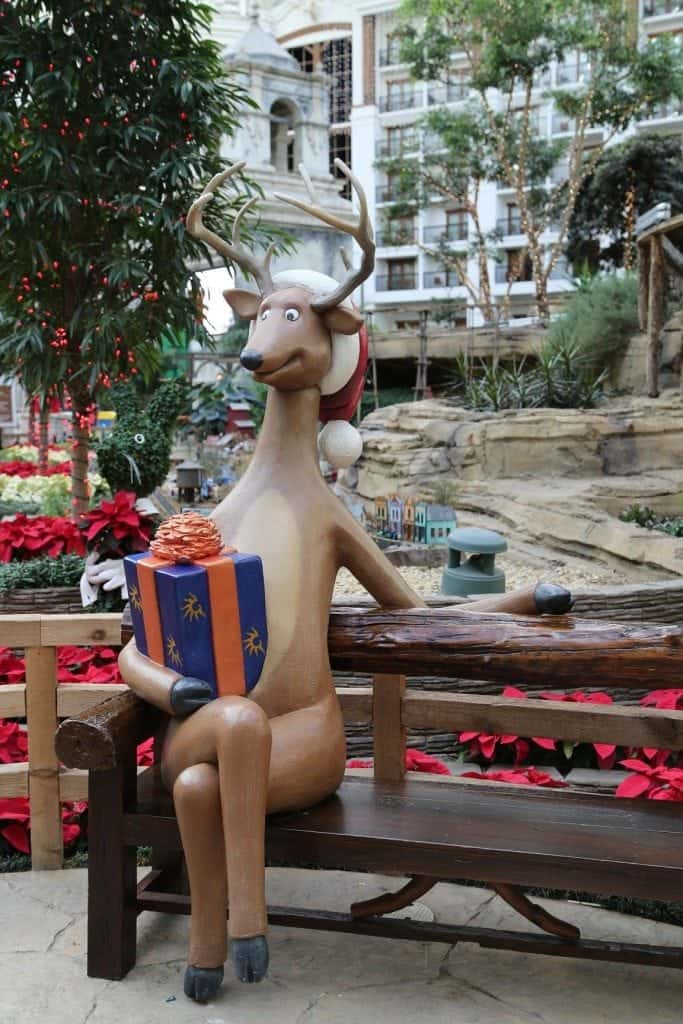 After working up an appetite wandering the hotel I headed for the breakfast buffet. YUM! Oh my gosh, the giant bowls of fresh fruit were amazing. I can't wait to have them again. Plus they have smoked gouda grits, fresh-made biscuits, made to order omelets and so much more. This is not a breakfast buffet to miss!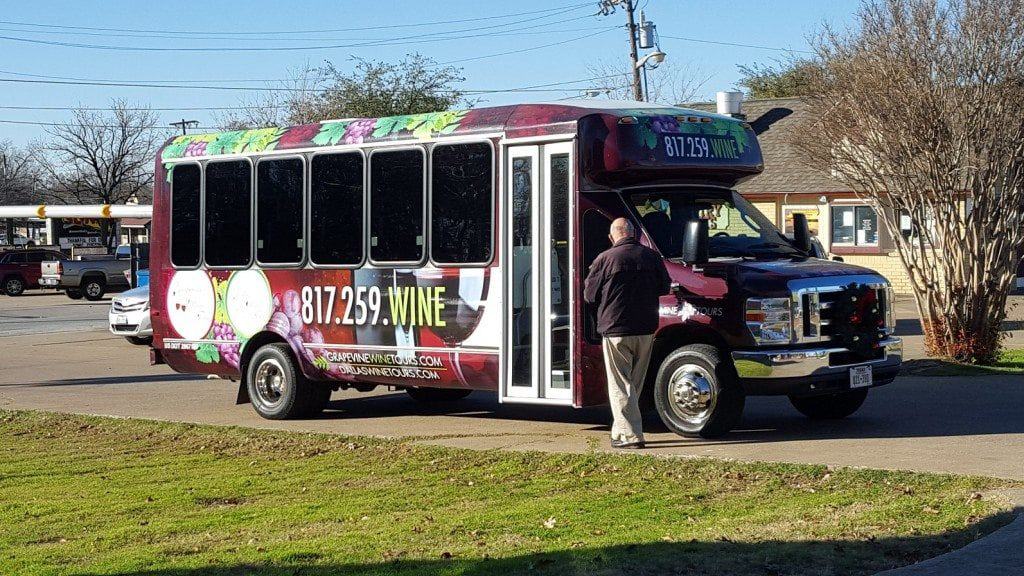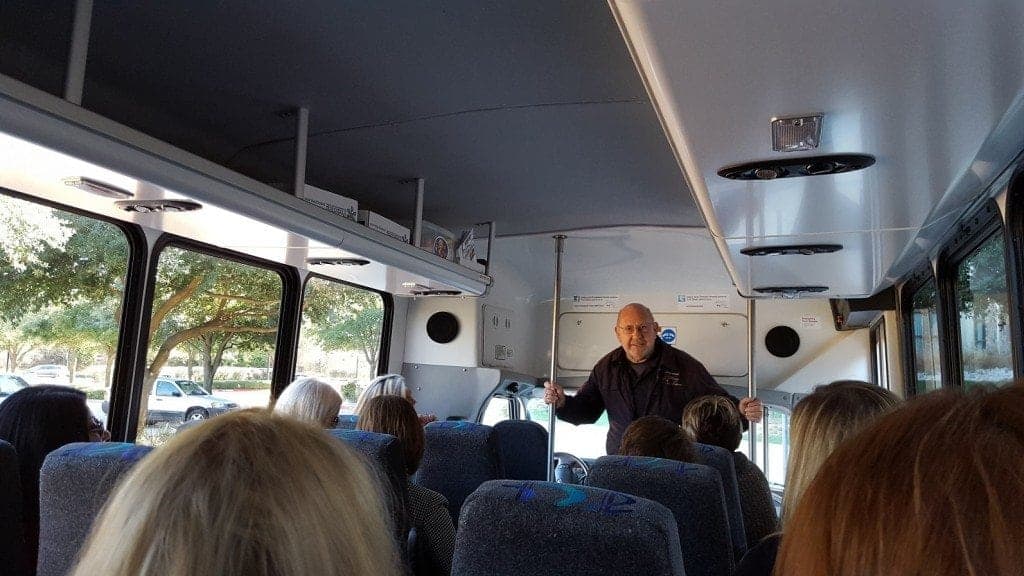 After breakfast, it was time for WINE! Woohoo! I met up with the Grapevine Wine Tours for the morning and afternoon. The bus is painted with grapevines and a wine motif. You know you are going to have fun when you are cruising in a bus painted with wine. The moment I walked onto the bus I had to smile. There was a group of ladies celebrating their office outing and they were a hoot.
Seriously so much fun! The bus guide John was so sweet! He helped each lady on and off the bus even before we started enjoying a sip or 3 of Texas wines.
Our first stop was S&W Winery and it is plain and simply gorgeous. The owners are retired military servicemen who learned to appreciate and produce wine while stationed in Germany. They offer a wide range of wines from both their Texas vineyard and California vineyards. I fell in love with the Symphony and need to go back to buy a few bottles to take home with me.
I am bringing John home a bottle of their Zinfandel. The grapes are grown in the same vineyard as many of John's other favorite Zins. I can't wait to hear what he thinks.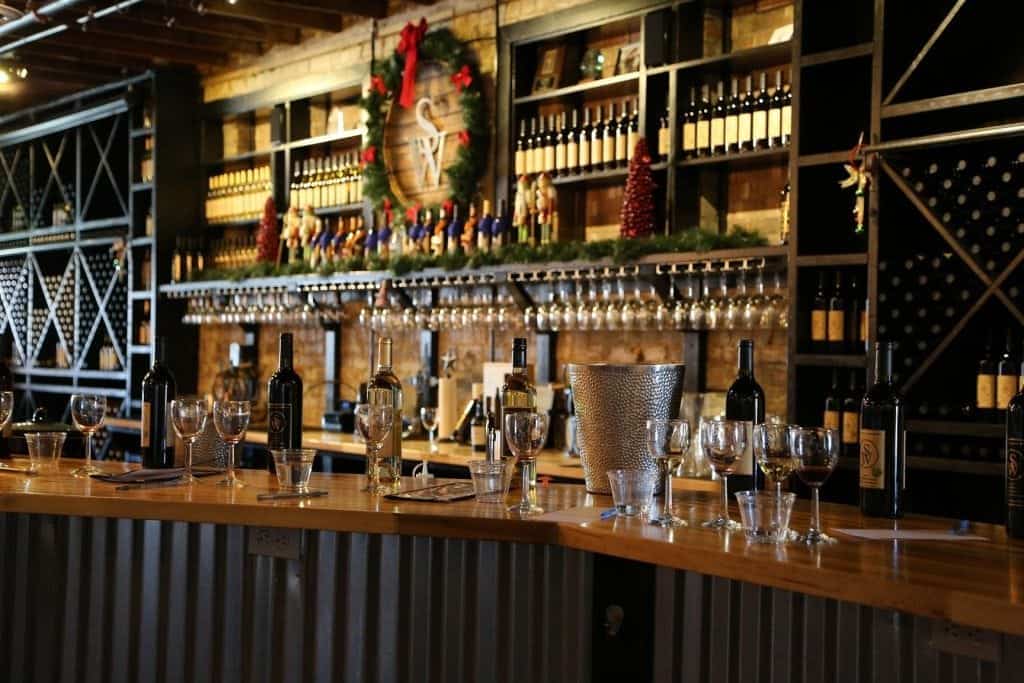 The S&W winery is beautiful. The perfect spot for a date night or a fun lunch with friends. I could see spending many nights relaxing there if we lived closer to Grapevine. After enjoying a great tasting we headed to Winewood for lunch. The restaurant was set up and ready for us when we arrived.
You have to love a lunch where you walk in and there is already wine poured and ready for you on the table.
Trust me when I say you need to order a side of the Gouda mac and cheese! Just trust me on this and order one! SO GOOD!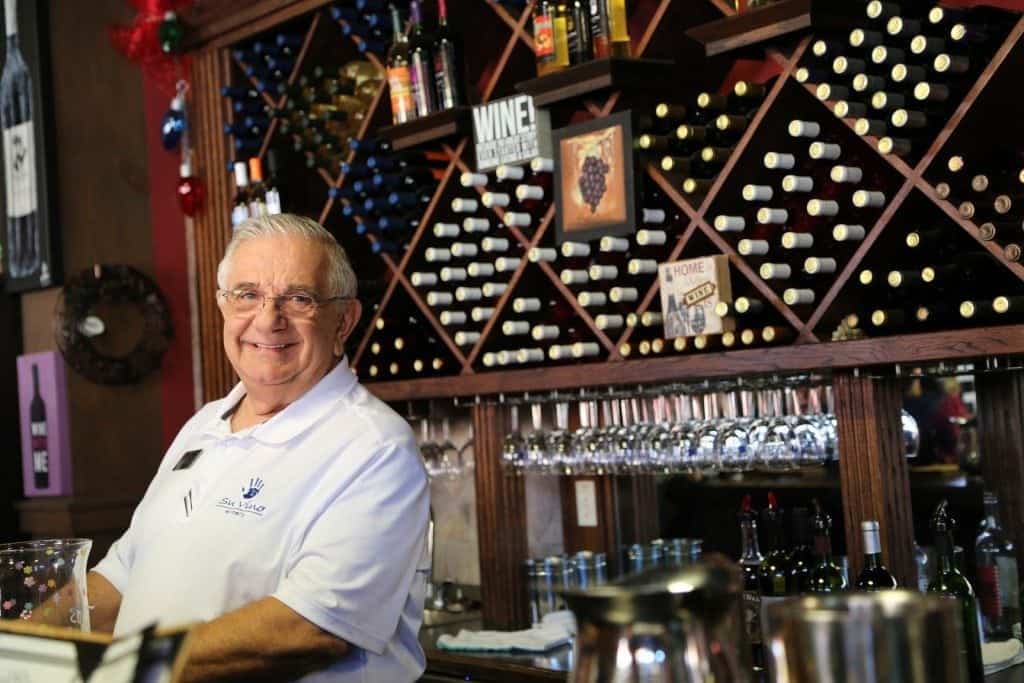 After filling up on great food we headed to our final winery on the tour Su Vino. This winery has a little bit of everything for everyone. A huge gift section with wine gifts that will make you giggle. They produce upwards of 60 different types of wine during the year. Their tasting offers you the chance to try everything from an Almond Champagne to a Salted Caramel Port. This is the perfect spot to try wines you would never think of trying.
For dinner, we headed to Farina's Winery and Cafe in downtown Grapevine. You guys they have a spaghetti pizza! I know you are thinking I have lost my mind but oh my gosh it is so good.
Imagine your favorite things about pizza and then throw on spaghetti and it is just plain amazing. Plus they have a great wine list and other amazing food to pair with it.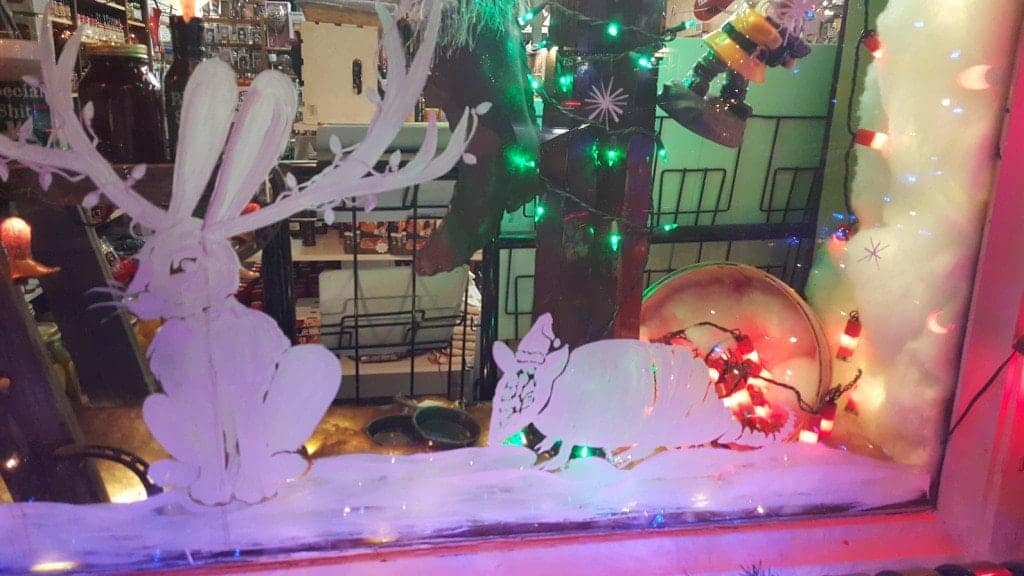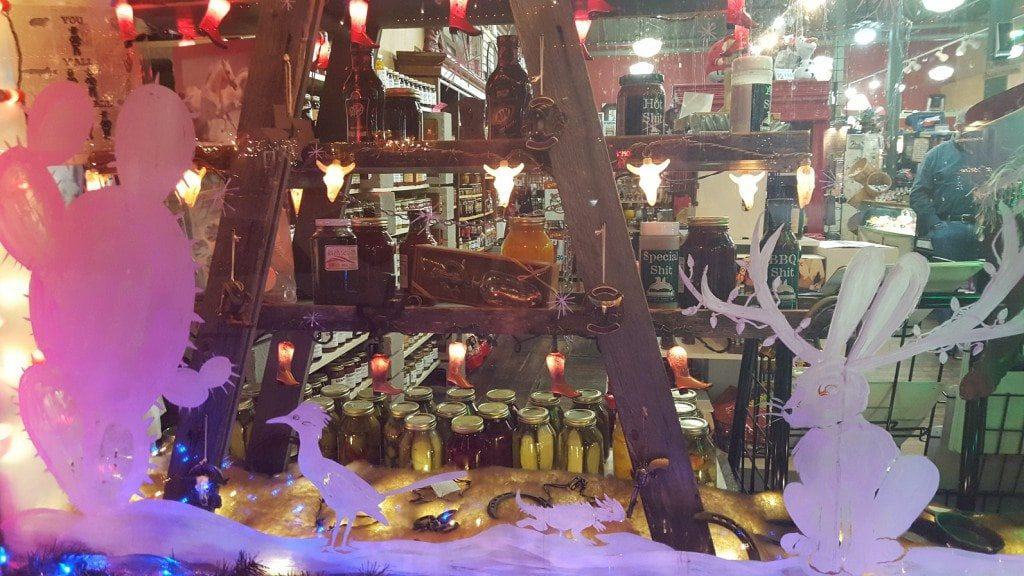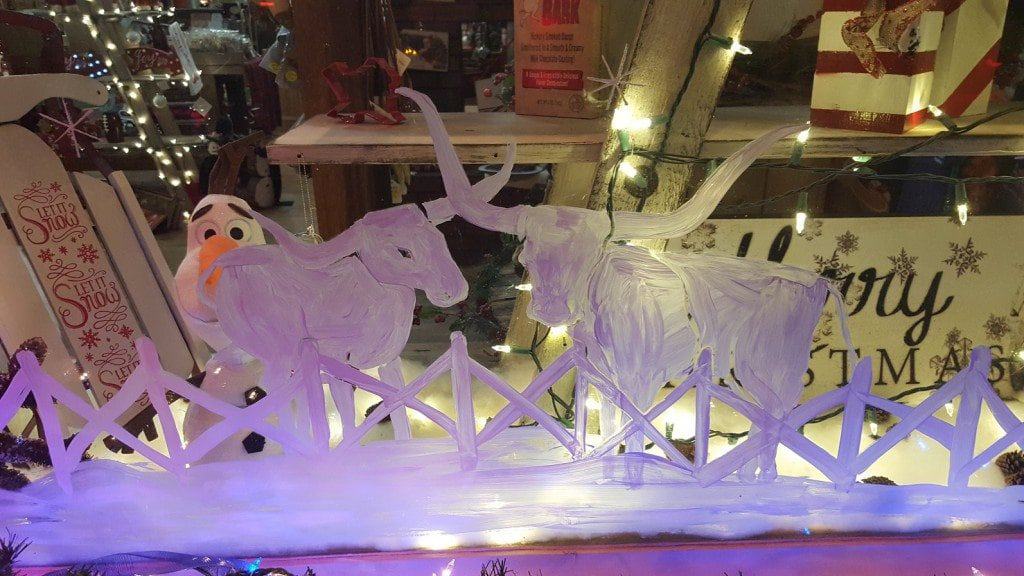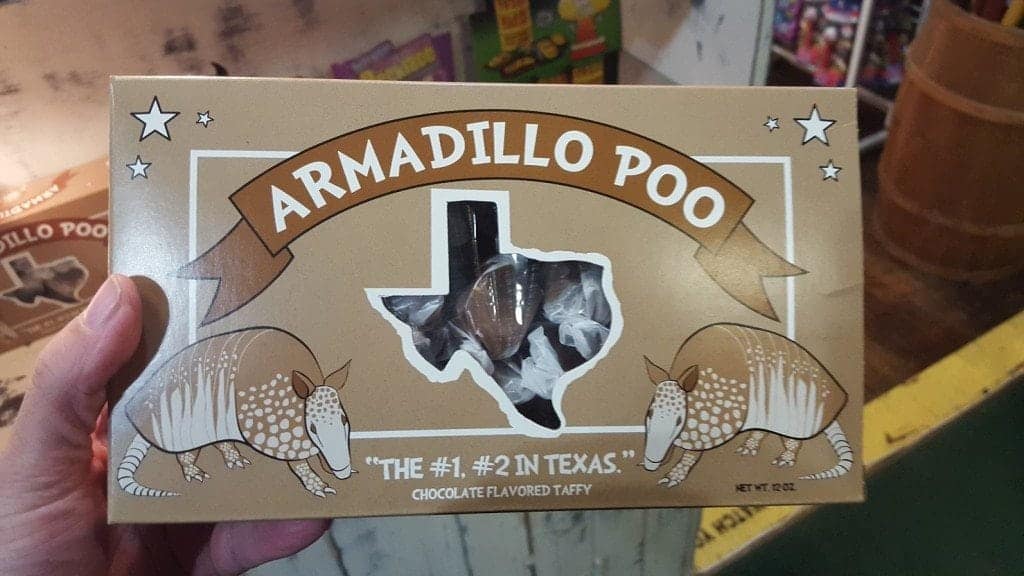 We had a few minutes before our next adventure so we wandered the main street of Grapevine. So much fun!
After walking off a bit of spaghetti pizza we headed to Painting with a Twist. I was able to do another new thing for my 40 new things before I am 40 list. I participated in my first painting class and loved it! I was a bit nervous going into it. I have never painted or even thought of painting a full canvas picture. When I saw what we would be painting I just started giggling. So perfect for my trip to Texas.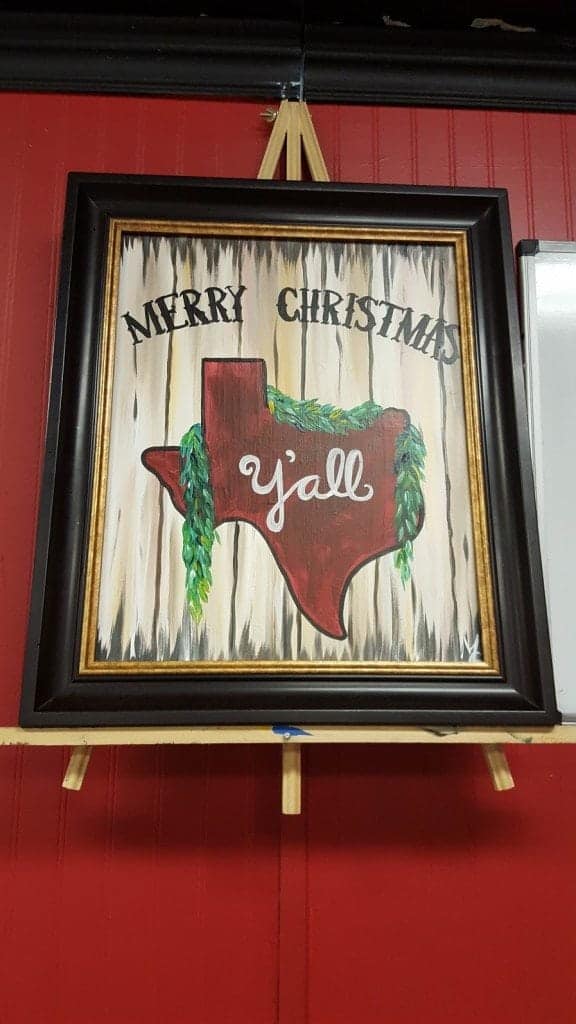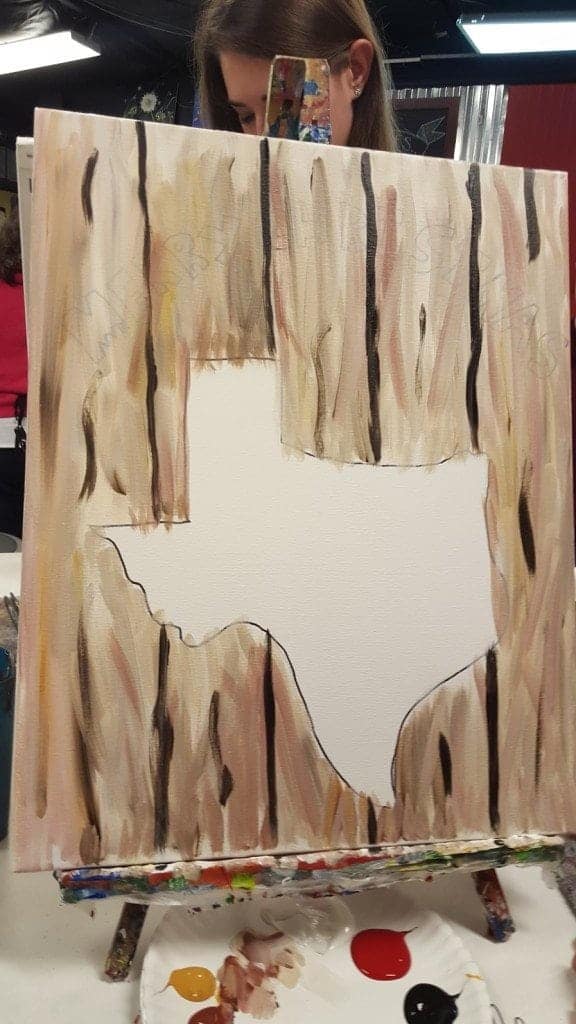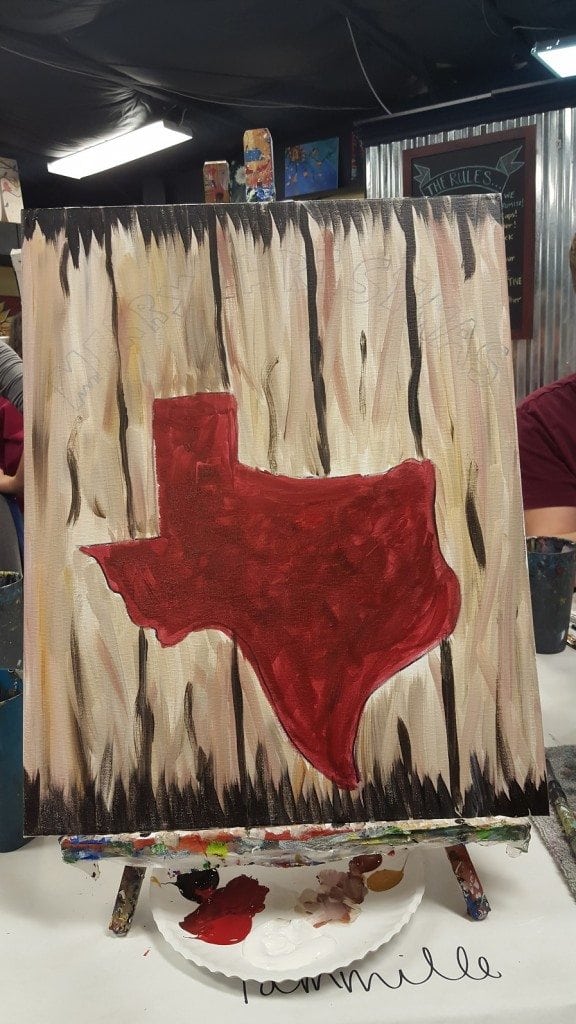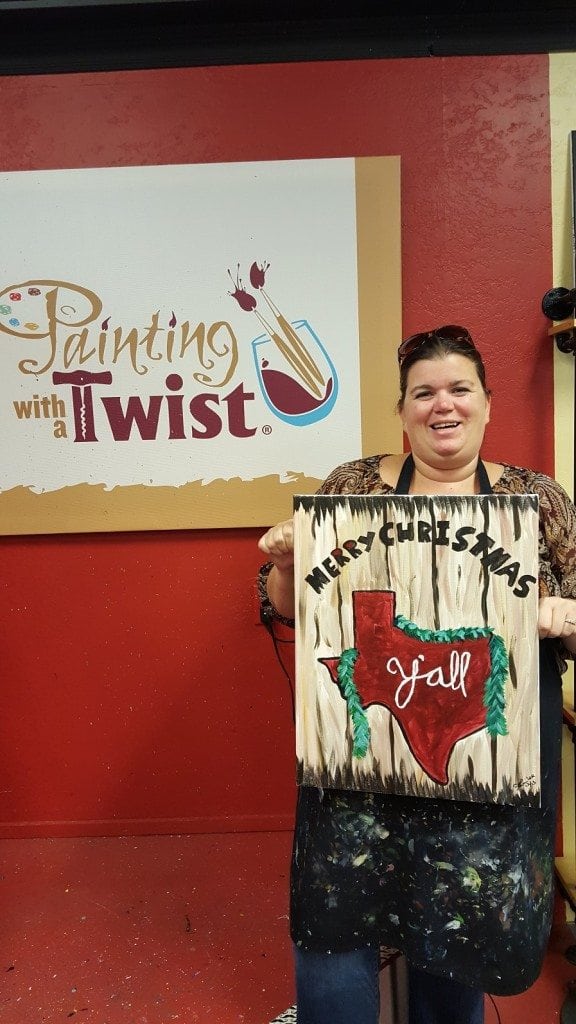 This was so much fun! Seriously somehow painting is crazy relaxing and I am already looking up places to do it again soon. Everyone in the class was having so much fun. Yes there was wine plus a ton of laughter and giggling among the crowd.
I can't believe how much we have packed into my first day in Grapevine. I can't wait to see how the rest of my visit goes!
There is something so magical about a Grapevine Texas Christmas!
Additional Grapevine, Texas Articles
Things to do in Grapevine, Texas
Christmas at the Gaylord Texan