Hounds Tooth Inn is a small boutique luxury hotel nestled in the hills near Oakhurst, California. Close to the southern entrance to Yosemite National Park and the Mariposa Grove of Giant Sequoias.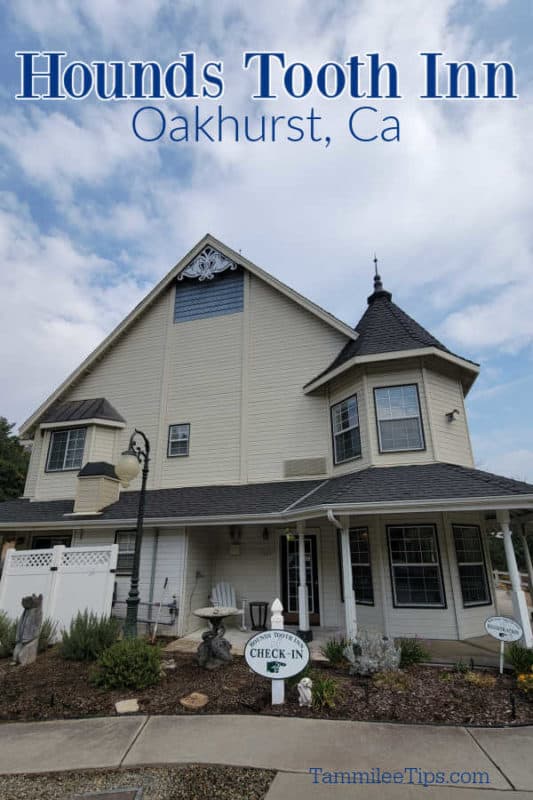 Hounds Tooth Inn
With only 13 luxurious rooms you feel right at home while enjoying the amazing hotel amenities. The Oakhurst Hounds Tooth Inn hotel is Victorian-style and absolutely gorgeous!
This Oakhurst Bed and Breakfast boutique hotel is the perfect place to relax and take a deep breath.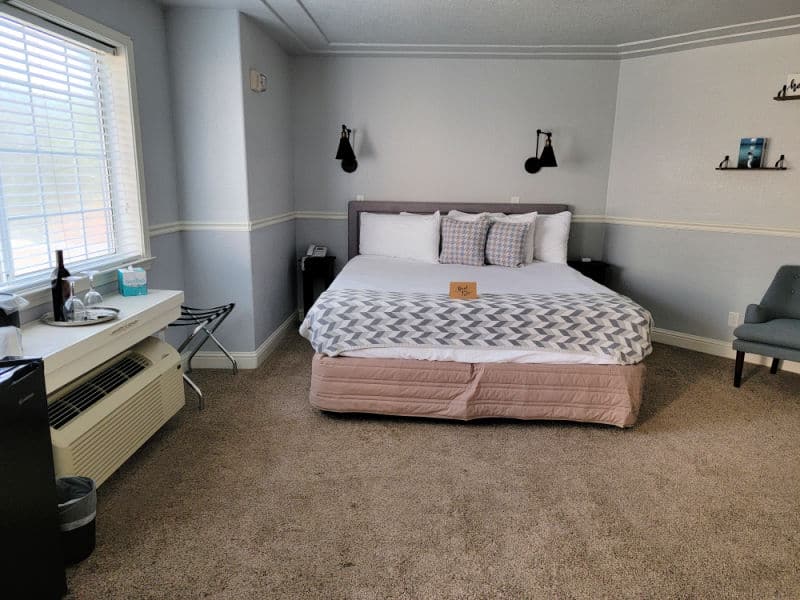 King Bed with Jetted Tub
We stayed in a room with a king bed, jetted tub, and private bathroom. The room features a large jetted soaking tub, mini-fridge, and a huge shower.
We stayed in room #3 on the 1st floor of the Hounds Tooth Inn. The room has an ADA Accessible bathroom and lots of room to move around.
The main feature of the room is the king-size bed with the softest linens you can imagine. We ended up sleeping 10 hours on our first night.
We could hear activity in the room above us and near us but once everything quieted down the room was super quiet and we slept amazing.
One of the really nice touches was the fruit and chocolate plate waiting for us in the mini-fridge. It even had chocolate hound dogs on it which was so cute.
There was also an amazing bottle of Idle Hour wine which is always a treat. They are part of the Madera Wine Trail and have some truly amazing wines produced right in Oakhurst.
The room was large but I will tell you there isn't a lot of space for putting clothes away or storing things. There is an armoire with a couple of shelves and cubes but we did not see a place to hang clothes.
There were hangers in the armoire but I am not sure where you would hang them except for possibly the shower curtain rod.
If you are a traveler who likes having everything put away and in place you may need to ask the hotel if they have a room with a dresser and/or a closet.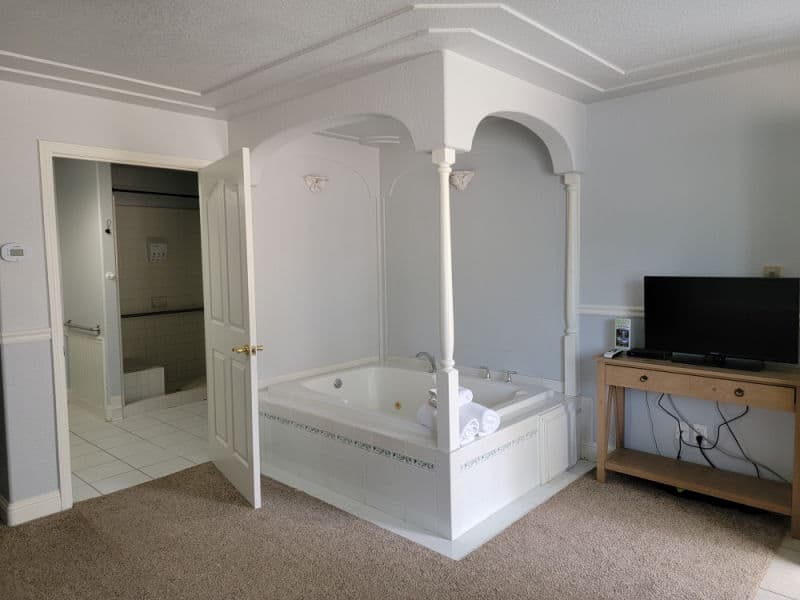 The room features a spa bathtub with multiple jets.
Other amenities in the room include a small refrigerator, Keurig with 4 coffee pods, a private entrance to the room, and free wi-fi.
The bathroom had towels, shampoo, conditioner, and body wash available.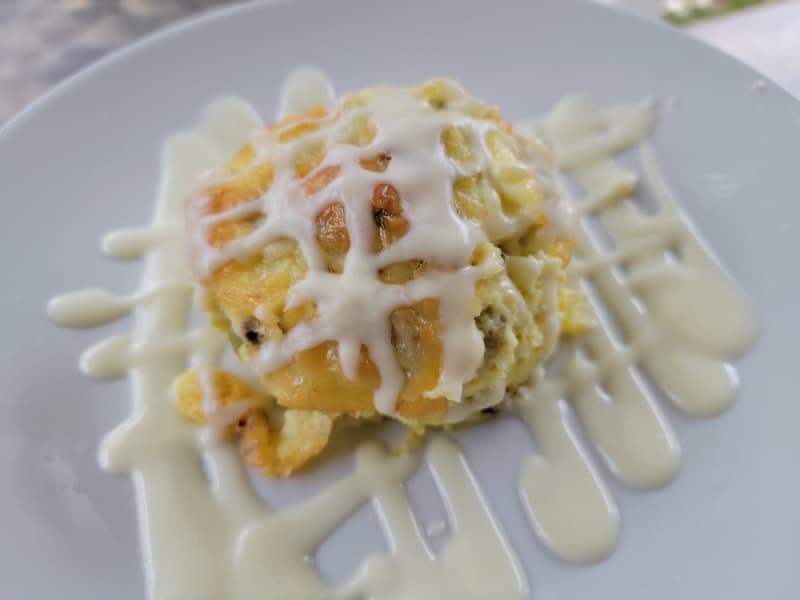 Breakfast
Hounds Tooth Inn serves an amazing complimentary hot breakfast every morning from 7 am to 10 am.
Every day there is a new menu to order from for the next day. We had four different options to choose from and you can customize the breakfast menu to your dietary needs.
Day 1 breakfast options included an open-faced egg sandwich with over hard egg, swiss cheese, grilled squash, grilled zucchini, sauteed spinach on toasted white bread with a roasted fennel sauce
Machaca burrito with sauteed onion, tomato, the essence of jalapeno, shredded seasoned chicken, green sauce, scrambled eggs in a flour tortilla.
Egg frittata with scrambled eggs in heavy cream, sauteed bell peppers, onions, fresh herb fried potatoes, maple sausage, pepper jack cheese with a white cheddar mornay.
or french toast kids plate.
Day 2 breakfast options included a frittata with sauteed zucchini, squash, swiss cheese, fresh spinach, and a roasted fennel cream sauce, or eggs and potatoes, or a ham and cheese omelet.
The kid's option was scrambled eggs with pancakes, hickory-smoked bacon, and syrup/butter.
Day 3 breakfast options included a veggie skillet with sauteed mushrooms, bell peppers, onions, squash, zucchini, spinach, fresh herb fried potatoes, cheddar jack cheese, over easy eggs with a red bell pepper cream sauce.
A frittata with hickory-smoked bacon, maple sausage, 2 scrambled eggs with heavy cream and a roasted fennel cream sauce.
Eggs and toast with 2 eggs cooked to order, sauteed mushrooms and spinach on sourdough toast.
And a french toast kids' plate.
You can designate what time you would like breakfast ready and they call your room when it is ready. There are multiple areas you can enjoy breakfast in depending on if you want to eat in your room, outside at one of the many tables on the property, or in the comfy lounge area.
If you have plans for the day and need your breakfast at the specific time you designate I would move the time earlier.
We had our breakfast designated for a specific time and I went down to check on it 15 minutes after the time. The front desk person said they would have let me know when it was ready but would check on it. Thankfully our breakfast was ready a few minutes later.
One thing to know is the menu for the next morning is placed on your door at 3 pm and needs to be turned in by 9 pm that night.
If you are going to be out exploring Yosemite, Bass Lake, the Madera Wine Trail, or the surrounding area you will want to talk with the hotel about getting your order turned in early or make plans to enjoy breakfast at a local Oakhurst Restaurant.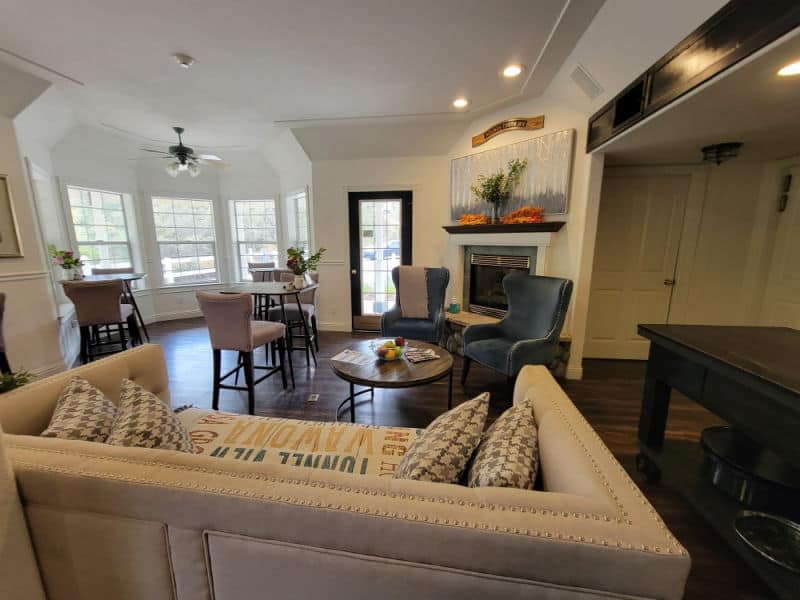 Evening Reception
Each night the hotel offers a wine and cheese reception in the front lobby. They set out gorgeous platters of fruit, cheese, and meat plus tapas along with a sampling of different wines.
This was a wonderful way to relax before heading out to an Oakhurst restaurant for dinner. It was fun seeing all of the guests talk about their day exploring Yosemite and the local area.
They offered a great eclectic selection of wines from Idle Hour Winery just down the street.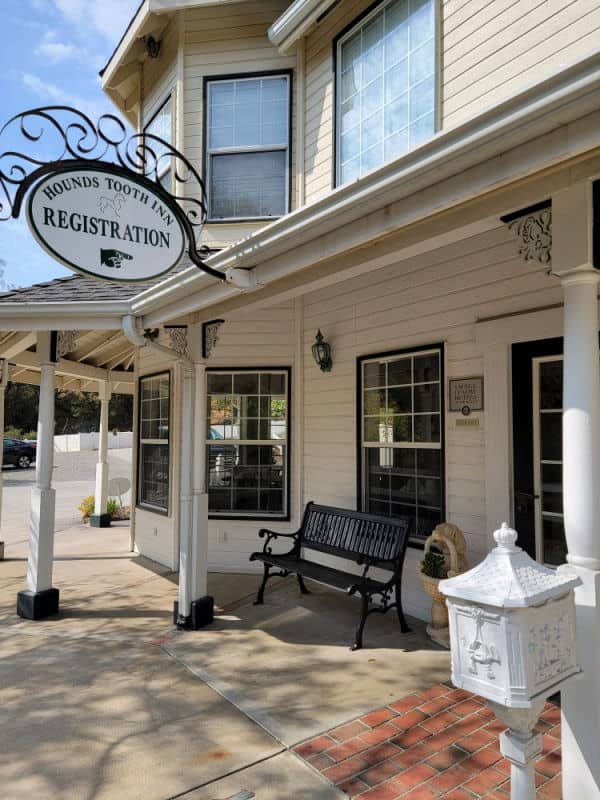 Additional Epic Hotel Amenities
24-hour reception
Concierge services
Electric Vehicle Charging  - There are Tesla chargers in the main parking area.
Complimentary Self Parking - One thing to know is there is no room for buses or RVs. free self parking is right near the main entrance to the hotel.
Complimentary High-Speed Wi-Fi - The Wi-Fi was fantastic! I was able to get work done without any issues.
Family Cottage - The hotel also has a family cottage which has many of the comfort of home including a full kitchen with oven, microwave, full-size fridge, living room, and more.
They also offer junior suites.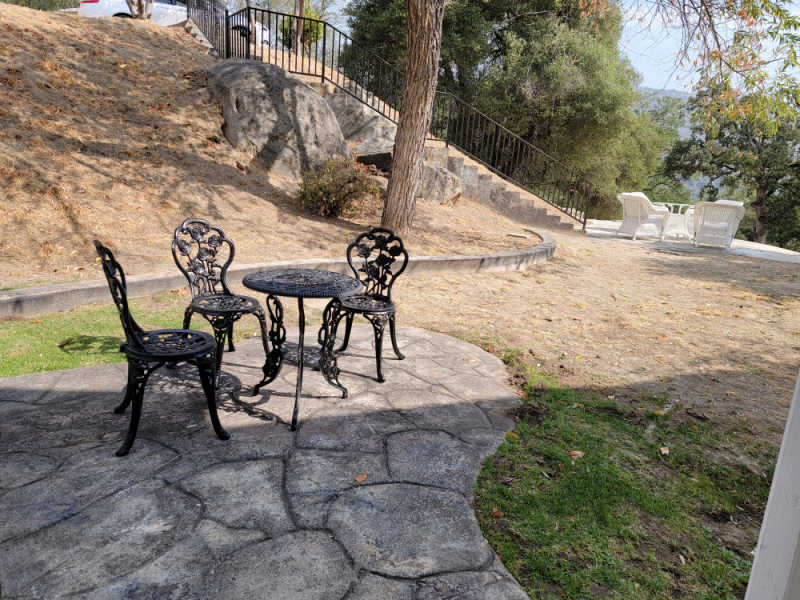 Things to know when planning a visit
Availble to book on Expedia
Nearest Airport - Fresno Yosemite Intl Airport in Fresno, California
Check-In Time - 3 pm
Check-out Time - 11 am
Hounds Tooth Inn Oakhurst is a small luxury hotel right off Highway 41. The hotel is just down the street from art galleries, great restaurants of Oakhurst, the Golden Chain Theatre, and nearby attractions.
The turn-off to Bass Lake is just down the road from the hotel.
Pets - I believe the hotel has a no pet policy.
Cell Phone Reception - We did not have service at the hotel. We were able to connect to the Wi-Fi. If you need to be available for a business call or other calls you may have to drive into town.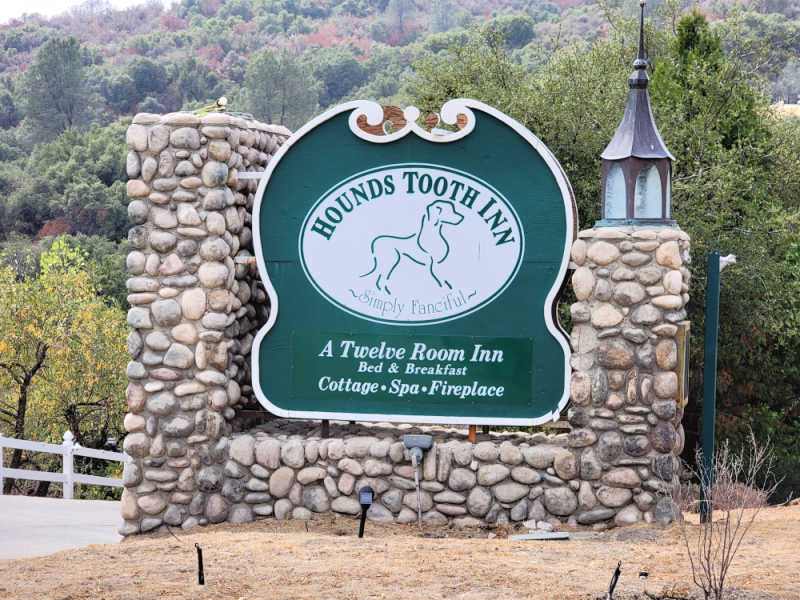 Additional Oakhurst, California Resources
Check out all of our California Articles.