Sierra Sky Ranch is located on the outskirts of Oakhurst, California on Highway 41 leading to the southern entrance of Yosemite National Park.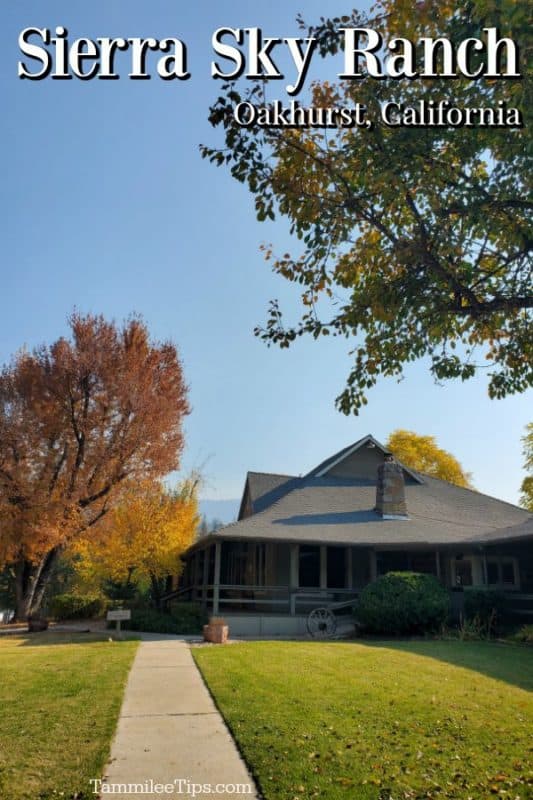 Sierra Sky Ranch
We stayed at the Sierra Sky Ranch during our California Big Trees Road Trip and absolutely loved it!
One of the really cool things about the Sierra Sky Ranch property is it was the first working cattle ranch in the area established in 1875.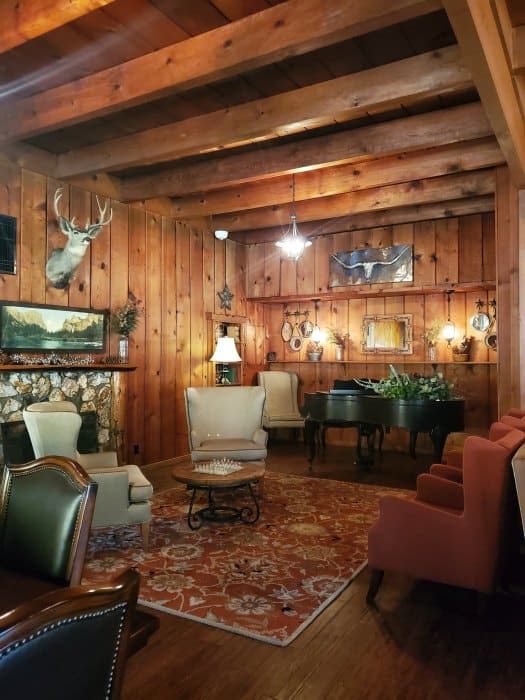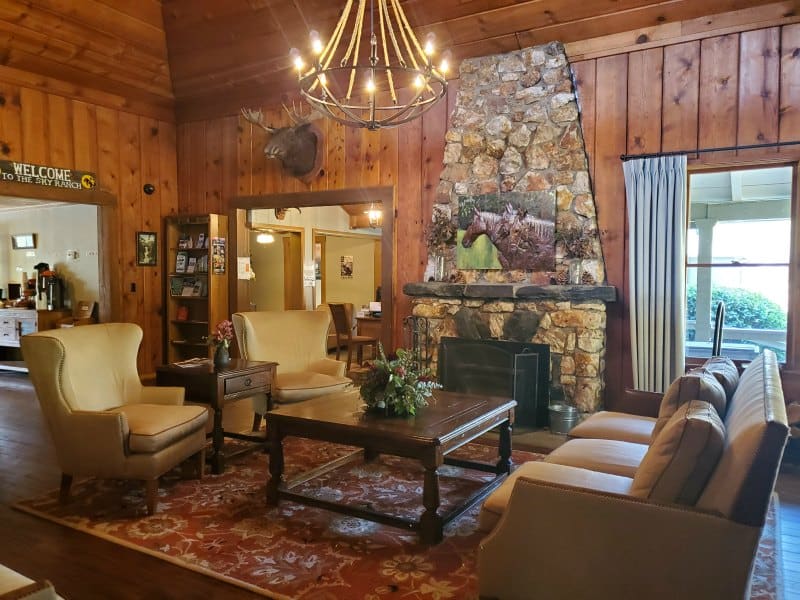 The hotel has a laid back atmosphere in a super comfortable setting. The lobby and sitting room are absolutely gorgeous!
During our next visit, we will plan time to relax more at the hotel just so we can soak it all in.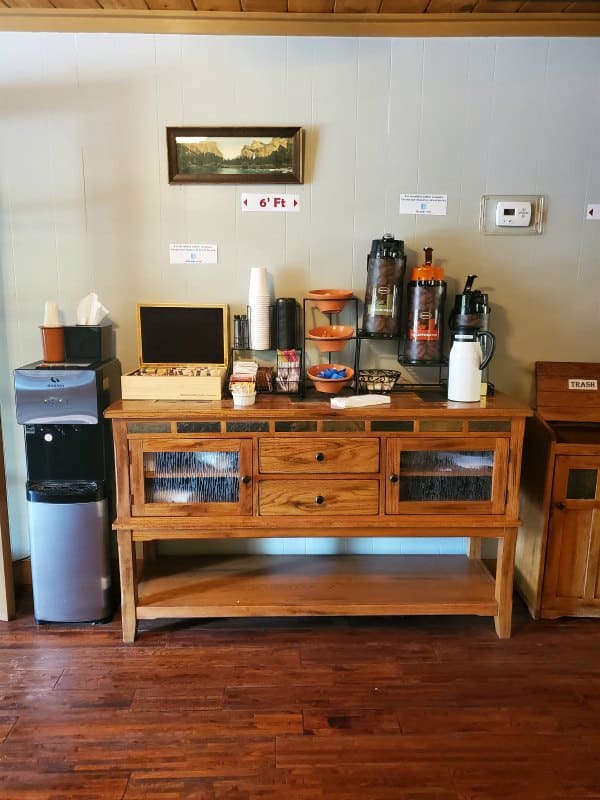 Just off of the sitting room there is a coffee bar that has hot coffee and hot water available. They had a fantastic selection of hot tea and hot chocolate for guests to enjoy.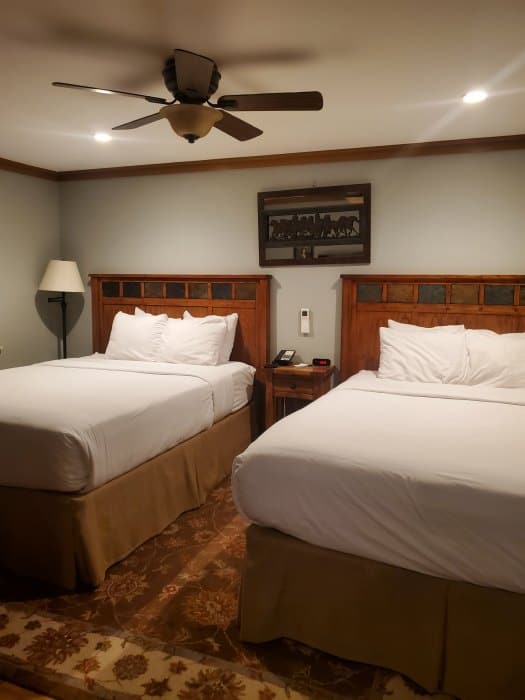 2 queen bedroom family suite
We stayed in a 2 queen bedroom family suite located on the lower level of the hotel. The great thing about the family suite is you have your own private entrance.
There is parking right next to the building making it easy to unload and reload your car.
We really enjoyed the suite and loved having the sitting room to relax in before heading to bed. We were able to work from the sitting room along with relax after a great day exploring the area.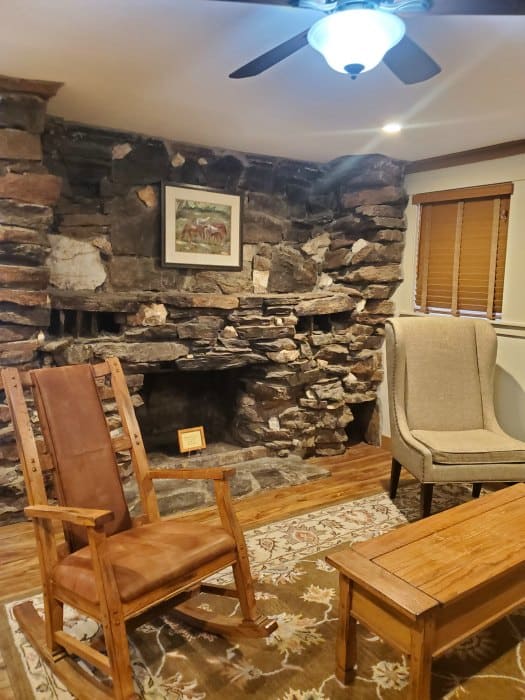 The sitting room has a comfortable couch, wing back chair, and a rocking chair surrounding a coffee table. There is a fireplace but the hotel is working to restore it to working conditions so you can't have a fire just yet.
The fireplace is gorgeous just on its own though with a mix of rocks and quartz.
There is also a small two-person table with chairs that has a Keurig coffee maker and 4 K-cups ready for you.
The family suites bathroom is huge! There is a bathtub and walk-in shower, a toilet, and a sink/vanity.
We really appreciated how many towels were available and all of the great toiletries in the bathroom.
The bedroom has two queen beds, a dresser, and flat-screen television.
We found the beds to be pretty comfy. They are a bit firm but were not rock hard which was nice. The bedding was great.
There were quite a few pillows on the bed so you could easily relax and watch tv.
Guest Room Amenities
Complimentary WiFi
Individually controlled heating & AC
Flat-screen cable television
Fan
Telephone
Shower or bathtub
Alarm clock & wake-up service
Hair dryer
Complimentary toiletries
RFID key card access
Coffee & tea maker (in suites)
Complimentary weekday newspaper
Daily housekeeping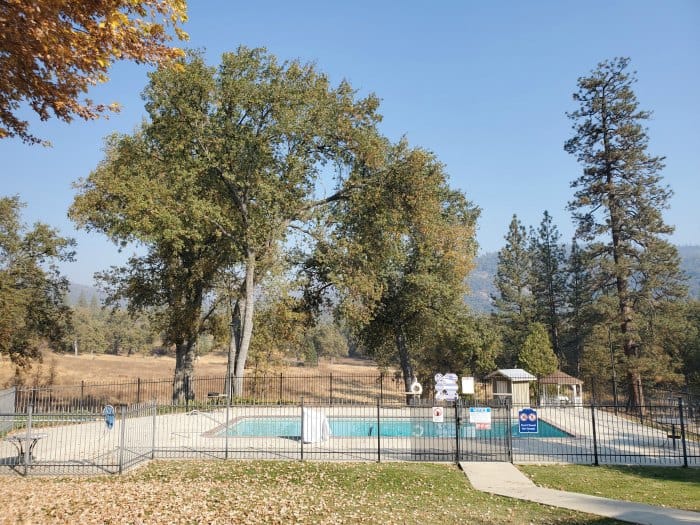 Hotel Amenities
Seasonal Outdoor Pool - There is an outdoor pool near the main entrance to the hotel.
Lobby/sitting room - the lobby and sitting room for the hotel are gorgeous. There is a grand piano along with a ton of comfortable chairs to relax in.
The hotel keeps hot coffee and water available all day along with a selection of tea and hot chocolate for guests.
Branding Iron Restaurant - We were unable to check out the restaurant due to it being closed this year. We are hoping to add it to our must-try Oakhurst Restaurant guide soon.
Travel information
28 rooms and suites on the property.
Located four miles north of Oakhurst, California. Sierra Sky Ranch Ascend Hotel Collection is ten miles from Yosemite's southern entrance near the Mariposa Grove of Giant Sequoias, four miles from Bass Lake, and 15 minutes to Chukchansi Casino.
Address - 50552 Road 632, Oakhurst, CA 93644, United States
Phone - (559) 683-8040
Part of Choice Privileges Rewards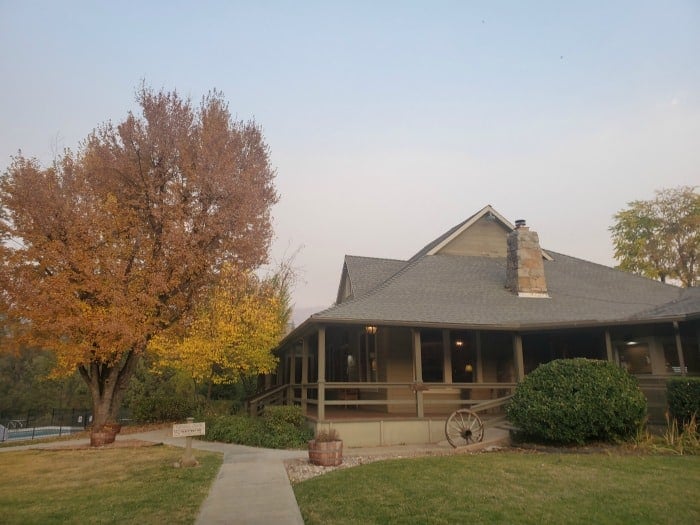 Additional Yosemite/Oakhurst Articles
Don't miss the Bourbon Cherry Brownies we made with Oakhurst Spirits Bourbon! So delicious!