Do you have something on your bucket list that you never seem to get to see or do? For my lovely Husband John it has been the Northern Lights.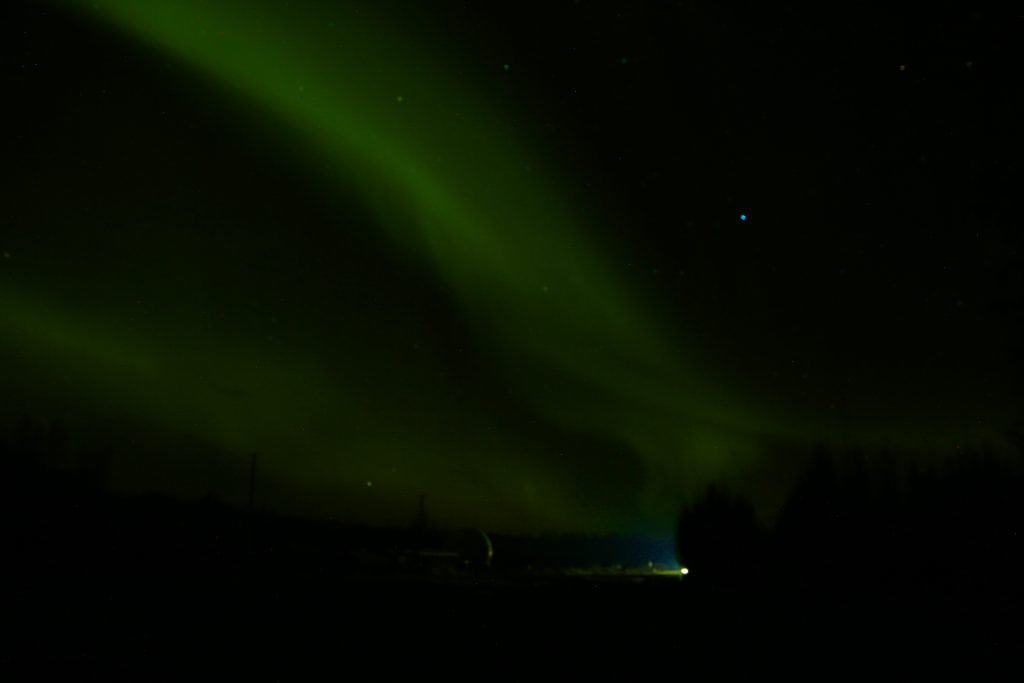 The hunt for John's Unicorn…the Northern Lights
A few years ago we flew to Iceland in hopes of seeing the Northern Lights. We took nightly tours in the freezing cold and stood outside in hopes of seeing the Northern Lights. They never appeared. Our guides told us that this was the first time they could remember them not showing up 4 nights in a row.
While we loved Iceland we never did see the Northern Lights during our visit. We have also gone out in Spokane and driven north of the city when the Northern Lights were supposed to be present.
Finally this year we decided to fly to Fairbanks, Alaska in hopes of seeing John's unicorn. We found a killer deal with Alaska Airlines using miles and booked a last-minute trip to Fairbanks. We took the late-night flight arriving in Fairbanks around 3 am in the morning.
During the flight, I kept looking out the window thinking I was seeing the Northern Lights but honestly not believing that it was possible.
One thing I didn't realize is a lot of the pics you see of the Northern Lights have been greatly enhanced to show the colors of the lights. That many times when you see them they are faint and almost whisper across the night sky.
As we were walking out to get our rental car in Fairbanks would you believe we looked up and the sky was alight with the Northern Lights. Even with the parking lot lights, we could see them overhead. It was stupid cold and yet we stood there in the middle of the parking lot in awe.
We couldn't believe that 10 minutes after arriving in Fairbanks we were seeing John's unicorn. WE drove to the hotel and picked up our hotel keys but felt like we needed to go out and see more of the lights.
Thankfully the hotel front desk told us we could drive 8 to 10 miles outside of town to a pipeline overlook and have a great chance at seeing the Northern Lights.
Off we went at 4 am to see what we could find. We parked in a random parking lot and just stared in awe at the Northern Lights.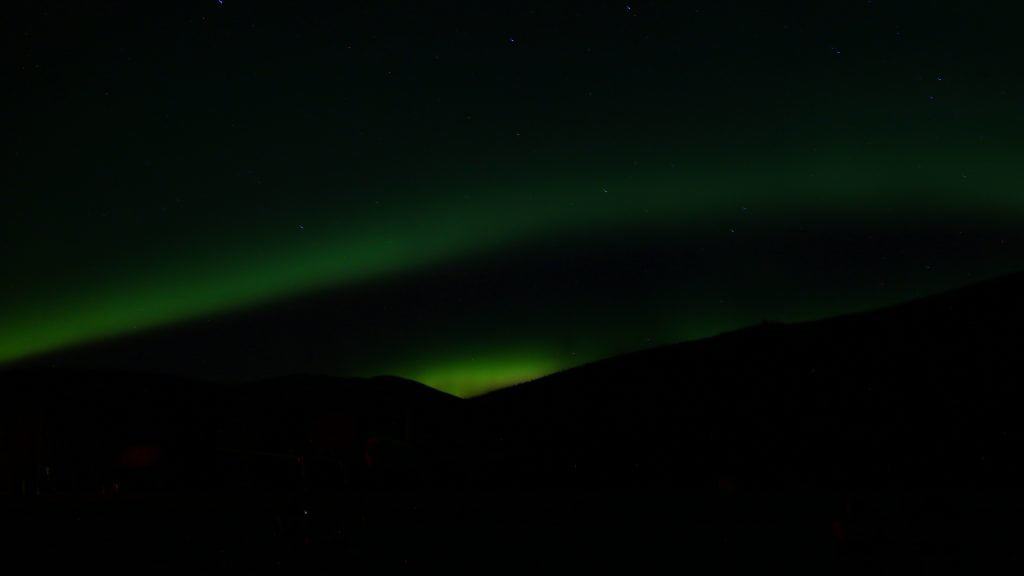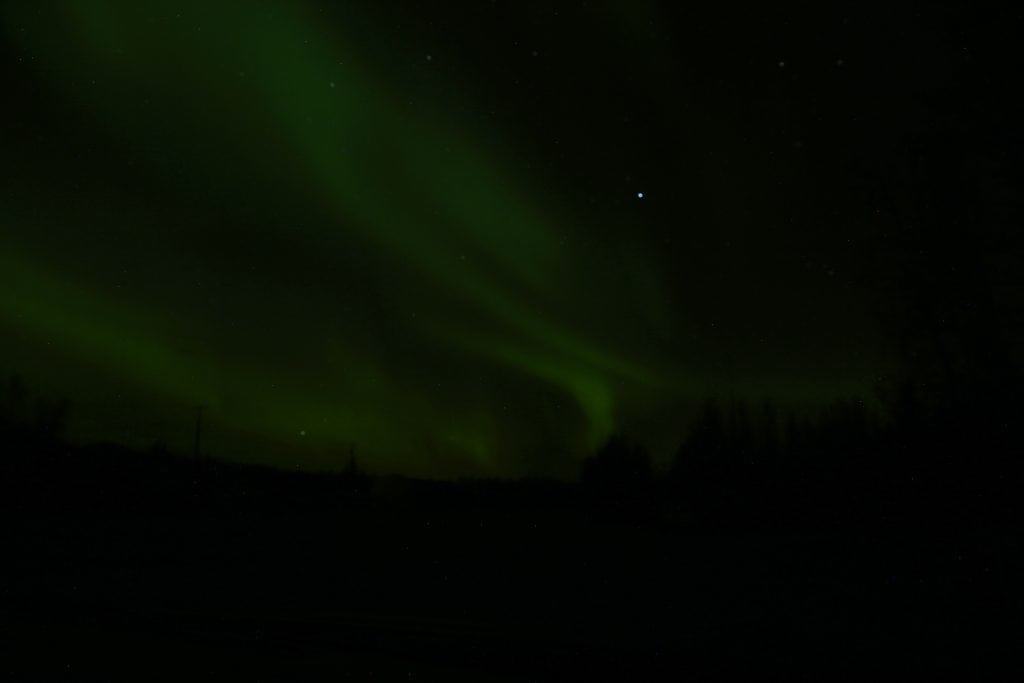 I set the camera up on the dashboard and attempted to take a few photos. It was hilarious trying to get photos and not light up the inside of the car since we had to use a long exposure.
You can imagine us at 4 am, wiped out but in awe of the Northern Lights trying to take photos.
After a while, we figured we needed to sleep and then head out in the morning to Denali National Park.
Seeing the Northern Lights was absolutely amazing! Now we want to visit Finland or Iceland again to see if they are brighter and easier to see. Even after seeing his unicorn now, we want to see them again. LOL!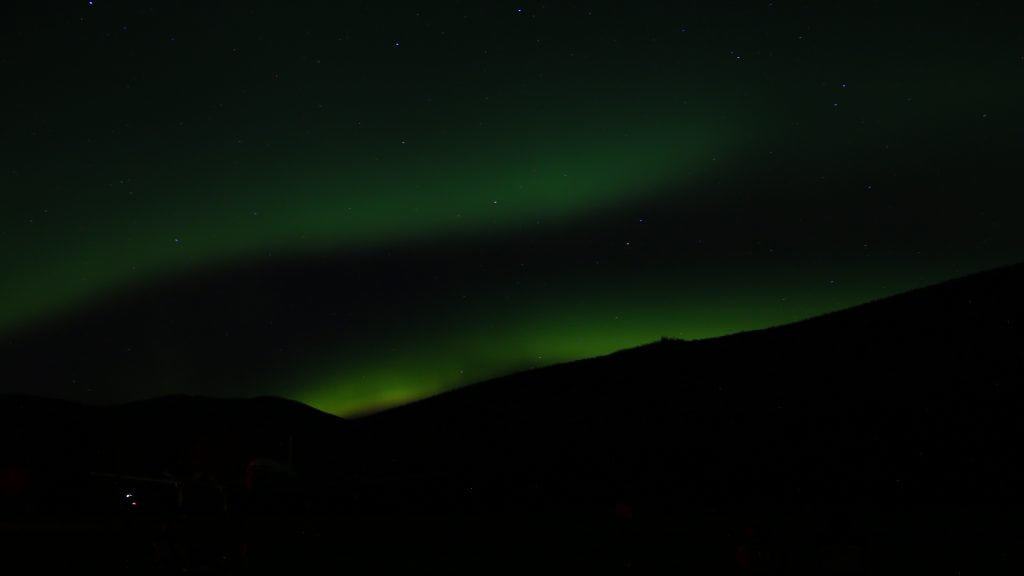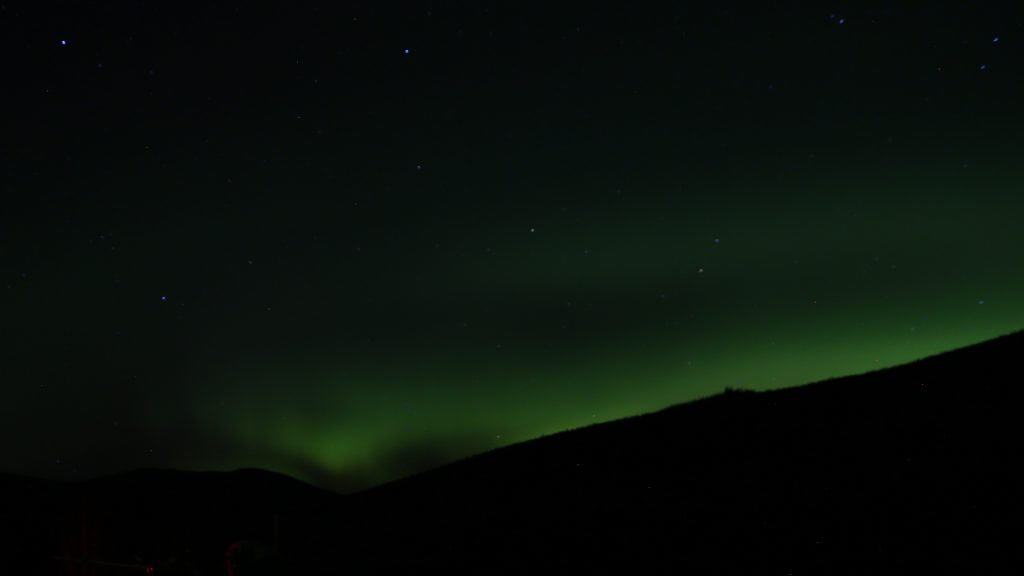 Additional Alaska Articles
Check out all of our Alaska Travel Guides