These are the Alaska Cruise tips we wish we would have known on our first cruise. What to pack, what to do, what not to miss and what to skip! We made all of the mistakes so you don't have to!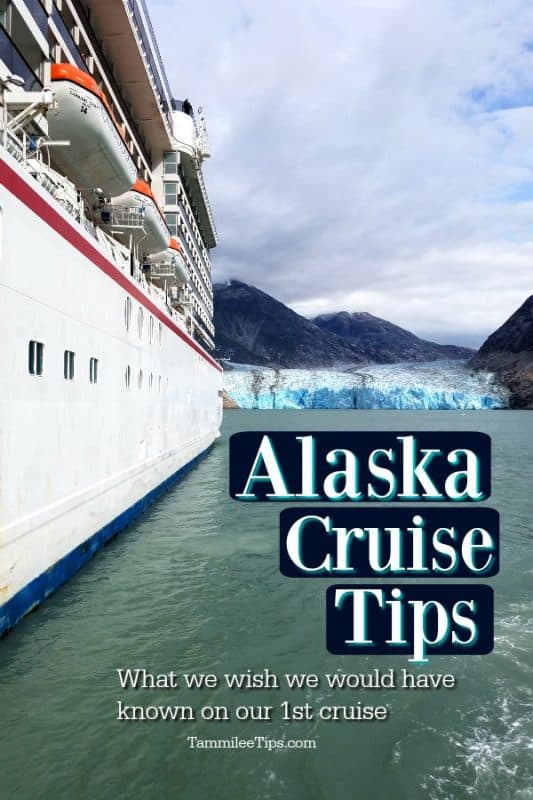 Alaska Cruise Tips
Pack more warm clothes than you think you will need!
We cruised to Alaska in June and we did not have near enough warm clothes packed. A hat, gloves, scarf and warm jacket are really needed on the Glacier cruising days.
When we cruised to Alaska in August the weather was warmer but I was still really glad we packed a ton of cold-weather clothes.
During the Glacier cruising days make sure you walk around the boat to get different perspectives of the glaciers. Depending on your boat you may be able to stand above the bridge on the open deck and watch the glaciers. This is a great vantage point but very chilly with the wind.
We packed hats and gloves for the trip but somehow forgot scarves and warm parkas. I would have paid a lot of money for a nice scarf the day we cruised Glacier Bay. You want to be outside checking out the scenery but it can be super cold and windy. Having layers gives you the chance to be prepared and warm during the day.
You can experience all four seasons in a single day. Make sure to pack a Rain Jacket! I hate to say it but it will rain during your cruise at least once.  You could also pack one of these cute travel rain ponchos.
Always keep your camera with you
You never know when you will spot a whale or great wildlife from the boat. We were sitting in the library catching up on a couple of emails and warming up when John saw dolphins playing off the side of the boat right next to us. Of course, our cameras were all back in the room.
The early bird gets the worm or the whale as we were told by the ship's naturalist. All of the amazing whale sightings happened really early in the morning right at daybreak. We were nice and cozy in bed and missed the amazing Humpback whale pictures others were able to get. Looking back I would have gladly given up an hour's sleep to see Humpback Whales near Glacier Bay.
I hope these tips help with your Alaska Cruise experience. We absolutely loved cruising to Alaska and can't wait to go back again soon. For more Alaska cruise tips and posts check out these great posts.
Pack extra camera batteries and SD Cards
I know I keep saying to always have your camera with you but please trust me when I say you will take more pictures than you think you will. We have come back from Alaska Cruises with over 10,000 photos. I am a little heavy with the shutter taking pics but still.
Having extra camera batteries and SD Cards will make sure you can get that epic shot.
Arrive at the port terminal to board a little after it opens.
When the cruise port opens for boarding there is a huge mass of people trying to get on board. Instead of arriving right when the cruise port opens we like to arrive an hour or so later. We were able to walk right through the boarding process with no wait time.
If you are cruising with Carnival make sure to arrive at your designated arrival time. They will not let you on board early and you end up just sitting and waiting.
Pick up every brochure and shopping packet you see.
They are filled with amazing coupons you can use at each of the ports of calls. I saved so much money and was able to pick up some really cute trinkets for free by having these tour books.
Pack Binoculars
We ended up buying binoculars on our last cruise. Save yourself a bit of money and buy them before you get on board. That way you can make sure you get the ones you really want. We used them every day we were cruising.
Pack an insulated coffee mug
One of our favorite things to bring on a cruise is a Tervis Mug. They work for both cold and hot drinks and are easy to carry with you. On our Alaska Cruise, we would fill them with coffee and tea and enjoy hot drinks while sitting on our balcony.
If you are a chai tea fan I LOVE these Oregon Chai single packets. All you need is hot water which you can get easily and you have a delicious Chai Latte!
Every ship we have been on has had coffee available 24/7 while on board. One thing to know is it isn't always the best coffee. If you are a coffee snob like my husband you may want to pack Starbucks VIA packs or your favorite instant coffee.
Mosquito Repellent Is Your Friend
Alaska mosquitos can be massive and they can also be horrible. Make sure you are prepared with mosquito repellent. We like pre-treating our clothes with permethrin spray ahead of traveling so we know that we always have a bit of protection.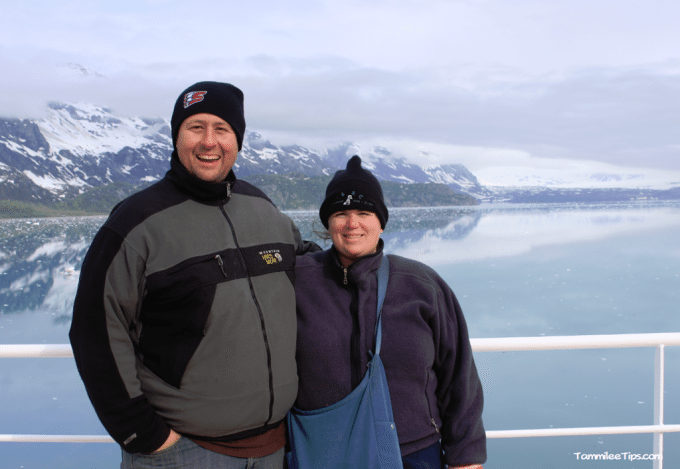 The early bird gets the whale
This is what the naturalist on the boat kept telling us. He said to set your alarm and make sure you are out on the deck in the early mornings to see whales. I wish we would have listened to him because all of the major whale sightings were while we were still sleeping.
The early bird also gets to pick a great seat near a window! This is key especially if you have an inside cabin! You will want to find your favorite spot early before they fill up. We like having seats near a main door but far enough away to not always get hit with the cold air each time it opens.
We loved having this Alaska Inside Passage Wildlife Guide with us. If you want help identifying the wildlife you see on your cruise we love these guide books.
Pack Dramamine just in case
We haven't really had any rough sea days on our Alaska cruises but we have heard of people having horrible seasickness during their cruise. It is worth packing Dramamine or sea sickness bands with you just in case. Better to have them with you than feel horrid during your amazing cruise.
They also make motion sickness patches we have heard great things about.
Pack Sunscreen and use it!
Being on the water it can be easy to get burned! Make sure you pack sunscreen and use it.  I would also pack sunglasses and a hat to help cut down the glare on the water.
Pack a water-resistant travel bag
You never know when it will get misty or rain during the day even when the day looks like it will be a sunny day. We like these travel backpacks that fold into a small bag. They are a great extra bag especially in port when we get more souvenirs than we planned on.
Paying for a Balcony Stateroom is worth it
Our first couple of Alaska cruises we had an inside room and it worked but we didn't realize how much we missed until we booked a balcony stateroom. We loved being able to lay in bed and watch for whales in the morning. It is so easy to just hop out onto your balcony and grab a great photo.
Having a balcony makes it a lot easier to stay warm! You can easily grab an extra layer, your camera, binoculars, or a blanket and pop right back out on your balcony.
When we had an inside cabin we were always running back to grab something and then having to find a new spot to sit since chairs with a window were a premium.
Bring comfortable walking shoes
Most of the cities visited during the Alaska cruise are really easy to get to from the cruise ship terminal. Skagway is about a 10-15 minute walk from where our boat docked. Ketchikan you are literally docked right next to the town. Juneau is about a 10-15 minute walk from where our boat docked.
They do not announce that you can disembark the boat on the open deck area
Make sure you are inside the boat and can hear when you can disembark. We sat for about half an hour on the top deck confused as to why we had not heard an announcement. One of the deck crew finally told us there is a noise law in Alaska that prevents them from making announcements on the open deck.
Pack a backup cell phone charger
We end up using our phones so much that we are always worried about the battery dying. The last thing you want is to see a whale or bear and realize your phone battery is dead.
I always carry a backup phone charger with me just in case. I wish we would have known this Alaska Cruise Tip on our first cruise! My phone was dead half the cruise.
Plan on the cruise costing more than you may expect
One thing we have found on our Alaskan Cruises is we always spend more than we think we will. Between picking up things we have forgotten, adding onshore excursions and souvenirs our spending is always higher than we think it will be.
Be prepared to have extra expenses during your cruise. Please don't end up going and not being able to do the things you want to do.
Pack your bathing suit..yes in Alaska
I know you think I am crazy saying to pack a bathing suit but you can use it for soaking in the hot tubs. There is something magical about watching the Alaska coastline from the hot tub.
Try at least one new food during your cruise vacation.
One of the best things about cruising is the food. You can try anything you want without worry about how expensive it is going to be. If you do not like it you don't have to worry. The staff have seen it all and will not be offended if you do not like the food and are happy to bring you something new.
You Need a Passport or Birth Certificate to Cruise
Most Alaska cruises have at least one port in Canada. You will want to check your specific cruise requirements to make sure you are prepared.
Have fun and relax!
I am a perpetual worker. I am always thinking about blog posts, social media, and well work.
I really tried to relax during our cruise and turn off my brain. It is so much fun to just soak up the beautiful scenery and atmosphere of Alaska. There is truly no place in the world quite like Alaska.
Check out our blog posts on Juneau, Skagway, Ketchikan, The Golden Princess, Cruising Glacier Bay and Driving to the Yukon to see some of the amazing adventures you can have during your Alaska Cruise.
Our Alaska Cruise was one of our favorite cruises we have taken anywhere in the world. There is nothing like watching glaciers calve, bears, icebergs and the amazing natural beauty of Alaska from the cruise ship.
Can you see the Northern Lights?
Maybe...You need a clear sky and no city lights which makes being on a cruise the perfect potential opportunity to see the Northern Lights. We have not seen them on any of our cruises but have heard of people seeing them from their balcony so anything is possible.
Cruises later in the season when it is getting dark at night will give you the best opportunity to see them.
Don't miss all of the epic things to do in Alaska! From the Northern Lights to wildlife there is so much to see and do.
Best Time to Cruise to Alaska
The best time to cruise to Alaska is whenever you can make it happen!
I will say that mid-summer you will have longer days with a ton of sunlight. This is great if you are really looking to maximize the time you spend looking for wildlife.
The weather in Alaska can change by the day or hour. It is not uncommon to go from sunny to rainy in the blink of an eye.
The Alaska Cruise Season runs from late April to September most years. April, May, and September are normally a bit cheaper but there may not be as much wildlife.
Cruise fares vary depending on the major cruise line you are booking. Keep an eye out for cruise deals.
Sign up for the cruise line offers via email to see when they have great deals. We have jumped on last-minute cruises out of Seattle for amazing prices.
Additional Alaska Cruise Tips
What to pack for an Alaska Cruise
Highlights of our Alaska Cruise
Alaska ~ Some of our favorite photos from our Alaska Cruise
First-time cruise questions answered
Cruising to Alaska National Parks 
Tracy Arm Fjord
Tracy Arm Fjord Glacier Explorer Excursion
Juneau, Alaska
An evening at the Red Dog Saloon, Juneau Alaska
Visiting Mendenhall Glacier outside of Juneau Alaska
Our day in Juneau on our Alaska Cruise
Skagway, Alaska
See bears on the Wildlife Expedition Excursion
Driving to the Yukon Territory from Skagway on our Alaska Cruise
A stop at Yukon Brewing in Whitehorse during our Alaska Cruise
Red Onion Saloon, Skagway Alaska
Klondike Gold Rush Visitor Center in Skagway Alaska
A day in Skagway on our Alaska Cruise
Ketchikan, Alaska
Spending the day in Ketchikan on our Alaska Cruise
Great Alaskan Lumberjack Show in Ketchikan
Seattle, Wa
Leaving Seattle on an Alaska Cruise
Alaska Cruise Ships
Carnival Freedom – Photo and video tour along with info on this great cruise ship.
Carnival Miracle – Photo and video tour of the ship coming soon.
Tour of the Holland America Westerdam
10 things we loved on the Golden Princess
Please let us know if we can answer any questions about visiting Alaska on a cruise ship. We hope that these Alaska Cruise Tips make your trip to Alaska the most amazing cruise vacation you have been on!