A new twist on classic banana bread! This Tinta Port Wine Banana Bread is delicious! The port-wine adds a rich flavor to classic banana bread.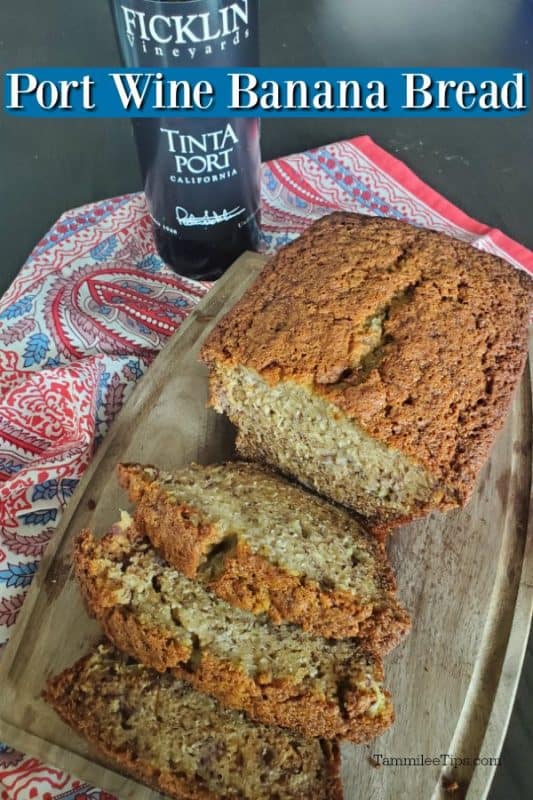 Port Wine Banana Bread
Can you tell I am on a roll making recipes with this delicious Ficklin Vineyards Tinta Port Wine? LOL! We thankfully brought home a few bottles after our last visit to Yosemite Madera County. This is a wine I try to keep in the house as often as possible.

Did you see the
Carrot Cake with Pineapple, Coconut, and Port Wine
I made earlier this week? Hello YUM!!!! Oh my goodness it was so good. After this recipe, I decided to dive into this port wine banana bread recipe.
I adapted the recipe from an email Ficklin Vineyards sent out to their subscribers. You guys they have the most amazing recipes! I look forward to their emails coming into my inbox! Which is saying something when I have been on an unfollow delete mission the past few weeks we have been stuck at home.
One bonus of being home for weeks on end has been playing with recipes. I have done more dishes than I thought was possible but it is so worth it with all of the homemade food we are preparing.  I hope that you have been enjoying all of the new recipes we are sharing.
We have at least one more Tinta Port Wine Recipe coming up which is Crockpot Braised Beef Short Ribs. I cooked them low and slow in the crockpot and oh boy I think you are going to love them!
Can you tell how much we love Ficklin Vineyards? It is one of our favorite stops on the Madera Wine Trail. The wine trail guides you to a ton of great wineries that are located in Madera County, California. You can find great wineries in Madera, Oakhurst, and surrounding areas.
What we love about Ficklin Vineyards is it has been family owned for three generations. When you visit the tasting room everyone is so excited to share their wines with you. I went into our first tasting not really knowing anything about Port Wines and left a huge fan!
We have been working with Yosemite Madera County as ambassadors for the past year. While we can't travel there right now I am enjoying cooking and baking with some of the wine we brought home during our last few trips.
Banana Bread with Port Wine
Ingredients
Butter
Sugar
Bananas
Eggs
Flour
Baking soda
Salt
Ficklin Vineyards Tinta Port Wine
Vanilla
Optional: ½ cup chocolate chips; ½ cup chopped walnuts
Recipe Tips
This port wine banana bread took about 60 minutes to bake in our ovens which is what I normally find with our classic banana bread. You may want to check your bread after 45-55 minutes depending on how hot your oven runs.
We also made Tinta Port Braised Short Ribs which are epic and delicious!
Check out all of our Banana Recipes.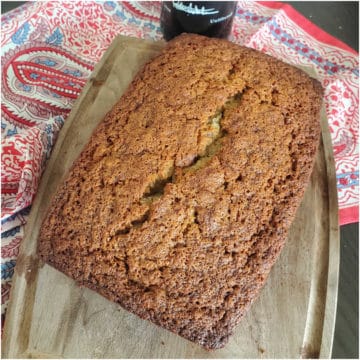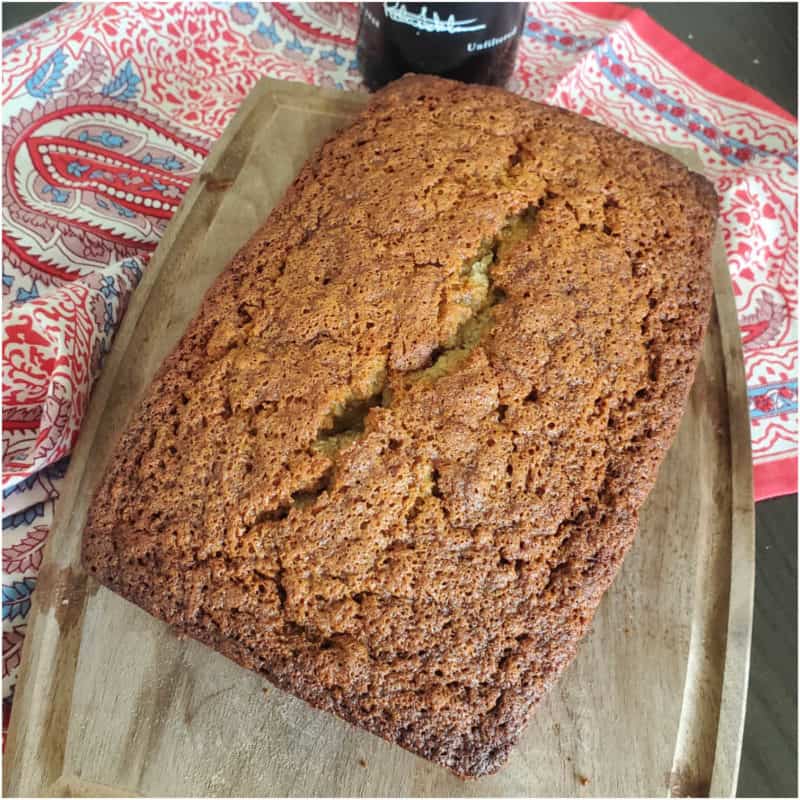 Tinta Port Wine Banana Bread
A new twist on classic banana bread! You can make Tinta Port Wine Banana Bread to add a deep rich flavor to the bread.
Print
Rate
Instructions
Preheat oven to 350 degrees.

Butter and flour a loaf pan.

Cream together butter and sugar using an electric mixer. Add eggs and mashed bananas and stir well.

Sift together flour, baking soda, and salt. Add to butter/sugar mixture about ⅓ at a time by folding until just combined.

Add Port and vanilla to mixture. Stir until just combined.

Add optional ingredients if you would like nuts or chocolate chips.

Pour into prepared loaf pan. Bake for approximately 60 minutes.
Nutrition
Nutrition Facts
Tinta Port Wine Banana Bread
Amount Per Serving
Calories 242
Calories from Fat 81
% Daily Value*
Fat 9g14%
Cholesterol 48mg16%
Sodium 475mg21%
Potassium 142mg4%
Carbohydrates 37g12%
Protein 3g6%
Vitamin A 295IU6%
Vitamin C 3mg4%
Calcium 10mg1%
Iron 1mg6%
* Percent Daily Values are based on a 2000 calorie diet.