Best Carrot Cake with Pineapples, Coconut, and Port Wine! This easy carrot cake recipe is made from scratch with the addition of delicious Tinta Port Wine.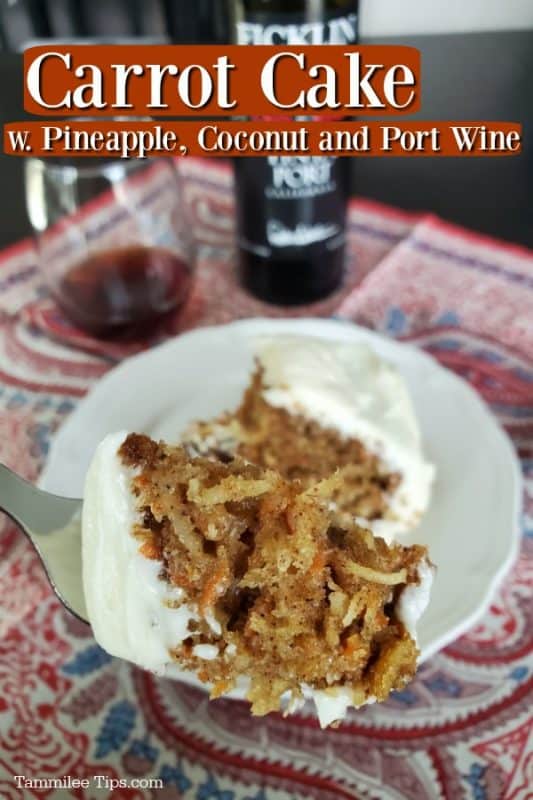 Carrot Cake with Pineapple
One of our favorite wineries to visit on the Madera Wine Trail is Ficklin Vineyards. They are America's most awarded port winery and trust me when I say they deserve every single award they have been given.
I went into our first tasting not really excited to try port wines if I am being honest. I thought I would hate them and that John would end up drinking my pours. Well.....I was wrong. From the first taste of Ficklin Ports I was all in!
I was the one to tell John that we needed to bring home multiple bottles of the Old Vine Tinta Port. This port has an amazing flavor palate that includes dark cherry, plum, and fig. It is so smooth and easy to drink.

While we were at the winery I signed up to receive
Ficklin Vineyards Emails
and I am so glad that I did. They send out the most amazing recipes! This Carrot Cake with Pineapple is adapted from one of their emails.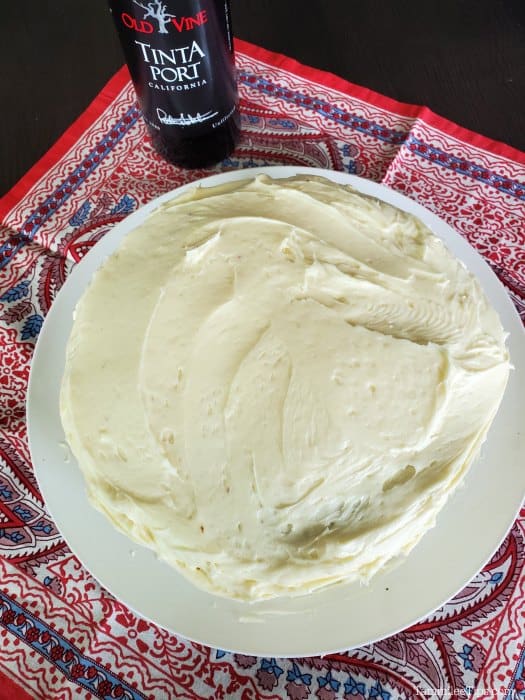 You guys this Scratch Made Carrot Cake is so dangerously good! The Tinta Port makes it super moist and adds amazing flavors! The pineapple, coconut, and of course grated carrots make this cake delicious for each bite.
I have been having so much fun cooking/baking with the Old Vine Tinta Port. I have a few more recipes to share hopefully this week including Banana Bread with Port Wine and CrockPot Beef Short Ribs with Tinta Port.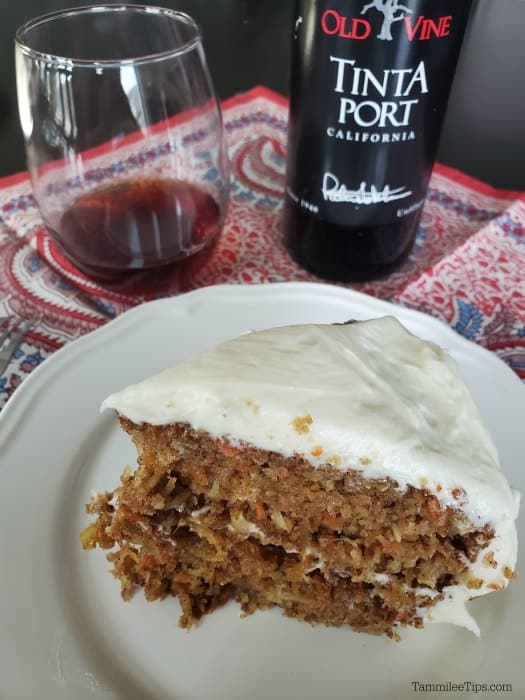 One thing I loved about visiting Ficklin Vineyards is how relaxed and fun it was!  This family-owned vineyard was started in the 1940s.  Three generations of the Ficklin Family have managed the vineyard. We had the unbelievable opportunity to see some of the original equipment that is still in use today.
Ingredients Needed
Flour
Sugar
Cinnamon
Baking Soda
Salt
Eggs
Vegetable Oil
Vanilla
Crushed Pineapple
Sweetened Coconut
Optional - Walnuts
Icing Ingredients
Unsalted Butter
Confectioners Sugar
Vanilla
Salt
Equipment Needed
Large Mixing Bowl - We are big fans of this glass batter bowl that has a handle. It makes it easy to mix ingredients and keep the mixing bowl steady on the counter.
Hand Mixer/Stand Mixer - You can mix this with either a hand mixer or your stand mixer.
Recipe Tips
Make sure to set your unsalted butter out to soften to room temperature while the cake is baking. This will make it a lot easier to make the cream cheese icing.
A box grater makes it easy to grate the carrots. Don't be surprised if your hands turn a bit orange but it washes off quickly.
When baking the cake I would check it after 35-40 minutes depending on how hot your oven runs. You want a toothpick inserted to come out cleanly. I try in a few places to make sure that it is baked all the way through.
This Carrot Cake with Cream Cheese Icing needs to be stored in the fridge.
I made this a layer cake with 2 9-inch round cake pans. The cream cheese frosting is layered in the middle and over the top. You can also make this a bit more of a naked cake by just layering the frosting in the middle and on top and leave the sides of the cake without icing.
Make sure the cakes cool completely before icing them. If they are still warm the icing will melt into the cakes making them even moister but they won't look like you want them to.
A stand mixer will make it a lot easier to whip up the cream cheese icing. You can do it by hand but you probably won't be happy with how your arms feel afterward.
The original recipe from Ficklin Vineyards used Ficklin Vineyards Aged 10-years Tawny Port. We sadly did not have a bottle in the house so we used the Old Vine Tinta Port.
If you have a small stand mixer you may want to make 2 batches of the cream cheese icing. This will make it easier to keep the powdered sugar from flying out. I do suggest using a pouring shield to keep the confectioner's sugar from flying all over the place.
Don't miss the Port Braised Short Ribs we made with Ficklin Tinta Port too!
Great Dessert Recipes
Check out all of our Dessert Recipes
We have a ton of desserts made with cake mixes.
Do you love recipes? Check out our copycat recipes, dessert recipes, and our CrockPot Recipes.
Follow Tammilee Tips on MSN, Facebook, Instagram, Pinterest, and Twitter for all of our recipe posts.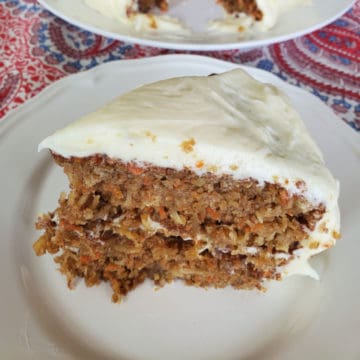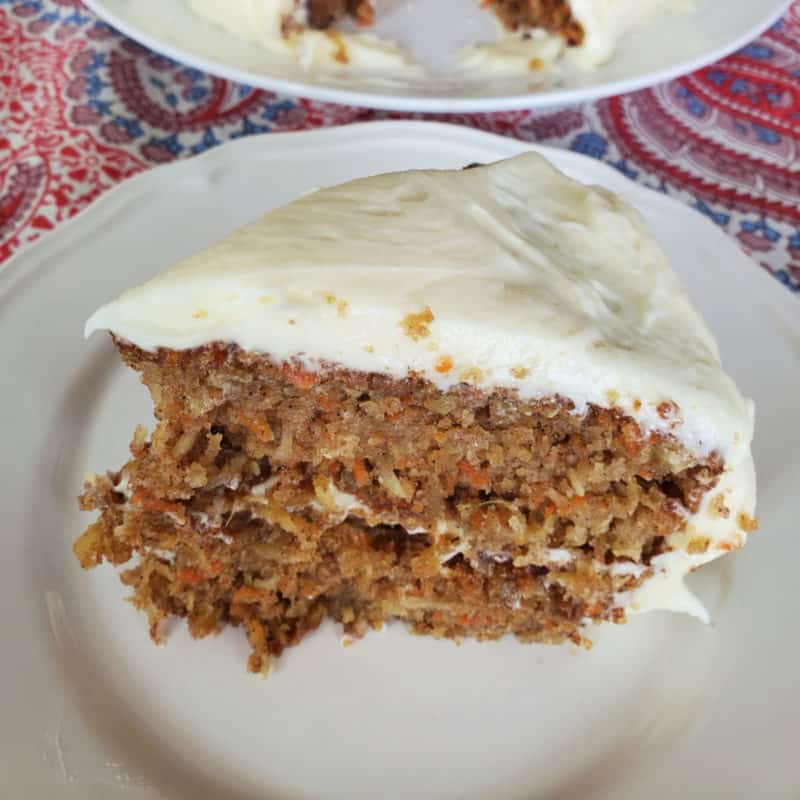 Carrot Cake with Pineapple, Coconut and Port Wine
How to make easy scratch made Carrot Cake with Pineapple, Coconut and Port Wine
Print
Rate
Instructions
Preheat oven to 350 degrees
Carrot Cake
Combine flour, sugar, cinnamon, baking soda and salt together in a large bowl and stir together.

Add in eggs, Tinta Port, carrots and vanilla. Beat until combined

Stir in pineapple and coconut

Pour into 2 greased round cake pans

Bake for 40-45 minutes until a toothpick comes out clean

Cool completely before frosting with cream cheese icing
Cream Cheese Icing
Beat cream cheese and butter in a bowl until fluffy

Add in vanilla, salt and powdered sugar slowly until smooth.

Ice cake when it is completely cooled

Optional - Top cake with coconut or walnuts
Nutrition
Nutrition Facts
Carrot Cake with Pineapple, Coconut and Port Wine
Amount Per Serving
Calories 920
Calories from Fat 414
% Daily Value*
Fat 46g71%
Cholesterol 123mg41%
Sodium 560mg24%
Potassium 220mg6%
Carbohydrates 121g40%
Protein 6g12%
Vitamin A 4611IU92%
Vitamin C 3mg4%
Calcium 67mg7%
Iron 2mg11%
* Percent Daily Values are based on a 2000 calorie diet.