Mountain Dew Cake is a moist citrus-flavored cake that tastes amazing. The perfect fun spring cake dessert for Easter or any day of the year.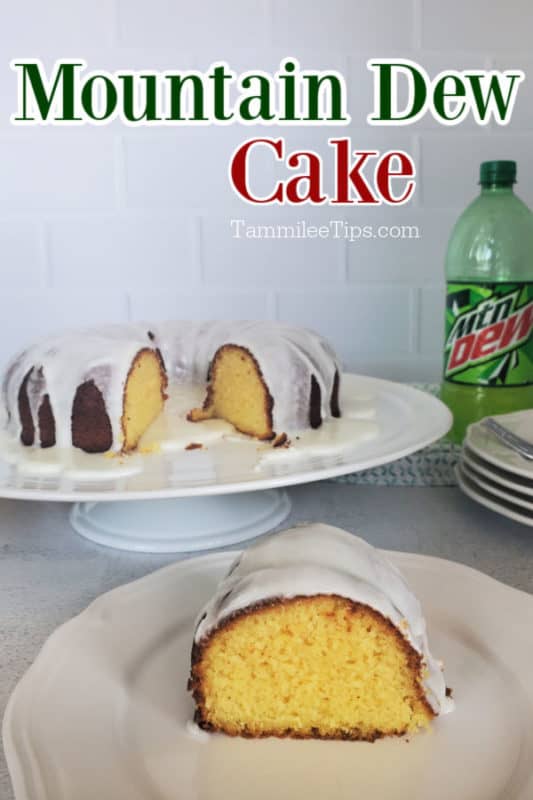 Mountain Dew Cake
Mountain Dew is a citrus-flavored soda, making it perfect for a spring cake. Plus, it's fun to surprise people when we tell them we make the cake with Mountain Dew soda.
It is a fun surprise and the perfect ingredient for a light, airy, moist cake. The soda has enough sugar and flavor to make this cake epic.
I was reading up on the history of Mountain Dew, and it is fascinating. I didn't know that Mountain Dew was a nickname for moonshine.
The soda was created in the Smoky Mountains by two brothers. They created Mountain Dew to mix with whiskey to make it taste better.
It is interesting to know the original Mountain Dew was clear and caffeine-free. They were not mixing lime green soda with whiskey. Lol! Can you imagine the color that would turn?
The brothers sold the soda to the Tip Corporation, who made their changes, and Pepsi purchased Mountain Dew. Over the year, the flavor and look of Mountain Dew changed dramatically.
Today's Mountain Dew is a big change from the original soda. There are a ton of flavors of Mountain Dew now, so you could make this Mountain Dew cake in whatever flavors you want to enjoy.
We have only made it with the original Mountain Dew. This cake is so moist and delicious. I have made epic root beer chocolate cakes in the past.
So why not do something unexpected for spring and summer and make a delicious lemon cake with a surprising ingredient? The first time my husband tried this cake, he told me he was in awe of its taste.
The MTN Dew Icing Glaze is simply delicious! You can decide how you want to ice this cake. You can drizzle the icing while the cake sits on a rack so the extra icing runs off the cake, or you can do as I did and have an icing lake in the middle of the cake that runs out when you cut into the cake.
I like keeping all the icing on the platter so guests can add more to their cake if they choose to.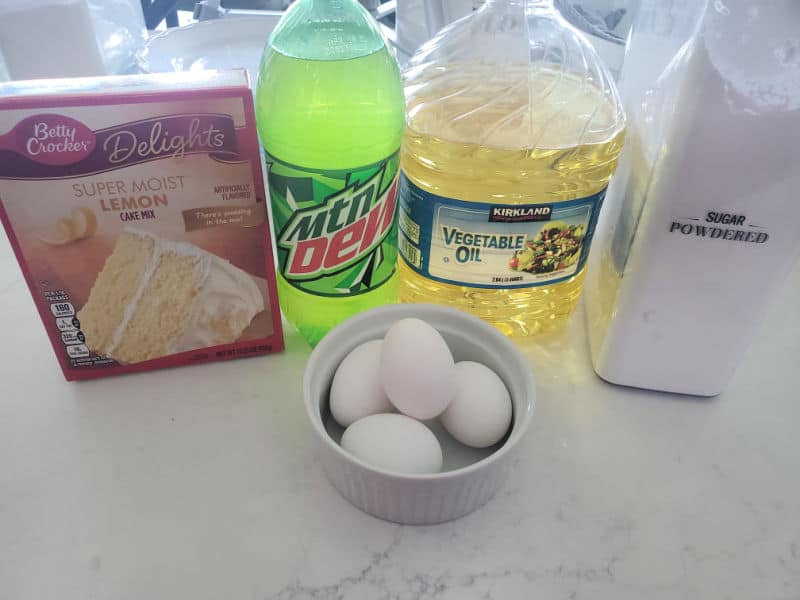 Ingredients
Here is a quick overview of the simple ingredients for making an epic Mountain Dew Soda Cake! The printable recipe card at the bottom of the post includes specific measurements and step-by-step instructions.
Mountain Dew Cake Ingredients
Mountain Dew Soda

Lemon Cake Mix

Eggs

Vegetable Oil
Optional garnishes - fresh berries, strawberries, raspberries, shredded coconut,
Glaze Ingredients
Powdered Sugar

Mountain Dew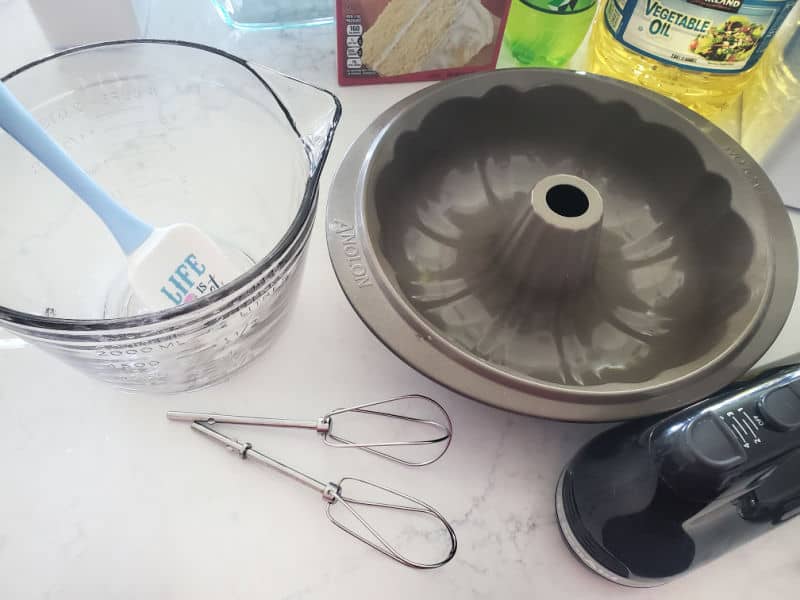 Equipment Needed
Hand Mixer/Stand Mixer: You can mix this with either a manual hand mixer or your stand mixer.

Bundt Cake Pan

Medium Bowl: You'll need one to mix the glaze in.

Whisk

Cake Server

Cake Plate
How to Make Mountain Dew Cake
I've included complete instructions in the printable recipe card at the bottom of the post, but here's a quick version.
Don't forget to preheat the oven to 350°F!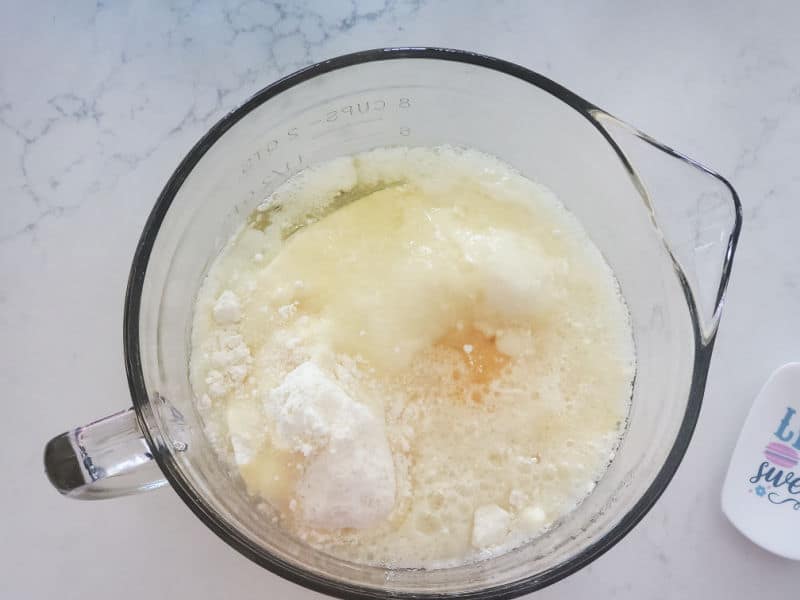 In a large bowl combine cake mix, mountain dew, oil, and eggs.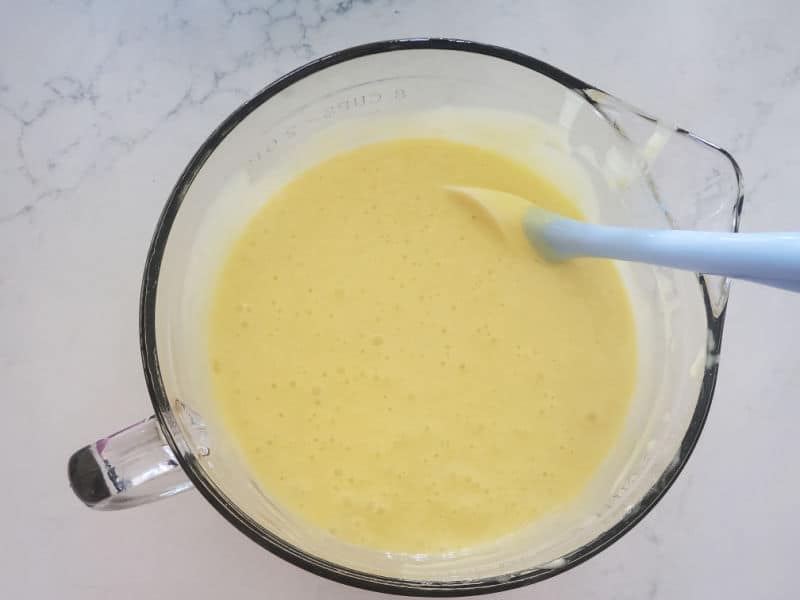 Mix until combined. Beat at medium speed until the cake batter is mixed.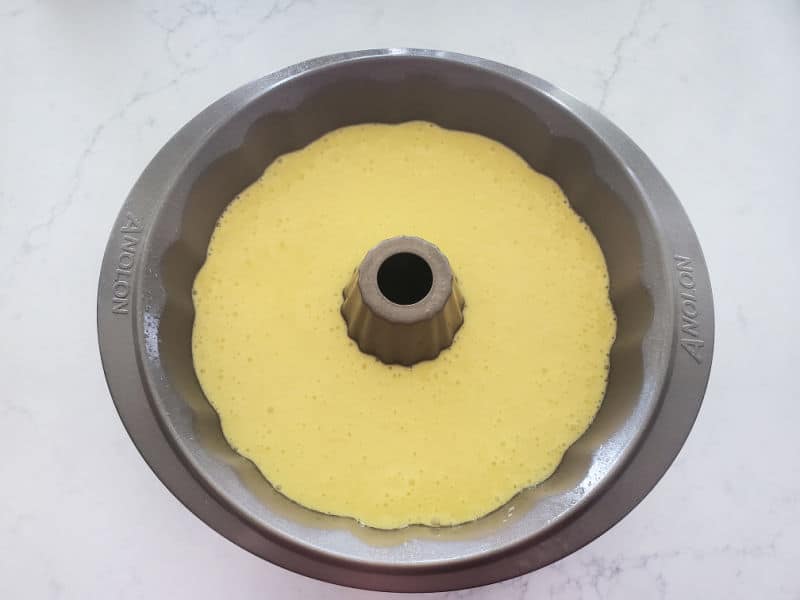 Pour batter into prepared pan and bake the mountain dew lemon Bundt cake.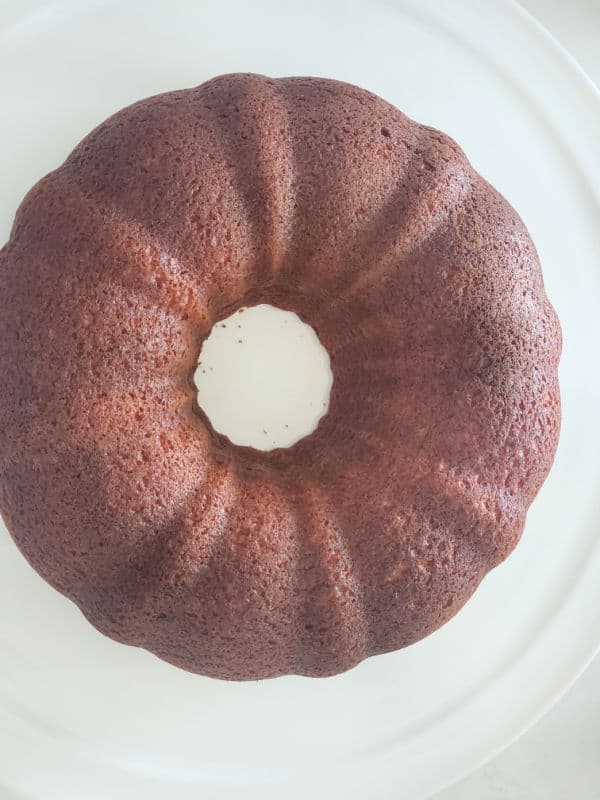 The Mtn. Dew Cake is done when a toothpick or wooden pick in the center comes out clean.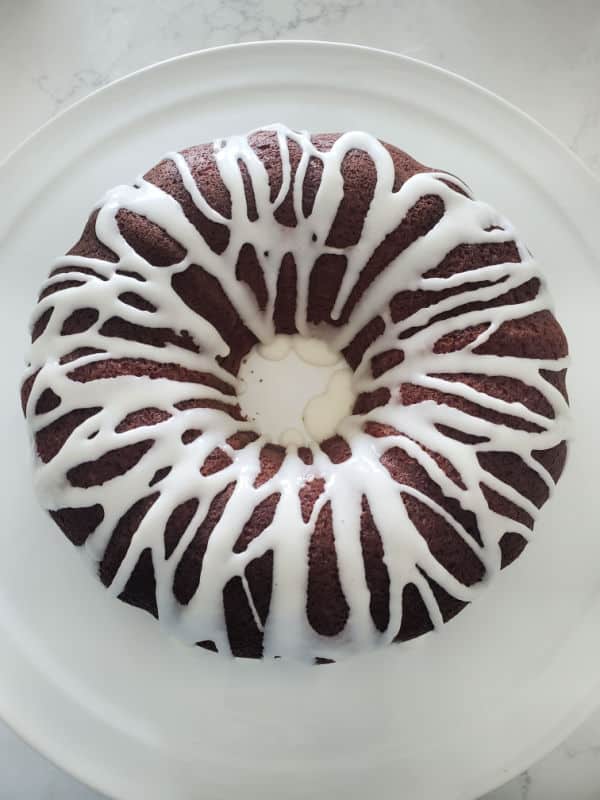 Let the cake cool on a wire rack/cooling rack that fits into a baking sheet to catch the glaze when you pour it over the cake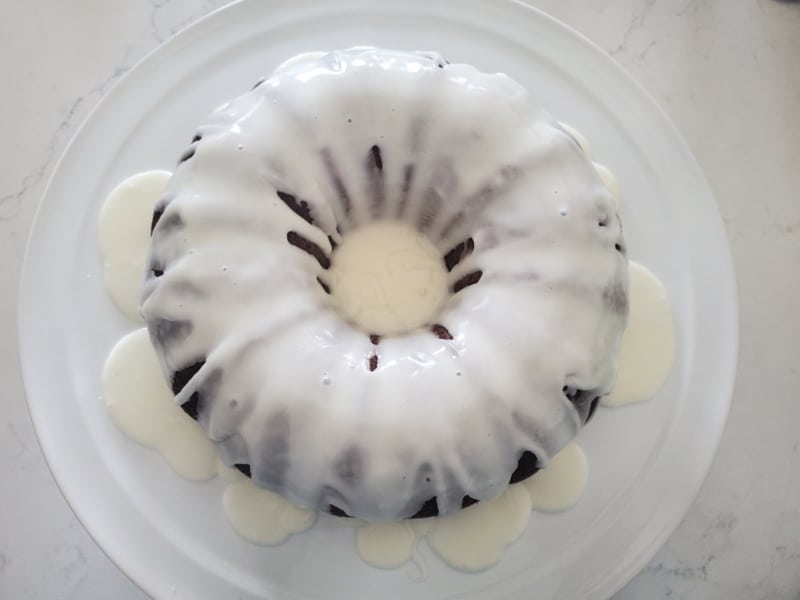 or go wild and let the glaze pool in the middle of the cake. We love pooling the glaze around the cake so you can always scoop an extra bit of glaze on each bite of cake.
It is really your preference on how you pour glaze on the cake. I start with the top of cake and move to the sides of the cake most of the time. Some days I just pour it all over and see what happens.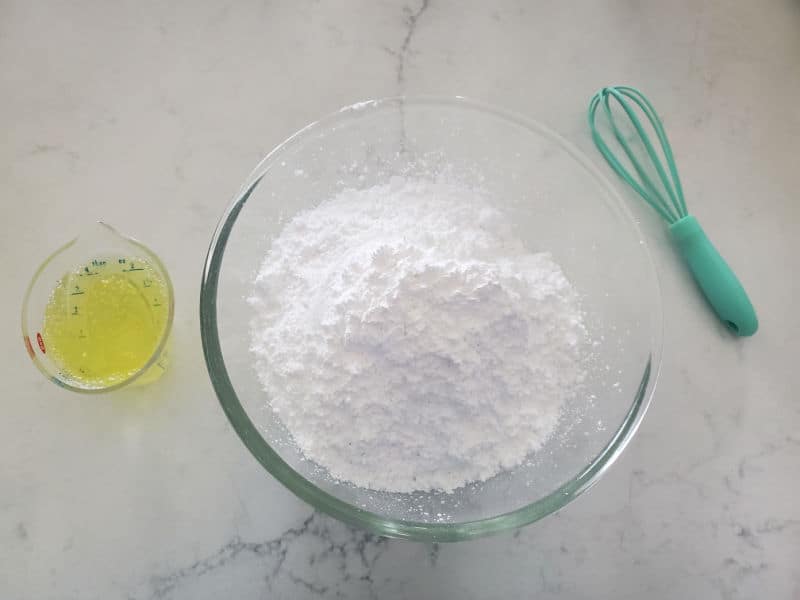 How to make the Mountain Dew Icing Glaze
Whisk together Mountain Dew and Powdered sugar until you get the consistency you want. You may need to drizzle in additional Mountain Dew until the icing is the right consistency.
You can use drizzle the glaze over the cake or pour it right on top and let it drip down the sides. It is up to how you want it to look.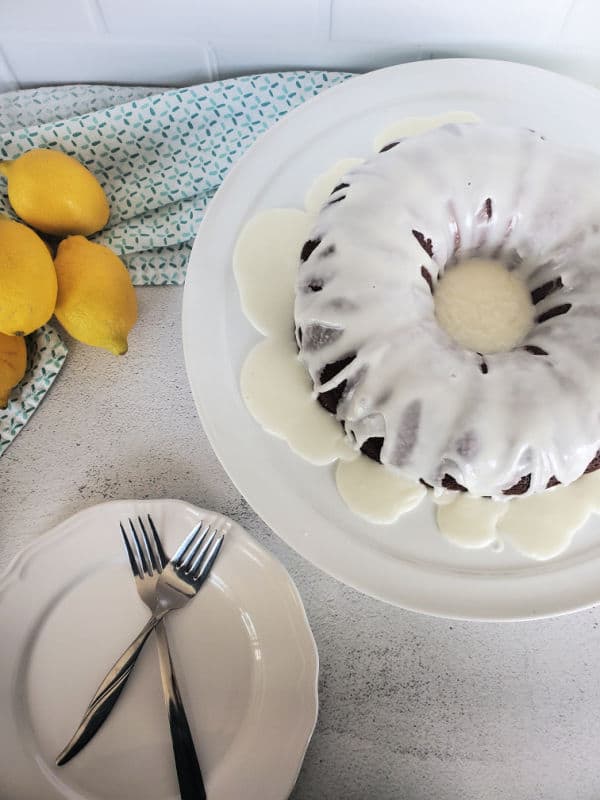 Preparation and Storage
Make Ahead: For a make-ahead cake, make your Mountain Dew Cake and icing beforehand and ice it the day after.
Storage: Wrap the prepared cake in plastic or transfer it to an airtight container to keep it from turning dry. Since it has no dairy components, it refrigerates well for about a week or on your countertop for up to four days.
Freezing/How to Freeze: Got leftover cake? Freeze it whole or sliced for up to three months, and don't forget to wrap it snugly in plastic or transfer it to an airtight, freezer-safe container. You may even consider a second layer of foil wrap to keep the freezer burn at bay.
How to Reheat: Thaw any frozen leftovers at room temperature for the best texture.
Recipe Variations + Tips for the Best Mountain Dew Cake
Substitutions:
If you don't have Mountain Dew, change the recipe to a Sprite or 7-Up Cake. We even made 7-Up biscuits a few years ago.
You can ice this Mountain Dew Cake with the Mountain Dew Icing or a simple whipped topping like Cool-Whip.
If you don't have a Bundt cake pan, you can make this cake in a 9x13 baking pan. We recommend reducing your baking time if you use a 9x13 pan. I like this Analon Bundt Pan. It has easy-to-grab sides to remove the pan from the oven.
To minimize this cake's lemon taste, you can make it with a yellow cake mix.
This recipe adapts well to other sodas! You can try chocolate cake and root beer or Dr. Pepper together.
Vegetarian + Vegan Options: This cake is vegetarian-safe. Vegans should use a vegan cake mix and egg replacer to make this Mountain Dew Cake plant-based. Some powdered sugars contain animal-derived ingredients, so look for powdered sugar labeled vegan.
Gluten-Free: Use a gluten-free cake mix if you want to avoid gluten.
Smaller Serving Size: Make this Mountain Dew Cake in mini Bundt cake pans if you want petite versions; just distribute the batter evenly across each pan.
Make it Spicy: Mountain Dew has a Flamin' Hot variety that tastes like citrus and cayenne pepper if you're feeling adventurous!
Sugar-Free: Lower the sugar content with a sugar-free cake mix and Mountain Dew's Zero Sugar variety. We haven't tried them, but there are also sugar-free powdered sugar alternatives for purchase made of popular substitutes like stevia.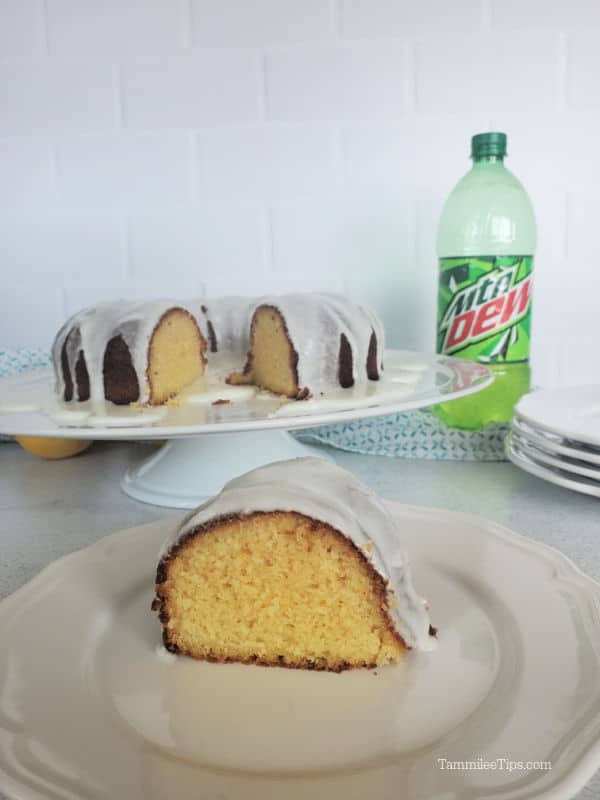 When to Serve
Mountain Dew Cake is a moist, citrus-flavored cake that tastes amazing—the perfect fun spring cake for Easter, summertime cake to celebrate zesty lemons, or cake for any day ending in "y!" 
Easter Brunch

Birthday Parties
Summer Barbecues
Office parties
Graduation Party
Small wedding
Awesome Treat
Sunday Brunch
Great Dessert Recipes
Check out all of our fun Yellow Cake Mix Recipes!
Do you love recipes? Check out our copycat recipes, dessert recipes, and our CrockPot Recipes.
Follow Tammilee Tips on MSN, Facebook, Instagram, and Pinterest for all our recipe posts.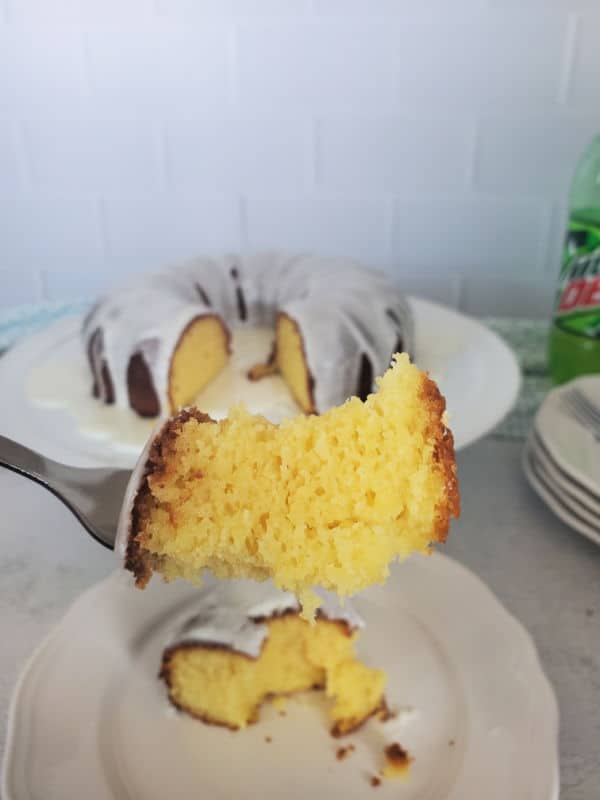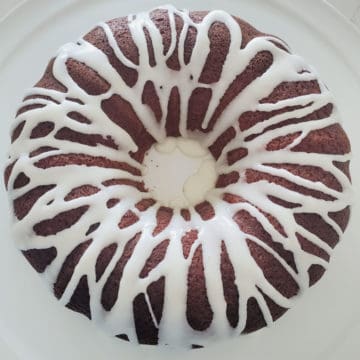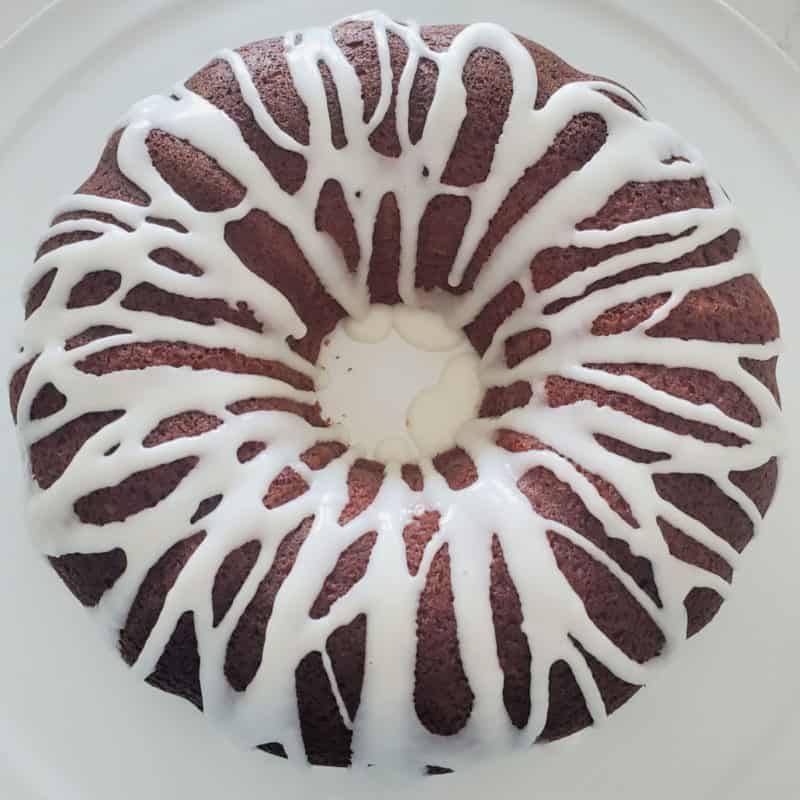 Mountain Dew Cake Recipe
Delicous moist Mountain Dew Cake has a great citrust flavor in an easy to prepare cake.
Print
Rate
Instructions
Preheat oven to 350 degrees
Mountain Dew Cake Instructions
Combine lemon cake mix, Eggs, vegetable oil, and Mountain Dew in a large mixing bowl. Use a mixer to mix together.

Pour batter into a greased bundt pan, bake for 40-43 minutes until the cake is done.

Cool the cake before icing.
Mountain Dew Glaze Instructions
Combine powdered sugar and Mountain Dew in a mixing bowl. Whisk together until you get the consistency you are looking for. Add in more Mountain Dew slowly to get a thinner glaze.
Nutrition
Nutrition Facts
Mountain Dew Cake Recipe
Amount Per Serving
Calories 269
Calories from Fat 135
% Daily Value*
Fat 15g23%
Cholesterol 55mg18%
Sodium 25mg1%
Potassium 21mg1%
Carbohydrates 34g11%
Protein 2g4%
Vitamin A 79IU2%
Calcium 9mg1%
Iron 1mg6%
* Percent Daily Values are based on a 2000 calorie diet.