Light and fluffy 7up Biscuits only take 4 ingredients and a few minutes to prepare! These are the perfect quick and easy biscuit recipe to pair with casseroles and your favorite meals.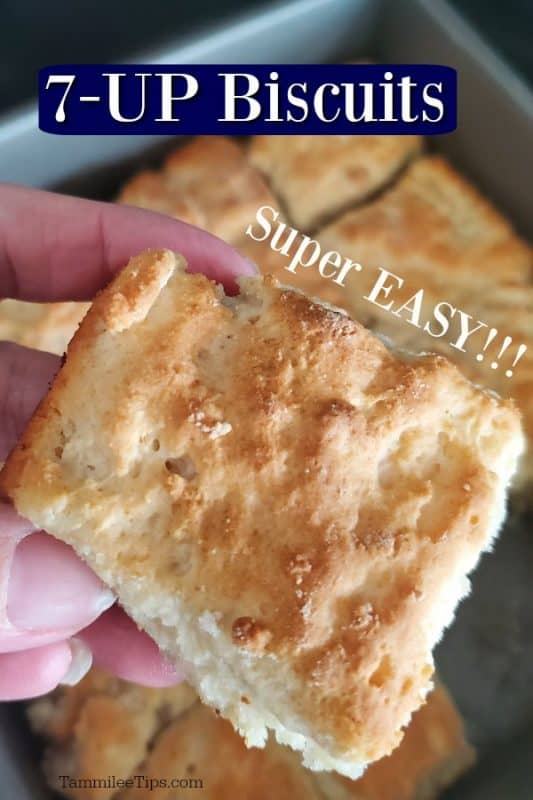 7 Up Biscuits Recipe
These may be the world's easiest and most buttery biscuits! OK, maybe not the worlds easiest but pretty dang easy! These baked really quickly and were super yummy! I think you will love these 7 Up Biscuits! all you need are pantry essentials to make this great recipe!
These easy 7 Up Biscuits only take 4 ingredients to make soft, buttery, oh so delicious melt in your mouth biscuits! No baked biscuit experience required! Trust me you can make light and fluffy drop biscuits with 7-up that everyone will love!
When I first started making these 7up biscuits in 2013 I was shocked at how great they turned out. I am the person that can not make a southern biscuit for the life of me.
My next goal is to try and make breakfast biscuits. John is a huge fan of biscuits and gravy. He raves about his Mom's biscuits.
I really want to work on making biscuits and surprise him with them one morning. Do you have a biscuit recipe you love? I would love to hear about it.
For some reason, Biscuits and Croissants are 2 pastries I have not mastered making yet. I am setting the goal of making both of these in the next month. I will keep you up to date on how that goal goes.
I recently heard that these 7up Biscuits are also called Popeye's Biscuits in some areas.
Ingredients
This is a quick overview of the simple ingredients that you'll need to make an epic 7-Up Biscuits! Specific measurements and step by step instructions are included in the printable recipe card at the bottom of the post.
Bisquick Baking Mix - We use regular Bisquick baking mix but these can also be made with Gluten Free Bisquick Mix. I love using Bisquick mix so you don't have to measure out the shortening, baking powder, salt, all purpose flour and so on!
Sour cream - Helps make these biscuits moist and soft. You won't taste the sour cream but trust me it makes an impact in the baking of these biscuits. Plain Greek Yogurt can be used also.
7 Up - The not so secret ingredient to these epic biscuits that creates amazing flavor.
Butter - What biscuit doesn't need a little butter in its life. We use unsalted butter but you can definitely use salted butter if you prefer.
Flour or extra baking mix so you can create a floured surface.
Equipment needed
9-Inch Square Pan - This is the perfect size baking dish. You can also use a casserole dish
Pastry cutter - This works great to cut the sour cream into the biscuit mix. You can also use a fork and knife, or your fingers.
Large Mixing Bowl - We are big fans of this glass batter bowl that has a handle. It makes it easy to mix ingredients and keeps the mixing bowl steady on the counter.
Dough Scraper - The dough scraper works great for getting all the dough in a square.
Round Biscuit Cutter - If you want perfectly shaped biscuits you will want a biscuit cutter. I normally just cut the biscuits into squares with a knife. You can also use a cookie cutter to cut the biscuits.
How to make 7 up Biscuits
I've included complete instructions in the printable recipe card at the bottom of the post but here's a quick version.
Preheat the oven
Mix Sour cream into the Bisquick. Pour in the 7 up. Combine to form a soft dough
Sprinkle flour on a flat surface, pat dough into a square
Melt butter and pour into pan. Cut biscuits and place  cut biscuits on top of melted butter
Bake until golden brown.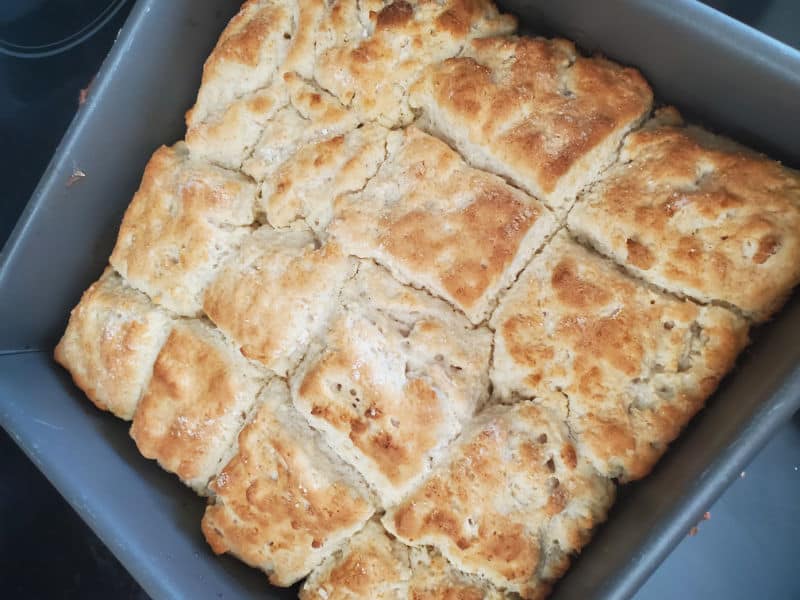 Preparation and Storage
Make Ahead – These can be made ahead of time just make sure to store them properly so they stay soft.
Storage – Store leftovers in an airtight container at room temperature.
Freezing/How to freeze – Once the biscuits have completely cooled wrap them tightly in plastic wrap and place them in a freezer bag. They can be stored for up to 3 months.
How to reheat – If you are looking to warm them up the microwave is perfect. If you are heating them from frozen you will want to reheat them in the oven at 350 degrees for about 10-15 minutes until warm.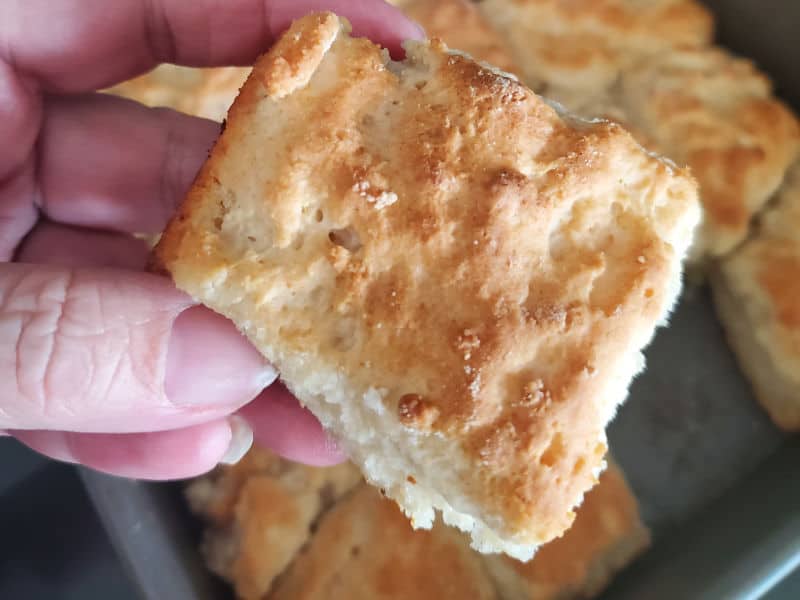 Recipe Variations
Substitutions - You can use Sprite, Fresca, Ginger Ale instead of 7-Up. Stick with clear carbonated soda. We stick with regular soda instead of diet soda just because of the flavor.
If you can't find Bisquick in your area you can use a different pancake baking mix.
Vegetarian Option - This recipe is vegetarian
Vegan Option – We have not tried making this vegan but it should work with vegan butter and vegan sour cream.
Gluten Free - We suggest using gluten-free Bisquick.
Smaller Serving Size –The serving size can be changed in the recipe card below.
Make it Spicy – To make these spicy you can add in diced jalapenos or red pepper flakes.
Larger Group/More servings –This recipe can easily be doubled. Just make sure you use a larger pan or two pans.
What to serve with 7-Up Biscuits
These easy 7-up Biscuits are perfect any time of the day! For breakfast, lunch, dinner or as a snack.
Sauces/Butters - Texas Roadhouse Butter, Strawberry Jam, Pear butter, apple butter, pumpkin butter, Peach Butter, Lemon Butter, Sausage gravy, bacon gravy recipe, chocolate gravy, tomato gravy
Side dishes/Salads - Broccoli Casserole, creamed corn casserole, Hasselback Potatoes, Caprese pasta salad, Southern Fried Cabbage, BLT Pasta Salad
Soups/Chili - Cabbage Roll Soup, Split Pea Soup, Ham and Bean Soup, Beef and Bacon Chili, Turkey Chili, Taco Soup
Entrees/Main Dishes - Crockpot Ham, Crockpot Rosemary Pork, Ham and Cheese Grits, Pulled Pork Breakfast Hash
Great Recipe Collections
Bisquick Recipes - Coming soon our entire collection of Bisquick Recipes!
Kielbasa Recipes - Check out all of our delicious recipes with Kielbasa Sausage.
Slow Cooker Soups - Perfect comfort food soups.
Olive Garden Recipes - All of our favorite copycat Olive Garden Recipes in one place (coming soon)
Dump Cake Recipes - Easy dump cakes in the crockpot or the oven!
Bisquick Recipes - Tons of easy recipes using Bisquick Baking Mix
Do you love recipes? Check out our copy cat recipes, dessert recipes, and our Crock Pot Recipes.
We hope you really enjoy this recipe!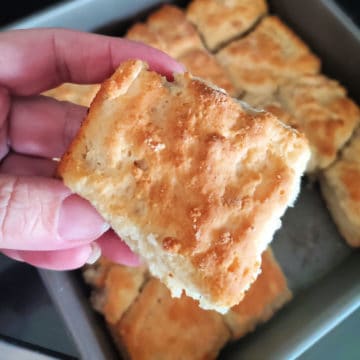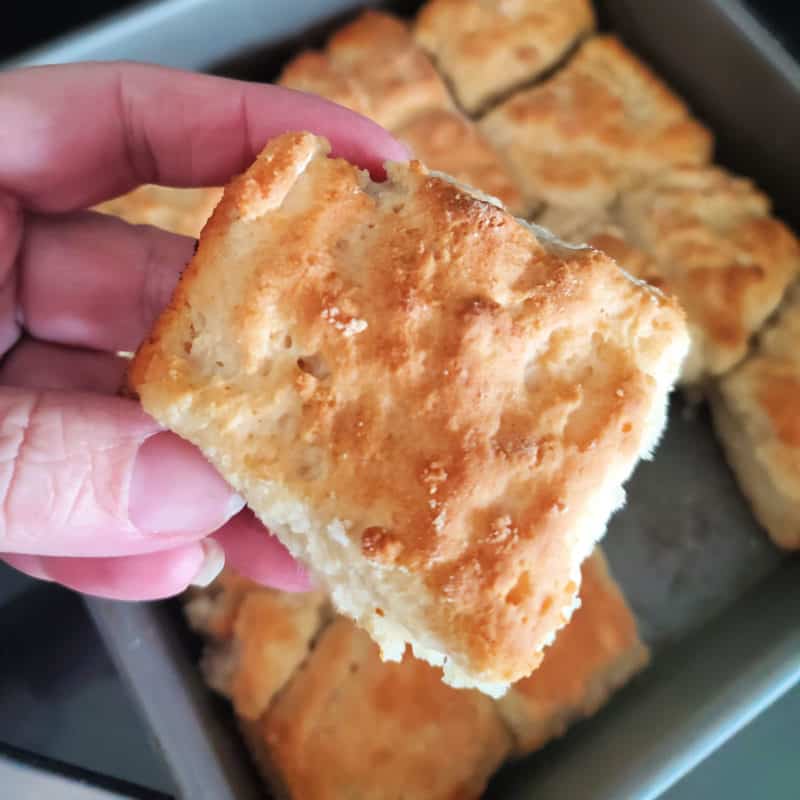 7 Up Biscuits Recipe
Only 4 ingredients needed to make these great 7-Up Biscuits Recipe!
Print
Rate
Instructions
Preheat oven to 450 degrees

Cut sour cream into the bisquick, add in 7 up (don't be surprised when it fizzes a bit)

Sprinkle Bisquick on a flat surface and add dough, pat it down into a square

Melt butter and pour it into a 9-Inch Pan

Cut your biscuits and place them on top of the butter

Bake 12-15 minutes until golden brown
Nutrition
Nutrition Facts
7 Up Biscuits Recipe
Amount Per Serving
Calories 213
Calories from Fat 117
% Daily Value*
Fat 13g20%
Cholesterol 23mg8%
Sodium 446mg19%
Potassium 69mg2%
Carbohydrates 20g7%
Protein 2g4%
Vitamin A 265IU5%
Vitamin C 0.2mg0%
Calcium 71mg7%
Iron 0.9mg5%
* Percent Daily Values are based on a 2000 calorie diet.
Recipe shared February 14, 2013, updated on March 6, 2020, January 2022