There are so many amazing restaurants in Lake Charles, Louisiana you will definitely not go hungry!! These restaurants range from down-home comfort food to fresh seafood and crab right out of the waters of Southern Louisiana. There is something for everyone in Lake Charles. I was a bit nervous visiting as a vegetarian and I found something at every restaurant to enjoy. The restaurants made sure that I was taken care of and provided delicious vegetarian options.
Spring is the peak season for oysters on the half-shell and boiled crabs and crawfish.  Gumbo is served year-round with interesting variations of the roux-based soup including chicken and smoked sausage, shrimp and okra, wild duck and smoked sausage, even rabbit or a seafood gumbo with shrimp, crab, and oysters.  In the fall Lake Charles celebrates football season with pork and sausage jambalaya, grilled chicken with rice dressing, fried hog cracklins, grilled turkey legs or sausage, and chili.
Plus the birdwatching is beyond what I could have hoped for! Check out our post on why Lake Charles is a birdwatchers paradise.  I hope you are not too hungry while reading this post! The food in Lake Charles could convince you to book a plane ticket today!  We hope you find a great place to eat in Lake Charles!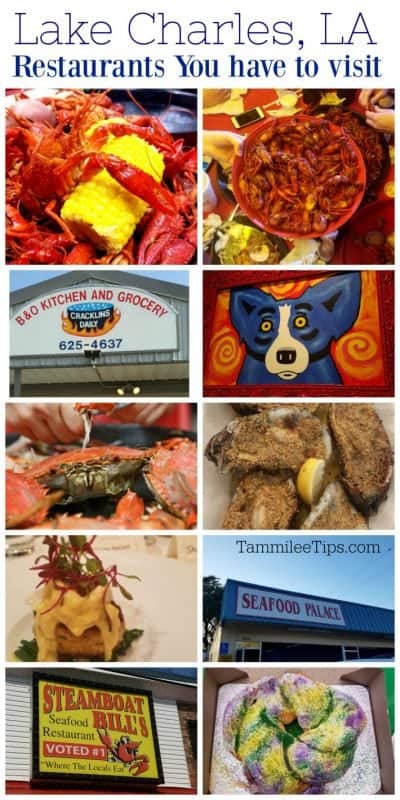 Restaurants in Lake Charles, LA
Ok while not specifically a restaurant visiting the Boudin Trail is a must during any visit to Lake Charles! The Boudin Trail highlights 25 stops in Southwest Louisiana that produce Boudin and other Cajun delicacies. Are you wondering what Boudin is? It is a combination of pork, rice, liver, onions and special spices made into a sausage. Each of the destinations on the Southwest Louisiana Boudin Trail has their own recipes. Many of these have been passed down from generation to generation.
B&O's Kitchen and Grocery
Try some of their specialty items. This family-owned business has an amazing array of Cajun specialties including Boudin, Cracklins, Beef Jerky, Smoked Sausage, Hog Head Cheese, Specialty Meats, Stuffed Chickens and Cajun Slim Jims
Address: 3011 E Burton in Sulphur, LA.
Phone - (337) 625-4637
Facebook - B&O Grocery 
LeBleu's Landing
This family-owned Cajun market has a little bit of everything and then some things you would never think of. They have a viewing window so you can see into the kitchen and watch when they are making Boudin.
Hours
Mon-Thurs: 7 a.m.-9 p.m.
Friday: 7 a.m.-10 p.m.
Saturday: 7 a.m.-9 p.m.
Sunday: Closed
Address: 202 Henning Dr. in Sulphur, LA
Phone - 337-528-6900
Website - LebleusLanding.com
Check out Boudin in Lake Charles for more info and places to visit.
Pat's of Henderson
For an amazing meal! Go in hungry! Trust me you will not leave hungry! From steak to seafood to an amazing veggie pasta they have everything you could imagine and then some I had never heard of before. This family-owned restaurant has been in the area for over 50 years. Three generations of the Henderson family have served amazing Cajun food to guests in Lake Charles and at their original restaurant in Henderson, Louisiana. The menu is filled with authentic Cajun cuisine and family recipes!
Address: 1500 Siebarth Dr, Lake Charles, LA 70615
Phone - (337) 439-6618
Website - PatsofHenderson.com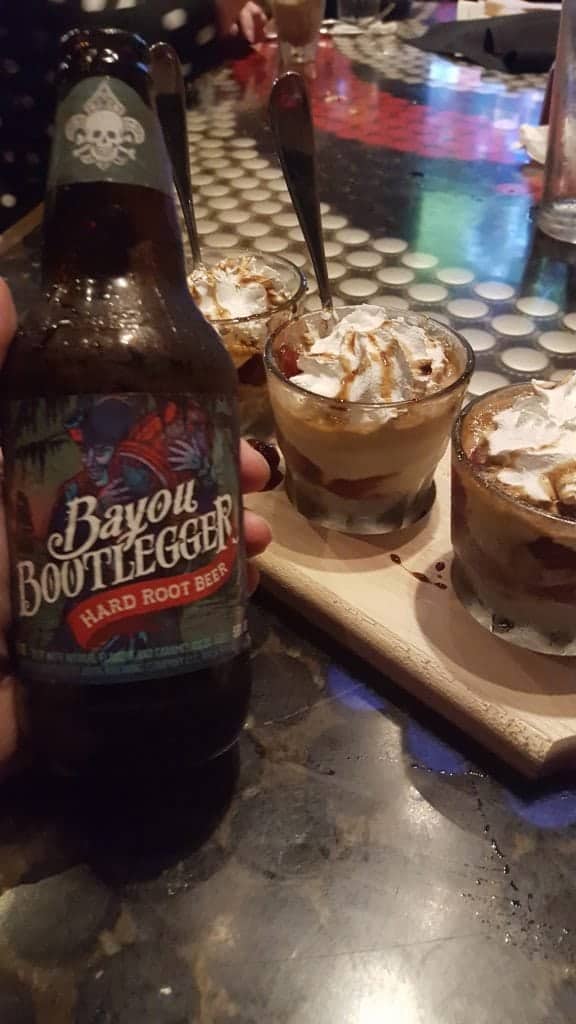 Jack Daniel's Bar & Grill at L'Auberge Casino
The menu pays homage to the area along with bringing in some surprise flavors. For dessert make sure you try the fried bourbon. I know it sounds crazy but trust me it is so worth a try. Really everything on the menu that we sampled was delicious. Our table was heaping with plates of delicious food and we had to force ourselves to stop eating it was that good.
The Jack Daniels's Bar and Grill offers patio and indoor dining and is located at the L'Auberge Casino. So you can enjoy a delicious meal and enjoy some gaming afterward.
Menu Highlights
Gator Bites (Louisiana gator dusted with our special seasoning & served with remoulade sauce )
Buffalo Oysters (Half dozen corn fried oysters tossed in house bacon cheese sauce & hand cut fries)
Kobe Brisket Platter (1-lb. of dry-rubbed brisket slow smoked for 18 hours)
Pulled Pork Mac and Cheese (Pulled pork in our house cheese sauce, pepper jack & cotija cheese)
DAILY DRINK SPECIALS
Monday: $4 Margarita Monday
Tuesday: $5 Domestic Liters
Wednesday: $3 Winesday House Wine
Thursday: Double Down with Jack
Friday: $25 Domestic Buckets
Hours
Monday - Friday: 3pm - 10pm
Saturday & Sunday: 11am - 10pm
Address: 777 Ave L'Auberge, Lake Charles, LA 70601
Phone - (337) 513-7690
Website - llakecharles.com
Seafood Palace
Seafood Palace is a local favorite that is not to be missed! The menu includes boiled and fried seafood and the servings are not small! Wear something you are comfortable in because you are not going to leave this restaurant hungry! This is another restaurant to not let the exterior keep you from entering the restaurant. The simple sign and entrance lead to an amazing experience inside!
Address: 2218 Enterprise Blvd, Lake Charles, LA
Phone - (337) 433-9293
How to eat a Crawfish?
Are you wondering how to eat a crawfish? Check out this great video from Visit Lake Charles!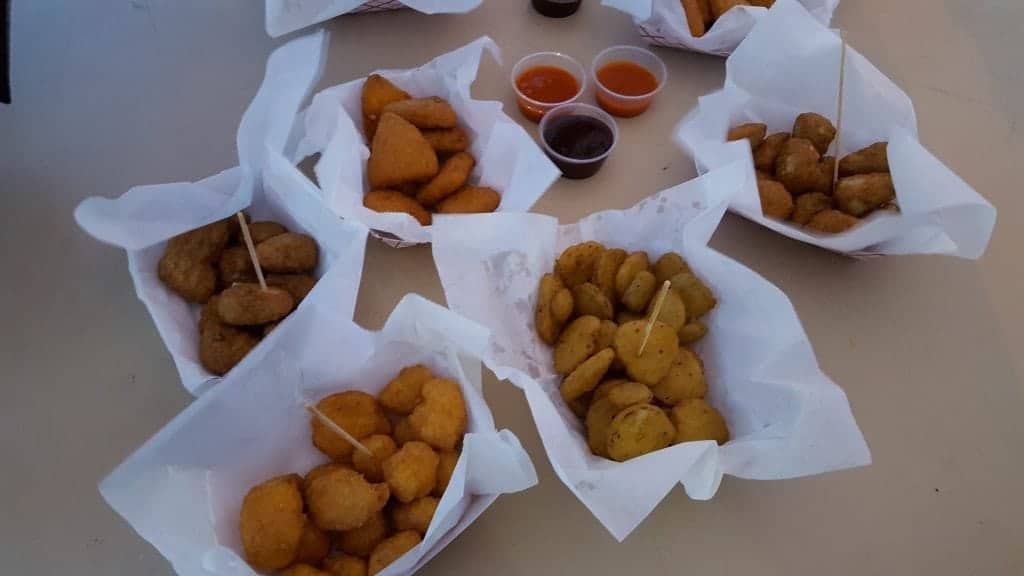 Festival Food
Lake Charles has a lot of festivals which means amazing food! From fried gator to chocolate covered bacon and everything in between! We attended the Louisiana Pirate Festival and I am pretty sure we tried every fried food available and it was all good. If you can get your hands on some fried cream corn make sure and try it. Wow! So good!
Here are a few of the Festivals you can enjoy in Lake Charles
January: Martin Luther King Festival in Lake Charles includes gumbo cook-off.
February: Mardi Gras in all cities and include food competitions.
March: Iowa Rabbit Festival, Iowa.
April: Westlake Family Food and Fun Festival, Westlake.
May: Louisiana Pirate Festival with eating competitions and cook-offs, Lake Charles; Starks Mayhaw Festival, Starks.
June: Juneteenth Festival, Lake Charles, a barbecue cook-off.
July: Cajun French Music and Food Festival, Lake Charles.
October: Calcasieu-Cameron Fair, Sulphur.
December: Southwest Louisiana Christmas Lighting Festival.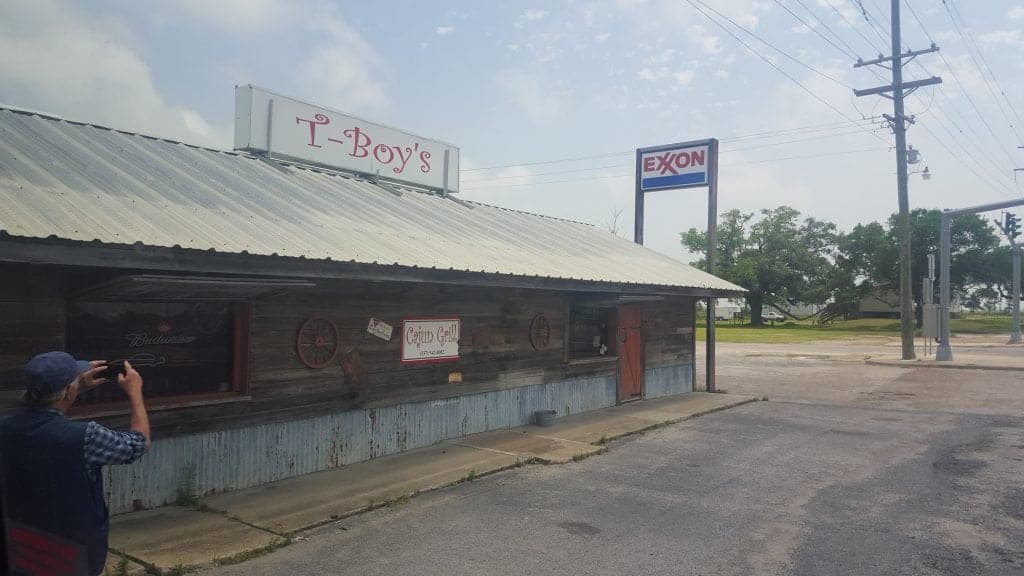 T-Boys Cajun Grill
T-Boys was damaged during a hurricane this past year. They are working on building a new one.
This is the perfect restaurant to visit as you explore the Creole Nature Trail. Don't let the outside fool you! This is down-home good cooking! Our entire group mentioned how much they enjoyed the food and how great it was. There were a lot of empty plates and satisfied writers when we left the restaurant.
T-Boys address: 4409 Creole Hwy, Creole, LA
Phone: (337) 542-4002
website - T-Boys on Facebook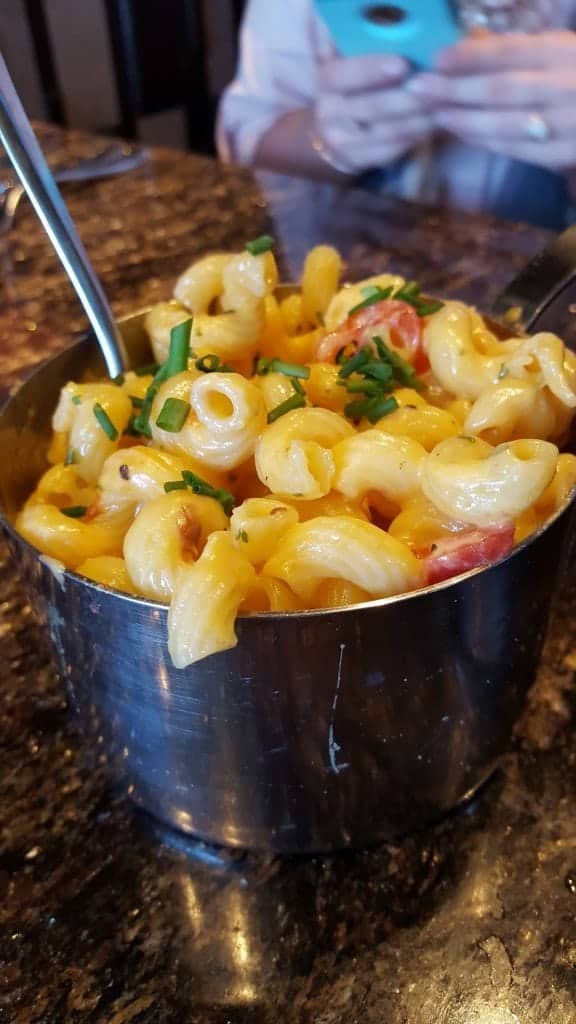 Chart House Restaurant
The Chart House Restaurant is located across from the Golden Nugget Lake Charles by the golf course. Hello yum! I need you to go here for the mac and cheese! I mean seriously! Plus the creamed corn! These are pretty much requirements for any visit to this restaurant. I would order them again in a second! Oh and book a massage with Celine next door at the Golden Nugget Spa! The combination of mac and cheese and an amazing massage makes for a really good day! 🙂
Menu Items not to Miss
Wicked Tuna
Mac Nut Mahi
Slow-Roasted Prime Rib
Chart House's famous original Hot Chocolate Lava Cake
Address - 2550 Golden Nugget Blvd, Lake Charles, LA
Phone - 337.508.4103
Website -  GoldenNuggest.com
Blue Dog Cafe
Blue Dog Cafe is a true gem in the heart of downtown Lake Charles, Louisiana! Enjoy amazing Cajun cuisine surrounded by world famous Louisiana art from George Rodrigue. The Blue Dog art was created by George Rodrigue based on a Cajun legend about a ghostlike werewolf.
The Sunday Brunch at Blue Dog Cafe is not to be missed! You can enjoy all of these:
Carved Prime Rib
Omelets Made To Order
Bacon and Breakfast Sausage
Boudin Benny
Boudin Stuffed Beignets
Chicken and Waffles
Shrimp and Basil Pasta Salad
Crawfish Enchiladas
Louisiana Purchase Chicken Pasta
Grits and Grillades
Pepper Jelly Glazed Ham
Dirty Rice
Buttermilk Biscuits
Pimento Mac & Cheese
Sweet Potato Hash
Cornbread Muffins
A Selection of Fruits and Salads
Bread Pudding
Flourless Chocolate Cake
Buttermilk Pie
Peach Cobbler
Hours:
Monday - Thursday: 11 am - 9 pm*
Friday & Saturday: 11 am - 10 pm*
Sunday Brunch: 10:30 am - 2 pm
*Open with a limited menu from 2 pm-5 pm and Happy Hour Specials from 2 pm-7 pm
Happy Hour is every Monday thru Saturday afternoon from 2:00 to 7:00 pm and features:
2 for 1 Mixed Drinks (single call & well liquors only)
$2 domestic longnecks
$2 select draught
$5 per glass house wines
Address: 609 Ryan St, Lake Charles, LA 70601
Phone - 337-491-8880
Website - Lakecharles.bluedogcafe.com
Ember Wine Bar and Grill
Ember Wine Bar and Grill inside the L'Auberge is fine dining at it's best. You can expect fine dining, inventive options, and a truly delicious meal when you visit Ember. Ember Wine Bar and Grill has an extensive wine list of over 240 wines to choose from. You can also sample a wine flight so you can taste multiple wines during your meal.
Menu Items to check out:
Appetizers - Wagyu Beef Carpaccio (White Truffle Oil, Shaved Parmesan, Micro Arugula, Crostini)
Main Entree's - Ember 36 oz. Prime Rib Eye (Carved Table-Side, Includes Two Sides & Two Signature Sauces)
Seared Scallops ( Minted Pea Purée, Petits Pois, Bacon & White Balsamic Vinaigrette)
Dessert - Fried Banana Cheesecake (NY style cheesecake, strawberry-banana sorbet, crispy crêpe, strawberry coulis)
Ember Social Hour
Daily 5pm - 7pm
$7 off all bar menu items 7 days a week 'til 7 pm Plus live entertainment!
Address: 777 Ave L'Auberge, Lake Charles, LA 70601
Phone -
Website - LLakeCharles.com
Reservations - Ember on Open Table
Restaurant Calla.
Restaurant Calla is a modern tapas restaurant with Louisiana specialty cocktails and exceptional wines. The rotating menu offers freshly prepared and comprised of seasonal,  sustainable and local ingredients.
Menu Items to try:
Cocktail - RUMBALAYA: bayou select rum - Benedictine - lemon juice - agave nectar - Polynesian kiss bitters - mint
Small Plates - Crawfish & Pimento Dip (smoked crawfish tails, pimento cheese, wontons)
Blue Crab Beignets (avocado puree, almonds, mint)
Large plates - Big Eye Tuna (guajillo flatbread, tomato, corn, avocado, poblano, pepita butter)
Lunch Service- Tue - Fri: 11 am - 2 pm
Happy Hour- Tue - Fri : 4 pm - 6 pm
Dinner Service- Tue - Thurs: 5 pm - 9 pm Fri-Sat: 5 pm - 10 pm
Address: 1400 Market St. Lake Charles, LA 70601
Phone: (337)-419-1980
Website - restaurantcalla.com
Twitter - @restaurantcalla
Rikenjaks Brewing Co.
Rikenjaks Brewing Company is the perfect place to spend a nice evening outside enjoying a delicious meal with friends. John fell in love with crawfish when we dined at Rikenjaks. They have both indoor and outdoor dining along with a full service bar.
Don't miss the giant Jenga game and corn-hole games you can play as you soak in the great atmosphere outside.
Happy Hour is 3-6pm daily, specials include
$2.25 select domestic bottles
$4 well, wine and pints
Hours
Mon: 11:00AM - 2:00AM
Tue: 11:00AM - 2:00AM
Wed: 11:00AM - 2:00AM
Thu: 11:00AM - 2:00AM
Fri: 11:00AM - 2:00AM
Sat: 11:00AM - 2:00AM
Sun: 11:00AM - 2:00AM
Address:  3716 Ryan St.  Lake Charles, LA 70601
Phone - (337) 602-6635
Website - www.rikenjaks.com
Facebook - Rikenjaks Brewing Company Check out the specials, live events and more
Loggerhead's
Enjoy a casual lunch with a spectacular view of the Calcasieu River. Loggerheads feature both indoor or outdoor dining and live entertainment several nights a week.
Open Tuesday-Sunday at 11 am
Address: 3748 Louisiana 3059 (Old Town Rd.) Lake Charles, LA 70615
Phone - 337- 491-6794
Facebook - Facebook.com/loggerheads


Steamboat Bill's Seafood Restaurant
If you are looking for Cajun seafood, crawfish, shrimp etouffee, gumbo and more served in a casual restaurant than check out Steamboat Bill's Seafood Restaurant. The atmosphere is casual but the food is delicious!
Menu Items not to miss
Swamp Fries (A Bed of Cheese Fries Smothered in Shrimp Etouffeé, Served with Sour Cream & Garnished with Chives.)
Chicken & Sausage Gumbo (Served over Rice with Louisiana Roll & Crackers)
Captain's Platter (Stuffed Shrimp (2) Catfish (1), Oysters (6-8), Stuffed Crab (1), Medium Shrimp (10-12), Fries, Cole Slaw & Louisiana Roll)
Address
1004 NORTH LAKESHORE DR. LAKE CHARLES, LA
(337) 494-1070
732 S MARTIN LUTHER KING HWY. LAKE CHARLES, LA
(337) 494-1700
Website - Steamboatbills.com
Also, make sure and check out Pops and Rockets Gourmet Ice Cream and Popsicles

There truly is something for everyone in Lake Charles. I can't wait to go back and try more delicious restaurants on a future visit.
I was hosted by the Lake Charles visitor bureau during my visit. All opinions expressed are my own.