Oh my goodness! I have to share my new favorite appetizer recipe. OK, if I am being honest I have been eating this Strawberry Bruschetta Appetizer Recipe as a snack for weeks. I am totally, completely, over the top in love and hooked on this recipe.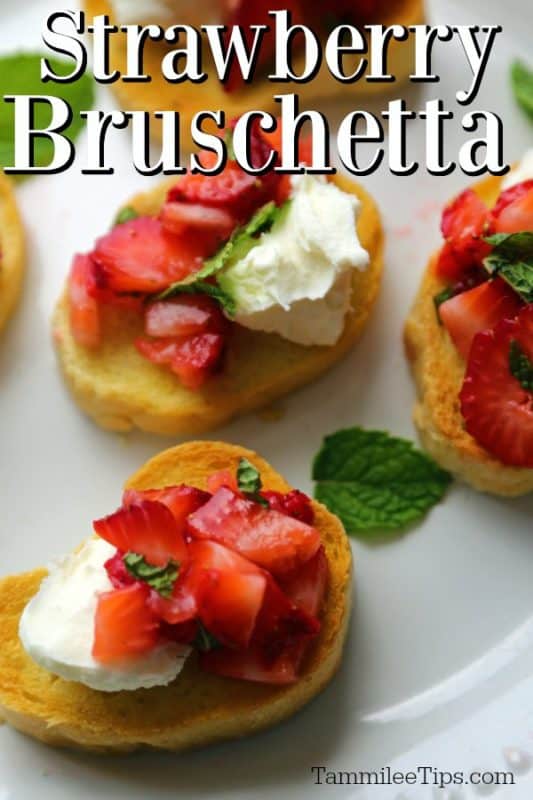 Strawberry Bruschetta Appetizer Recipe
I have a strong love for both strawberries and cheese so combining them into a recipe seems perfect. I have to be honest this isn't actually much of a recipe it is more of a guideline to make the most amazing snack you will try this week!
I had a version of this recipe when I traveled to California last year to visit the California Strawberry Farms. I was hooked as soon as I tried it.
It was one of those moments when you don't want to look like you are eating all of the appetizers yet you can't stop yourself from having just one more or 5 more as the waiter walks by with the appetizer tray.
Seriously these are that good!
Enjoy! Try to eat just one. I am pretty sure it is impossible
I make two different versions of Strawberry Bruschetta depending on what ingredients I have in the house.
Strawberry Ricotta Bruschetta
Here is my version of Strawberry Ricotta Bruschetta.
¼ cup ricotta cheese
4oz goat cheese
3 tsp lemon zest
4 Bays English Muffins
8 strawberries, sliced
2 ½ tablespoon balsamic glaze
Instructions
Combine Ricotta Cheese, Goat Cheese, and 2 tsp lemon zest in a bowl

Toast the Bays English Muffins

Spread the ricotta mixture on the toasted muffin halves

Top evenly with strawberries, drizzle with balsamic glaze and sprinkle with lemon rind
Enjoy!
Below you will find my classic Bruschetta with Strawberries recipe.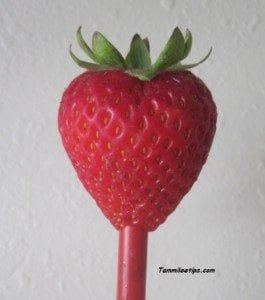 Super easy way to clean strawberries 
I really was not sure what to call this. Personally, this could be one of the coolest things I have learned in a long time. I love strawberries and eat them daily.
I am so excited to learn this quick and easy trick for getting them ready. This is going to save me so much time and energy!
Supplies needed
-Straw
-Strawberries
Directions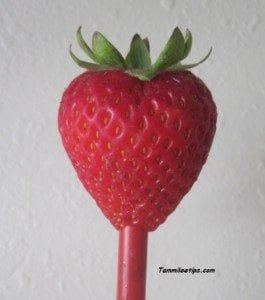 1. Insert the straw at the bottom of the strawberry and push upwards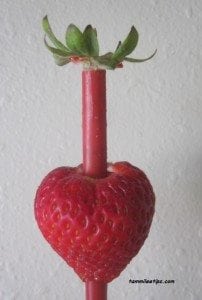 2. Pull the stem off the straw and your strawberry is ready to go.
If the straw does not get the entire stem or you miss a chunk you can go back and remove it with the straw.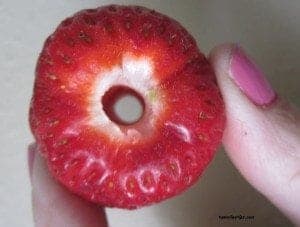 3. You will have a fantastic clean strawberry ready for eating.
Great Recipes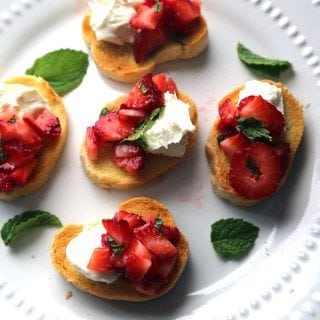 Strawberry Bruschetta Recipe
Super easy Strawberry Mint Bruschetta Appetizer Recipe that are perfect party appetizers.
Print
Rate
Ingredients
8

Strawberries

Mint

Baguette
Instructions
Slice your Baquetta and toast it in the oven until golden brown

Cut strawberries into pieces and dice the mint, mix together in a mixing bowl

allow to cool slightly and then spread Marscapone Cheese across the top

Top with the strawberry mixture
Recipe originally shared on April 8, 2016. Updated December 2020