We just started a big jar of homemade limoncello this week. It takes 30 days for it to process in a cool dark place before you can taste test it.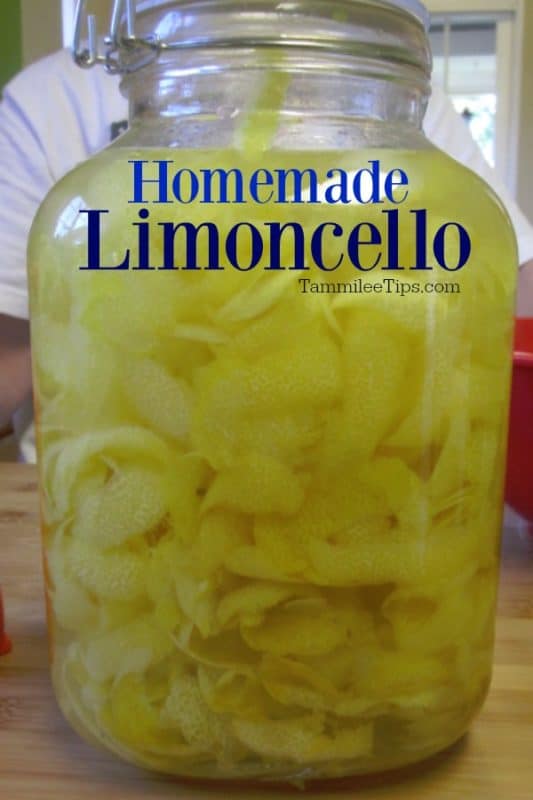 Home Made Limoncello
We tried limoncello on our honeymoon in the Mediterranean. We visited an olive oil farm outside of Naples that also made Limoncello. I really like the sweet-tart flavor that it can have.
We found this recipe and thought it would be fun to see if we could make our own Limoncello.
My parents were in town for the weekend so my Mom had the pleasure of helping me peel 24 lemons. I have to say our kitchen and house smelled amazing as we did this.
Ingredients
24 large lemons (washed)
1 splash white vinegar
4 cups grain alcohol or vodka (about 80 proof)
4 cups simple syrup (used 30 days after using initial ingredients)
Directions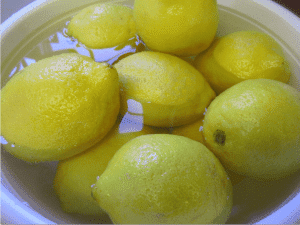 1. Remove any wax from lemon rinds. Cover the lemons in a tub of water with vinegar. Let soak for 5-10 minutes rinse well
2. In a sealable container, combine 6 ⅓ cup water, with alcohol.
3. Using a vegetable peeler, remove the lemon zest in strips, leaving the white pith behind. Add to alcohol mixture. Pieces should be fully submerged.
Cover and let steep in a dark place for about a month. Until the strips of zest lose most of their color.
5. Strain the liquid, discarding the zest. Add the simple syrup.
Transfer to a container and store in the freezer
serve chilled, straight up.
I will let you know how our Limoncello turns out next month after it has sat in the basement for a month. I can't wait to see if it works for us.
Great Lemon Recipes
Raspberry Lemonade Moscato Cocktail
Strawberry Basil Lemonade Cocktail
Do you love recipes? Check out our copy cat recipes, dessert recipes, and our Crock Pot Recipes.