During our trip to Victoria BC, we had the opportunity to experience tea at the Fairmont Empress and it was everything we hoped for and so much more! OH MY GOODNESS!!! You need to add having tea at the Fairmont Empress to your bucket list must-do travel list. Yes, it is that amazing!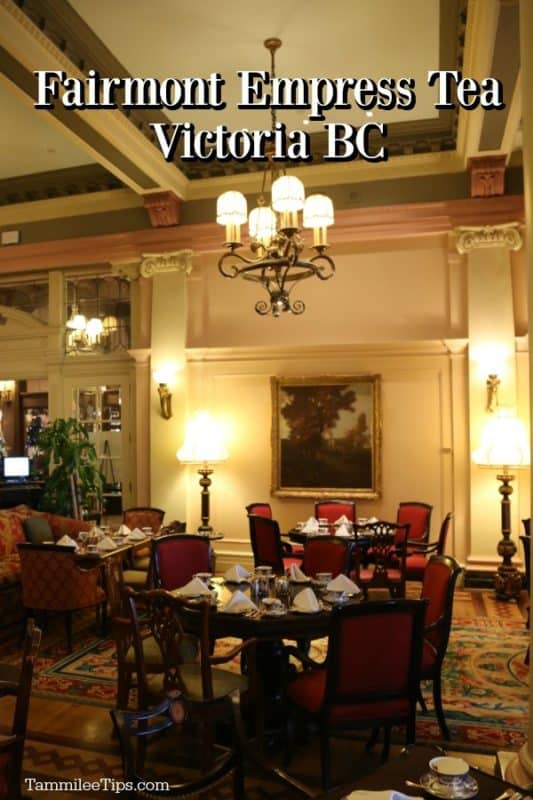 Tea at the Fairmont Empress -Victoria, BC
You truly feel like royalty as you relax with your tea and scones. Our server Marilyn has been a tea server at the Empress for 41 years. She was truly delightful and so wonderful to talk with. Her passion for sharing the tea experience and love of the Empress was truly inspiring.
You don't meet a lot of people these days that have been in a job for 41 years and still love coming to work each day. Marilyn really epitomized the joy and love that goes into each tea serving at the Fairmont Empress.
We absolutely fell in the love with the tea we had at the Fairmont Empress. You have your choice of which blend of tea you want to try. John enjoyed the Empress Blend and I had the Kea Lani Orange Pineapple.
We loved it so much we went to the gift shop and purchased multiple boxes of tea before we left. Now that we are home we have already had to buy more tea because it has become a nightly ritual for us. Both John and I make up a cup of tea and we sit and relax at night talking about our day and upcoming plans. The tea has become a part of our daily life and a wonderful memory of our trip to Victoria.
When you visit the Fairmont Empress for tea make sure you arrive hungry. We were not sure how filling tea would be but let me tell you it is amazing and you will be happy you came hungry.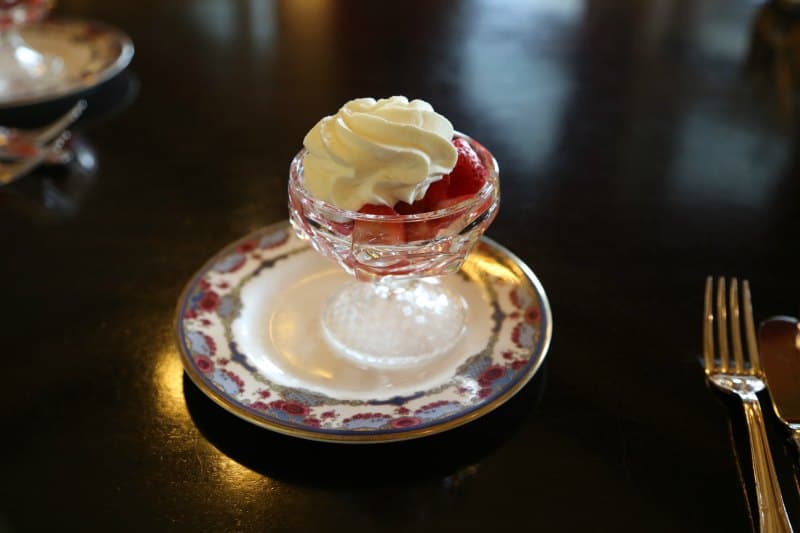 Our first course was delicious strawberries in Empress cream. I could have honestly had a few cups of these and been happy they were that good.
Freshly baked raisin scones with strawberry jam and Empress Cream....yes please! So good!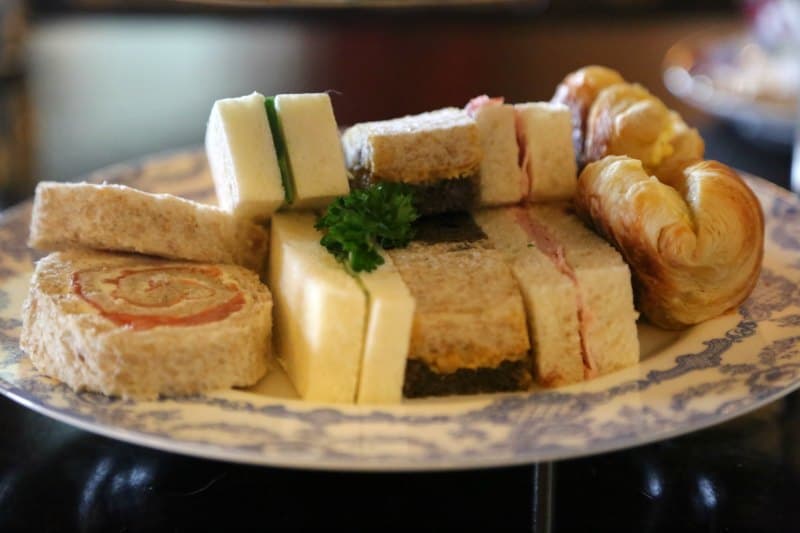 Smoked Salmon Pinwheel with dill cream cheese, roasted honey ham with tarragon dijonnaise, free-range egg salad croissant, cucumber, and ginger marscapone on butter brioche, and Moroccan spiced coronation chicken on marble rye tea sandwiches were delicious.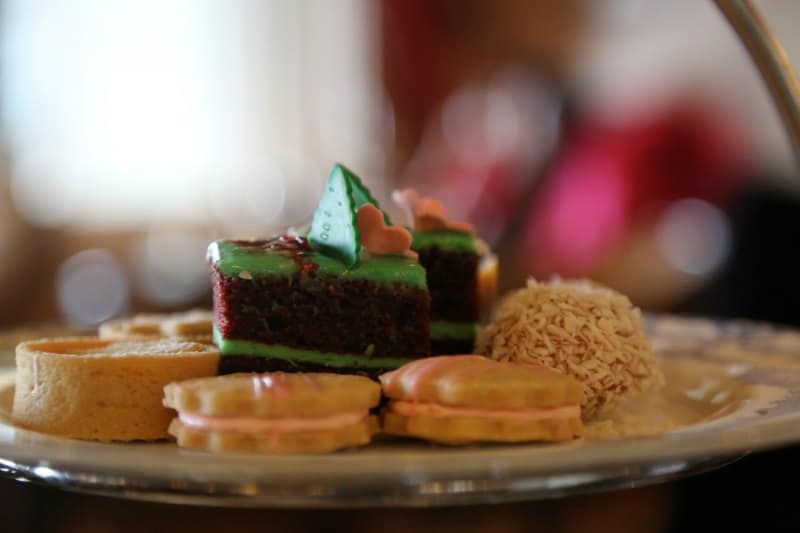 The sweet treats vary depending on the time of year you visit and any special events that are happening at the Fairmont Empress. We enjoyed Ballerina red velvet cake, citrus cranberry lamington, cinnamon chestnut cup, festive mince pie, and ginger spiced floral shortbread.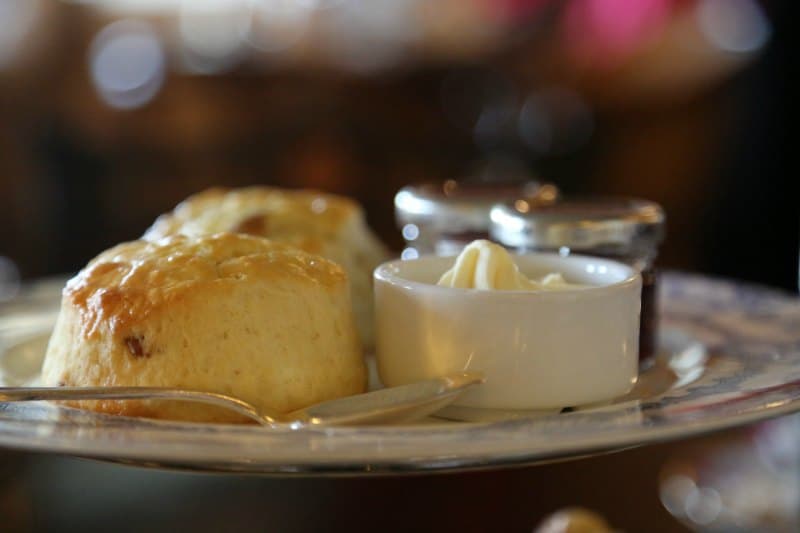 Fun facts about Tea at the Fairmont Empress
Notable guests have included Queen Elizabeth II, Rudyard Kipling, Shirley Temple, Spencer Tracy, Princess Margaret, Rita Hayworth, the King and Queen of Siam, Bob Hope, John Travolta, Barbra Streisand, Joan Lunden, Sarah McLachlan, Mel Gibson, and Nelly Furtado
The Empress Tea China was originally presented to King George V in 1914 upon the opening of the Booth factory in Stoke-on-Trent, England. The china was first used by The Empress in 1939 for the Royal visit of King George VI and Queen Elizabeth. The pattern is now produced by William Edwards exclusively for The Fairmont Empress
Our Tea servers are some of our most tenured colleagues in the hotel with over 42 years of service
Nearly 100,000 guests are served tea annually with an estimated 500,000 cups of tea
During the centennial restoration in 2008, the hotel's original Tea Lobby floor was replaced and the wood of the original floor was transformed into delicate Afternoon Tea tables; - one may say you're eating off the floor
Afternoon Tea was started by the Duchess of Bedford in the 19th century when she had a "sinking" feeling in the afternoon. She had her chef prepare a little meal with tea, and soon it became known as Afternoon Tea
Travel Tips and Info:
THE EMPRESS BLEND OF TEA
The Empress blend is a selection of seasonal, quality teas, created exclusively for The Fairmont Empress by the Metropolitan Tea Company. With components from Assam (thick malty and full-bodied), Kenya (floral-like flavor and a golden coppery infusion), South India (superb fruity and sprightly flavor), Ceylon (airy, almost piquant flavor), and China (burgundy depth with light oaky notes), it is truly one of the finest blends in the world.
Tea Service starts at Noon daily with the last seating at 3:45 p.m. We recommend an hour to enjoy your Afternoon Tea experience.
Evening Tea is also available starting at 7:00 p.m. with the last seating at 9:00 p.m. on Thursday, Friday, and Saturday evenings from May until September.
Pricing:
May 1, 2015 - September 30, 2015 - $62.95 CAD per person.
October 1, 2014, to April 30, 2015 - $49.95 per person.
Children 12 and younger may choose the regular Afternoon Tea menu at 50% off the adult price, or enjoy our Prince and Princess Tea Menu.
The Dress Code is casually elegant. Please no torn and/or ripped jeans, short shorts, cut off pants, beachwear, flip flops, or baseball caps.
The Fairmont Empress is located at 721 Government Street, Victoria BC
Telephone - 250-384-8111 or 800-441-1414
You can find out more about Tea at the Fairmont Empress and staying at the beautiful hotel by checking out their website www.fairmont.com/empress
Oh and if you fall in love with the tea like we did make sure and pick some up in the gift shop! If you forget you can also order tea on the Fairmont website. I just placed a stock up order since both John and I have fallen in love with the tea from the Empress.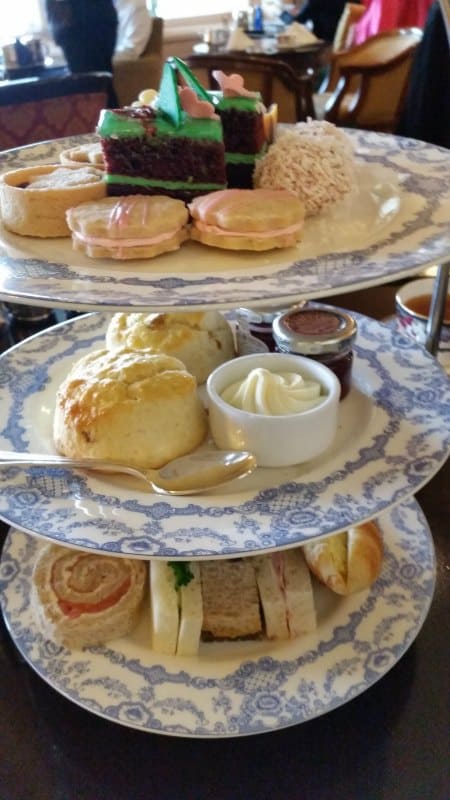 Additional Victoria BC Travel Resources
Check out all of our Canada Travel Guides