Brno is the second-largest city in the Czech Republic located in South Moravia. There are so many amazing things to do in Brno!
From the UNESCO World Heritage functionalist building to amazing bars and restaurants. There is truly something amazing around every corner in Brno.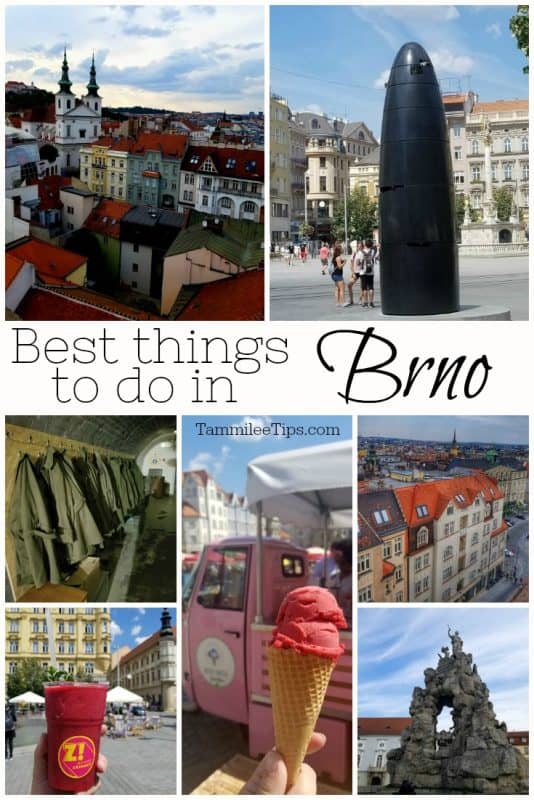 Things to do in Brno, Czech Republic
One of the things I really liked about Brno is how easy the city was to walk. We spent days wandering around the city exploring the history, culture, and great buildings of this cool city.
Brno is a fantastic day trip or weekend getaway from Prague. You can reach the city by train in two hours and forty minutes. It is a gorgeous relaxing train ride from Prague filled with sweeping fields and beautiful buildings. If you are driving Brno is only 210 kilometers from Prague.
Brno is a college town filled with vibrant nightlife, great restaurants, and lively entertainment. Being a college town be prepared for Brno to be a bit quieter over Christmas and summer holidays.
This is a great time to explore the city but be prepared that some restaurants and attractions may have shorter hours.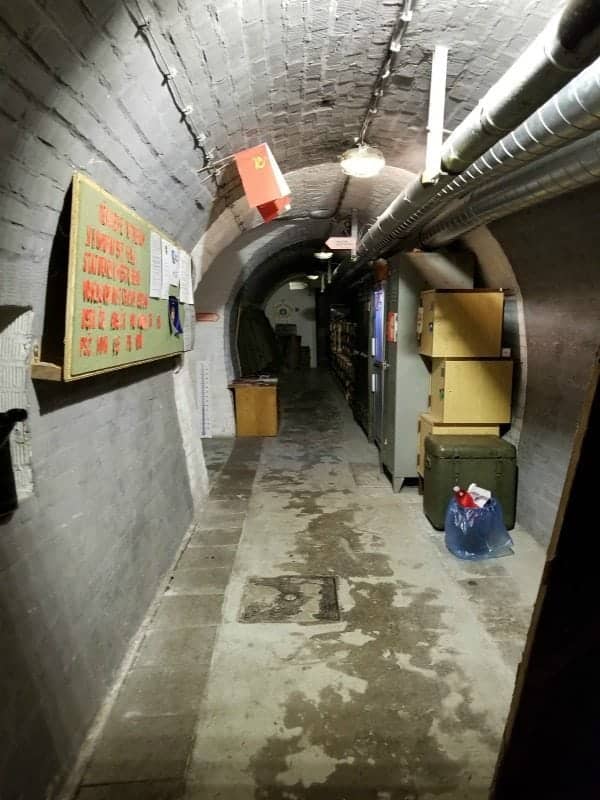 Stay/ Tour the 10-Z Nuclear War Bunker
Staying in the 10-Z Nuclear War Bunker in Brno is a night I will not soon forget. If you have always wondered what a nuclear war bunker is like this is your chance to experience it firsthand.
They offer daily tours or for the really brave you can book a room overnight and experience the bunker life.
Enjoy a great Brno Restaurant
Fine Dining - Pavillon Restaurant
I had the most amazing carrot gnocchi topped with pine nuts and gouda cheese during our lunch at the Pavillon Restaurant.
Lunch - 4Pokoje
This cute little cafe has great sandwiches and wonderfully flavored lemonades
Dinner - Sky Bar at Fairhotel
Enjoy dinner with a view from the sky bar on the top of the Fairhotel.
My friend Nathan from Foodie Flashpacker wrote an entire article on the best Brno Restaurants you do not want to miss!
Enjoy a delicious cocktail or beer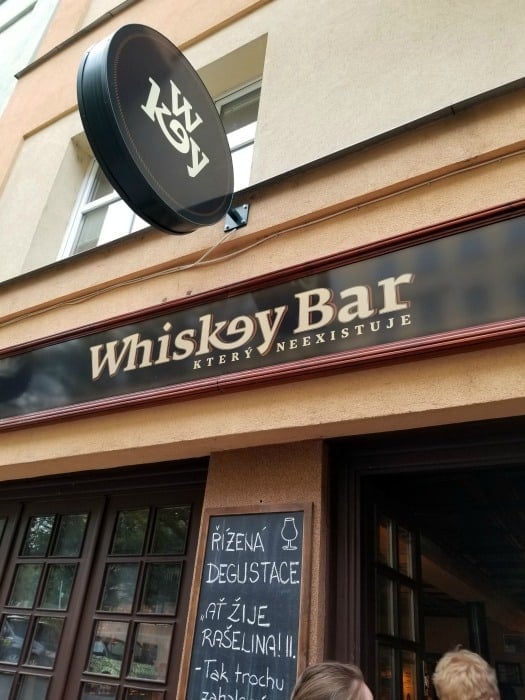 Whiskey Bar
I was a bit nervous going to a whiskey bar since I normally am not a big fan of whiskey. My fears were for nothing! This bar has amazing craft cocktails and great food. Don't miss the house-made potato chips with vinegar. We had 3 servings of them before we told ourselves we had to stop they were that good.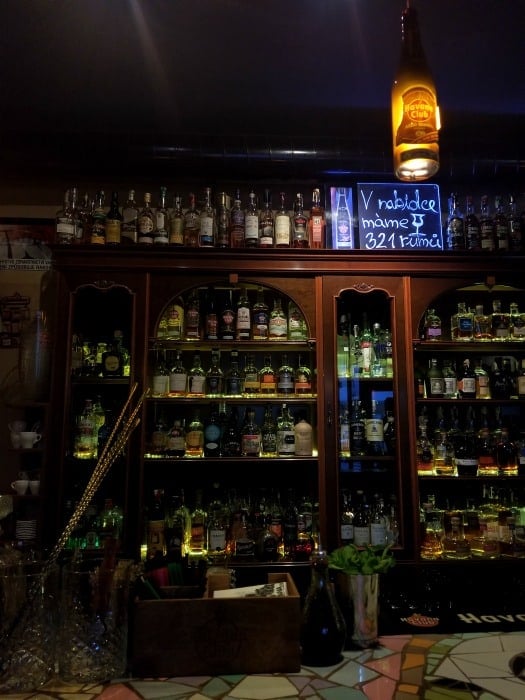 Cubana Bar
If you are a fan of rum than you NEED to visit the Cubana Bar! They have hundreds of rums and make one of the best strawberry mojitos I have ever had.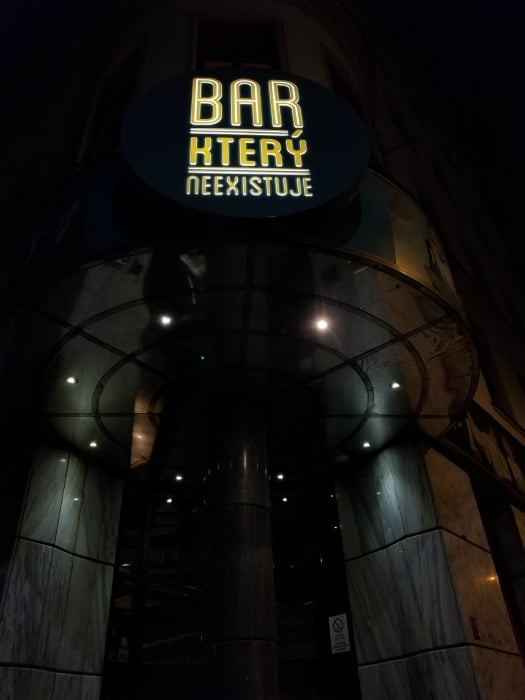 Bar ktery neexistuje
Literally, the bar with no name is a great place to enjoy a custom cocktail and relax. The drinks are all created around local Brno stores and restaurants and were so good. The bar with no name reminds me of a bar you would find in New York. Super classy and comfortable. Upstairs you can get a great burger and late-night meal!
Petit Cru
This restaurant has one of the best wine lists in Brno. We did an amazing wine tasting with the owner of Petit Cru and I really wish this restaurant was located near my house. The wines were honestly amazing!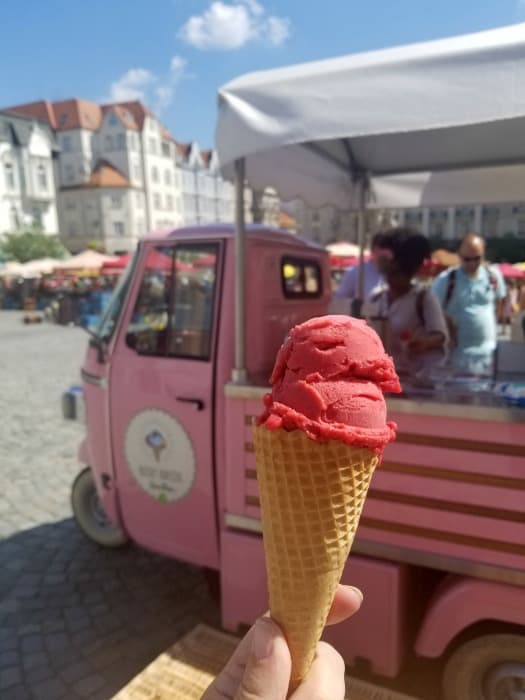 Visit the Cabbage Market also known as the Vegetable Market
I know you are wondering why I am sending you to a cabbage market but I need you to trust me on this one. Every day local growers gather in the Cabbage Market to sell amazing fresh produce.
There is also a labyrinth of underground cellars and tunnels under the market but we didn't have time to explore them. Look for the super cute ice cream truck that parks on the square and get at least one maybe two ice cream cones. They are delicious and so good on a hot summer day or really any day.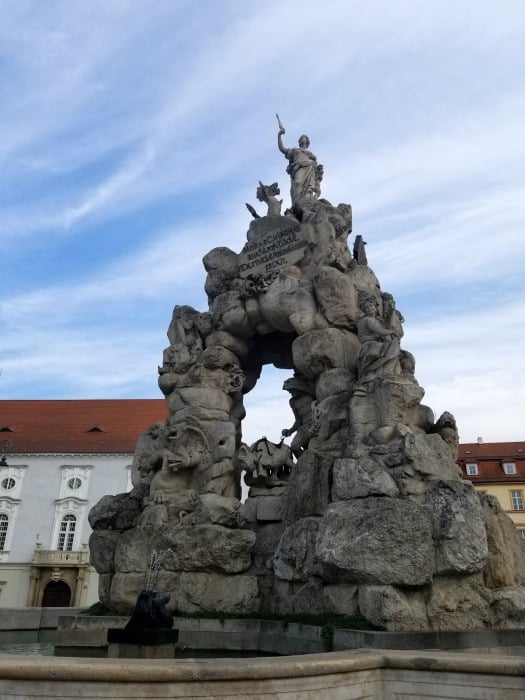 The square is dominated by a monumental Baroque fountain called Parnas which was created by Johann Bernhard Fischer von Erlach. Take a few moments to check out this fountain and the interesting creatures and figures that are depicted on it.
The fountain was built from 1690 to 1696 and includes a tall limestone rock with a small cave in the center of it. Inside is a statue of Heracles, the guard of the gates of the underworld, holding the three-headed dog Cerberus on a chain.
On top of the rock is an allegory of Europa, symbolizing the Holy Roman Empire.
Sign up for a Cryptomania adventure
If you love solving riddles, ciphers, and logical tasks you will love taking a Cryptomania Adventure. The company is based in Brno and has amazing ciphers all over the city. We spent a couple of hours exploring Brno and attempting to answer the riddles.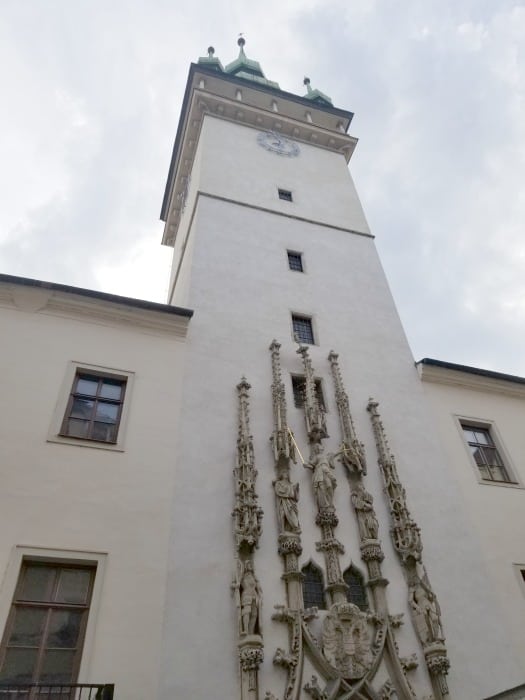 Explore Brno Old Town Hall
The view from the top of the Old Town Hall is spectacular but you need to be prepared to work for it. There are 173 steps to the top and no air conditioning. If you visit in July like I did be prepared to sweat out all of the delicious Czech wine and food you have been enjoying on your trip.
Brno Old Town Hall was the center of the city government from the mid 13th-century until 1935.  The Old Town Has has a late Gothic portal with a contorted tower which is the work of sculptor Anton Pilgram. You may be surprised to find a stuffed crocodile known as the Brno dragon hanging outside the Old Town Hall.
Brno Old Town Hall is the oldest secular building in Brno. Today it houses the information center for the city and a permanent exhibition on Brno history.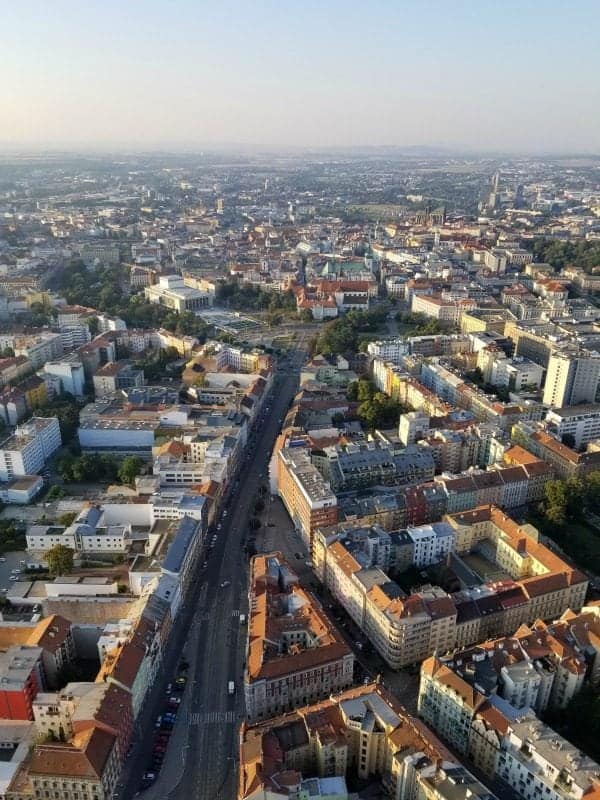 Take a hot air balloon ride over Brno
Balon.cz offers an hour-long flight over Brno that is an amazing way to see the city. We floated a kilometer off the ground and the views were honestly amazing. It is such a cool way to see the city and surrounding area.
Check out our post on our Hot Air Balloon ride over Brno to see all the photos and more!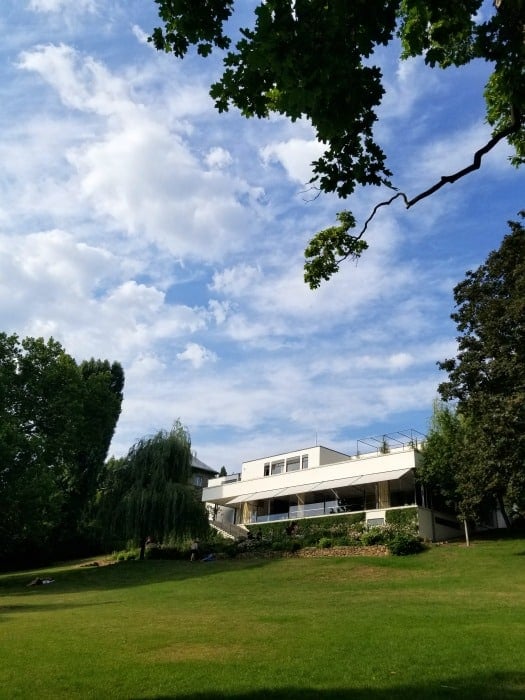 Tugendhat Villa in Brno is a UNESCO World Heritage site and a great example of functionalist architecture.
Make sure and make reservations early to visit and tour the Tugendhat Villa. The tours sell out quickly.
The Tugendhat Villa was designed by Ludwig Mies van der Rhe for Greta and Fritz Tugendhat. Make sure and give yourself enough time to enjoy the beautiful gardens below the house.
Visit the Cathedral of St. Peter and St Paul atop Petrov Hill
You can't miss the Cathedral of St. Peter and St. Paul atop Petrov Hill as you are exploring Brno. The cathedral's origins date bake to the 1170's when a Romanesque rotunda was erected on the site.
Over time the cathedral underwent one Gothic, and two Baroque reconstructions, the current towers are more recent being rebuilt in 1909 by August Kirstein. Give yourself time to enjoy the view of Brno from Denis Gardens at the foot of Petrov Hill.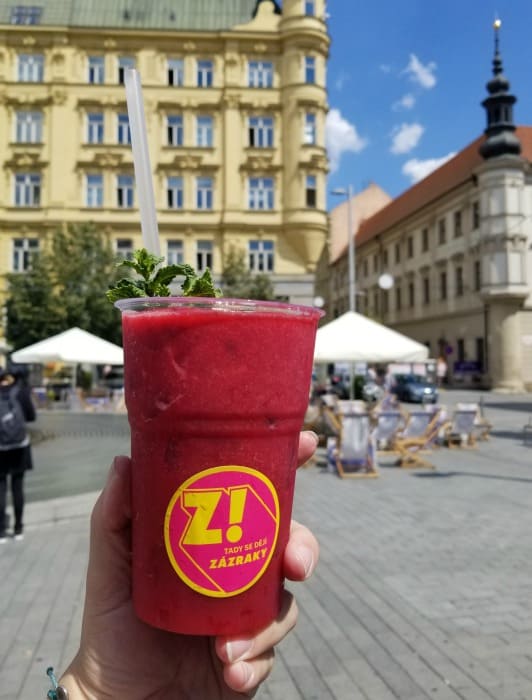 Enjoy a cocktail and relax in Freedom Square
One of my favorite parts of Brno was Freedom Square. There are chairs and places to relax all over the square along with a killer cocktail pop-up bar right in the middle. Freedom Square was once known as the Lower Market and the Big Square.
Make sure and wander around Freedom Square to check out the beautiful buildings and artwork.
Renaissance House of the Lords of Lipa
This building has mythological and biblical scenes and grapevine ornamentation gracing its facade.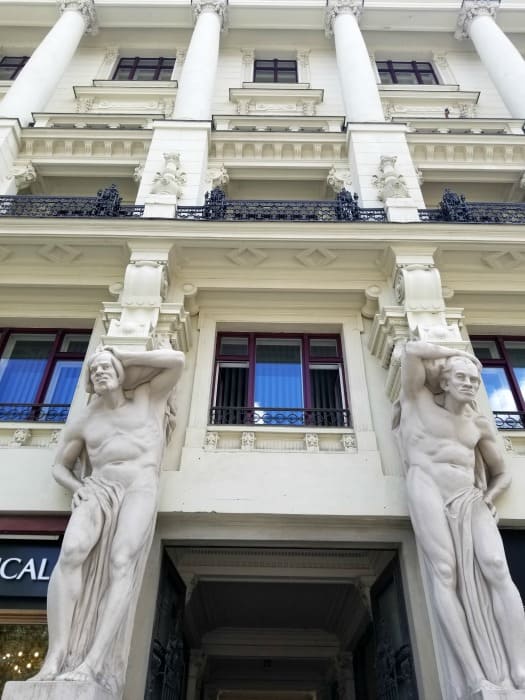 The House of Four Giants
This building has four giants carrying its weight. This building was built in 1902.
Also in Freedom Square, there are two bronze fountains decorated with lines by poet Jan Skacel.
Freedom Square is home to the famous Cock Clock otherwise known as a gigantic bullet or astronomical clock.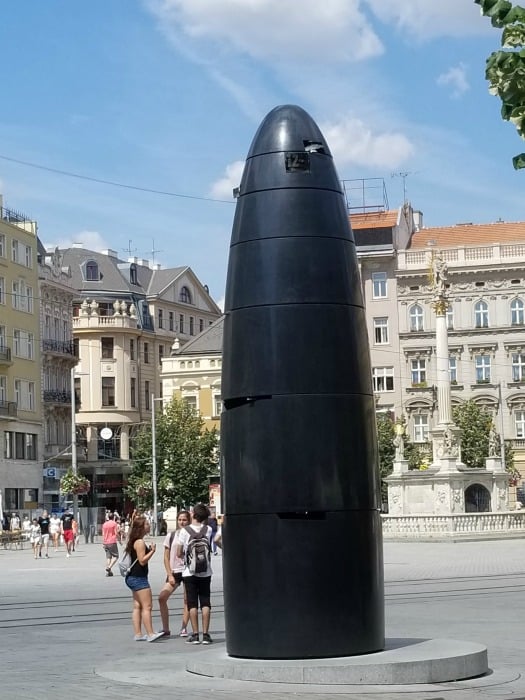 Take a photo with the cock clock
Ok, I am going to admit it is not really known as the cock clock formally but we definitely heard many nicknames for this clock in Freedom square.
The clock was installed in 2010 and is made of black granite by sculptor Oldrich Rujbr and a student named Petr Kamenik.
The 6-meter shape was supposed to evoke the shape of a bullet and commemorate the heroic defense of the city against the Swedish army during the Thirty Year War.  We only heard of the clock by its many nicknames.
The city is well aware of the nicknames and even gave us a keychain in the shape of the clock and a condom as a cheeky gift.
One thing I wish I would have known while in Brno is every day at 11 am the clock releases a glass marble into one of its four holes. Whoever is there when it drops gets to keep the marble.
Vida! Science Center
We did not have enough time to visit the full Vida! Science Center but we did get to see a small science show that showcased the great things happening at the science center The Vida! Science Center is filled with over 170 interactive displays for kids and adults.  There are four themed sections including the planet, civilization, man, and microworld.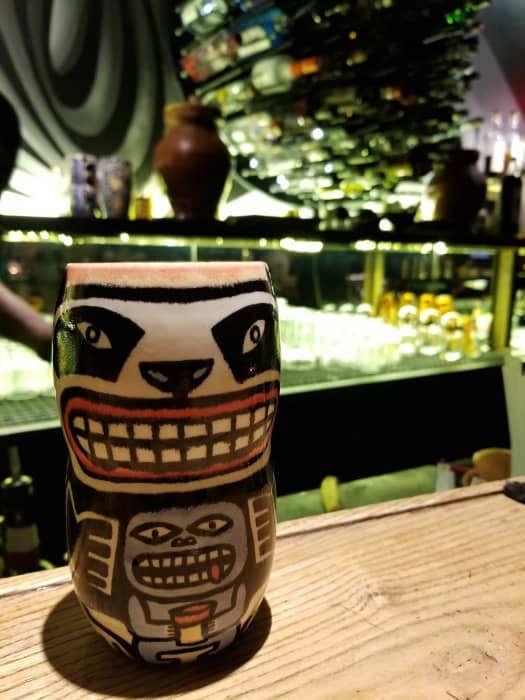 Super Panda Circus Speakeasy
Super Panda Circus is a must-do if you enjoy funky, fun bars that you have to know to find. There is no sign for Super Panda Circus just a doorbell and a panda symbol by the door.
Once you enter this small speakeasy a butler guides you to the first entranceway and determines if you will make it to the next level. Trust me you want to make it to the next level!
Visit Spilberk Castle
If you are expecting a gorgeous castle or chateau similar to Lednice Castle then you are in for a surprise with Spilberk Castle. The castle was established in the 13th century by Premysl Otakar II to protect both the Czech lands and the town of Brno.
In the 17th and 18th century the castle became a huge military fortress. In 1783, Emperor Joseph II decreed that Spilberk Castle become a jail for serious criminals and political prisoners. Spilberk was known as the harshest jail in Europe. You can now tour the dark casemates where prisoners were kept.
Spilberk Castle offers an amazing view over Brno. I have heard that the guided tour of the castle can be a bit intense and dark. It is well worth wandering to the castle to enjoy the views over Brno and check out the castle from the outside.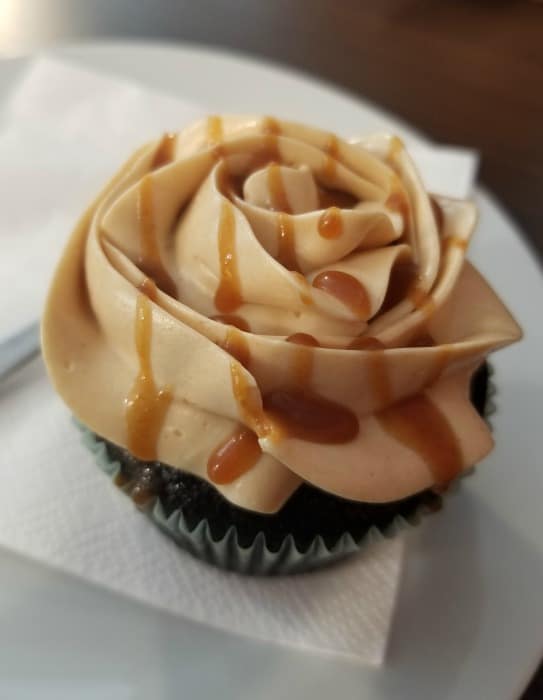 Indulge your sweet tooth at Cupcake Karna
Cupcake Karna is a tiny cupcake shop that packs a lot of flavors! Your sweet tooth will be very happy with a cupcake from Cupcake Karna! I had the salted caramel and it was so good!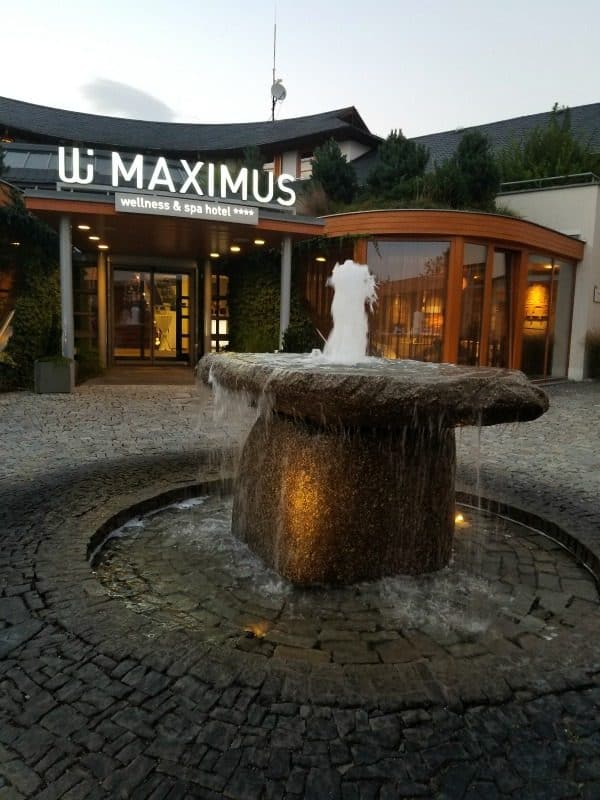 Let your cares float away at Wellness at Infinit Maximus Resort
Wellness at Infinit Maximus Resort is the perfect place to relax after a busy day exploring Brno. The resort is located a bit outside of the city center so you will want to grab a taxi.
I need to be honest and let you know that a large part of the relaxing at Infinit Maximus Resort is done in the nude. There are two pools you can enjoy in your swimsuit but the sauna ceremonies and outdoor lower pool are all enjoyed in the nude. Don't worry you are given a large white sheet when you check in to wrap your body in.
The sauna ceremony is something that you do not want to miss. Be prepared though that Czech men do not have a lot of modesty and you will see a lot of naked bodies in the sauna. I don't want you to be surprised when you come around the corner and see bare buns or more.
At the end of the sauna ceremony, you do have the opportunity to drop your towel and rub hot honey all over your naked body. I know this sounds intense and a bit uncomfortable but honestly it feels so good and no one is paying attention to your body because they are focused on breathing in the hot air and not melting.
Additional Czechia Resources
Check out all of the things I didn't know I needed in my life until I went to the Czech Republic there are a few from Brno on the list!
If you are heading to other great Czech cities make sure to check out this Cesky Krumlov Travel Guide. We loved visiting Cesky Krumlov and were in awe of how beautiful the city is. We could easily go back and spend more time exploring this beautiful city and eating all of the goulashes we could find.
Plus don't miss all of the things to do in Ostrava, Czech Republic if you are heading to the third-largest city!
Don't miss all of our Czech Republic Travel Guides
It is a long flight to Czech Republic so make sure you know what to wear on a long flight to be comfortable for the trip.