One of my favorite things about travel is you experience things you never thought you would or planned to. This was so true during my adventures in the Czech Republic. I had so many moments of joy, awe and oh my goodness is this seriously happening. I wanted to share the things I didn't know I needed in my life until I went to the Czech Republic. Some of these are amazing and some of them are a bit cringe-worthy but truly what makes travel so interesting and life-changing.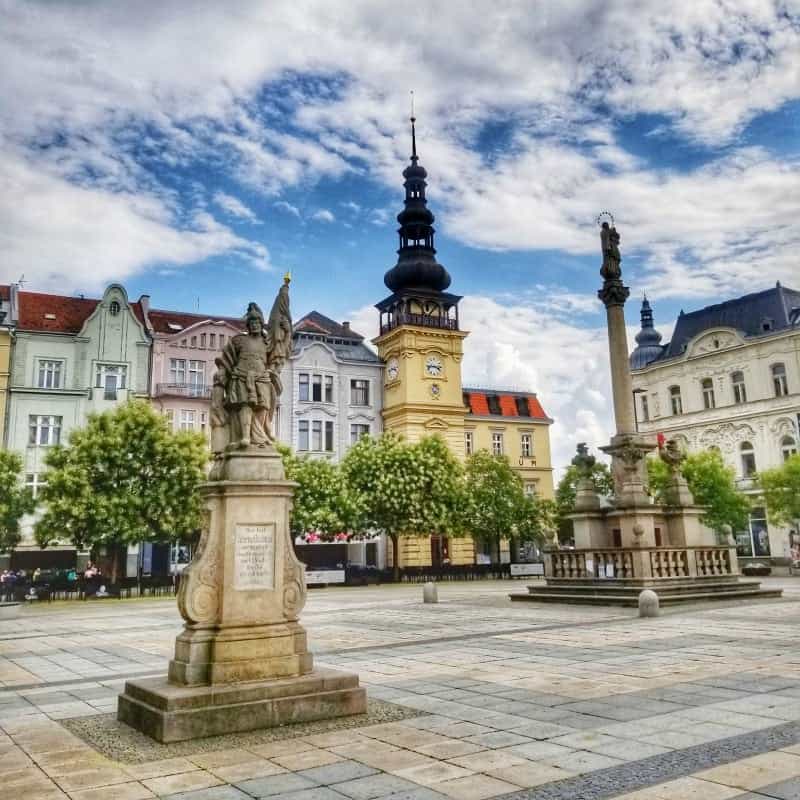 Things I didn't know I needed in my life until I went to the Czech Republic!
Naked Sauna Ceremony
Imagine wrapping a white sheet around your body and entering a hot chamber with multiple naked Czech men. That is exactly what I did.
We experienced a sauna ceremony at the Infinit Maximus wellness resort outside of Brno. The ceremony lasted 11 minutes and was honestly amazing. A tiny Czech woman in a white bikini danced around the sauna throwing ice cubes, fanning us with a million-degree air, and taking us on a journey with nature. At the end of the last few minutes, we were given fresh honey to rub all over our naked bodies.
We then showered and took a naked swim in a cold outdoor pool. I can honestly say this is the 1st time I have done a group naked swim during a press trip.
There are no photos of this event...thankfully!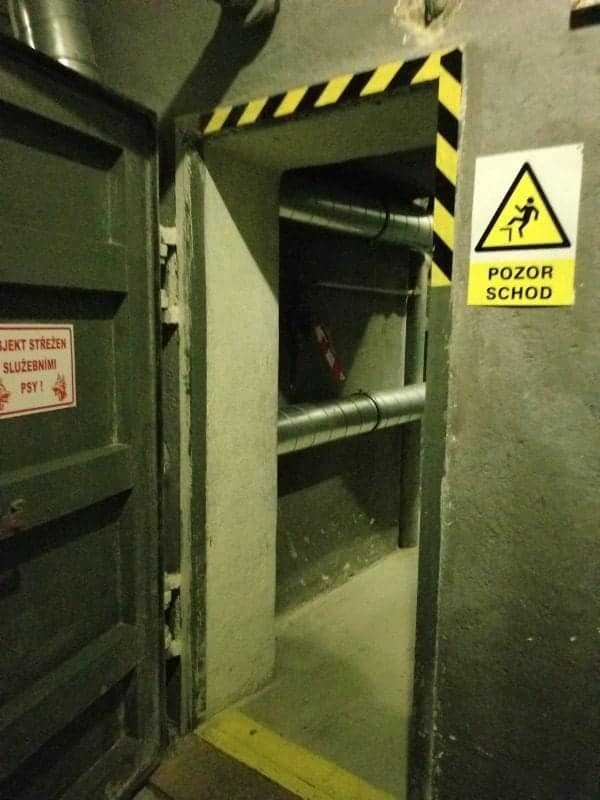 We have talked in the past about how claustrophobic I am and how much I do not like closed-in spaces so you can imagine my joy at learning we would be staying in a nuclear war bunker and sleeping on metal cots. I had the option of booking a hotel but told myself I couldn't let fear win and stop me from pushing myself. I am going to admit that it was a minute by minute choice to stay in the bunker.
As a few of the writers on my trip left for their plush hotels I was super close to booking something but I kept telling myself I had to make it happen. I only needed to spend 4 hours in the bunker before my taxi came so I needed to push through and make it happen.
The bunker was interesting and I am going to write up an entire post about the experience with a ton more photos but I can say that I am so damm proud of myself for making the decision to not let fear win and pushing myself to last those 4 long hours.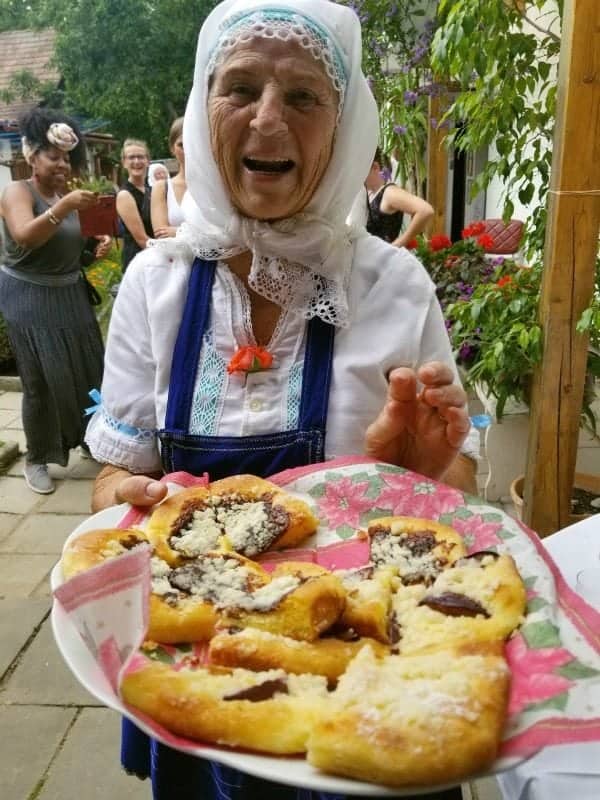 I need to be adopted by a Czech Auntie ASAP!
We spent an amazing afternoon in the small Plže village in South Moravia with the "Aunties" who I fell madly deeply in love with and need them to adopt me asap! How can you not love a beautiful grandmother who opens her doors to your entire group, greets you with wine and plum kaloche, and share their love of Czech traditions with you!
The few hours spent with these ladies warmed my heart and made me wish for another afternoon with my grandmother. They opened their arms and let us into their lives and their hearts.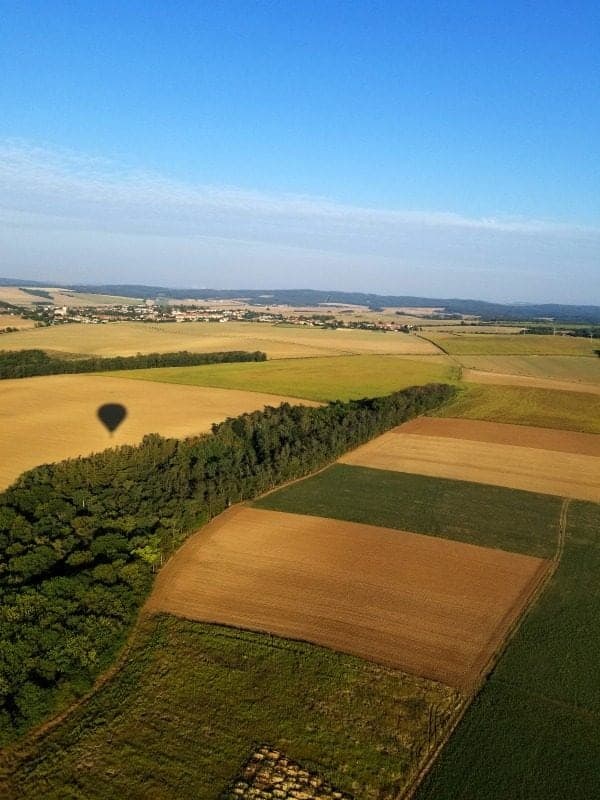 This was my second adventure in a hot air balloon and it was just as thrilling as participating in the Reno Hot Air Balloon festival a few years ago. I was honestly not sure how I felt about going up in a hot air balloon again. Part of me was nervous that they would tell me I was too overweight to go in the balloon since we had to tell them our weight ahead of time. Part of me was not sure how I felt about going up in a balloon in a foreign country not knowing the landscape and where we would end up and part of me was just ready to do it and pray that it was amazing.
I let myself sit in a place of fear leading into the hot air balloon ride and that is the biggest regret of my trip. I let myself focus on things I was not in control of instead of truly living in the moment and trusting that everything would be amazing. As we were floating over Brno and the Czech countryside I had a moment of just taking it all in. I had to remind myself that living in fear and worry doesn't change the outcome it just makes you miss the moments happening right now.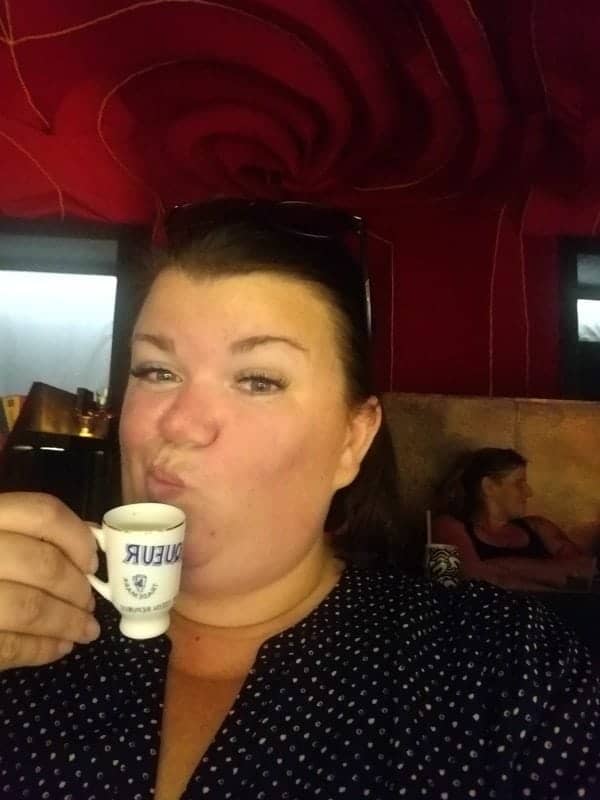 I never expected to drink a traditional Czech liqueur infused with butter...
While we were at the Super Panda Circus in Brno they had us try a traditional Czech liqueur Becherovka that they had infused with butter. They lined up these little glasses and urged us to drink them down. I was pretty wiped out at this point since we had been going for 19 hours and I was dreaming of my bed. I am not sure what was in that shot but I felt like a new woman afterward. All of a sudden I could have danced the night away....or at least danced to my hotel bed.
I can't say that it was the most amazing thing that I have tried but it definitely had a flavor all its own. LOL!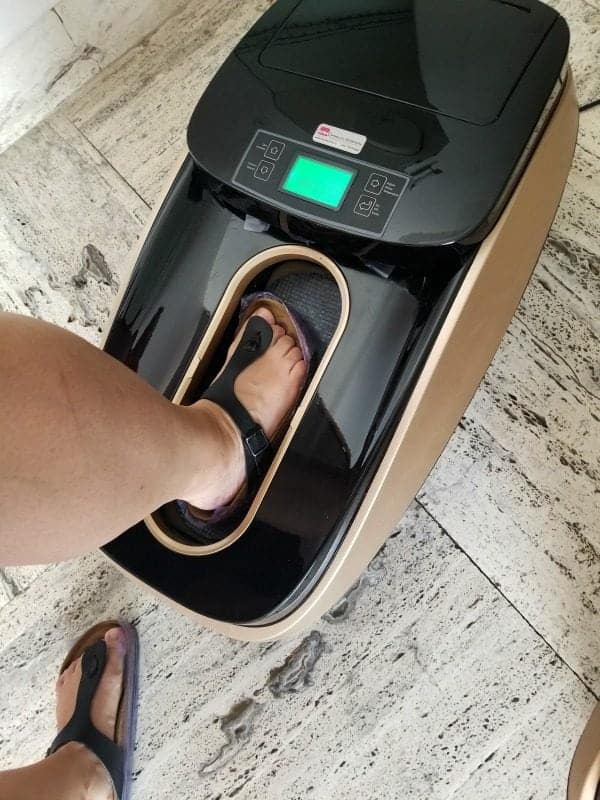 To shrink wrap my toes and Birkenstocks
First I have to confess that this pic is not actually my feet. LOL! I know that this may surprise you as these are my favorite Birkenstocks in the world but this is actually one of our guide's feet. I missed taking a pic of my own feet as I was too busy trying to breathe thru the hot air melting the plastic around my toes. There are no words to describe this sensation that should be written in this blog.
We had to shrink wrap our shoes to visit Villa Tugendhat which is a UNESCO World Heritage Site.
I will say it was definitely worth the sensation of having my toes burned into my Birkenstocks but also something I never thought I would do in my life.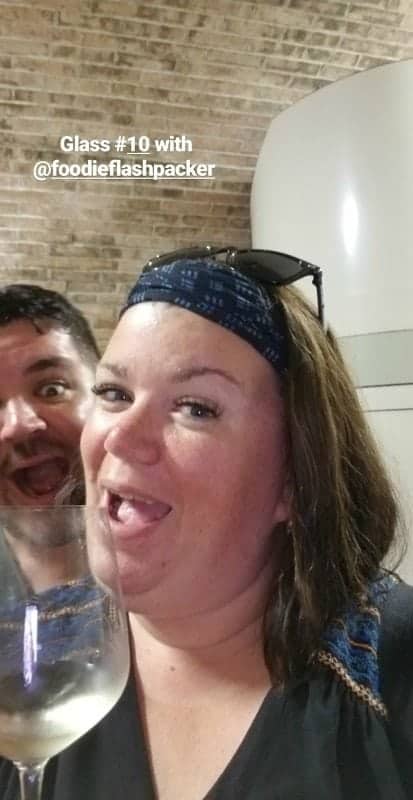 To drink all the Czech Wine!
Going into my visit to the Czech Republic I honestly wasn't aware of the amazing wineries in South Moravia or that I would be trying so many of them. This picture above was taken around 1 pm and we were on our 10th glass of wine. By the time the day finished I had tried 16 glasses of wine. While you may be thinking I was downright tipsy and falling over this honestly wasn't the case.
Since it was 93 degrees and we walked over 16,000 steps I didn't really feel more than a slight buzz even with 16 glasses of wine. I am pretty sure I sweated out the wine and every ounce of fluid in my body which brings me to the next thing I didn't know I needed in my life...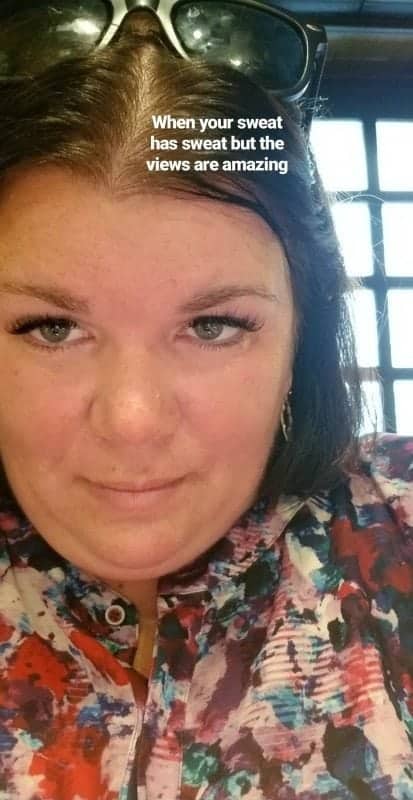 Air Conditioning!
I knew how much I like a cold air-conditioned room but I honestly feel like I have been taking A/C for granted my entire life. The week we were in the Czech Republic was most likely the hottest week of the summer and felt like we were burning up from the inside out. By the end of the week, I was contemplating burning my sweaty stinky clothes and starting fresh after a freezing cold shower and hugging a fan.
We learned that the Czech Republic normally does not have heatwaves like what we experienced so most hotels, restaurants, and well everyplace you plan to visit doesn't have air conditioning. I never realized how important A/C is in my life and how much I could sweat until this week.
I would still visit the Czech Republic again in a second I might just choose to do it outside of the month of July during an extreme heatwave.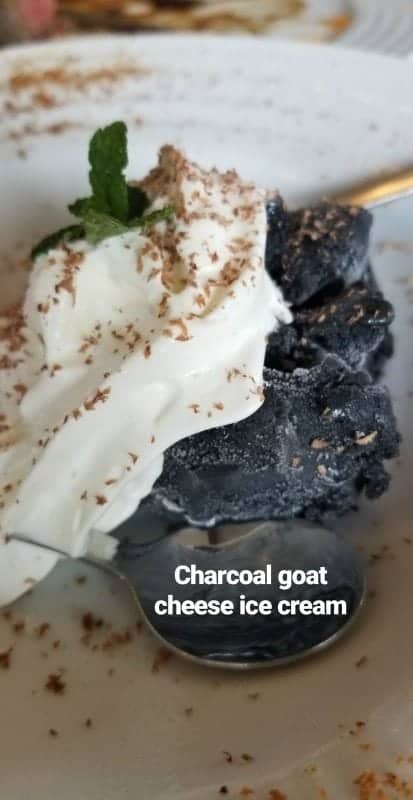 Charcoal Goat Cheese Ice Cream
If you would have told me I would enjoy charcoal goat cheese ice cream I probably would have laughed and shaken my head no way but in all honestly, I not only liked it I could have eaten it all day long. This may have been due to the extreme temperatures but it was honestly so refreshing.
When they served it they told us it was a vanilla ice cream but we quickly realized that it was charcoal based. I am still not sure how to describe it but I would definitely try it again.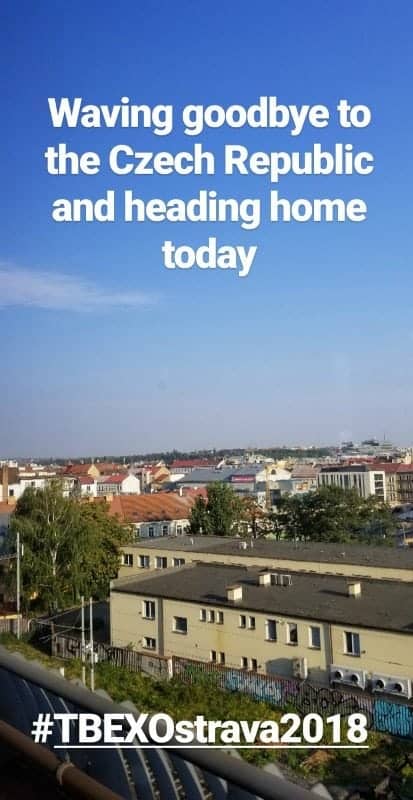 How many things there are to see and do in the Czech Republic and how badly I want to return.
When we hear about the Czech Republic we normally only hear about friends visiting Prague during a European vacation. I was honestly not aware of how beautiful the Czech countryside is and how many places there are to visit outside of Prague. I fell in love with Cesky Krumlov while we were there but hadn't been anywhere else in the country. After experiencing Ostrava, Brno, and the Moravian region of the Czech Republic I feel like I need to return again soon.
As I followed the hashtag #Tbexostrava2018 and saw photos and videos from all of the places other writers experienced I have some serious FOMO going on. I realized that there are so many gorgeous castles, chateaus, and cities in the Czech Republic that I need to experience.
I am so thankful for TBEX and Visit the Czech Republic for making this week happen. I can't wait to plan a return trip to the Czech Republic and bring John with me to explore more of this gorgeous country!
Additional Czech Republic Travel Guides
Check out all of our Czech Republic Guides