I love when my Husband casually mentions that he would love for me to make a recipe…That is what happened with this Crock Pot Cherries Jubilee recipe.
We were sitting watching TV and John oh so casually turns to me and says
"You know…we have not had cherries jubilee since our last cruise" with a smile. I asked if that was a subtle hint that he would like me to make cherries jubilee for him. He nodded and said he would not complain if I just happen to make it this week.
So here we go…Crock Pot Cherries Jubilee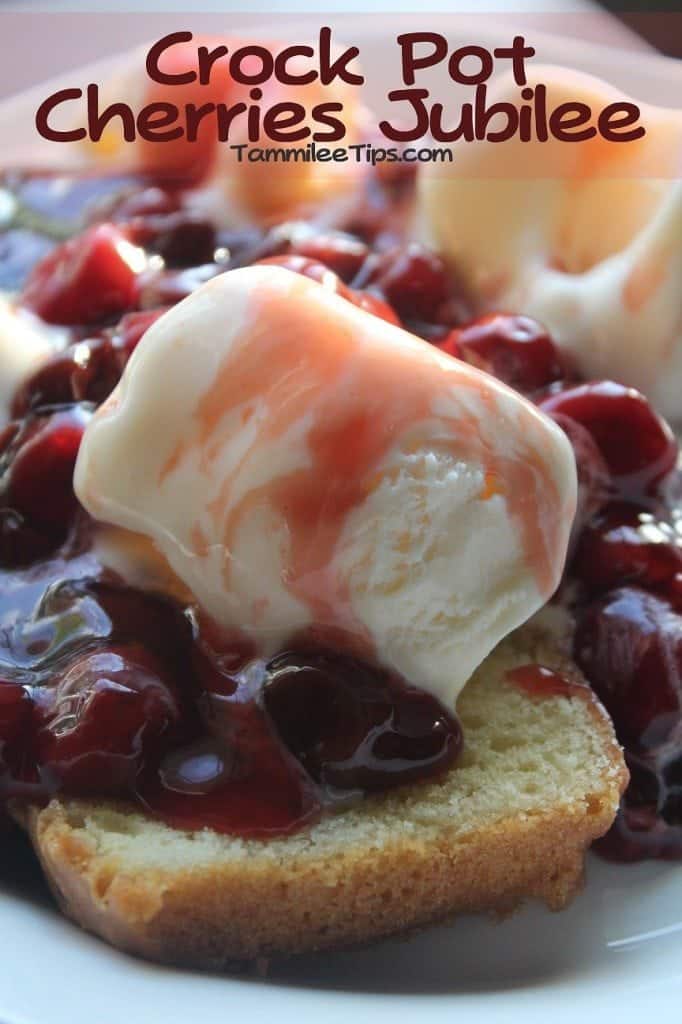 Crock Pot Cherries Jubilee
Ingredients
2 cans pitted dark sweet cherries in heavy syrup (15 to 19oz) -I used Walmart brand cherry pie filling and it worked great.
1/2 cup dried cherries
1/2 cup granulated sugar
1/4 cup orange juice
1/4 tsp almond extract
2 tbsp corn starch
3 tbsp cold water
1. Stir canned cherries with syrup, dried cherries, sugar, orange juice and almond extract in the crock pot
2. Cover and cool on low for 3 hours
3. In a small bowl, combine cornstarch and cold water, stir into crock pot
4. Cover and cook on high for 30 minutes until thickened
5. Turn to warm and enjoy
I served the Crock Pot Cherries Jubilee over pound cake and vanilla ice cream.
If you like Crock Pot Recipes check out last week's cruise inspired dish – Crock Pot Bananas Foster!
Recipe adapted from Triple Slow Cooker Entertaining: 100 Plus Recipes and 30 Party Plans
Do you love recipes? Check out our copy cat recipes, dessert recipes, and our Crock Pot Recipes.