Here's an easy CrockPot Pot Roast Recipe with vegetables! It's one of the best comfort food recipes we have! This pot roast recipe is made in your slow cooker and is perfect for family dinners and leftovers! The slow cooker does all the work for this simple dinner recipe!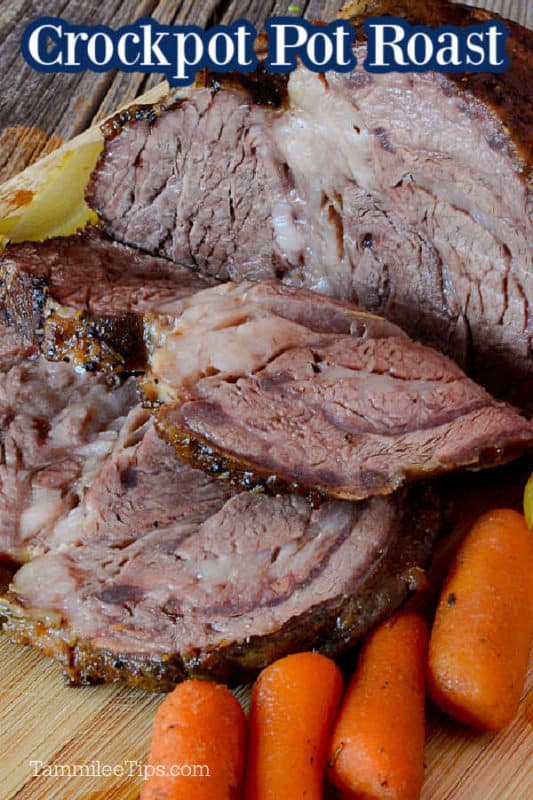 Crockpot Roast
There is nothing quite like opening the door and smelling dinner done and ready for you. You just have to smile, knowing you don't have to stress about what to serve for dinner! You can change into comfy clothes, put your feet up and relax! You can even open a bottle of wine to make the night even better.
This slow cooker pot roast recipe is easy to make and tastes fantastic! Serve this CrockPot pork roast with mashed potatoes, carrots and onions, red potatoes, and root vegetables for a filling dinner!
If you are wondering how to make pot roast in the CrockPot, you have come to the right place! It is so dang easy to make this delicious comfort food! There is something so nice about walking into the house and smelling this easy crockpot roast cooking, and all you have to do is pop open a bottle of wine and get ready for a fantastic dinner.
One of the things I love about this pork roast in CrockPot recipe is you can make it all in one CrockPot if you have one that browns the meat first. If you do not have a CrockPot, it is not hard to brown it in a pan, so you get great seasoning on all sides and a lovely sear! This technique helps the flavor and makes it taste even more impressive.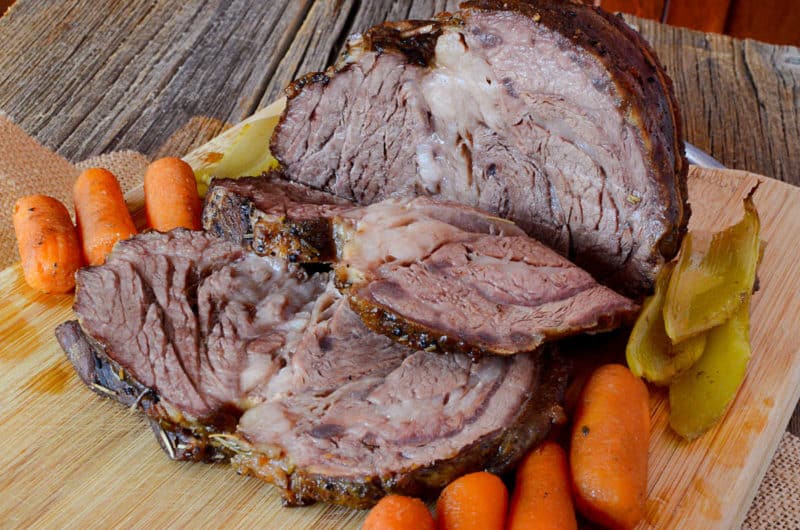 Ingredients
Here is a quick overview of the simple ingredients needed to make an epic CrockPot Pot Roast! The printable recipe card at the bottom of the post includes specific measurements and step-by-step instructions.
Beef Chuck Roast

Onion

Beef Broth

Seasoned Salt

Ground Pepper

Rosemary
Optional - Yukon gold potatoes, dried thyme or fresh thyme
Equipment Needed
CrockPot

Frying Pan

Kitchen Spoon/Spatula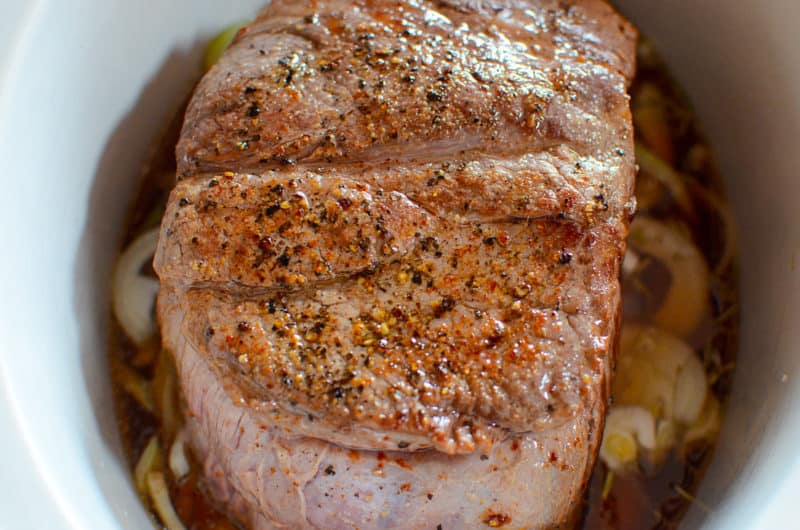 How to Make CrockPot Pot Roast
I've included complete instructions in the printable recipe card at the bottom of the post, but here's a quick version.
Season the roast in a frying pan, and sear the roast over high heat on all sides.

In a slow cooker, place the carrots in a single layer, top with onions.

Place seared roast on top of the vegetables

Pour in the broth.

Cover and cook until tender

When the cooking time is complete, remove the roast and other vegetables. Set aside.

Now, you can continue to make gravy with the pan drippings/liquids by making a roux in a frying pan. 
Preparation and Storage
Make-Ahead: The pot roast needs 7 to 8 hours of cooking time, making it the perfect make-ahead entree that frees up time to work on other menu items.
Storage: Refrigerate leftovers in an airtight container, and enjoy them within three days.
Freezing/How to Freeze: Transfer freezer-bound leftovers to an airtight, freezer-safe container or bag, and enjoy them within three months. Don't forget to label the container with the date so you know how long it's been in your freezer!
How to Reheat: CrockPot Pot Roast leftovers reheat well in the microwave or CrockPot, depending on how many portions you plan to serve. Cover each slice with a splash of beef broth to add moisture if the texture is dry, and thaw frozen leftovers overnight in the fridge to ensure they reheat evenly.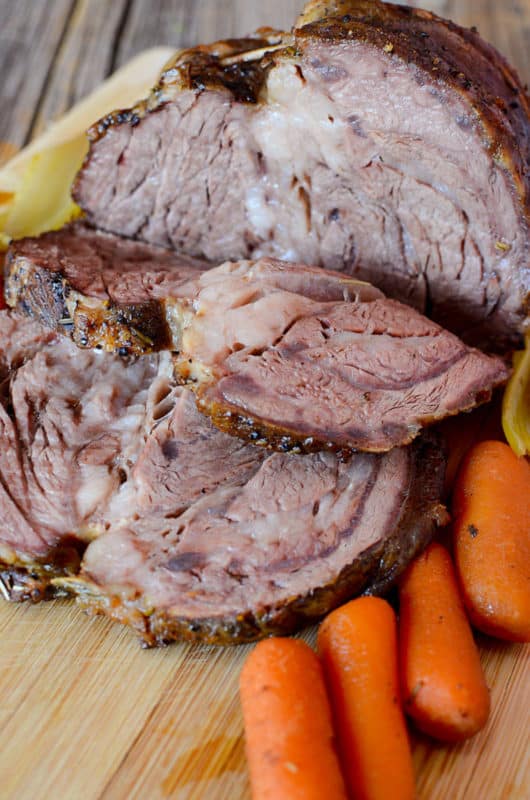 Recipe Variations
Substitutions:
While beef broth is ideal for pot roast, vegetable or chicken broth work if you don't have beef broth, and the difference in taste will be minimal.
We like the flavors seasoned salt imparts on the meat, but you can use regular salt if you don't have this ingredient. Garlic salt is also an excellent choice if you like the combination of rosemary and garlic!
Vegetarian + Vegan Option: Swap the beef roast and beef broth with plant-based alternatives to make this recipe vegetarian and vegan-friendly.
Gluten-Free: Beef broth is the most likely ingredient on the list to contain gluten-unsafe additives, so look for a gluten-free label. The other ingredients are gluten-free.
Alcohol-Free Option: We don't use alcohol in this recipe, but you can add beer to the dish, as we did in our ale-braised Alaskan Amber CrockPot Roast. We've also seen versions that add red wine or whiskey.
Smaller Serving Size + Larger Group/More Servings: The written recipe makes eight servings. Scale it up or down to your desired yield, keeping in mind that you may need to work in batches if you scale up.
Make it Spicy: Add chili powder and the other bold seasonings we use in our Mexican Pulled Pork for a south-of-the-border take on this pot roast. This Spicy Mississippi Pot Roast recipe uses spicy ranch mix for sassy Southern heat.
Tips for the Best CrockPot Pot Roast
While the aromas from your CrockPot may be irresistible, we recommend keeping the lid closed as the roast cooks, as this keeps the heat and moisture locked in and ensures more accurate cook time.

Did you end up with too much gravy? Gravy is a yummy topping for side veggies, mashed potatoes, and biscuits! Leftovers freeze safely for

up to six months

.

Printable recipe card instructions are below.Nutrition information, including calories, protein, calcium, carbohydrates, fiber, vitamin c, potassium, cholesterol, sodium, trans fat, monounsaturated fat, polyunsaturated fat, and more, will vary depending on the products used.
What to Serve with CrockPot Pot Roast
This CrockPot Pot Roast is an excellent change of pace for families accustomed to preparing holiday ham, and leftovers quickly turn into sandwiches worthy of your local deli. Here are some menu planning suggestions for your next Easter, Christmas, or holiday feast.
Sides: Cheddar Bay Sausage Balls, Easy Cheesy Green Beans, Pineapple Stuffing, Carrot Soufflé, Creamed Corn Casserole, Crock Pot Mashed Cauliflower, Crock Pot Candied Sweet Potatoes, Garlic Herb Mashed Potatoes, Jiffy Cornbread with Sour Cream, Sweet Potato Casserole with Marshmallows
Main Dishes: Crock Pot Turkey, Crock Pot Bourbon Maple Pork Loin, Crock Pot Guinness Corned Beef & Cabbage, Crock Pot Chicken & Stuffing, Crock Pot Orange Glazed Ham, Crock Pot Coke Glazed Ham, Bourbon Baked Ham
Desserts: Eggnog Cookies, 4 Ingredient Christmas Crack, Easy Holiday Reindeer Chow, Church Window Cookies, No Bake Cherry Cheesecake Dip, Easy Eggnog Cake with Eggnog Glaze, Ambrosia Salad, Chocolate Chip Cheese Ball, Cranberry Fluff Salad, Bisquick Apple Cobbler
Drinks: Jelly Donut Shot, Pineapple Upside Down Cake Shot, Bay Breeze Cocktail, Peach Iced Tea Cocktail, RumChata Pudding Shots, Pomegranate Breeze Martini, Mulled Cherry Cider Cocktail
When to Serve CrockPot Pot Roast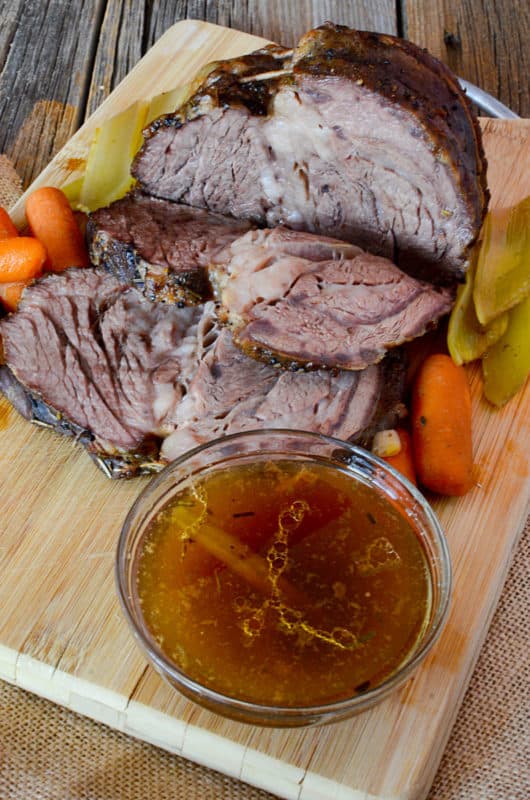 Great CrockPot Recipes
We love making slow cooker recipes! They are one of our favorite ways to save time and serve an epic dinner.
Do you love recipes? Check out our copycat recipes, dessert recipes, and our CrockPot Recipes.
Follow Tammilee Tips on MSN, Facebook, Instagram, and Pinterest for all our recipe posts.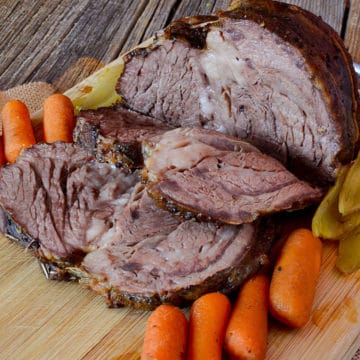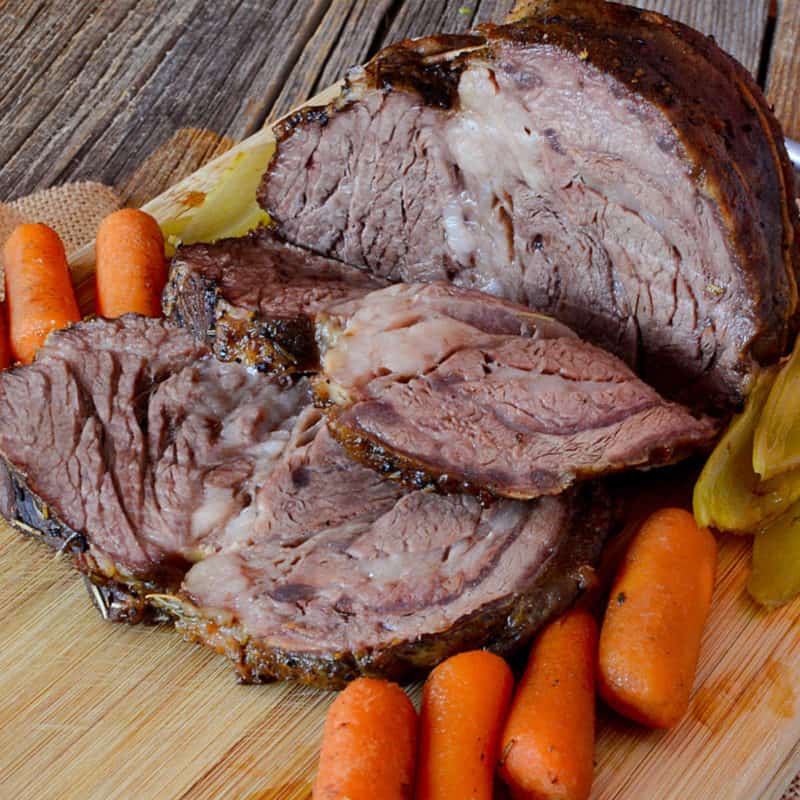 Easy Crock Pot Roast Recipe
Super easy Crock Pot Roast Recipe that you can make in a few minutes time! A great family dinner
Print
Rate
Instructions
Season roast in a frying pan, sear roast over high heat on all sides.

In slow cooker, place the carrots in a single layer, top with onions.

Place seared roast on top of the vegetables

Pour in the broth.

Cover and cook for approximately 7 – 8 hours.

When cook time is complete, remove the roast and other vegetables. Set aside.

At this point, you can continue on to make a gravy with the pan drippings by making a rue in a fry pan. Add ⅛th C flour and 3 tbsp. of butter. Fry both together to remove the flour taste, and then add the broth to thicken…. OR.. just leave the pan dripping as is, and spoon over the sliced served roast.
Nutrition
Nutrition Facts
Easy Crock Pot Roast Recipe
Amount Per Serving
Calories 221
Calories from Fat 117
% Daily Value*
Fat 13g20%
Cholesterol 78mg26%
Sodium 461mg20%
Potassium 472mg13%
Carbohydrates 4g1%
Protein 22g44%
Vitamin A 3933IU79%
Vitamin C 1mg1%
Calcium 36mg4%
Iron 3mg17%
* Percent Daily Values are based on a 2000 calorie diet.
Recipe originally shared on April 12, 2018. Updated January 2021, August 2023