Tips for Preparing for your Cruise Vacation!
We absolutely love cruise vacations! Cruising is one of our favorite vacations to take any chance we get. We have been blessed to travel the world on cruise ships. Today we are sharing tips for preparing for your cruise vacation. Taking a little time before you leave on your vacation can have huge pay offs. Plus it saves you time while you are on vacation so you can enjoy as much as you possible can while cruising.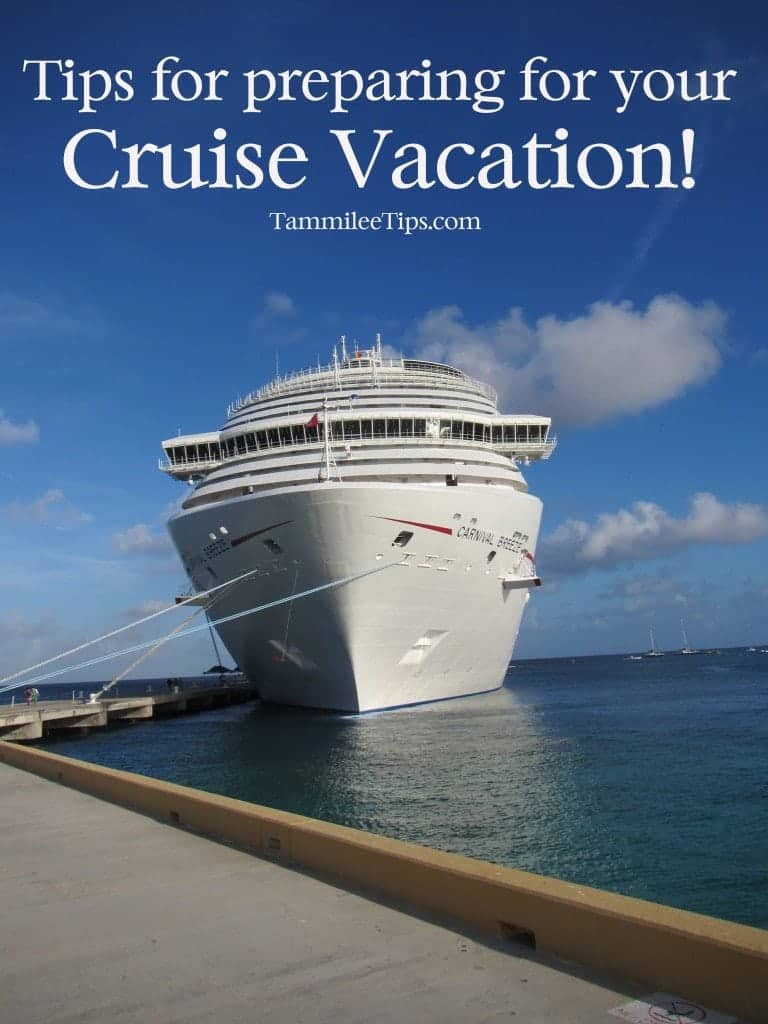 Tips for Preparing for your Cruise Vacation
1. Research the ship you are cruising on
Check to see if there are any specialty restaurants you want to check out, spa experiences, or spa excursions you can book ahead of time. Are there theme nights to prepare for ahead of your cruise?
2. Pre-book any specialty dining reservations you need on special days
If you are celebrating a birthday or anniversary and want to enjoy a specialty restaurant on a specific day make sure and get reservations as early as you can. Many specialty restaurants are booked by the 1st day of the cruise.
3. If you are celebrating a birthday or anniversary make sure you mark it on your reservation
You never know what surprises the cruise will provide for your celebration. From special desserts to decorations anything is possible.
4. Print luggage tags prior to leaving home
Save time at embarkation by already having your luggage marked. You can drop your bags off with a porter and they are whisked away before you board the ship.
5. Research ports
Check out the ports you will be visiting prior to embarking on your cruise. If there are specific excursions you are interested in try and book them before you leave.
6. Do you need to book a shore excursion? Is the port a distance from town?
These are questions to know about each port you are visiting. Depending on where in the world you are visiting many cruise ports are a distance from attractions. In the Mediterranean it is not unusual to travel 30+ minutes to get to an attraction. In the Caribbean most cruise ports are easily walkable without an excursion.
7. Alert your banks and credit cards that you will be traveling
8. Alert the cruise line if anyone on your trip has dietary restrictions
When you make your reservation make sure and update any dietary restrictions. Most ships can work with your dietary restrictions to make sure you have meals you will love.
9. Pack small bills
Don't get caught only carrying $20 or $50's! Make sure you have small bills for tips, taxis, and shopping in the port areas.
10. Print multiple copies of cruise paperwork and documents
Keep copies of your documents in multiple bags. You can also save documents to dropbox or OneNote so they are accessible via your phone.
What are your best Cruise Vacation Tips?
Additional Cruise Articles
Don't forget to pack these for your cruise
10 ways to save money on your cruise
Check out all of our cruising travel guides