How to make Air Fryer Frozen Pizza Rolls! It is super easy to make crispy delicious air fryer pizza rolls. These frozen air fryer pizza rolls are perfect for parties, snacks, or a quick easy on the go meal. You can make a few or a bunch depending on how many people you are making them for.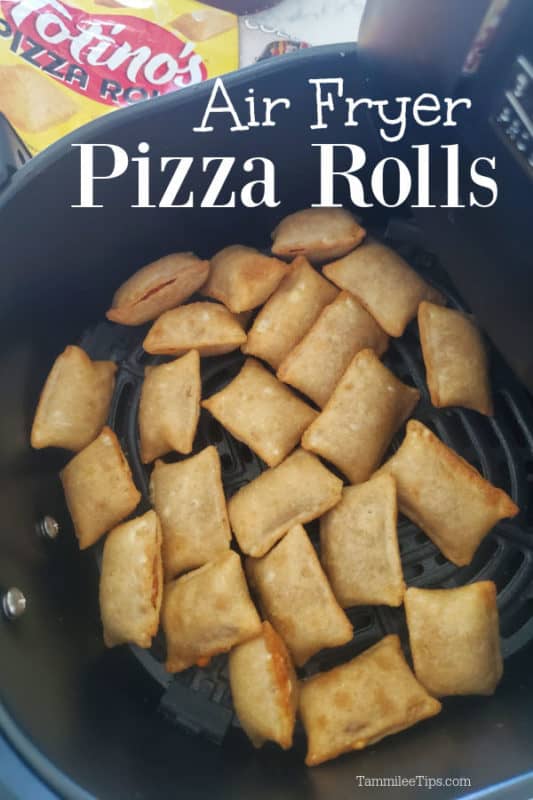 Air Fryer Pizza Rolls
There are days you just need a frozen pizza roll in your life. These pillowy pockets of pizza goodness taste amazing, are fast to make, and did I mention easy and delicious.
In the past, I would make frozen pizza rolls in the microwave and be sad that they turned into a mushy pillow and were not as good as I dreamed of them being.
Let's be honest and say that most of us most likely do not plan enough time to bake pizza rolls in the oven.
OK, I never plan the time it takes to do this and normally I am at a point of being hangry and need them quickly.
Enter in one of my favorite kitchen appliances.....drumroll...the magical air fryer.
Using the air fryer makes it so easy to get golden brown crispy pizza rolls.
We love cooking with the air fryer! One of our favorites is making Air Fryer Grilled Cheese. So easy and they always taste amazing.
Our nephew thinks these air fried pizza rolls are the best appetizer you can serve kids and adults.
When he was working with us and visited the grocery store with me he would make sure we ended up in the freezer aisle at the grocery store to make sure I picked up a few bags of pizza rolls.
I will admit the first bite with hot melty mozzarella cheese is amazing.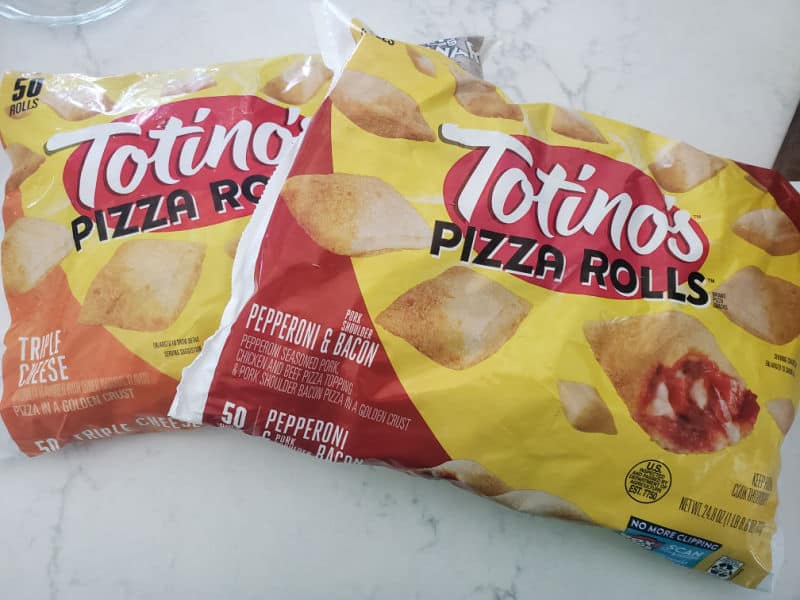 Ingredients
Totinos Pizza Rolls or really any brand of frozen pizza rolls
Marinara sauce or extra pizza Sauce - If you want to dip your crispy air fryer pizza rolls after they are done.
Other dipping sauce options include ranch dressing
Equipment Needed
Cooking Sprays - We use olive oil spray or avocado cooking spray. We do not use non-stick cooking spray in our air fryer.
Air Fryer - We suggest getting an air fryer that is bigger than you think you will need. We found once we started using the air fryer, we ended up using it for more meals and larger meals.
Kitchen Tongs - We highly suggest getting a good pair of kitchen tongs to remove items from the air fryer and save your hands from getting burned.
Parchment Paper - Did you know they make air fryer parchment paper! It is heat resistant and allows the air to still flow through the basket while making clean up a breeze. They are shaped to fit in the air fryer basket.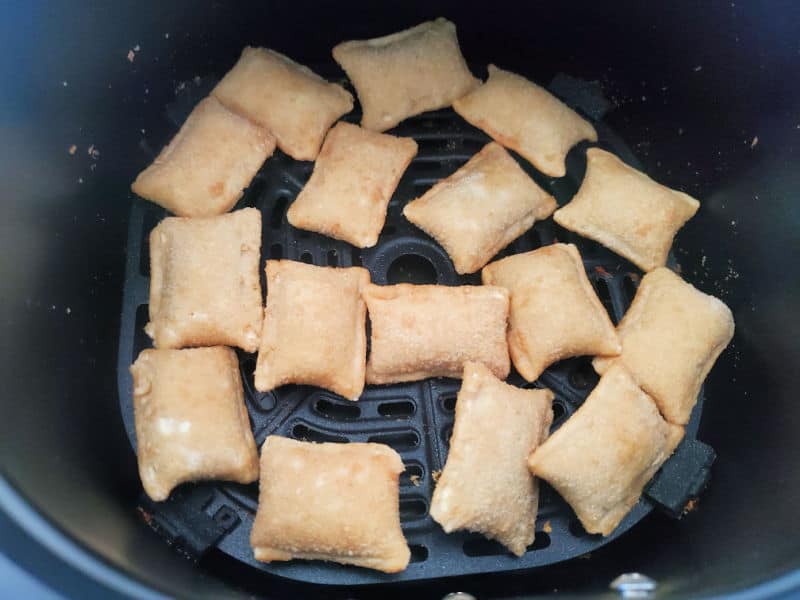 How to cook Pizza Rolls in Air Fryer
It is so easy to cook Totinos Pizza Rolls in the air fryer! All you have to do is open the bag and pour them into the air fryer.
You want to try and keep the pizza rolls in a single layer so they get the best airflow around them. Depending on the size of your air fryer you may need to cook them in batches.
Start cooking at 380 degrees and move the temperature up or down depending on how your air fryer cooks.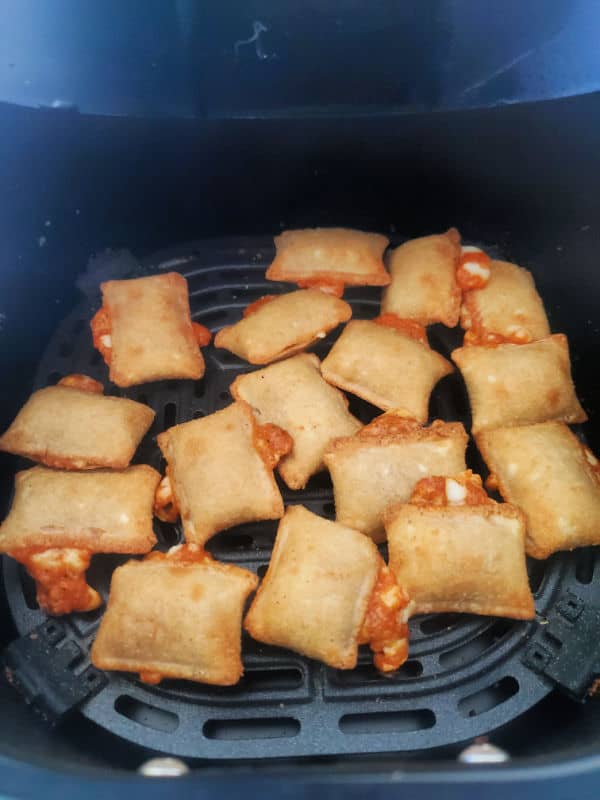 How long to cook pizza rolls in air fryer?
It takes normally between 5 to 8 minutes to cook frozen pizza rolls in the air fryer. The exact time will depend on your air fryer.
The first time you make pizza rolls in an air fryer start with 5 minutes and work up from there.
If you find that the guts of the pizza roll are exploding out the sides you will want to lower the amount of time they are cooking by a minute or two.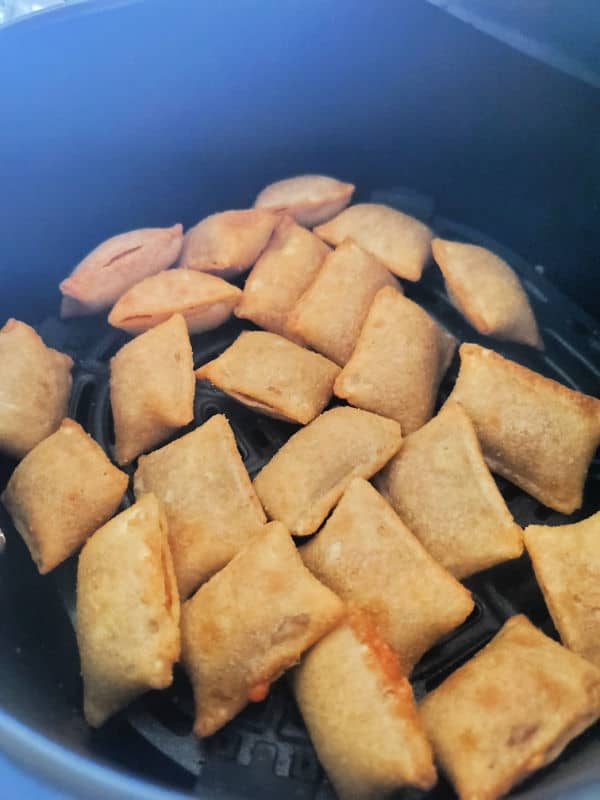 Recipe Tips
Check to make sure if you need to preheat your air fryer before cooking in it.
Air fried pizza rolls come out HOT!! You will want to give them a minute to cool down so you don't burn your tongue on the hot melted cheese. Trust me I learned this lesson the hard way.
Shake the basket halfway through the cooking time will help keep the cooked frozen pizza rolls from sticking to the bottom and get them rotated. You can also flip them with tongs.
Make sure to cook the pizza rolls when they are frozen, do not thaw them.
No additional oil is needed for air frying frozen pizza rolls.
Mini pizza rolls will cook fester than regular size rolls. Make sure to check the crispness and that the outside does not burn.
Don't make the mistake of using the oven temperature on the packet when you are cooking pizza rolls in an air fryer!
Pizza Bites Leftovers should be stored in an airtight container in the refrigerator.
Times and temperatures will vary depending on the air fryer you are using and the frozen food you are cooking.
Printable recipe card instructions are below.
Nutrition information, including calories, protein, calcium, carbohydrates, fiber, vitamin c, potassium, cholesterol, sodium, trans fat, monounsaturated fat, polyunsaturated fat, and more, will vary depending on the products used.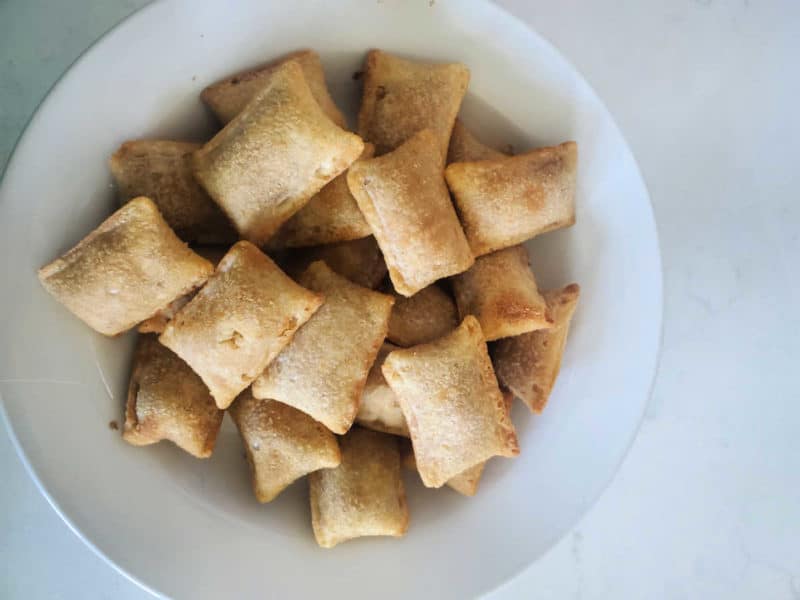 Great snack recipes
Check out all of our easy Air Fryer Recipes including vegetarian air fryer recipes.
Do you love recipes? Check out our copy cat recipes, dessert recipes, and our Crock Pot Recipes.
Follow Tammilee Tips on MSN, Facebook, Instagram, and Pinterest, for all of our recipe posts.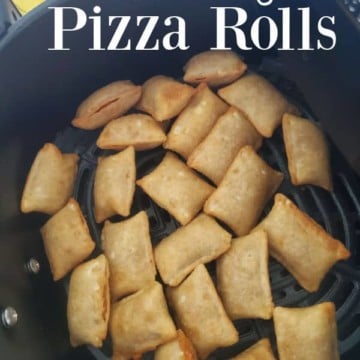 Frozen Pizza Rolls in the Air Fryer
How to make frozen pizza rolls in the air fryer. A quick and easy air fryer pizza roll recipe.
Print
Rate
Instructions
preheat air fryer to 380 degrees if needed

Cook frozen pizza rolls for 7 minutes, shaking the basket half way through

Plate and allow to cool for a minute or two before enjoying.