Homemade Pepperoni Rolls are a great easy snack recipe everyone will love. The perfect combination of pepperoni and cheese in a handheld snack. Skip the freezer pepperoni rolls and make your own homemade pizza rolls.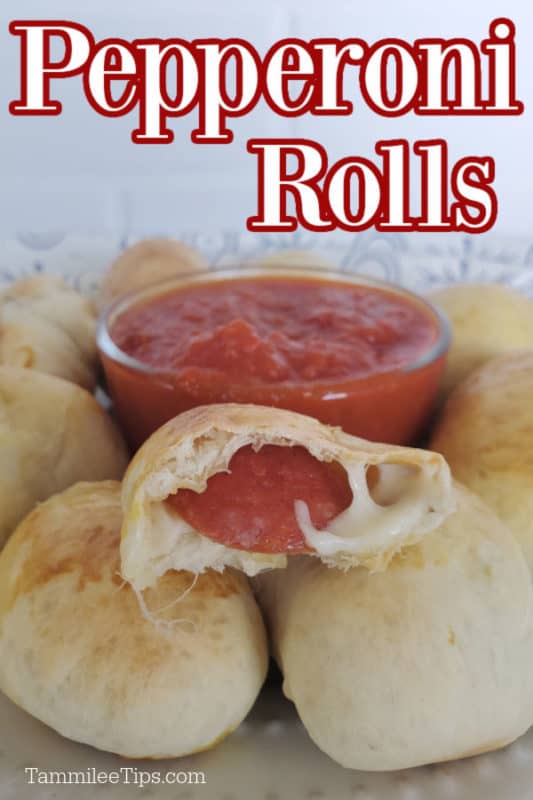 Pepperoni Rolls Recipe
These easy pepperoni rolls can be served warm or cold with pizza sauce on the side for dipping. I like to make them before a road trip for an easy lunch on the road.
I have been working on making easy lunch recipes that I can make ahead of time and my husband can reheat when he is hungry. These Pepperoni Pizza Rolls can be heated in seconds and taste great.
It seems these pepperoni rolls started in West Virginia but I am not 100% sure of their history. It sounds like a version of Pepperoni Rolls are sold in gas stations in West Virginia. I am going to have to look for them the next time we are on the East Coast.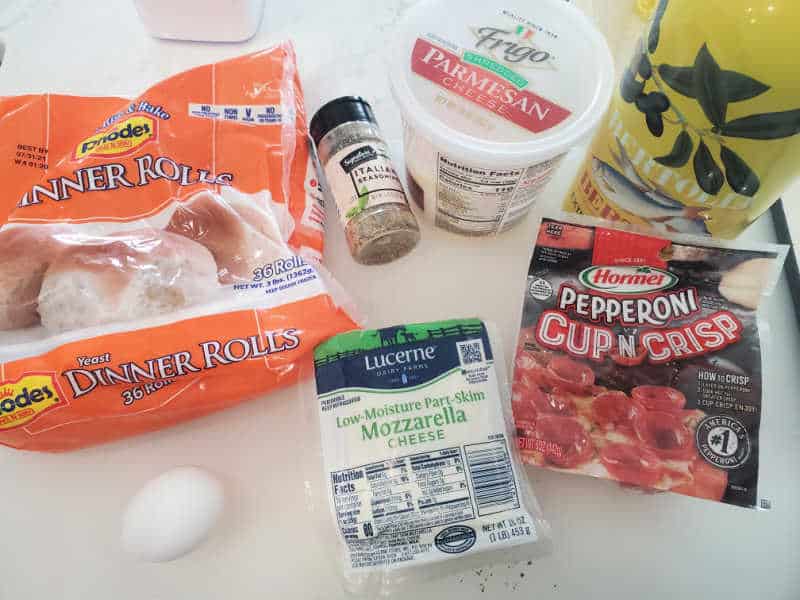 Ingredients
Frozen dinner roll dough balls
Pepperoni
-Mozzarella Cheese
Egg
Parmesan Cheese
Olive Oil
Frozen dinner rolls - If you don't have frozen dinner rolls you can also try making these with refrigerator biscuit dough or pizza dough. Just make sure you watch the baking time.
Mozzarella - You can use shredded mozzarella or chunks of mozzarella. You can also change it up and use cheddar, Colby jack, or your favorite cheese. You can also cut up pieces of string cheese and use them inside the rolls.
Optional - Marinara Sauce for dipping
Equipment Needed
Baking Sheets - We are huge fans of these baking sheets that have sides. You don't have to worry; you are going to remove the pepperoni rolls from the oven and have them slide right off.
Parchment Paper/Silicone Baking Mat
Heat resistant potholders - A couple of years ago we had a fire scare when we didn't realize we had turned a burner on and a cloth potholder caught fire. Thankfully we walked by the kitchen and saw the smoke and were able to get it out ourselves. Since then we have only used these heat-resistant potholders.
Cooling Rack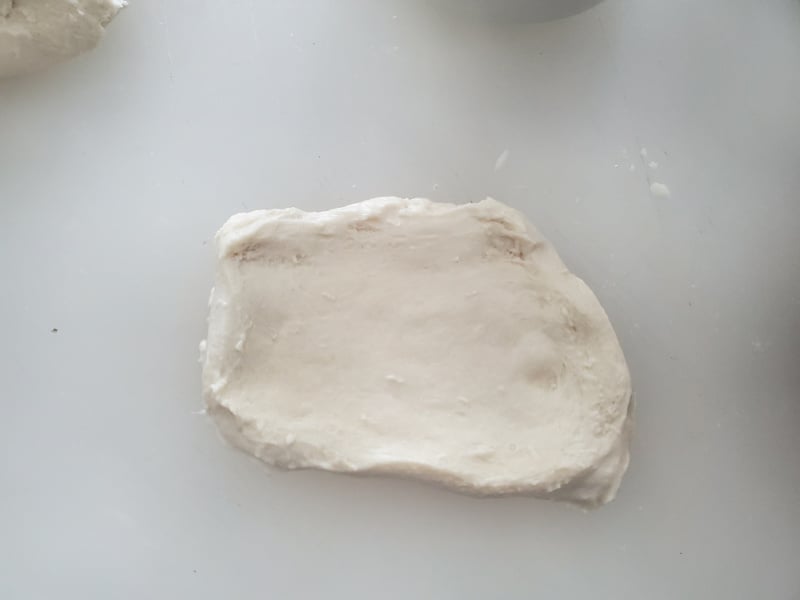 Step 1 - Stretch the bread dough into a flat oval-ish shape. Make sure you don't spread it so thin that the ingredients leak out but get it spread out enough to have space to roll it.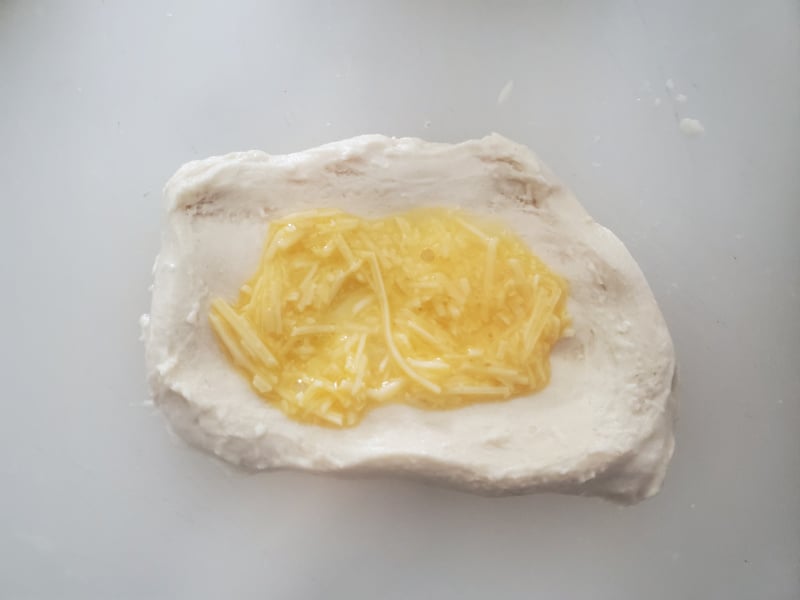 Step 2 - Add parmesan cheese and egg mixture to the middle of the dough. Make sure you keep a clean space around the edges of the dough so they are easy to seal.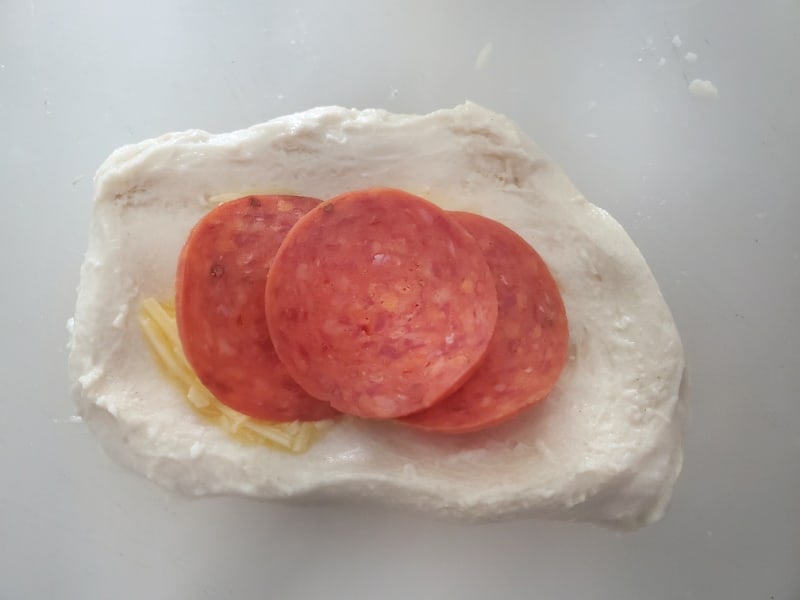 Step 3 - Place 2-3 pepperoni pieces on top of the parmesan mixture. I used pepperoni circles for this recipe. I have heard of people using pepperoni stick pieces but have never tried it.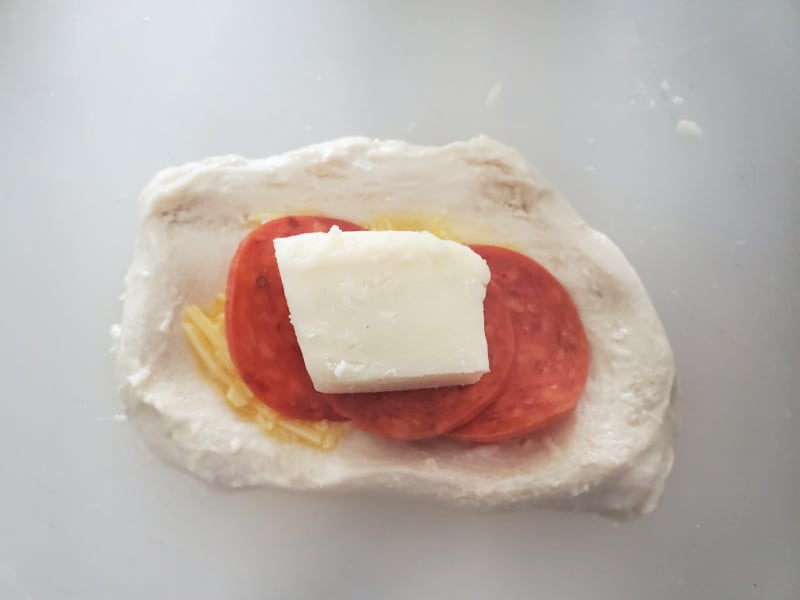 Step 4 -  place a chunk of mozzarella on top of the pepperoni. I cut quarters of a mozzarella round and used them in this recipe. You could also use sliced mozzarella and cut it to fit. I wanted to use a larger piece so there was a full bite of cheese when you bite into the pepperoni rolls.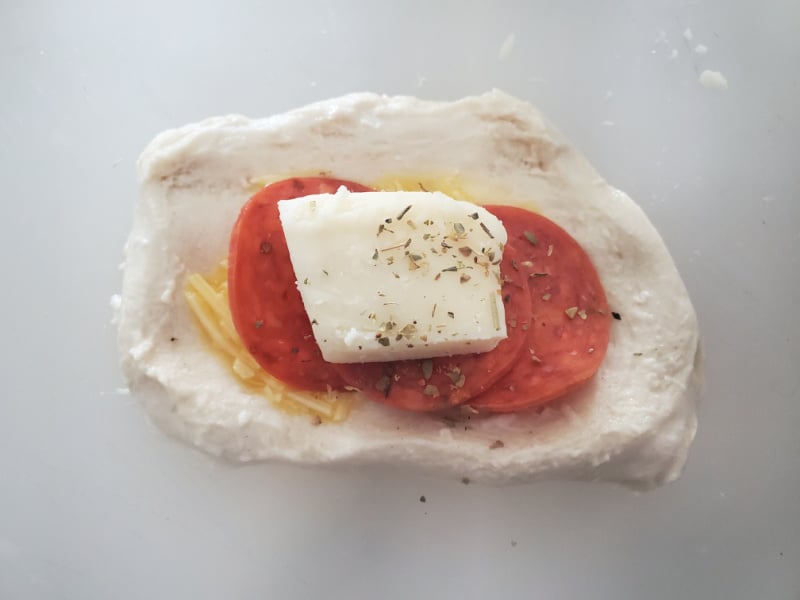 Step 5 - Sprinkle with Italian Seasoning. You can also add in any other ingredients you love. Just make sure you have enough dough on the sides to be able to create the roll.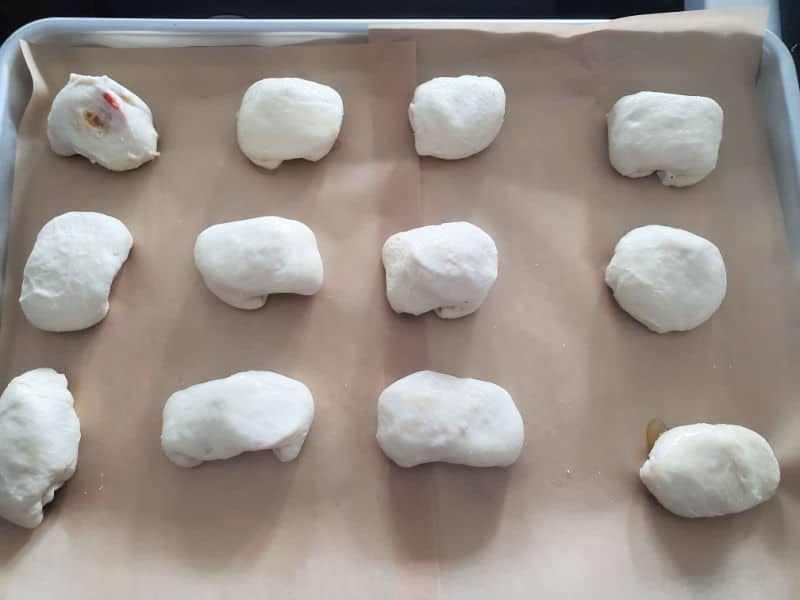 Step 6 - Wrap dough and seal the seams as much as possible. You want to keep all of the ingredients on the inside. It is not an issue if a bit leaks out but you want to keep as much in as possible.
Brush the tops of the dough with an egg wash or olive oil depending on what you have available. The egg wash created a nice brown golden crust that looked amazing. The olive oil did not change the dough color but tasted good.
Bake and then let sit for a minute to cool before enjoying.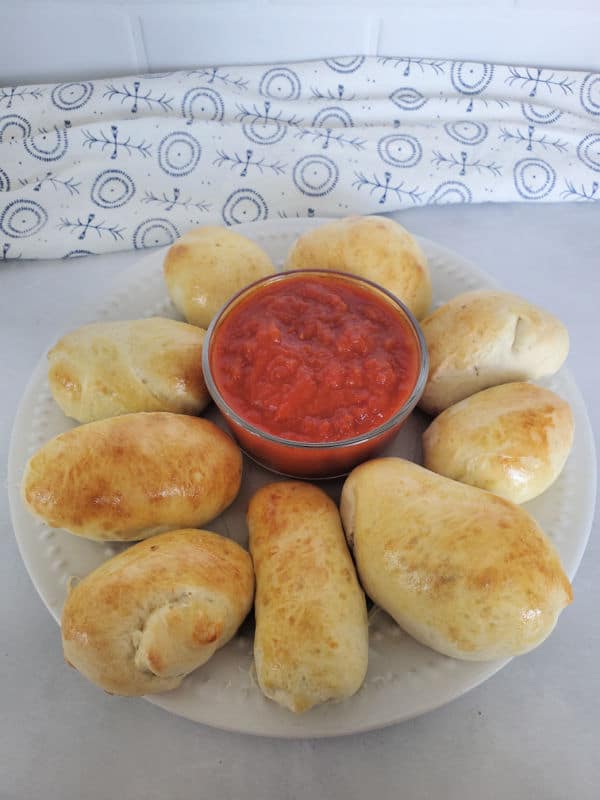 Recipe Tips
Don't forget to preheat the oven.
I found that brushing the tops of the rolls with an egg wash created the nice brown coloring I was hoping for on the rolls. The olive oil tastes great but the rolls did not turn a golden brown. You can also try melted butter over the top of the rolls.
Make sure you pinch the seam side to keep all of the ingredients inside the rolls.
Store your Pepperoni Rolls in an airtight container in the refrigerator.
We use dinner roll dough for the pizza dough in this recipe. It is quick and easy and premeasured out making it easy to make them all the same size.
Can you freeze pepperoni rolls?
Yes! Just let the rolls cool before placing them in a freezer bag. You can reheat them in the microwave or a toaster oven.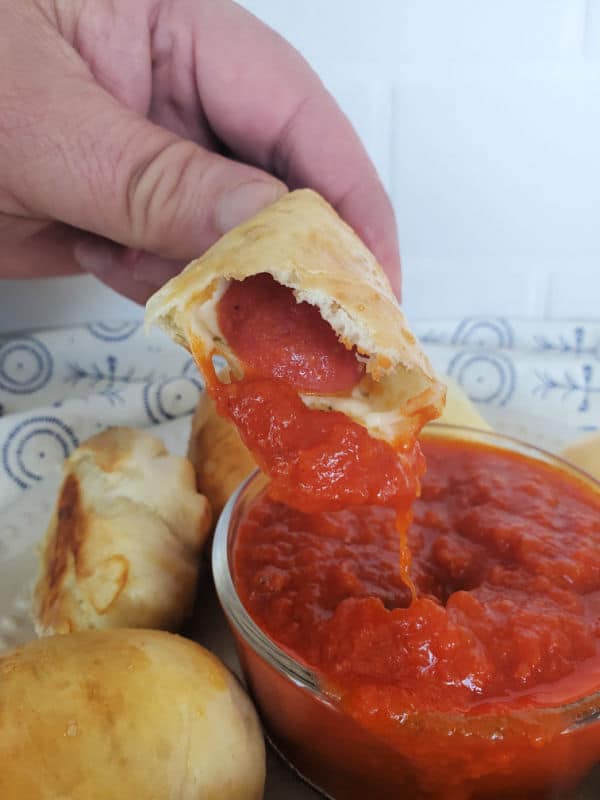 Great Recipes everyone will love
Chicken Casserole with Ritz Crackers
Check out these great easy lunch wraps perfect for a busy day.
Do you love recipes? Check out our copy cat recipes, dessert recipes, and our Crock Pot Recipes
Follow Tammilee Tips on MSN, Facebook, Instagram, Pinterest, and Twitter for all of our recipe posts.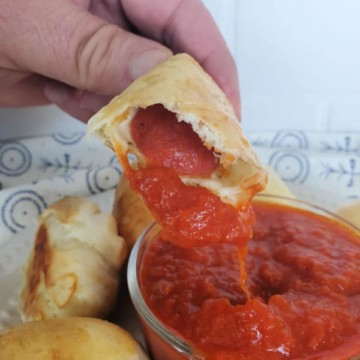 Homemade Pepperoni Rolls Recipe
Homemade Pepperoni Rolls Recipe are an easy dinner recipe or snack/lunch recipe
Print
Rate
Instructions
Preheat oven to 400 degrees. Line a baking sheet with parchment paper and set to the side.

Mix 2 eggs and parmesan cheese in a small bowl.

Put a scoop of parmesan cheese/egg mix in the middle of your bread dough. Top with 2 pieces of pepperoni.

Top pepperoni with mozzarella cheese and sprinkle with Italian seasoning.

Roll the dough and pinch off the edges so they are sealed.

Brush with egg wash or olive oil. Bake for 10-12 minutes until golden brown.

Serve with dipping sauces or on their own.
Nutrition
Nutrition Facts
Homemade Pepperoni Rolls Recipe
Amount Per Serving
Calories 174
Calories from Fat 54
% Daily Value*
Fat 6g9%
Cholesterol 36mg12%
Sodium 423mg18%
Potassium 76mg2%
Carbohydrates 22g7%
Protein 8g16%
Vitamin A 90IU2%
Vitamin C 1mg1%
Calcium 115mg12%
Iron 1mg6%
* Percent Daily Values are based on a 2000 calorie diet.