Easy Frozen Spanakopita Air Fryer Recipe! The perfect way to cook Spanakopita for dinner, as an appetizer, or snack.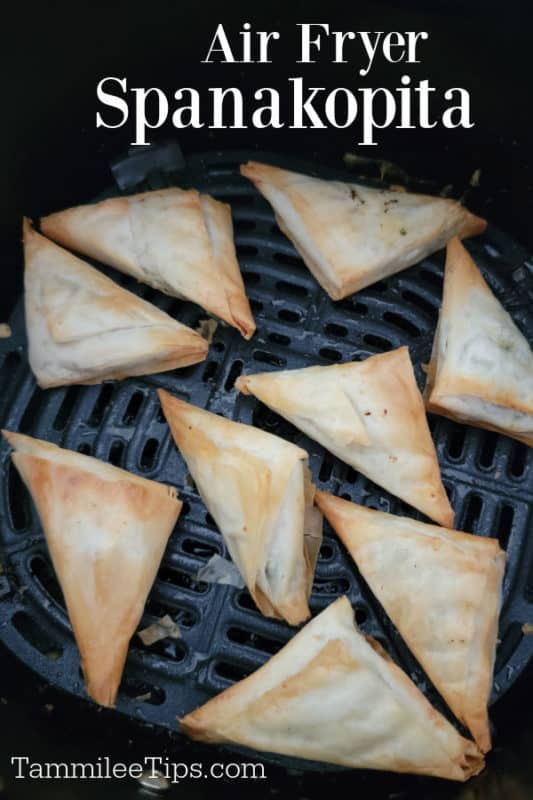 Frozen Spanakopita Air Fryer Recipe
We are huge fans of spanakopita! We fell in love with this Greek specialty while traveling in Athens and the Greek Islands.
How can you go wrong with spinach, parmesan cheese, Ricotta Cheese, Cream Cheese, and butter, all wrapped up in phyllo pastry?
They are the perfect savory handheld pastry. Similar to a spinach pie but handheld.
We try to keep paper towels available for guests or napkins. The flaky phyllo pastries can get a bit messy at times.
This is one of our favorite air fryer dishes that takes minutes to prepare. They are the perfect snack or appetizer.
We haven't made it back to Greece in a few years so we enjoy these while dreaming of returning to Santorini, Mykonos, Patmos, and all of the epic Greek Islands.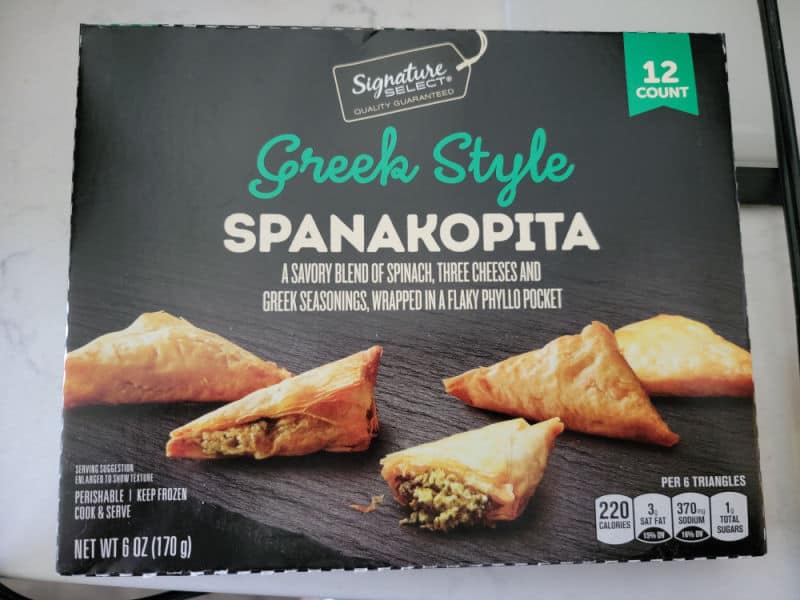 Ingredients
Frozen Spanakopita
Olive Oil Spray
Olive Oil Spray - Make sure to use a natural spray like olive oil or avocado oil in the air fryer. Non-stick spray can damage the inside of the air fryer basket.
Equipment Needed
Air Fryer Parchment Paper - You can use air fryer parchment paper if you don't want to use olive oil spray.
How to make Air Fryer Frozen Spanakopita
It is so easy to cook frozen spanakopita in the air fryer!
Skip the microwave which makes the pastry dough a bit soggy and use the air fryer! Plus you don't have to worry about heating up the house with the oven.
Step 1 - Spray
Step 2 - Spread the Spanakopita in a single layer in the air fryer basket. Make sure the pieces do not touch so the hot air can circulate.
Step 3 - Air fry making sure to flip the Spanakopita halfway through cooking to make sure each side evenly cooks.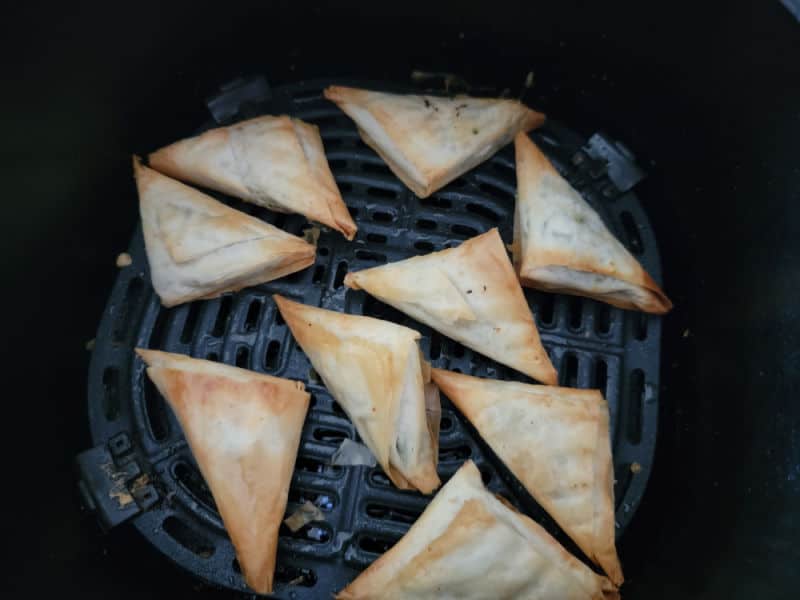 Recipe Tips
We do not preheat the air fryer for this recipe.
You do NOT need to defrost/thaw the Spanakopita. It can be cooked frozen. No need to put them in the refrigerator or let them sit out before air frying.
Every brand of frozen spanakopita is going to cook a little differently based on the size and how much filling they have. Make sure to keep an eye on the spanakopita the first few times you make them.
Be really careful when flipping the Spanakopita the phyllo dough is super thin and can tear.
It is best to eat them right after they come out of the air fryer. When they start to cool the dough can get soft and lose its crispiness.
We rarely store these after making them so we don't lose the crispy edges.
This recipe works great for Costco Spanakopita
Can I cook Spanakopita from Frozen?
Yes! You definitely want to cook them from frozen.
How long does frozen Spanakopita take to cook?
Cooking time will vary depending on the brand you are cooking but on average it takes 8 to 11 minutes
How do you reheat a frozen spanakopita in an air fryer?
You want to be really careful with reheating them. Keep an eye out to make sure they do not burn.
Can you make Spanakopita from Scratch?
Yes! You will need to get all of the ingredients and plan time to get all of the layers created.
The main ingredients include feta cheese, cream cheese, ricotta, chopped spinach, egg, salt, and phyllo dough.
You can add in cayenne pepper for a bit of heat. Spices include oregano, black pepper, kosher salt, and more.
Great Air Fryer Recipes
Frozen Jalapeno Poppers in Air Fryer
Air Fryer Cream Cheese Wontons
Frozen Chicken Patty in Air Fryer
Frozen Sweet Potato Fries in Air Fryer
Check out all of our Air Fryer Recipes including vegetarian air fryer recipes.
Do you love recipes? Check out our copy cat recipes, dessert recipes, and our Crock Pot Recipes.
Make sure to tag @tammileetips on Pinterest, Instagram, Facebook, and Twitter so we can see what recipes you have made.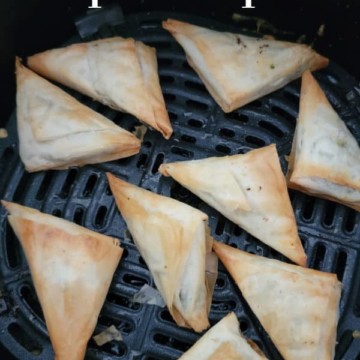 Frozen Spanakopita Air Fryer Recipe
How to cook frozen spanakopita in the air fryer. The perfect quick and easy air fryer appetizer recipe.
Print
Rate
Instructions
Spray air fryer basket with olive oil spray

Evenly spread the frozen spanakopita in the air fryer basket.

Air fry at 350 degrees for 5 minutes, turn over each spanakopita, air fry for an additional 4-6 minutes.