Air Fryer Hot Dogs is a great easy recipe to make crispy cooked hot dogs quickly! Save time and energy by tossing the hot dogs in the air fryer and quickly cooking them.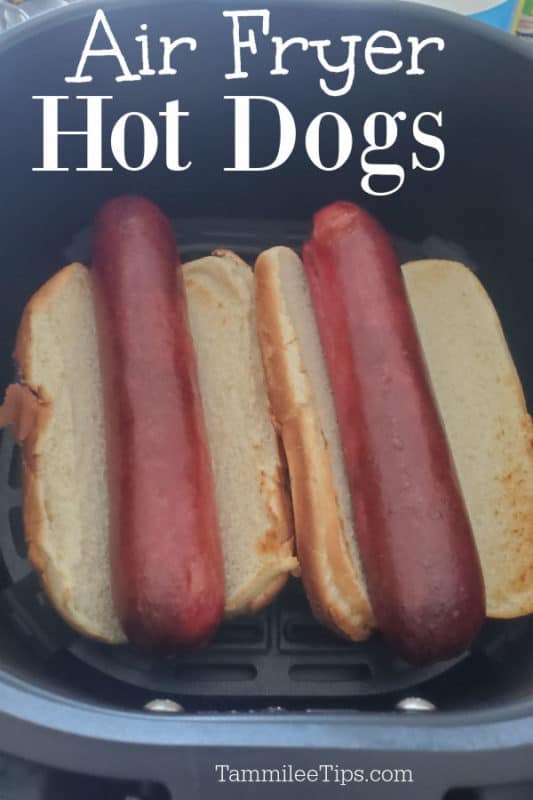 Air Fryer Hot Dogs Recipe
My husband loves hot dogs for lunch. They are quick and easy and he can make them without having to make a ton of mess in the kitchen. He used to make them in the microwave or boil them which was ok but they didn't get the crispy skin you get from a barbecue.
Enter in the magical air fryer which not only air fry the hot dogs but you can toast the buns too!
So easy to make and so good!
The great thing about the air fryer is you can cook 1 hot dog or more depending on how many you need.
Check out all of the Air Fryer Recipes we have been sharing. Now that I have a pretty new air fryer I am working to share all of our favorite recipes. Don't miss the air fryer grilled cheese sandwiches!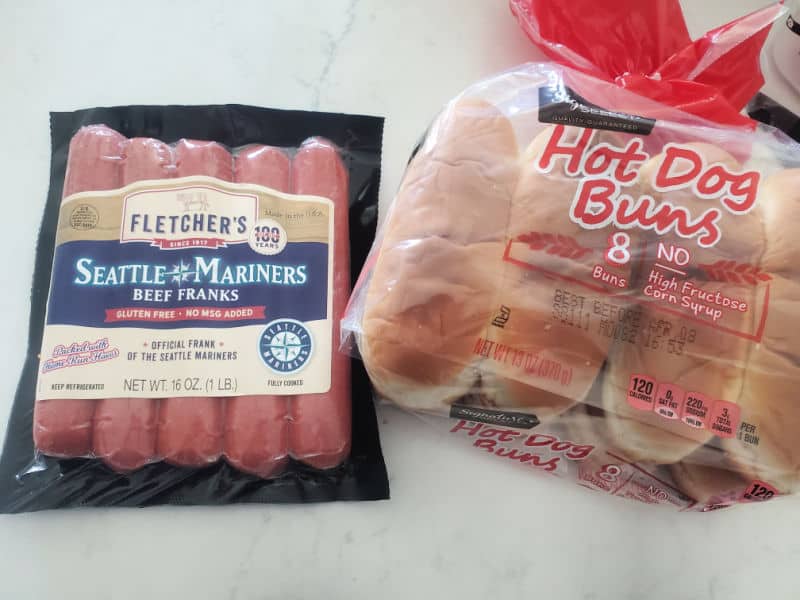 Ingredients
Hot Dogs
Optional - hot dog buns and your favorite toppings and condiments
Toppings - Hot Dog Chili
Equipment Needed
Air fryer
Tongs - I highly suggest using tongs to remove the hot dogs in the air fryer. They will be HOT HOT HOT and you do not want to burn yourself.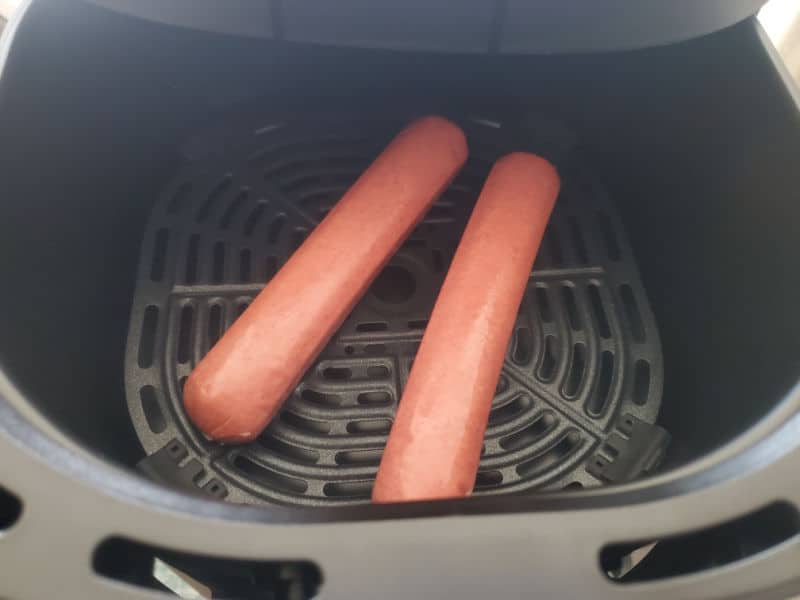 Recipe tips
You can cut edges in your hot dogs if you want them to puff up and create space for your favorite condiments
I like to put the buns in the air fryer basket for the last minute or two to get them nice and toasted.
Cook times will vary depending on your air fryer. I would start with a few minutes and work your way up from there.
If you are cooking jumbo hot dogs they will take longer than 5 minutes. I would check them every couple of minutes after 5 minutes until you get the perfect cooking time.
How to Cook Frozen Hot Dogs in the Air Fryer
Frozen Hot dogs will take longer to cook in the air fryer. You will want to slice a few slits into them to release steam and make sure they don't explode.
Cook them at 375 degrees for 8 minutes and then check to see if they need an additional minute or 2.
Can you cook vegetarian/vegan hot dogs in an air fryer?
Yes!!!! You can cook veggie dogs in the air fryer in about 4-5 minutes at 390 degrees. Cut a few slits in the top of the veggie hot dogs to prevent them from splitting.
This is the perfect way to cook them and know that they are not mixing with full meat hot dog juice.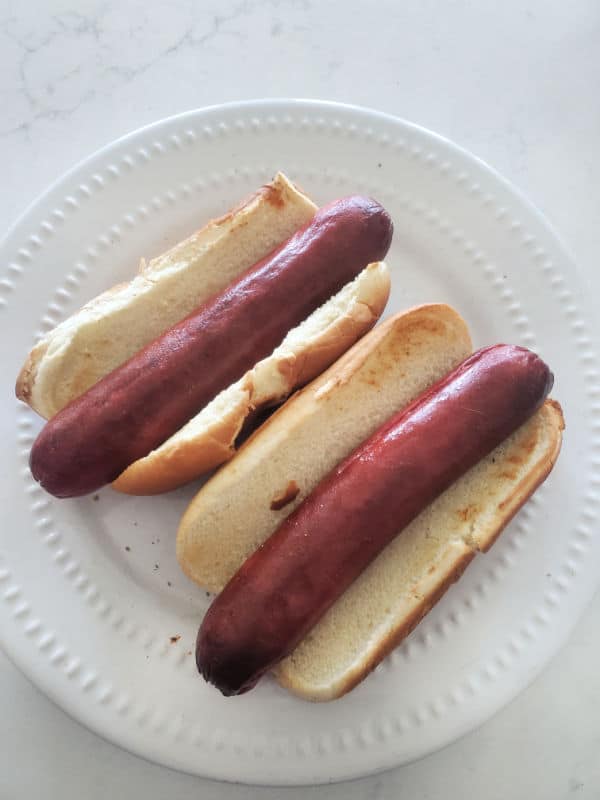 Great easy recipes
Do you love recipes? Check out our copy cat recipes, dessert recipes, and our Crock Pot Recipes.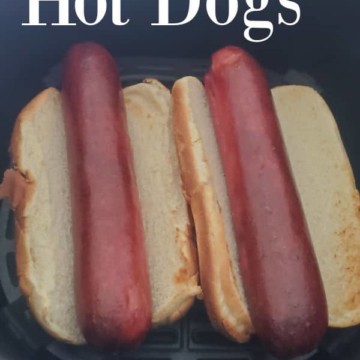 Air Fryer Hot Dog Recipe
How to make Air Fryer Hot Dogs that taste amazing
Print
Rate
Instructions
Preheat air fryer to 400 degrees if your air fryer requires preheating.

Place hot dogs in the air fryer basket. Cook for 5 minutes, shake basket half-way through

Remove hot dogs and place in buns and cook for 1-2 additional minutes
Nutrition
Nutrition Facts
Air Fryer Hot Dog Recipe
Amount Per Serving
Calories 229
Calories from Fat 72
% Daily Value*
Fat 8g12%
Cholesterol 20mg7%
Sodium 520mg23%
Potassium 120mg3%
Carbohydrates 30g10%
Protein 9g18%
Vitamin A 1IU0%
Vitamin C 1mg1%
Calcium 84mg8%
Iron 3mg17%
* Percent Daily Values are based on a 2000 calorie diet.