Easy Air Fryer Cream Cheese Wontons using frozen wontons. This quick and easy air fryer appetizer takes minutes to prepare and tastes amazing.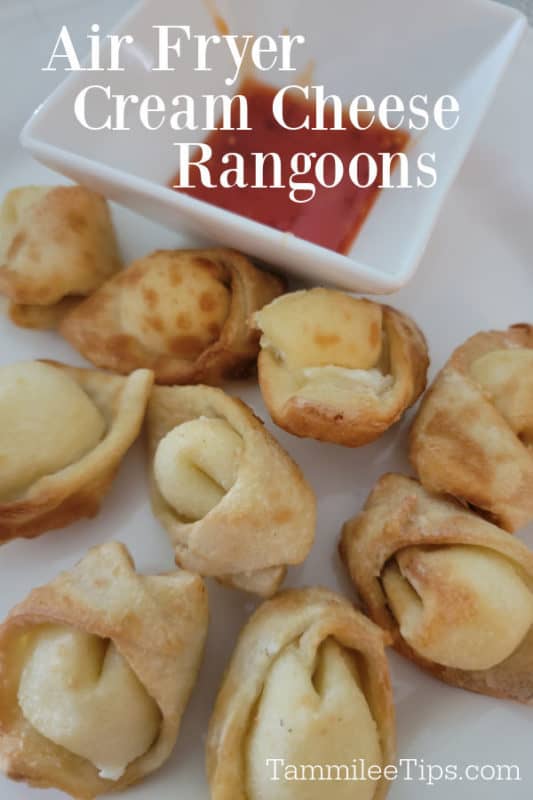 Air Fryer Cream Cheese Wontons
We love making frozen cream cheese wontons in air fryer! Air frying gives them a crispy shell while the filling is packed with flavor.
This is one of my favorite savory snacks. I keep a box in the freezer at all times so I always have a quick and easy snack on days I don't want to spend much time in the kitchen.
Air fryer wontons are so good! Savory, crispy, and packed with flavor.
I need to work on making them from scratch so I can add in even more flavor with garlic powder, and green onions into the cream cheese mixture.
I may have to set the goal of making these from scratch this summer.
Though life has been a bit crazy lately which has made me really happy you can have epic cream cheese wontons delivered quickly. LOL!
Thank goodness for grocery store delivery and the air fryer. When life gets hectic they are a life saver.
Ok, we may also order Chinese takeout and other favorites a bit more often right now but hopefully, life will calm down soon and we can get back to prepping food.
Until then I am thankful for a freezer full of easy-to-cook food that we have stocked up on. I also love using the air fryer instead of the oven so we don't have to heat the house up.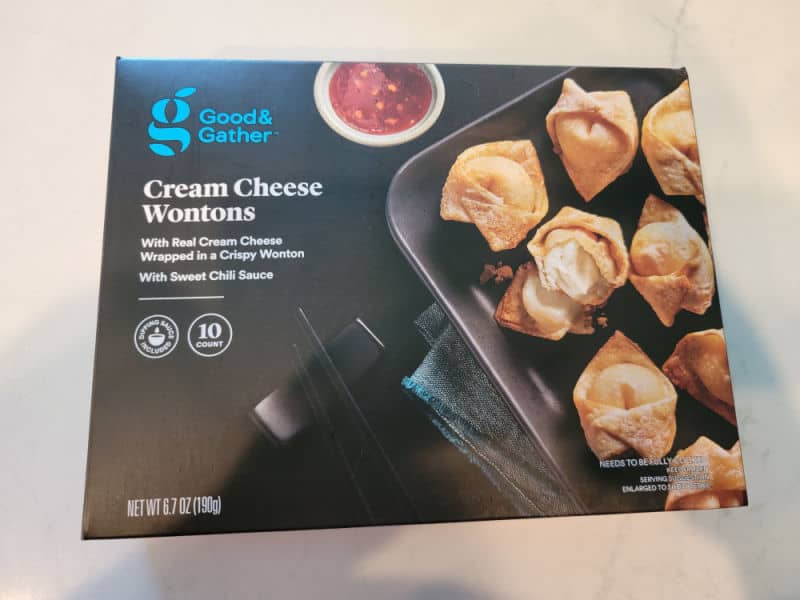 Ingredients
Frozen Cream Cheese Wontons
Optional dipping sauce - We love serving sweet chili sauce, sweet and sour sauce, soy sauce, and other favorite sauces in a small bowl.
Equipment Needed
Air fryer parchment paper/olive oil spray - you can use parchment paper or spray the air fryer basket to make sure nothing sticks.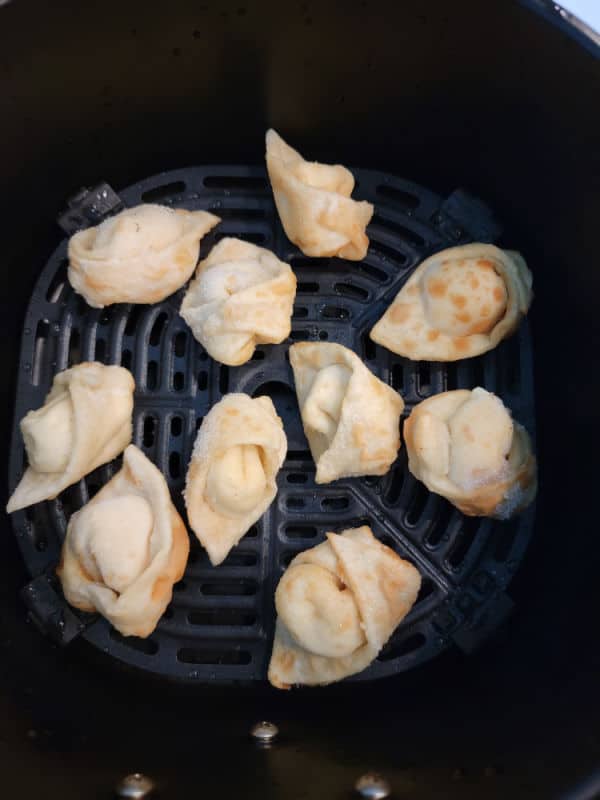 How to cook frozen cream cheese wontons in the air fryer
You are going to love how easy these instructions are! The total time may vary depending on the size of the wontons so keep an eye on them the 1st time you make them.
The only prep work needed is deciding how many frozen wontons you want to air fry. If you are not using the entire box we store them in a resealable freezer bag in the freezer.
Step 1 - Spray the Air fryer basket with olive oil spray. We do not use non-stick cooking spray so the air fryer basket stays perfect.
Step 2 - evenly spread the wontons in the basket making sure the edges of the wontons do not touch.
Step 3 - Air fry until golden brown.
Recipe Tips
We do not preheat the air fryer before making this recipe.
There is no need to place the frozen wontons in the refrigerator or on the counter before air frying. You can cook them frozen.
Every air fryer cooks a little differently. Make sure to keep an eye on the cream cheese wontons the first few times you make them so they don't burn.
If you are making multiple batches each subsequent batch will cook a lot faster than the one before.
We made this recipe with cream cheese wontons but you could use it for imitation crab rangoons.
If you have any leftovers store them in an airtight container. Be really careful reheating them to make sure they do not burn. You want them crisp but not rock hard. LOL!
It does not matter which way the fold in the wontons sits. You will shake the basket so the wonton wrappers will rotate.
Check out our entire collection of Cream Cheese Recipes.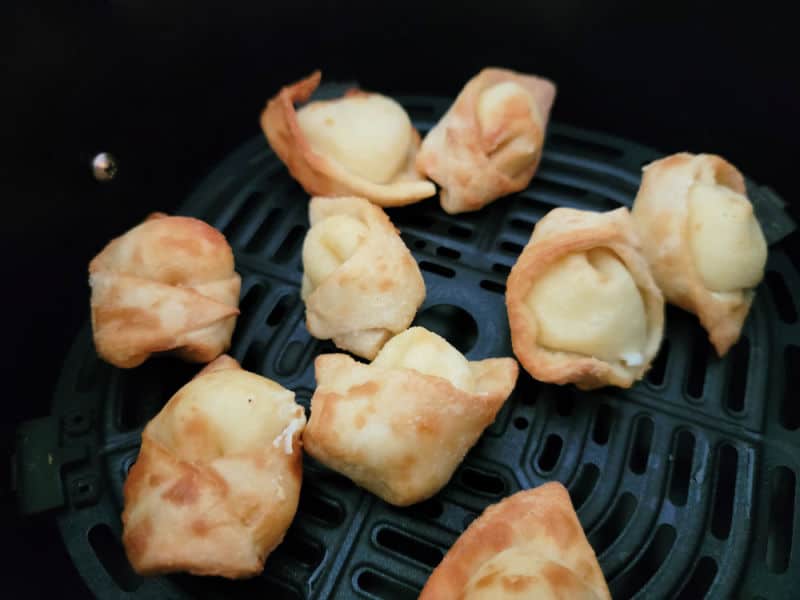 Great Air Fryer Recipes
Frozen Jalapeno Poppers Air Fryer
Frozen Sweet Potato Fries Air Fryer
Frozen Chicken Tenders Air Fryer
Check out all of our Air Fryer Recipes including Air Fryer Recipes Vegetarian
Make sure to tag @tammileetips on Facebook, Instagram, Pinterest, and Twitter so we can see which recipes you have made.
Do you love recipes? Check out our copycat recipes, dessert recipes, and our CrockPot Recipes.
Follow Tammilee Tips on MSN, Facebook, Instagram, Pinterest, and Twitter for all of our recipe posts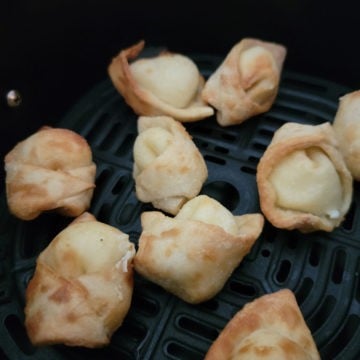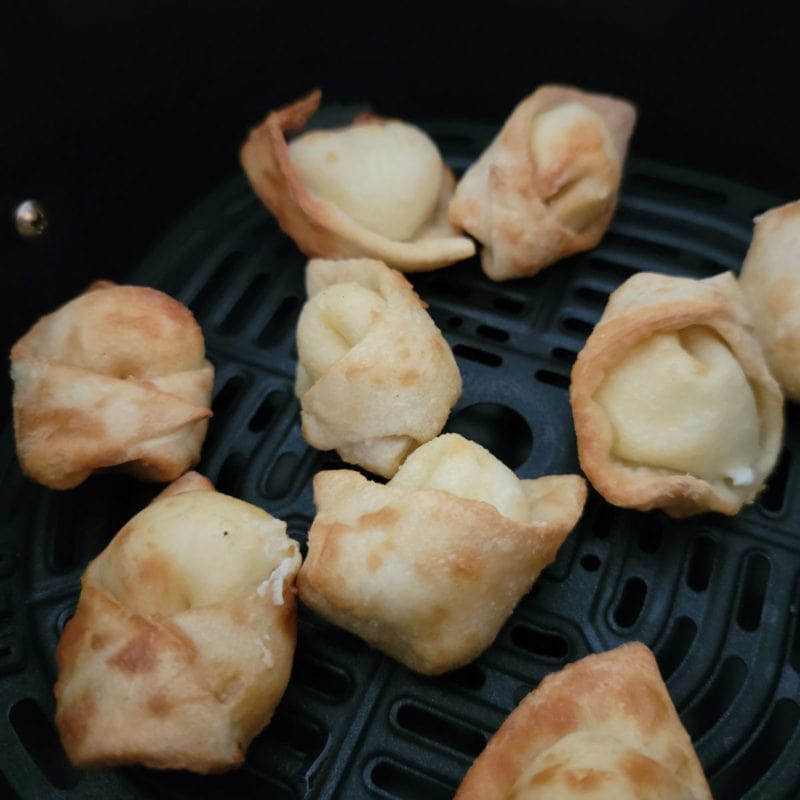 Air fryer Cream Cheese Wontons
How to cook frozen cream cheese wontons in the air fryer. The perfect air fryer appetizer recipe.
Print
Rate
Ingredients
8

Cream Cheese Wontons

Frozen
Instructions
Evenly spread the frozen cream cheese wontons in a single layer in the air fryer basket.

Air fry at 350 degrees for 3-4 minutes, shake the basket and/or rotate the cream cheese wontons. Air fry for an additional 3-4 minutes until crispy.