How to cook a Frozen Burrito in Air Fryer and get the perfect crunchy shell and cooked burrito fillings. No more microwave mushy burritos!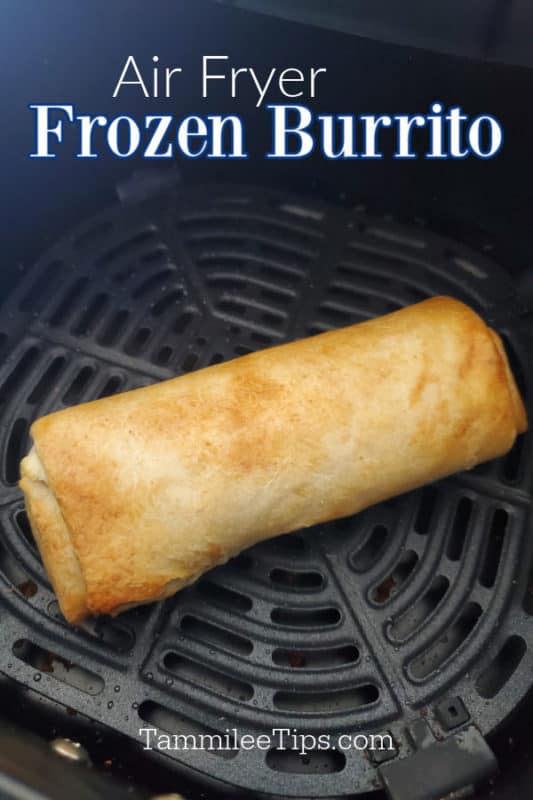 How to cook a Frozen Burrito in Air Fryer
I enjoy a frozen burrito a couple of times a week for lunch. They are quick and easy and always taste great. Prior to getting an air fryer I used to cook them in the microwave and just deal with all of the fillings exploding out the side of the burrito.
They were messy but good and I went with it. Then I realized I could make air fryer frozen burritos and get an amazing crunchy shell and cooked fillings without the mess. HECK YEAH!
I will admit it did take a bit to get the perfect balance of crispy shell and the inside filling cooking just right. At first I was cooking them to hot and the shell was crispy but the inside was still frozen.
Making frozen burritos in the air fryer does take a bit more time than cooking them in the microwave but it is worth it! Once you try a frozen burrito in the air fryer I don't think you will go back to the microwave unless you have no choice.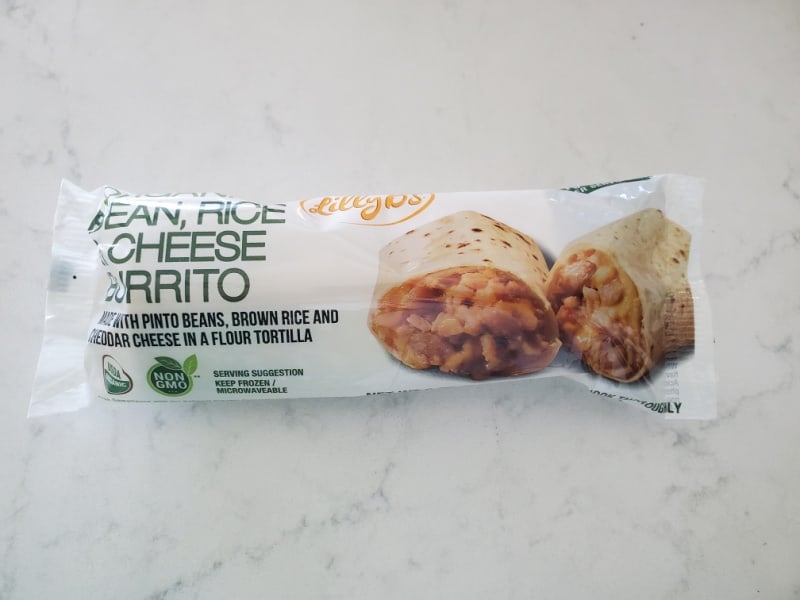 Ingredients
This is a quick overview of the simple ingredients that you'll need to make an epic Air Fryer Frozen Burrito! Specific measurements and step-by-step instructions are included in the printable recipe card at the bottom of the post.
Frozen Burrito - You can use any frozen burrito you love. The cooking times may vary depending on the size of the burrito.
We love making chicken burritos, breakfast burritos, beef burritos, pork burritos, cheese burritos and bean burrito or any our favorite burrito brands.
Equipment
Air Fryer -  We suggest getting an air fryer that is bigger than you think you will need. We found once we started using the air fryer we ended up using it for more meals and larger meals.
Popular Air Fryer brands include he Ninja Foodi, Philips, Cosori, Instant Vortex, Cuisinart, Pampered Chef Air Fryer, Actifry, Nuwave, Power Air Fryer.
Kitchen Tongs - Tongs will help remove the air fry frozen burritos from the air fryer tray.
Meat Thermometer - A meat thermometer is a great way to make sure your burrito has cooked to a minimum safe internal temperature. Some burrito packaging lists the temperature they recommend cooking to.
Fork and Knife - if desired to enjoy this air fryer frozen burrito recipe.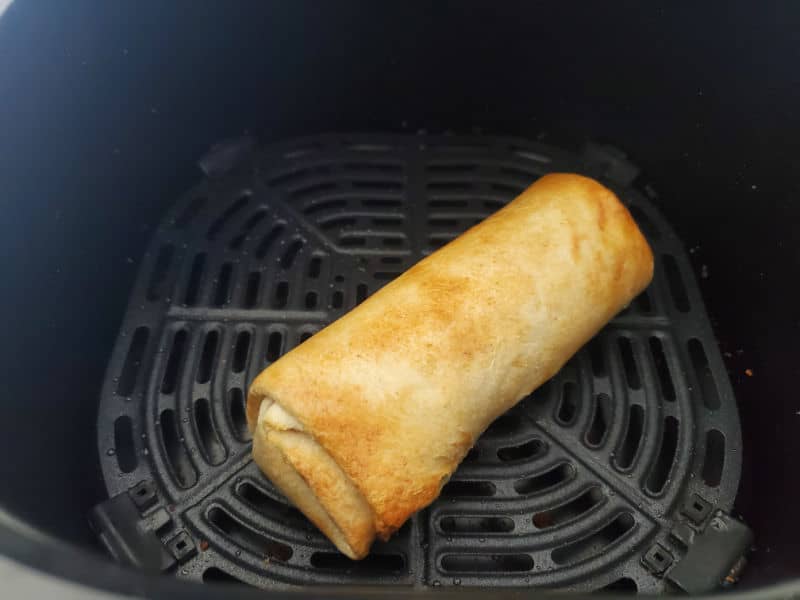 Recipe Tips
Don't forget to flip your burrito a couple of times to get a perfectly golden brown crisp shell outside all the way around the burrito.
Make sure to place burritos in a single layer in the air fryer basket. You want the hot air to be able to circulate for the best air fryer cooking.
Cooking times will vary depending on the size of the burrito. Make sure to keep an eye on the frozen burrito in the air fryer the 1st time you make it so it doesn't overcook.
Check your air fryer user manual to see if your air fryer needs to be pre-heated. Our air fryer oven recipes do not include pre-heating. If you need to preheat you will want to lower the cooking time by a minute or two.
Times and temperatures will vary depending on the air fryer you are using and the frozen food you are cooking.
Printable recipe card instructions are below.
Nutrition information, including calories, protein, calcium, carbohydrates, fiber, vitamin c, potassium, cholesterol, sodium, trans fat, monounsaturated fat, polyunsaturated fat, and more, will vary depending on the products used.
Preparation and Storage
Make Ahead – We do not suggest making these ahead of time. They are quick and easy to make in the air fryer.
Storage – Store any leftovers in an airtight container in the refrigerator.
Freezing/How to freeze – We don't suggest refreezing the burrito in the freezer.
How to reheat – Reheat in the air fryer or in the microwave. In the air fryer you can reheat the burrito and not worry that you will lose the crispy edges.
Recipe Variations
Substitutions - Feel free to use this recipe with your favorite frozen burrito brand.
Vegetarian Option - We like to use vegetarian burritos
Vegan Option – Vegan burrito brands include Amy's, Alpha Foods, Daiya, Whole Foods, Higher Taste, Tattooed Chef, Trader Joe's, Sweet Earth
Gluten Free - Gluten Free burrito brands include evol, Amy's Kitchen, Tattooed Chef
Smaller Serving Size –
Make it Spicy – Serve with spicy salsa on the side.
Larger Group/More servings – You may be able to fit two burritos in your air fryer depending on the size of it.
What to serve with Air Fryer Burritos
Toppings/Sauces - Sour cream, Chili's salsa, guacamole, avocado salsa, black bean salsa, diced tomatoes, veggies, hot sauce, chopped avocado, shredded cheese, pickled jalapenos, fresh lime juice, chopped cilantro, or your favorite dips.
Side dishes - Refried Beans, Mexican Rice, Side Salad, Chips and Salsa, Cilantro Lime Rice, taco pickles,
Drinks - Brazilian Lemonade, Passion Tea Lemonade, Ocean Water, frosted lemonade, freckled lemonade
When to serve
Lunch
After school snack
Easy Dinner
Cinco de Mayo
Breakfast
Great Air Fryer Recipes
Air Fryer Cream Cheese Wontons
Check out all of our Air Fryer Recipes
Do you love recipes? Check out our copycat recipes, dessert recipes, and our CrockPot Recipes.
Follow Tammilee Tips on MSN, Facebook, Instagram, Pinterest, and Twitter for all of our recipe posts.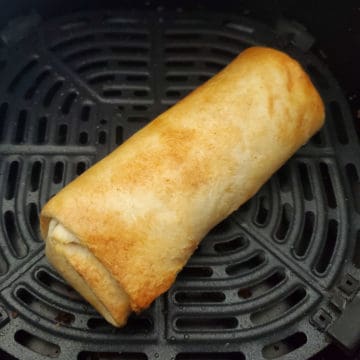 Frozen Burrito in Air Fryer
How to cook a Frozen Burrito in the Air Fryer
Print
Rate
Instructions
Place frozen burrito in the air fryer

Air fry at 400 degrees for 12-15 minutes, flip the burrito a few times during cooking.
Nutrition
Nutrition Facts
Frozen Burrito in Air Fryer
Amount Per Serving
Calories 184
Calories from Fat 45
% Daily Value*
Fat 5g8%
Sodium 442mg19%
Potassium 75mg2%
Carbohydrates 30g10%
Protein 5g10%
Calcium 88mg9%
Iron 2mg11%
* Percent Daily Values are based on a 2000 calorie diet.