Air Fryer Grilled Cheese are so easy to make and taste amazing. The perfect crunchy bread with melty cheese in the middle. Skip the skillet and use your air fryer.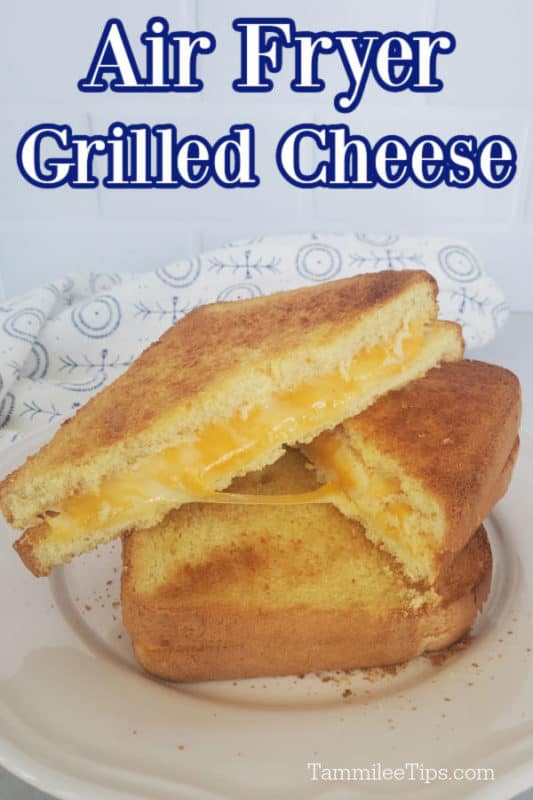 Air Fryer Grilled Cheese Recipe
I finally bought a new air fryer that I am not afraid to photograph. My old air fryer was horrid. I had used it so much that it was not photo-worthy and was looking rough.
I saw an epic deal posted by my friend Keri Lyn over at SheSaved.com for a new air fryer and jumped at it. I don't know what took me so long but now I have a new one and can't wait to share all of our favorite air fryer recipes.
Up first is making grilled cheese in air fryer! This is my go-to lunch recipe more days than I want to admit. I can make this recipe while cleaning up dishes from recipe creation days.
This easy and delicious air fry grilled cheese recipe is amazing!
I am a grilled cheese aficianado! They are my go-to sandwich even when traveling. They are normally safe to eat almost anywhere and really hard to mess up. Most places have bread and cheese and on a good day will even heat them up.
Though the most expensive grilled cheese I have ever had was in Whittier, Alaska. We were at this tiny fish shack on the water so my husband could have a halibut sandwich. I asked for grilled cheese and they charged something like $10.
My sandwich ended up being a piece of bread with a slice of cheese....cold. It was definitely not great but made for a fun story. lol
Thankfully this Air Fryer Grilled Cheese turns out amazing and tastes so good! You can easily adapt this air fryer recipe to your favorite bread and cheese combinations.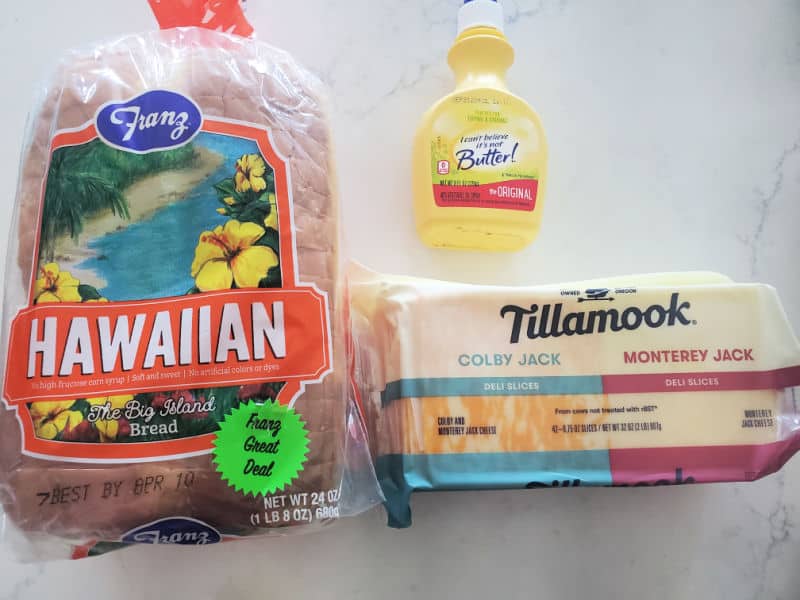 Ingredients
Sliced bread
Sliced Cheese
Butter or Spray on Butter
Sliced Bread - I love to use sliced Hawaiian bread for this recipe. You can use whatever your favorite sliced bread is. Sourdough bread tastes amazing.
Sliced Cheese - Sliced cheese works the best for grilled cheese in an air fryer. You can easily make sure the cheese is sandwiched in the middle of the bread and not dripping out the side.
Butter - You can use soft butter or spray-on butter. We also love using mayonnaise or veganaise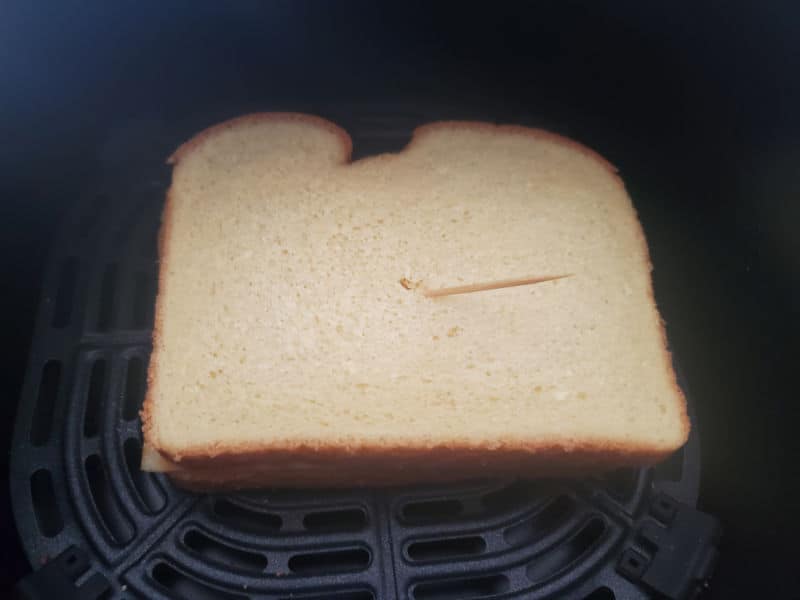 Equipment Needed
Air Fryer - You will want to make sure your air fryer basket can easily fit your bread slices.
Toothpick - some air fryers have strong enough circulating air that they will blow the top slice of bread off your sandwich. The first few times you make an air fryer grilled cheese you may want to stick a toothpick in the middle to hold the bread together.
Spatula - The bread is going to be HOT when you need to flip it over. A small spatula helps lift the bread up to flip the sandwich over and not burn your fingers.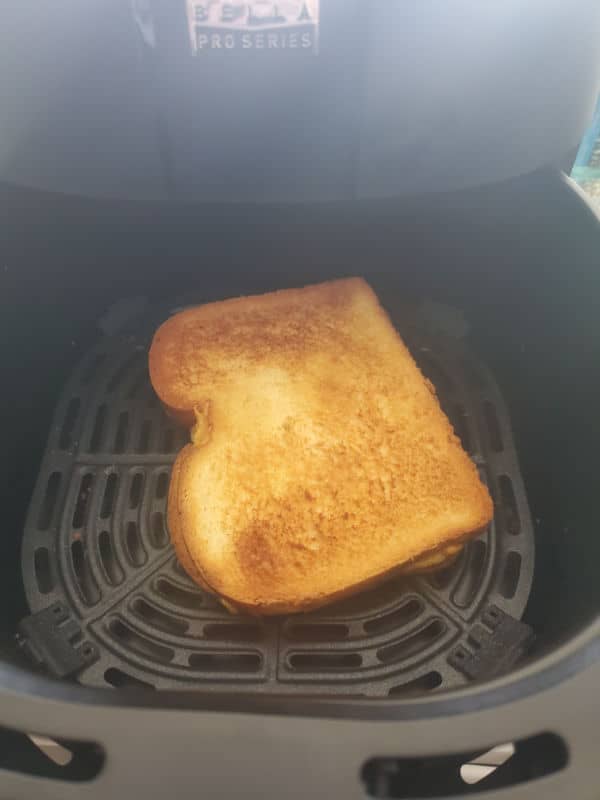 Recipe Tips
If you use more than 2 slices of cheese you may need to adapt the cooking time.
These grilled cheese sandwiches pair perfectly with tomato soup.
Try to serve the sandwiches as soon as they are done. If they sit for a bit they can get super crunchy and may need to be warmed up in the microwave for a few seconds.
If you are using a thick slice of cheese you will want to lower the temperature and cook the sandwich longer.
This air fryer grilled cheese was made in an air fryer with a basket that is part of the air fryer. If you are using a multi oven that has an air fryer tab you will want to test this recipe to make sure it cooks the same.
The average temperature ranges from 350 to 370 degrees depending on your air fryer. I would start at 350 degrees and work up from there.
Make sure to plan to flip the grilled cheese in the middle so both sides of the bread are toasted golden brown and evenly.
Start with 3-4 minutes per side and adapt from there. Every air fryer is different so you may need to adapt the time up or down until you get the perfect time for your air fryer.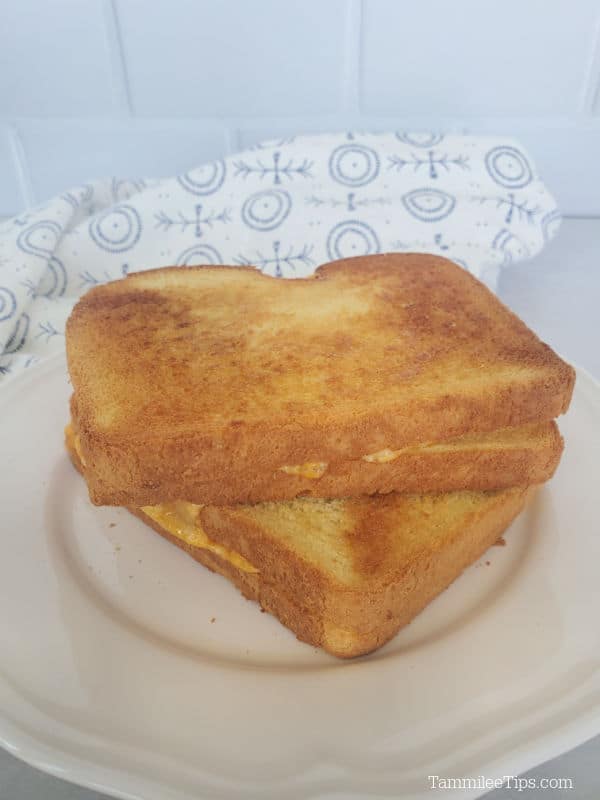 Great Dinner Recipes
Check out all of our air fryer recipes vegetarian for more meal ideas!
Spaghetti Stuffed Garlic bread
Do you love recipes? Check out our copy cat recipes, dessert recipes, and our Crock Pot Recipes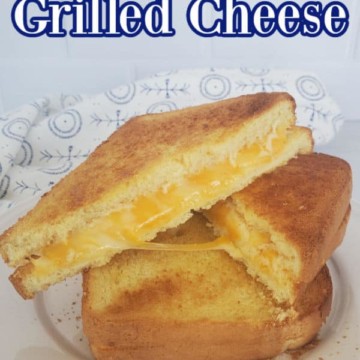 Air Fryer Grilled Cheese Recipe
How to make a grilled cheese in the air fryer. Quick and easy recipe!
Print
Rate
Ingredients
2

slices

Bread

2

slices

cheddar cheese
Instructions
Place 2 slices of cheese between bread slices and spray with butter spray

Place sandwich in air fryer and use a toothpick to hold it together.

Set air fryer to 350 degrees and cook for 3-5 minutes on 1 side, flip the sandwich over and repeat cooking for 3-4 minutes.

You may need to test the time to see what works best for your air fryer.
Nutrition
Nutrition Facts
Air Fryer Grilled Cheese Recipe
Amount Per Serving
Calories 288
Calories from Fat 117
% Daily Value*
Fat 13g20%
Cholesterol 36mg12%
Sodium 502mg22%
Potassium 135mg4%
Carbohydrates 28g9%
Protein 14g28%
Vitamin A 342IU7%
Vitamin C 1mg1%
Calcium 322mg32%
Iron 2mg11%
* Percent Daily Values are based on a 2000 calorie diet.