One of the things that we really loved during our time on the Carnival Vista was the all new Playlist Production shows. If I am being honest we don't normally make it to a ton of shows. We usually hang out at the Alchemy Bar or on our balcony at the end of the night. If I am really being honest some nights we are in bed right after dinner because we are worn out from the day. One of the best parts of a Carnival Cruise is you set your own schedule.
All new Playlist Production shows on the Carnival Vista
Carnival Vista singers and dancers perform "Amor Cubano" which combines Latin songs with current hits and features a seven-piece Cuban-inspired band in the ship's Liquid Lounge.
On the Carnival Vista, we made it a point of going to all of the new shows. We had heard that they were amazing and I am so glad we took the time to go to them. They were so good that now we are making it a point to see the shows on other Carnival Ships. I feel like we might have been missing out on great shows. I am sure my parents are really happy reading this! They tell us before every cruise to go see the shows and normally we ignore them and do our own thing. They love knowing that they were right and we should have listened to them.
Amor Cubano
A Caribbean Dance Romance, an exhilarating get-on-your-feet show that blends classic Latin songs with today's hits and features an authentic reproduction of Carnival Vista's Havana Bar.
A seven-piece Cuban-inspired band performs songs by Gloria Estefan, Celia Cruz, and others amid a tropics-inspired backdrop of Cuba and Miami, the latter of which will be the ship's eventual year-round homeport.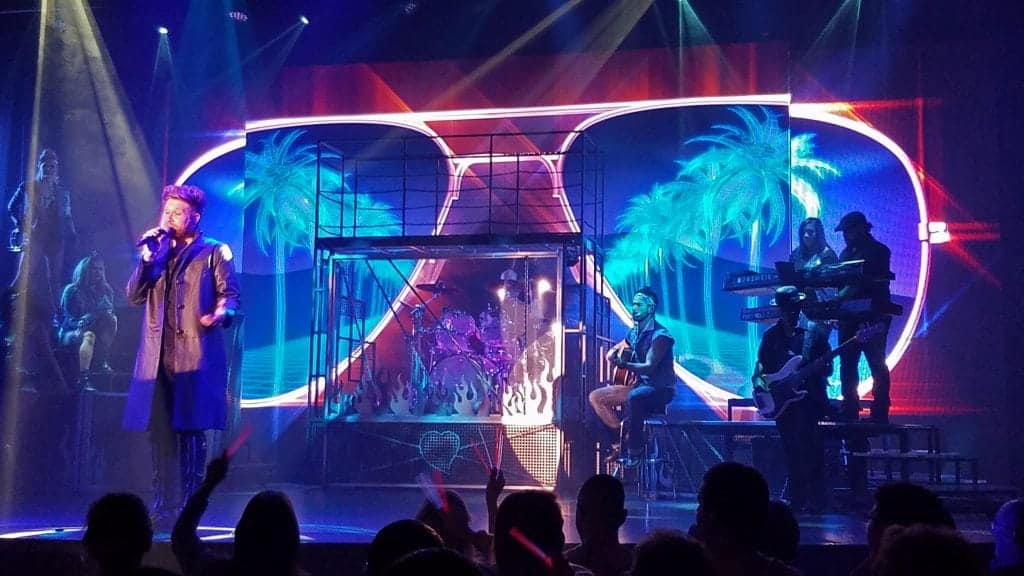 America Rocks!
a high-energy show featuring rock anthems by American artists like Bruce Springsteen, Aerosmith, Styx, and Kiss. The glow stick-waving audience cheers on a rockin' house band with sizzling guitars, pulsating drums, and a horn section, evoking the feeling of classic rock concerts from bygone days.
Flick:
The Power of Motion Pictures, a celebration of filmmaking with some of the greatest anthems of all time showcasing songs from popular movies like Footloose, Dirty Dancing, and others.
The main character of the show, Flick, takes viewers on a magical journey through different genres of film with stunning theatrical illusions and show-stopping cinematic effects.
All three shows feature high-energy after-parties in Carnival Vista's atrium, Havana Bar, and other spaces where guests can dance and interact with the stars following the show.
Additional Live Entertainment Options
A roster of popular comedians perform at the 385-seat Punchliner Comedy Club which offers family-friendly and adults-only shows and guests are the stars of Hasbro, The Game Show, which features larger-than-life adaptations of iconic Hasbro games.
 Lip Sync Battle Carnival will debut on the new Carnival Vista in December with roll out on select ships in 2017.
Additional Carnival Cruise Articles
Carnival Vista Balcony Stateroom
What not to miss on the Carnival Vista
Check out all of our Carnival Cruise Travel Guides