Did you know that Almond Roca has a Factory Store in Tacoma?
Almond Roca Factory Store in Tacoma
This store is a must-see/stop if you are in the Tacoma area!!!
I mean MUST stop if you love/like/dream of Almond Roca!
This tiny little building is filled with Almond Roca and so much more. Are you ready for the best part?
The prices!
I mean wow! The prices in this little Almond Roca Factory Store in Tacoma are amazing! The Factory Store building was once located in Seattle at the World's Fair.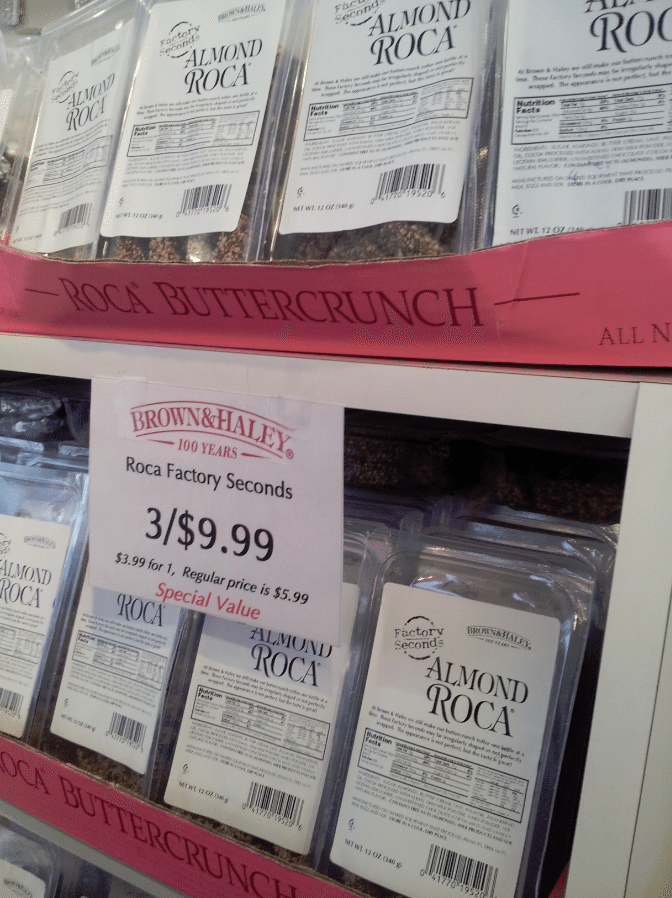 We try and visit each time we are in Tacoma!
This is a great place to load up on chocolate gifts, treats for yourself, and so much more!
If you dream of a giant chocolate bar...they have one!
I picked up a ton of Almond Roca seconds that are not perfect to look at but still taste amazing.
They are fantastic to bake with and snack on and enjoy any time you feel like it.
Growing up this was one of my favorite places to visit. My Mom would bring us to the Almond Roca Factory Store and let us pick out a sweet treat. It is so much fun to go back as an adult.
Fun Fact - Elvis was in this building in 1962.
Address
The Almond Roca Factory Store is located at:
110 East 26th St, Tacoma, WA 98421
(253) 620-3067
Hours
Monday - Saturday 9:30 AM - 5:30 PM
Sunday 11:00 AM - 4:00 PM
Directions
From I-5 North or South: Take Tacoma City/Tacoma Dome Exit. Exit towards Tacoma Dome.
The Off-ramp ends at 26th Street. Turn left on 26th Street. Brown & Haley is on the left.
Additional Washington Resources
Liberty Orchards - Aplets and Cotlets Factory
Check out all of our Washington Travel Guides