A huge thank you to Lakedale Resorts for providing us with the most amazing glamping experience on San Juan Islands! We had so much fun Glamping in the San Juan Islands at the Lakedale Resort!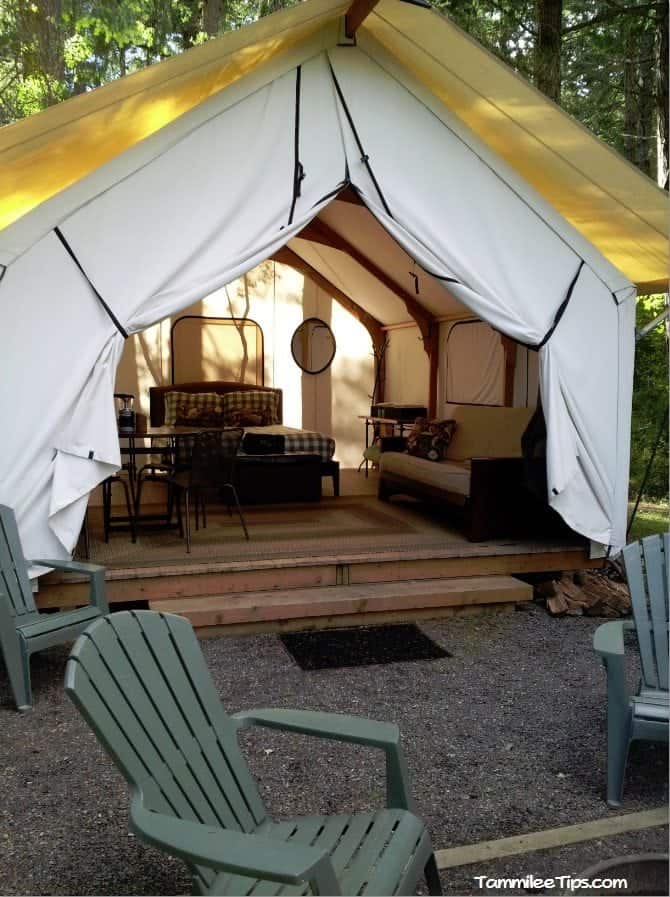 Are you wondering if I made a spelling mistake or what in the heck glamping is? Glamping is glamour camping and it is well amazing! Imagine having all of the amazing fun that comes with camping but you get to crawl into a queen-size bed and get a great night's sleep.
You don't have to crawl into a sleeping bag and hope to stay on your air mattress or foam pad. You don't have to worry about rocks poking you in the back and waking up sore and stiff in the morning. Can you tell I am in love with glamping!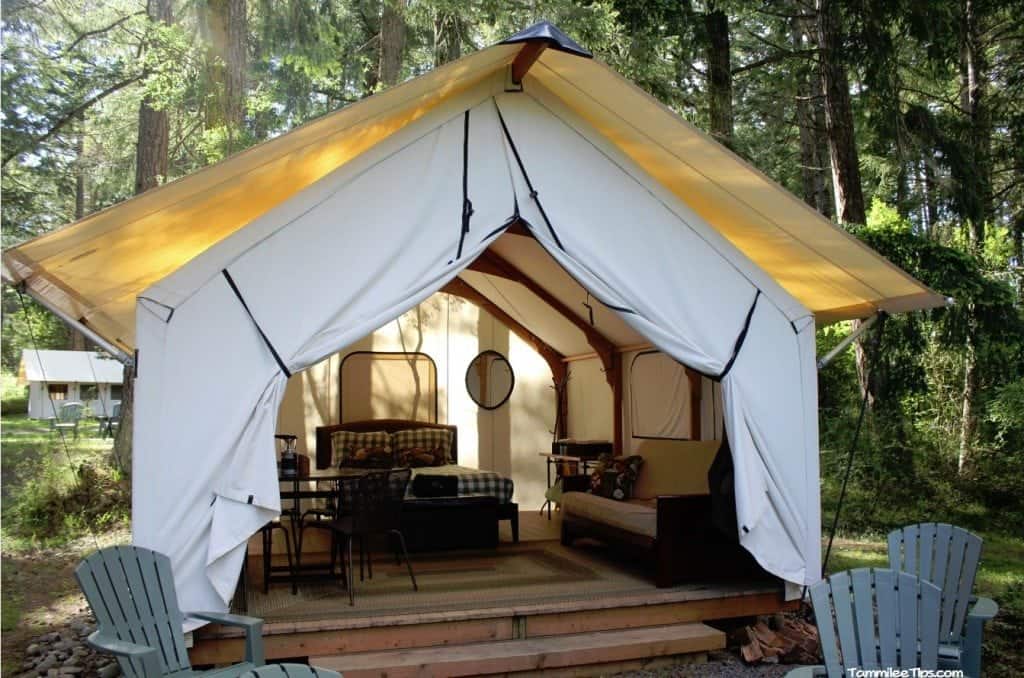 We had an incredible time glamping at Lakedale Resort. We stayed our second night at Lakedale in a glamping tent after loving the 2 bedroom cabin we stayed in.
I was not sure how it would be moving from a 2 bedroom amazing cabin to a tent in the woods but it pretty much rocked.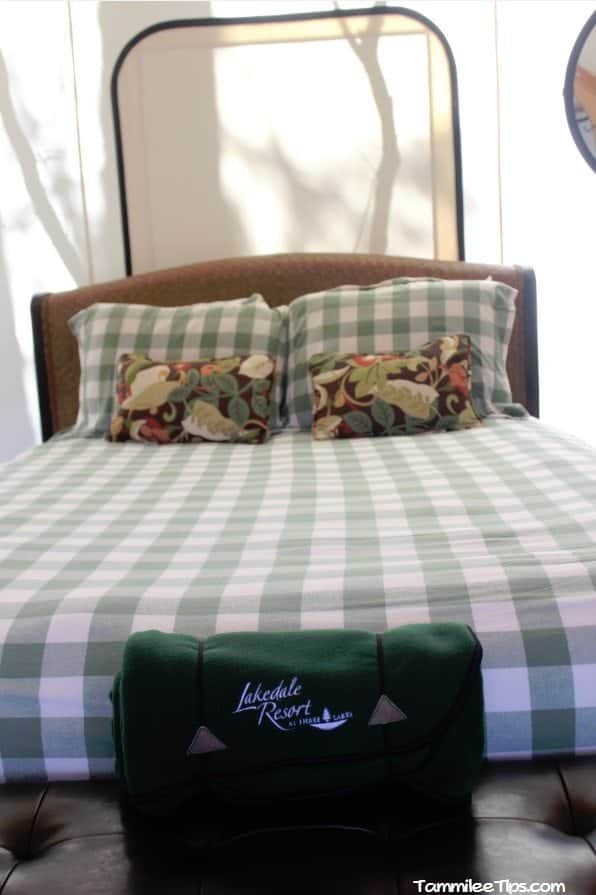 The Glamping Tent at Lakedale Resort is fully set up with everything you could need for your night of glamping. You have a queen-size bed, a futon, shampoo and conditioner, towels for showering, extra blankets in case you get chilly, a cooler, your first night's firewood and starter, a lantern, and a flashlight.
The glamping tent was so much more than I expected. I honestly was not sure what to expect but I did not expect it to truly be glamorous camping that I am now in love with.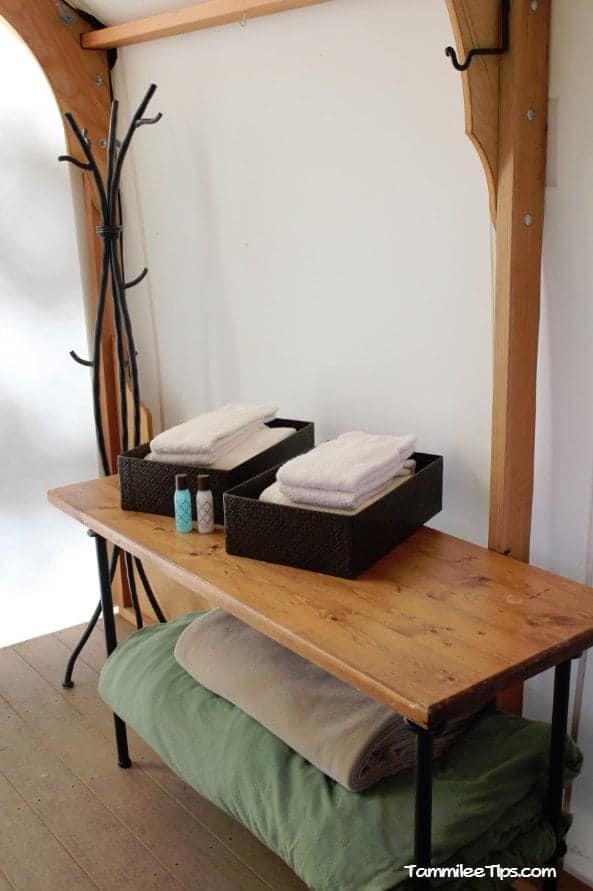 Lakedale Resort has truly thought of everything that you would need for glamping and makes it so much fun. There were shower supplies provided from Lakedale Resort in the tent. The showers and bathrooms are a short walk from the glamping tents.
I have to admit that I had quite an adventure walking to the bathroom at 4 am. I was super brave knowing that there are no large animals on the island and headed to the bathroom by myself.
Normally when we are camping I make John get up and walk with me just in case there is something scary. Yes, I fully admit to making my Husband get out of bed and walk with me to the bathroom.
As I was walking along to the bathroom I was trying to wake up, not trip on anything, not make too much noise and everything else you can think of at 4 am in the dark. All of a sudden there is a huge noise and commotion to my right and I am just going to admit it right now.......I instantly thought of Big Foot.
Don't ask me why I thought of Big Foot but I did. I was so scared for a second I had my hands up in the air like I was caught doing something and just stood there.
Long story short as I am standing there with my hands in the air trying not to be super scared out pops Bambi from the bushes and runs in front of me. Yep, it's true I was scared and thought it was Big Foot when in reality it was Bambi. You can only imagine the humor John found in this when I got back to the tent.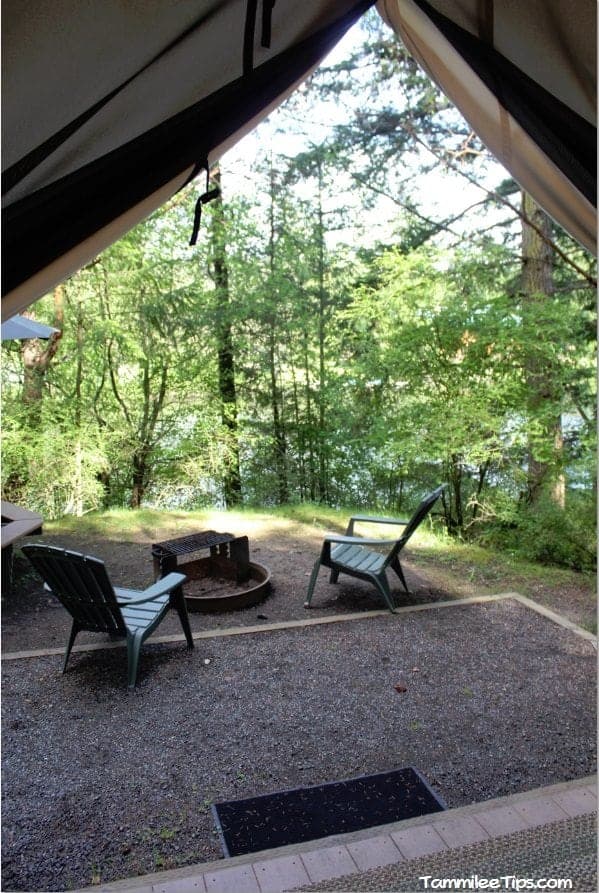 We had a great view of the lake from our glamping tent. There is a futon in the tent along with a table and chairs. We relaxed on the futon and just enjoyed the view for a while.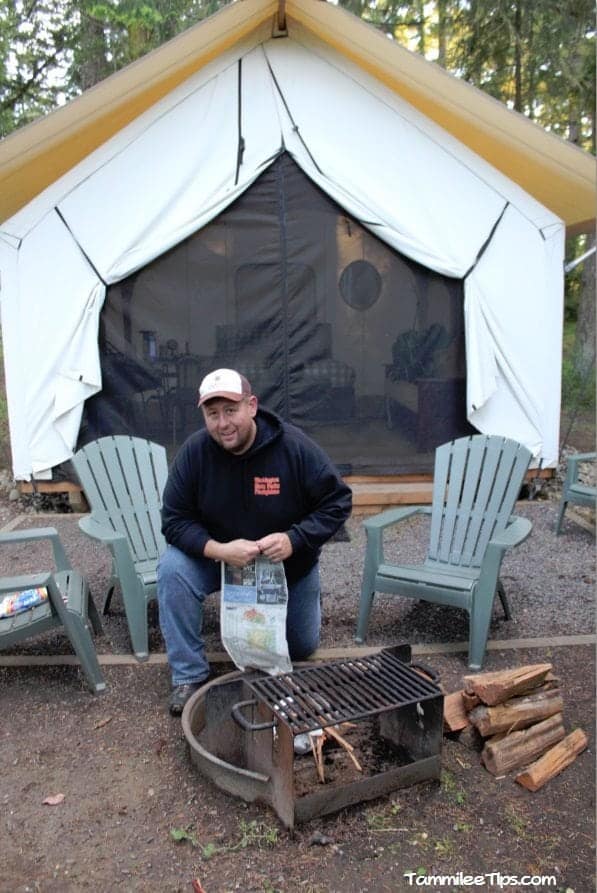 What night of camping or well glamping is complete without a campfire and smores. John took care of building the fire for us with the wood that Lakedale Resort provided for our first night of glamping.
When we arrived at the glamping tent we had a nice stack of wood, kindling, and paper to help us enjoy our first night. If you need more campfire wood or supplies Lakedale has everything you need at their general store. They even have smores kits premade up in case you forget anything.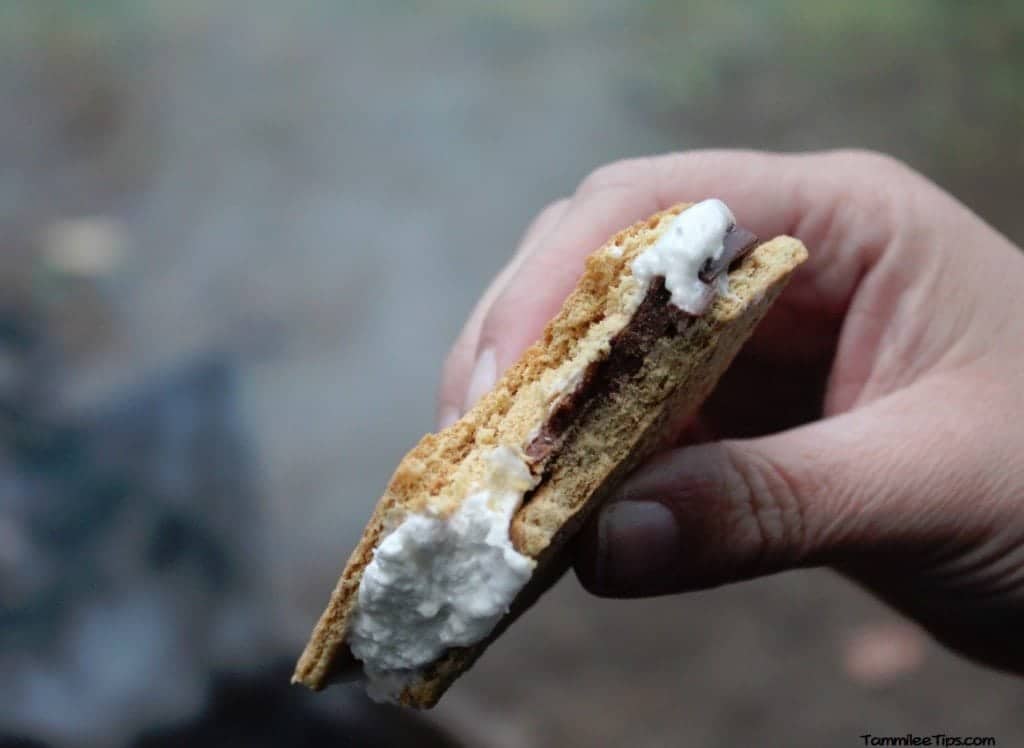 I have to admit there is nothing quite like smores fresh from the campfire. Oh my goodness this is such a perfect treat while enjoying the amazing view over the lake.
I am going to fully admit to enjoying a couple of smores during our trip. I figure it is a vacation and hopefully, the calories do not count when you are outside soaking up the sunset.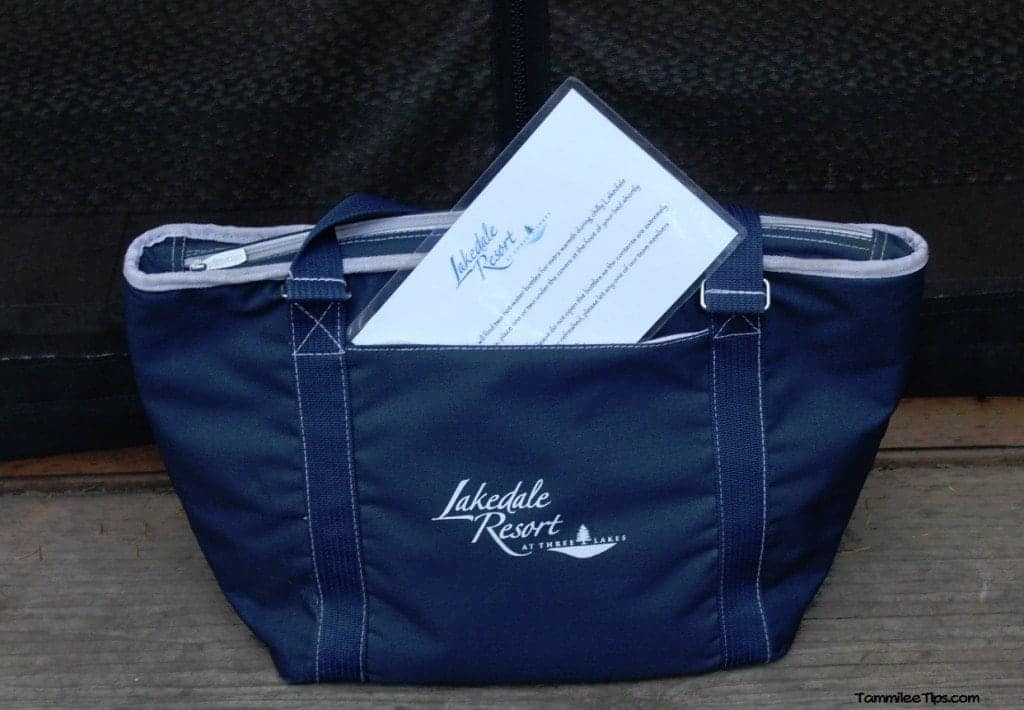 When we came back to the glamping tent after enjoying touring San Juan Island we found a treat on the front steps. The team at Lakedale Resorts had brought us hot water bottles to put under the blankets to keep our toes warm!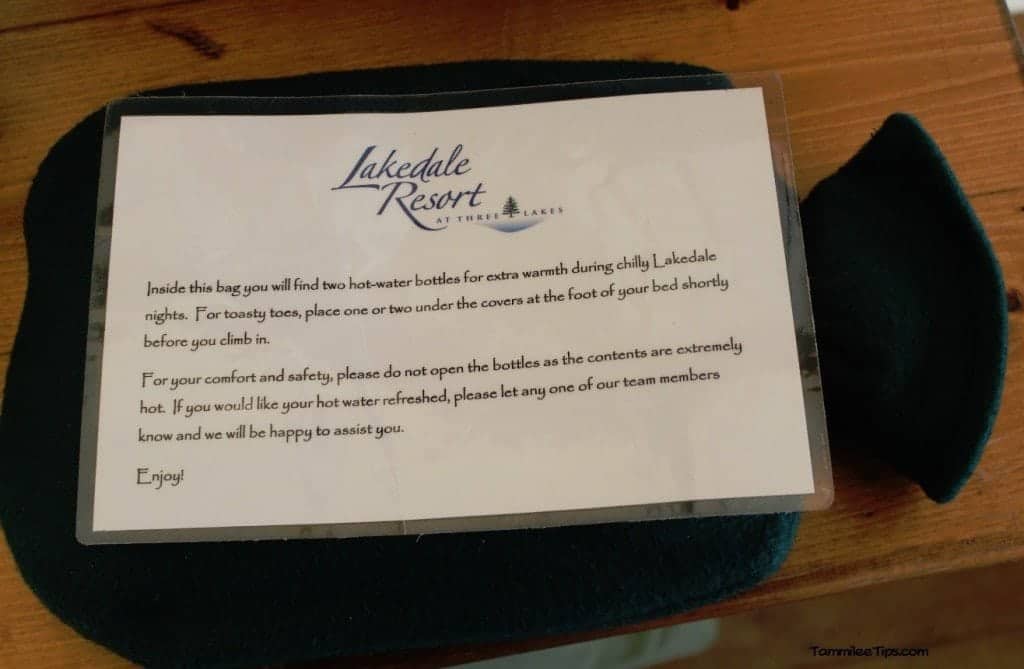 I am so in love with the hot water bottles that Lakedale Resort brought to our glamping tent. I may have to start putting hot water bottles under our blankets at home during the winter to keep our toes warm.
The bed was so warm that I actually tossed off the covers at one point during the night. When we got up in the morning the hot water bottles were still warm and amazing!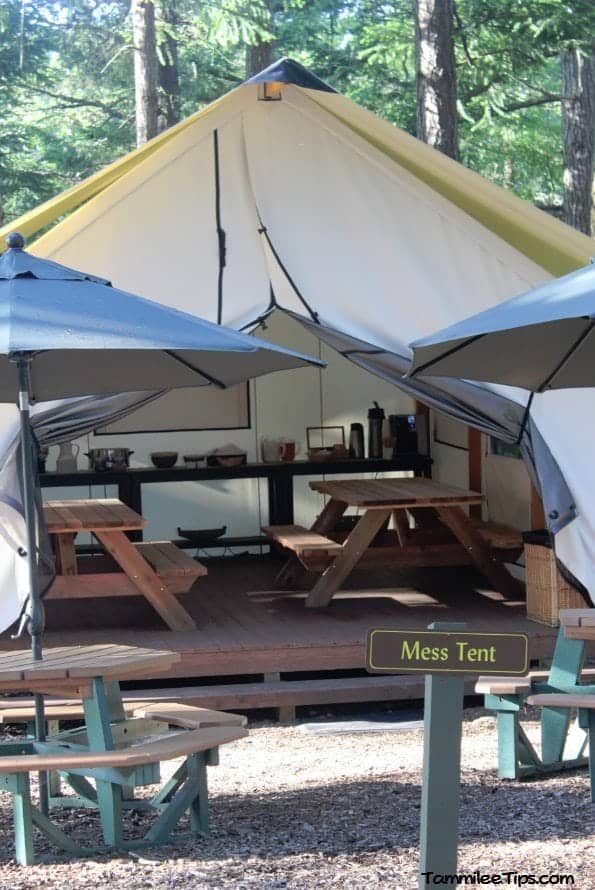 There is a mess tent set up for breakfast in the glamping tent area. The staff at Lakedale Resorts is on hand to make sure you have everything you need for breakfast.
There is even a pancake machine so you can enjoy hot fresh pancakes. It was pretty fun watching the machine work. You push a button and out comes a couple of steaming hot pancakes right onto your plate.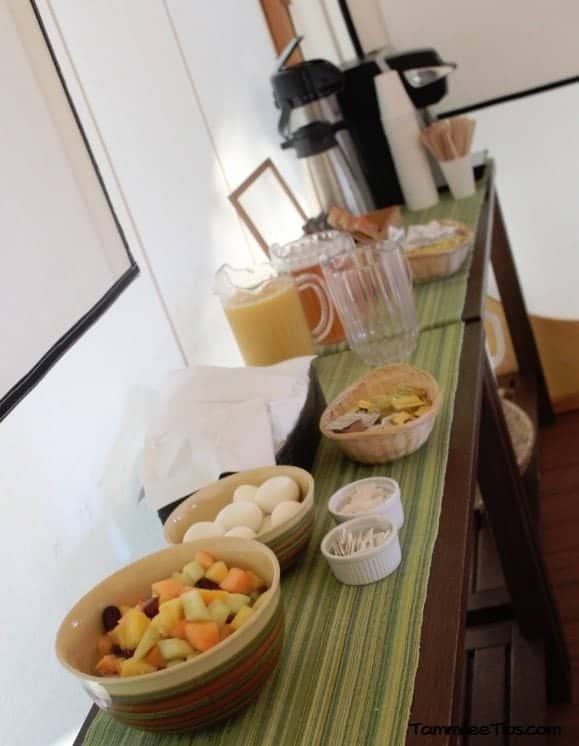 The breakfast tent had a little bit of everything you could hope for. Fresh fruit, hard-boiled eggs, a Keurig coffee maker, fresh blueberry muffins, bagels, cereal and so much more.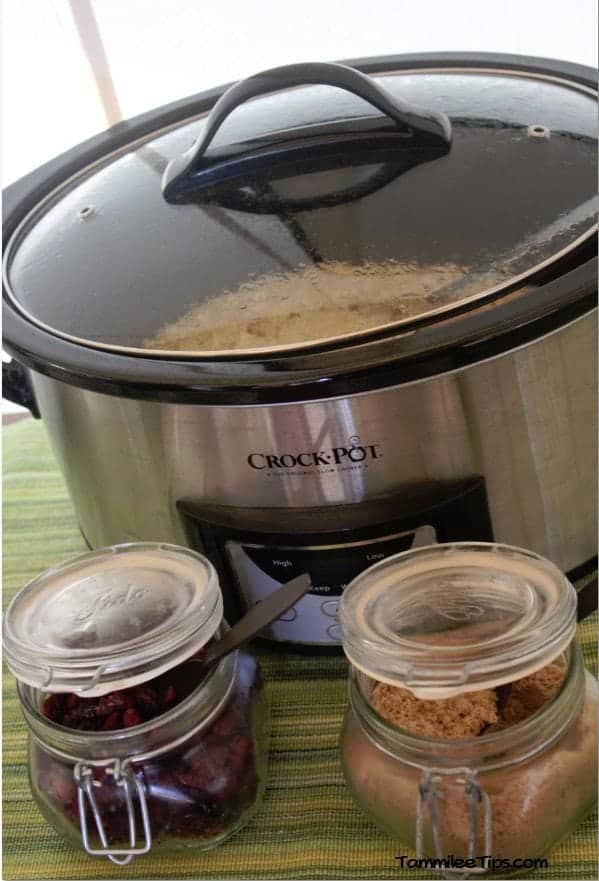 It was great having warm oatmeal with my favorite toppings while relaxing during breakfast.
We had so much fun glamping at Lakedale Resort! This was one of those experiences you look back on and just smile.  You can find out more about Lakedale Resort on their website, Facebook page
Additional Washington Travel Guides
San Juan Island National Historical Park
Camping tips from a Park Ranger
Top things to do in Leavenworth, Wa
Icicle Ridge Winery, Leavenworth
Cruising to Alaska from Seattle
If you are heading south towards Portland don't miss a visit to World Famous Multnomah Falls
Check out all of our Washington Travel Guides
 We were provided with our stay at Lakedale Resort. All opinions expressed are our own.