A few weeks ago I shared pics from my trip to Washington DC with American Heritage Chocolate. There is also a recipe for Boozy Hot Chocolate which is pretty darn delicious!  While I was in DC I learned so much about the history of chocolate and American Heritage Chocolate. Today I am excited to share this American Heritage Chocolate No Bake Bars Recipe.
I have been wanting to do another chocolate no bake recipe for a while. John absolutely loves no bake recipes. I am pretty sure I could make a new one weekly and he would not complain. This recipe is so easy to make and tastes amazing.
If you have every wondered about the history of chocolate make sure and check out the American Heritage Chocolate Website to see their history information. It is amazing! Did you know that chocolate was once used as currency?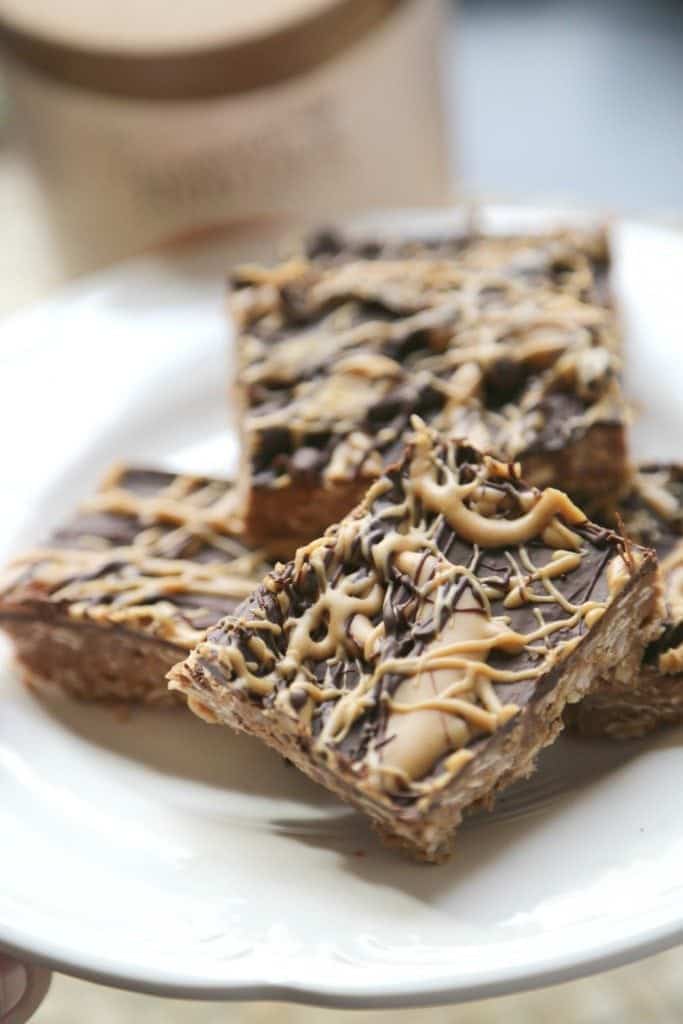 Did you know…..
American Heritage Chocolate is an authentic historic line of products—developed from chocolate recipes from the 1750's—that celebrates chocolate's important role in the lives of Americans during the 18th century and is reminiscent of what Thomas Jefferson, George Washington, and Ben Franklin would have enjoyed, combining all natural ingredients and exotic spices.
Made with all-natural ingredients and no preservatives, American Heritage Chocolate is an artisanal dark chocolate containing 63% cacao.
Mildly spicy, and slightly sweet, American Heritage Chocolate is flavored with a blend of spices and ingredients available during colonial times, including cinnamon, nutmeg, chili pepper, orange, anise and vanilla.
American Heritage Chocolate is Kosher-certified, made without dairy, wheat, peanuts, or tree nuts, and is made in a facility that does not contain peanuts and tree nuts.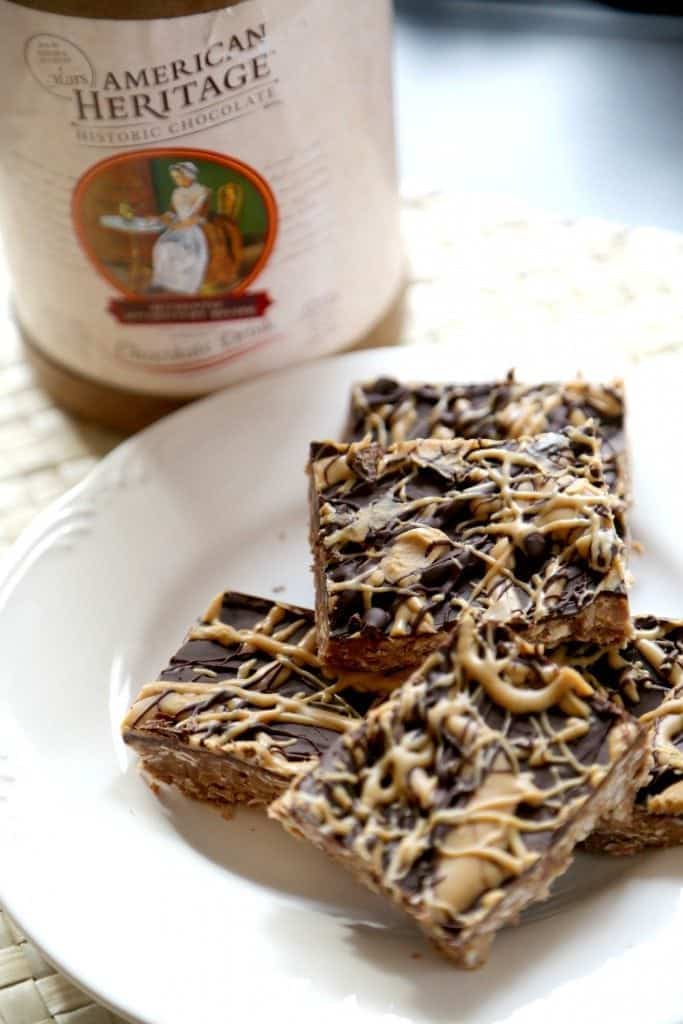 To find out more about American Heritage Chocolate check out the American Heritage Chocolate Website, Facebook, Twitter, Pinterest
Check out these great Hashtags #chocolatehistory and #americanheritagechocolate to see all of the photos, tweets, and recipes sharing American Heritage Chocolate!
Chocolate No Bake Bars Recipe
Ingredients
1 1/2 cups coconut
1 1/2 cups old-fashioned oats
1 1/4 cups confectioners sugar
1/4 tsp salt
5 oz unsalted butter, cut into pieces
1 3/4 cup peanut butter plus 2 tbsp peanut butter to the side
1 container of American Heritage Chocolate Drink Mix
Directions
1. Coat a 9x13 baking pan with non-stick spray and line with parchment paper. Make sure and leave a 2 inch overhang so you can easily pull the bars out of the pan.
2. Combine coconut, oats, sugar and salt in a large bowl, set to the side
3. Melt butter over medium heat, add in peanut butter and whisk until combined
4. Pour into oat mix and stir until combined. Press into baking pan until evenly divided.
5. Place in refrigerator for 30 minutes to set
6. Microwave American Heritage Chocolate Drink  in 30 second intervals until melted
7. Pour over the oat mix and spread until evenly distributed.
8. Place in refrigerator for 15 minutes to chill
9. Melt Peanut Butter in microwave until runny and then drizzle over the top of the chocolate, drizzle additional American Heritage chocolate over the top.
10. Place in refrigerator for 15 minutes to harden
11. Remove from baking pan and cut into squares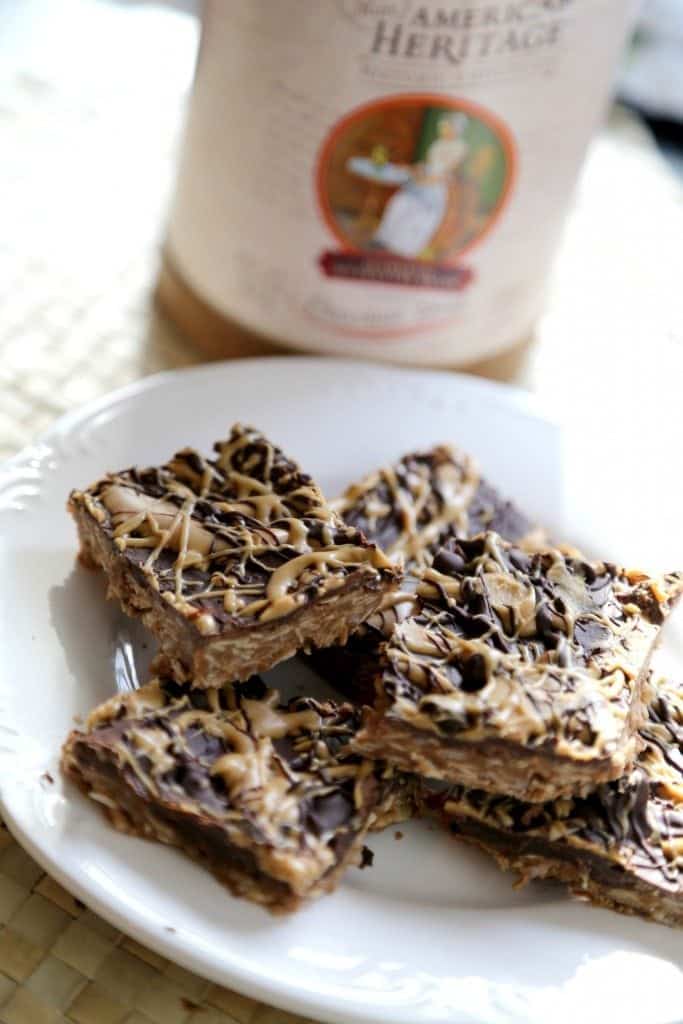 Do you love recipes? Check out our copy cat recipes, dessert recipes, and our Crock Pot Recipes.

Follow Tammilee Tips's board Tammilee Tips Recipes on Pinterest.

Today's post is sponsored. All opinions expressed are our own.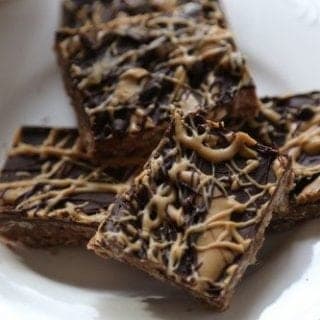 American Heritage Chocolate No Bake Bars Recipe
Print
Rate
Ingredients
1 1/2

cups

coconut

1 1/2

cups

old-fashioned oats

1 1/4

cups

confectioners sugar

1/4

tsp

salt

5

oz

unsalted butter

cut into pieces

1 3/4

cup

peanut butter plus 2 tbsp peanut butter to the side

1

container of American Heritage Chocolate Drink Mix
Instructions
Coat a 9x13 baking pan with non-stick spray and line with parchment paper. Make sure and leave a 2 inch overhang so you can easily pull the bars out of the pan.

Combine coconut, oats, sugar and salt in a large bowl, set to the side

Melt butter over medium heat, add in peanut butter and whisk until combined

Pour into oat mix and stir until combined. Press into baking pan until evenly divided.

Place in refrigerator for 30 minutes to set

Microwave American Heritage Chocolate Drink in 30 second intervals until melted

Pour over the oat mix and spread until evenly distributed.

Place in refrigerator for 15 minutes to chill

Melt Peanut Butter in microwave until runny and then drizzle over the top of the chocolate, drizzle additional American Heritage chocolate over the top.

Place in refrigerator for 15 minutes to harden

Remove from baking pan and cut into squares