Crazy easy No-Bake Peanut Butter Fudge Recipe made with only four ingredients!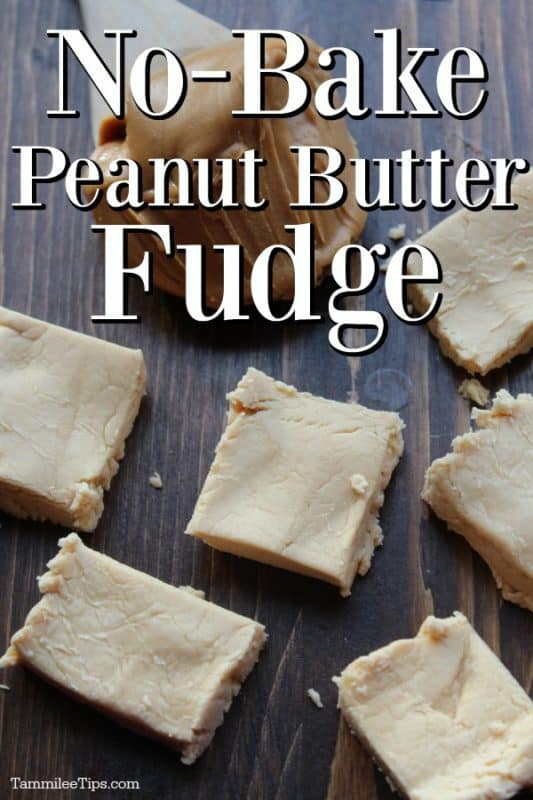 No-Bake Peanut Butter Fudge
This recipe was day 24 of our 25 days of Holiday Cookies and Treats! 
The series has been so much fun! I am considering a new fun series we can do on the blog. Any suggestions?
I thought about doing international recipes or specific ingredients. Hmmm so much to think about.
While I ponder what to do next, here is an AH-mazing recipe for No Bake Peanut Butter Fudge!
You read that right; you don't have to turn on the stove, oven top, or even a mixer if you don't feel like it to make this luscious fudge.
The holiday season is busy as is we don't need to add stress while making a great holiday treat. The peanut butter flavor of this fudge is delicious any time of the year.
Ingredients
Here is a quick overview of the simple ingredients needed to make an epic No-Bake Peanut Butter Fudge! The printable recipe card at the bottom of the post includes specific measurements and step-by-step instructions.
Margarine/butter

Powdered Sugar/Confectioners sugar 

Creamy Peanut Butter
Peanut Butter - We use creamy peanut butter but you can use crunchy if you like the added bits. Homemade and natural peanut butter will not produce the best fudge so we suggest not using it.
Optional Add Ins - chocolate chips, peanut butter cups, sprinkles, nuts
Equipment Needed
I love that there is no special equipment needed to make this easy peanut butter fudge recipe. You don't need a candy thermometer for this easy fudge recipe.
8-Inch Pan

: This is the perfect size baking dish for this no bake fudge recipe.

Microwave-Safe bowl

Parchment Paper: I like these

12x12 paper liners

. They are easy to pull out, and you can easily cut them down to fit an 8-inch baking pan. You can also use greased aluminum foil, but we prefer parchment paper.

Hand Mixer: You can mix the fudge by hand, but using a hand mixer saves you some labor and effort.

Dough Scraper

: While generally used for making bread, I love using this tool to cut fudge. It cuts clean lines, and you can easily cut them without trying to contort your wrist to a crazy angle to get a clean cut. You can also use a knife

Cutting Board - This will make it easy to cut the fudge mixture.

Treat Boxes

: If you're gifting your fudge, these treat boxes work great. They're not holiday-specific, so you can use them year-round. Wrap a ribbon around them or make a fun label, then you're good. This fudge is the perfect gift.  
How to Make No-Bake Peanut Butter Fudge
I've included complete instructions in the printable recipe card at the bottom of the post, but here's a quick version.
Combine margarine and powdered sugar until creamy.

Add peanut butter and vanilla. Mix well.

Pour into an ungreased 9X9 baking pan, flattening the mixture into the pan.

Cut into small squares and store in a cool, dry place. 
Preparation and Storage
Make Ahead + Storage: The best way to store your homemade fudge is in an airtight container at room temperature.
Keeping fudge in an airtight storage container will prevent your homemade fudge from drying out.
You do not want to store fudge in the refrigerator. The refrigerator will cause the fudge to dry out and pick up the scents and flavors of food near it. The last thing you want is for your famous fudge to start tasting like cucumbers or other veggies.
How long your fudge lasts depends on how you store it. If you keep it in an airtight storage container, the chocolate fudge can last 3-4 weeks, if not longer, making it a make-ahead-friendly recipe.
Freezing/How to Freeze: You can freeze fudge, but you want to make sure you protect the fudge from moisture.
The best way to freeze fudge is to cut it into pieces and wrap individual portions in Saran Wrap to protect them from moisture. Place all of the wrapped pieces in a Ziploc Bag or freezer-safe container.
Only place the amount of fudge in each bag you want to defrost together. You can use snack-size freezer bags if you only want to pull out a small amount of Peanut Butter Fudge at a time. This tip is excellent for eating this yummy homemade fudge in moderation!
How to Reheat: When defrosting the fudge, leave it in the plastic freezer bag until defrosted to room temperature to prevent moisture from getting inside.
Recipe Variations + Tips for the Best No-Bake Peanut Butter Fudge
Substitutions: We use creamy peanut butter in this recipe for a smoother texture, but you can replace this ingredient with a crunchy variety if you prefer this texture. As with many baked goods, butter is a margarine substitute if you want a cleaner, unprocessed fat.
Vegetarian Option: This No-Bake Peanut Butter Fudge recipe is vegetarian-friendly!
Vegan Option: Most margarine and peanut butter are plant-based, but some brands of confectioner's sugar may not be vegan-safe due to processing. Check all product labels to be sure, and use a vegan confectioner's sugar if in doubt.
Gluten-Free: Similarly, most margarine and peanut butter brands are naturally gluten-free. Check all product labels to confirm.
Smaller Serving Size + Larger Group/More Servings: This recipe yields about four dozen servings, depending on what size you cut your pieces. They're super rich, so small squares are perfect! Scale the written recipe up or down based on your desired quantity.
Make it Spicy: Betty Crocker has a Spicy Peanut Butter-Caramel Fudge if you want an indulgent peanut butter fudge with some heat.
Sugar-Free: This recipe contains 10 grams of sugar. Use sugar-free powdered sugar and peanut butter to make it sugar-free.
What to Serve with No-Bake Peanut Butter Fudge
Peanut butter is a versatile ingredient that works well with savory and sweet flavors, and our no-bake peanut butter fudge is no exception. Here are some menu planning suggestions.
Sides: Brown Sugar Bacon Wrapped Smokies, CrockPot Bourbon Little Smokies, Spicy Deviled Eggs, CrockPot Sugared Walnuts, Bacon Candy, 3 Ingredient Grape Jelly Meatballs, BLT Pasta Salad, Southern Style Green Beans, Kool-Aid Pickles, Bacon-Wrapped Asparagus
Main Dishes: Corned Beef Shepherd's Pie, CrockPot Beef Stroganoff, CrockPot Dr. Pepper Ribs, CrockPot Teriyaki Chicken, Funeral Sandwiches, CrockPot Spicy Bacon & Beef Chili, CrockPot Bourbon Maple Pork Loin, Easy Vegetable Lo Mein, CrockPot Thai Pork
Desserts: 3 Ingredient Marshmallow Fluff Dip, Peanut Butter Bacon Cookies, Apple and Snickers Salad, Butterfinger Cake, Magnolia Bakery Banana Pudding, Oven S'mores, Brownie Mix Cookies, Sweet & Salty Chocolate Dessert Bar, Molasses Cookies, Buckeye Bars
When to Serve
After-Dinner Dessert

Coffee or Tea Snack

Cocktail Night 

Holiday Parties

DIY Gifts

Christmas parties
Gift for peanut butter lover
Coconut Chocolate Chip Cookies
Chocolate Chip Coconut Rum Cookies
White Chocolate Candy Cane Cookies
Hawaiian Host AlohaMac Butter Cookies
Make sure to check back each morning for a new holiday cookie and treat recipe!
Do you love recipes? Check out our copycat recipes, dessert recipes, and our CrockPot Recipes.
Follow Tammilee Tips on MSN, Facebook, Instagram, and Pinterest for all our recipe posts.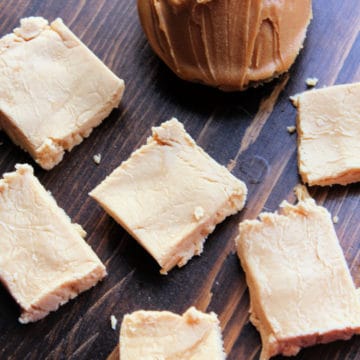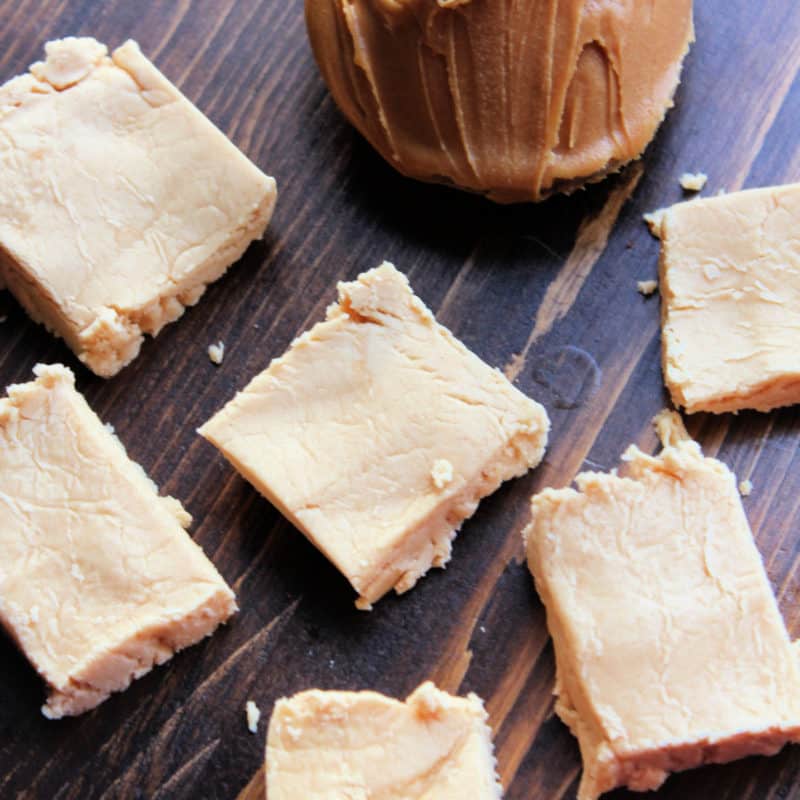 No-Bake Peanut Butter Fudge
How to make delicious No-Bake Peanut Butter Fudge that is great for the holidays.
Print
Rate
Instructions
Combine margarine and powdered sugar until cream

Add in peanut butter and vanilla, mix well

Pour into a ungreased 9X9 baking pan, flatten into pan

Cut into small squares, store in a cool dry place.
Nutrition
Nutrition Facts
No-Bake Peanut Butter Fudge
Amount Per Serving
Calories 78
Calories from Fat 36
% Daily Value*
Fat 4g6%
Sodium 41mg2%
Potassium 27mg1%
Carbohydrates 10g3%
Protein 1g2%
Vitamin A 85IU2%
Calcium 2mg0%
Iron 1mg6%
* Percent Daily Values are based on a 2000 calorie diet.
Recipe originally shared on December 22, 2013. Updated September 2020.