I have a confession to make….
These Bacon Peanut Butter Cookies were supposed to be for my Sister-In-Law.
Long story short my poor Sister-In-Law literally broke her leg to get a job. She was going to an interview and tripped and broke her ankle en-route to the interview.
I decided to make these Bacon Peanut Butter Cookies for the care package I planned on sending her.
This was a great, fantastic idea until my dear Husband came home and sampled a cookie. Let's just say they were gone before they had a chance to make it in the care package.
So Bev if you are reading this I owe you some Bacon Peanut Butter Cookies! I am going to have to make them on a day that John is not near the house.
One great thing is that there is no question these cookies are absolutely amazing!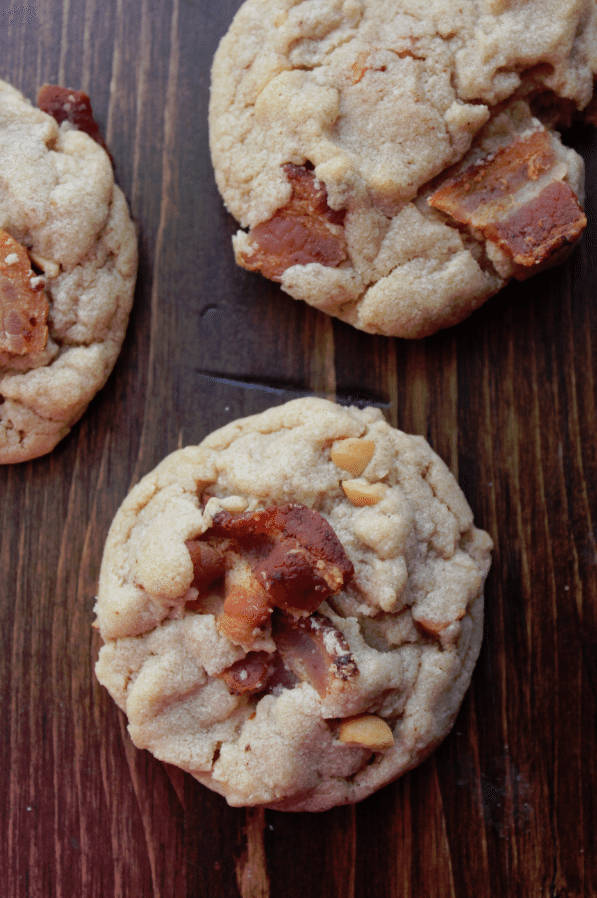 The combination of bacon and peanut butter is divine!
Sweet, Salty and oh so good!
Trust me you are going to want to make these as soon as possible! They are so dang easy to make too!
Oh and in case you were wondering my Sister-In-Law totally got the job! Woohoo! Hopefully she won't have to break any other body parts to get a promotion in the future 🙂
Bacon Peanut Butter Cookies
Ingredients
5 slices bacon, cut into 1/4 pieces
1 1/4 cups all purpose flour
1/4 tsp baking powder
1/4 tsp baking soda
1/4 tsp salt
1 stick unsalted butter, room temp
1/2 cup granulated sugar
1/2 cup packed light brown sugar
1/2 cup extra crunchy peanut butter
1 large egg
1 1/4 tsp vanilla extract
Directions
Pre-heat oven to 350 degrees
1. cook bacon until lightly browned, drain on a paper towel lined plate
2. Combine flour, baking powder, baking soda and salt in a medium mixing bowl, stir to combine
3. Beat butter until creamy in a large mixing bowl, add in the sugar and brown sugar and beet until fluffy and well combined
4. Beat in peanut butter until thoroughly combined, add the egg and vanilla and beat until combined
5. Stir the flour mixture in until well combined, stir the bacon in until just incorporated
6. Form 1 inch balls, place on baking sheets 2 inches apart
7. Use a fork to form criss cross marks on cookie dough
8. Bake for 10-12 minutes
Do you love recipes? Check out our copy cat recipes, dessert recipes, and our Crock Pot Recipes.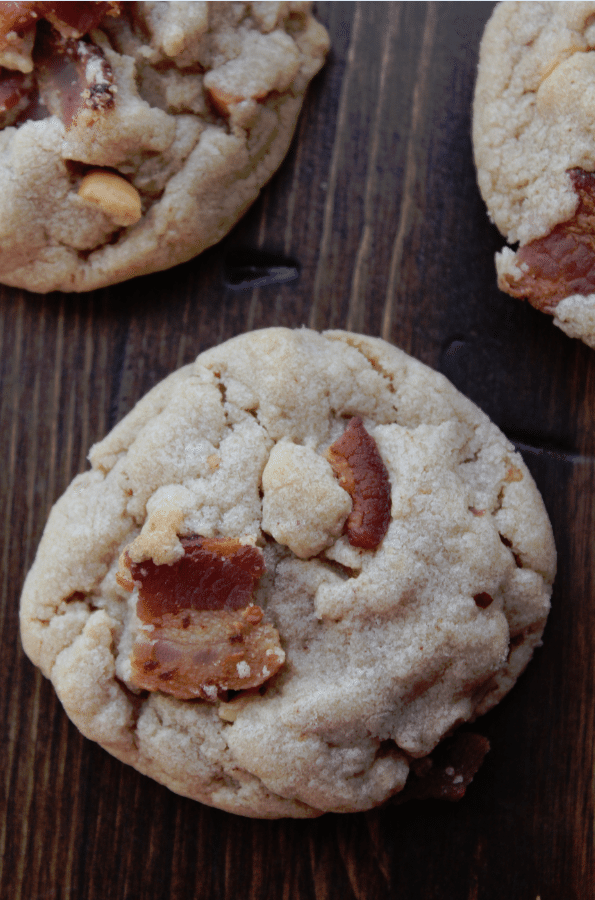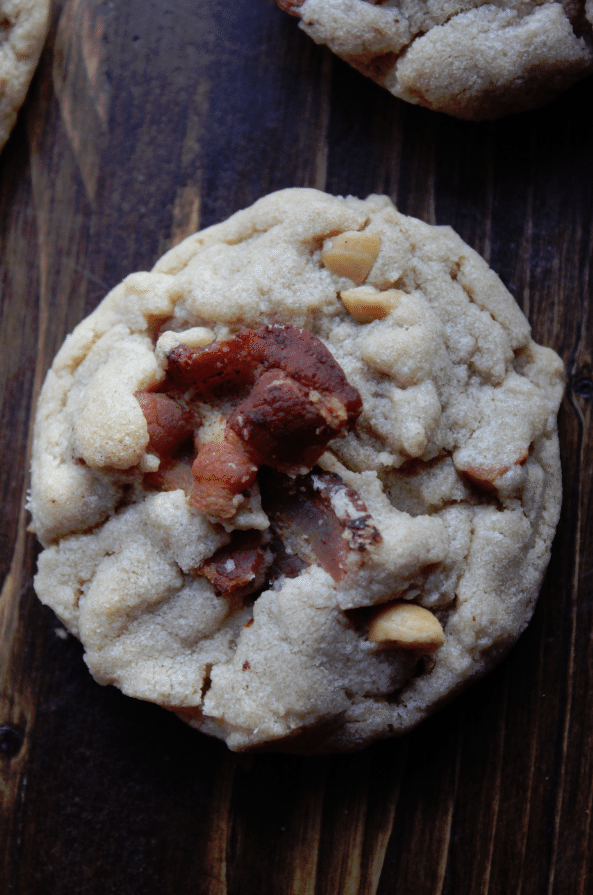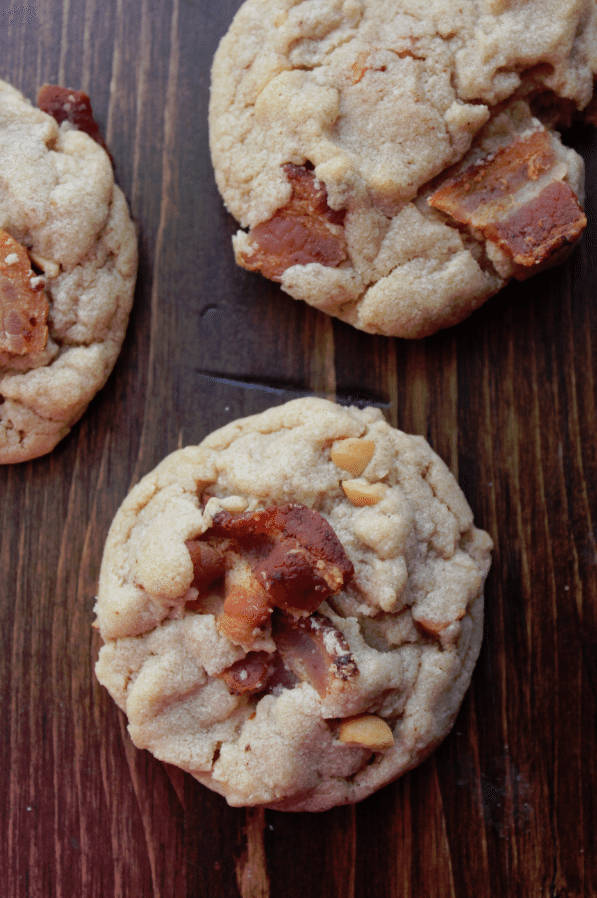 Ingredients
5

slices

bacon

cut into 1/4 pieces

1 1/4

cups

all purpose flour

1/4

tsp

baking powder

1/4

tsp

baking soda

1/4

tsp

salt

1

stick unsalted butter

room temp

1/2

cup

granulated sugar

1/2

cup

packed light brown sugar

1/2

cup

extra crunchy peanut butter

1

large egg

1 1/4

tsp

vanilla extract
Instructions
Pre-heat oven to 350 degrees

Cook bacon until lightly browned, drain on a paper towel lined plate

Combine flour, baking powder, baking soda and salt in a medium mixing bowl, stir to combine

Beat butter until creamy in a large mixing bowl, add in the sugar and brown sugar and beet until fluffy and well combined

Beat in peanut butter until thoroughly combined, add the egg and vanilla and beat until combined

Stir the flour mixture in until well combined, stir the bacon in until just incorporated

Form 1 inch balls, place on baking sheets 2 inches apart

Use a fork to form criss cross marks on cookie dough

Bake for 10-12 minutes