Delicious Boozy Frozen Hot Chocolate Recipe! This alcoholic Hot Chocolate is packed with flavor and just for adults!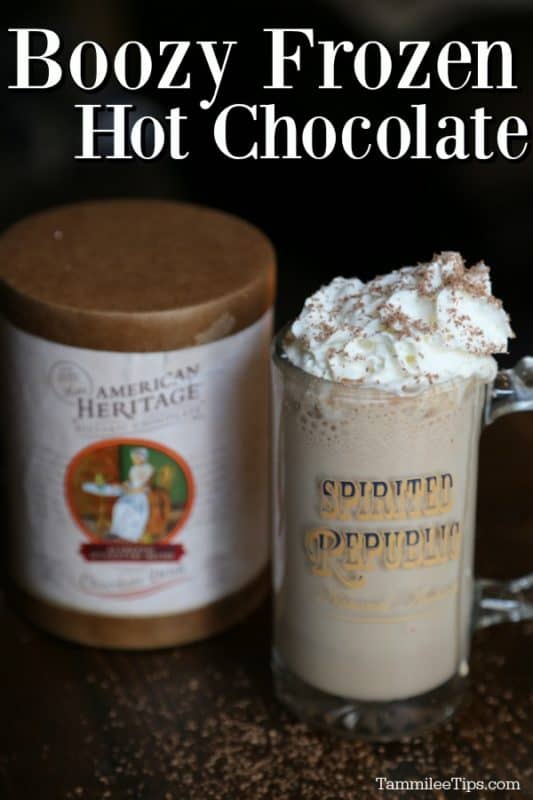 Boozy Frozen Hot Chocolate
I finally made it back to Washington DC after more years than I want to count! I was last in Washington DC for an 8th-grade spring break trip. We will just say that was a few years or more than 30 years ago and leave it at that :-).
When American Heritage Chocolate invited me to spend the weekend in DC with them I jumped at the chance. OH MY YES! Chocolate, US history, and a city I haven't been to since I was in 8th grade = sign me up!
Flying in from the west coast I ended up flying in on Friday night so I would be there in time for the event to start. This was a total bonus for me! I ended up with all of Saturday morning on my own to explore!
18,000 steps by 11 am, and I have to say I saw a lot of the city. OH MY!
I kicked off the morning walking from the Monaco Washington DC hotel where we were staying to the Washington Monument and then down the mall area to the Lincoln Memorial. So many sites to see in such close proximity is amazing.
Seriously you could easily spend a week wandering in Washington DC and not see it all.  I managed to walk over 18,000 steps before noon. My feet hurt a tad bit but it was so worth it!
One of the cool parts of the weekend was meeting up with a college friend who I have only seen once or twice in the last 10+ years. We had brunch and caught up on life! She lives in DC now and I can't wait to go back to visit again soon.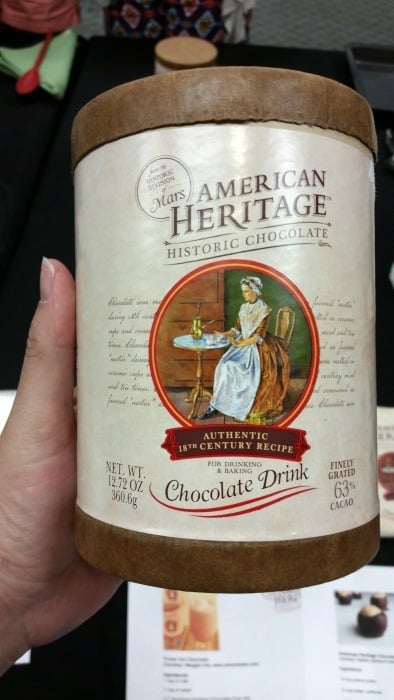 The official American Heritage Chocolate event kicked off Saturday afternoon and was amazing. We headed to the National Archives for a history lesson and chocolate class.
The National Archive Foundation was nice enough to offer us a guided tour of the National Archives and set us up in a conference room for the baking demo.
I am pretty sure we were part of the first-ever chocolate class within the National Archives. So cool! The security guards kept walking in telling us they could smell the chocolate we were working with.
Did you know...
American Heritage Chocolate is an authentic historic line of products—developed from chocolate recipes from the 1750's—that celebrates chocolate's important role in the lives of Americans during the 18th century and is reminiscent of what Thomas Jefferson, George Washington, and Ben Franklin would have enjoyed, combining all-natural ingredients and exotic spices.
Made with all-natural ingredients and no preservatives, American Heritage Chocolate is artisanal dark chocolate containing 63% cacao.
Mildly spicy, and slightly sweet, American Heritage Chocolate is flavored with a blend of spices and ingredients available during colonial times, including cinnamon, nutmeg, chili pepper, orange, anise and vanilla.
American Heritage Chocolate is Kosher-certified, made without dairy, wheat, peanuts, or tree nuts, and is made in a facility that does not contain peanuts and tree nuts.
During our baking class, we made American Heritage Chocolate buckeyes (which I will share soon! I promise!) and a frozen hot chocolate drink that was delicious!
All I could think about during the class was adding a bit of extra flavoring to the frozen hot chocolate with some Kahlua or Irish cream.
So the first thing I did when I got home was make up these Boozy frozen hot chocolates with American Heritage Chocolate!  The addition of a bit of booze was perfect since the National Archives had an exhibit called the Spirited Republic. The exhibit showcases alcohol through US history including prohibition and more.
Boozy Frozen Hot Chocolate
Ingredients
Milk
Water
Coffee ice cream
Ice
Irish Cream or Kahlua based on preference
Garnish with whip cream and American Heritage Chocolate shavings.
Please remember this is an adult beverage. You can easily make this non-alcoholic by removing the Kahlua or Irish Cream and replacing it with milk.
Check out all of our fun hot chocolate recipes.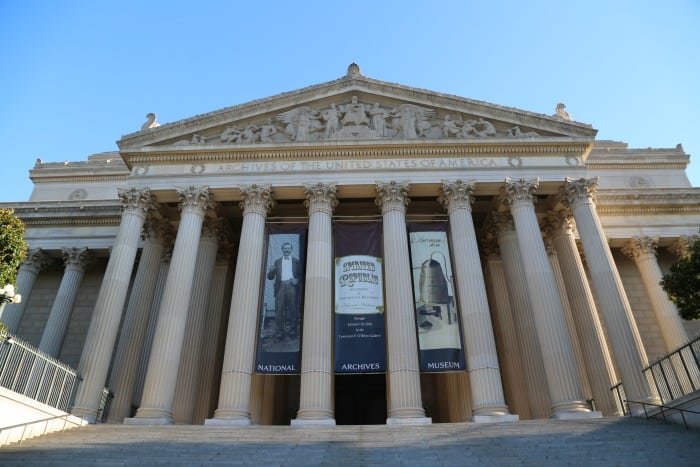 During our visit to the National Archives, we learned that they have a huge research center that is perfect for genealogy research. They showed us some of the records you are able to find within the archives.
We also learned that every patent in the US is housed at the Archives. I had no idea going into our visit that the National Archives holds in trust for the American people approximately:
10 billion pages of textual records
12 million maps, charts, and drawings
25 million still photographs and graphics
24 million aerial photographs
300,000 reels of motion picture film
400,000 video and sound recordings
133 terabytes of electronic data
How cool is that! So many pieces of our history all kept so we can enjoy them.
After our baking demo and session learning about the National Archives, we headed to Carmines for a huge Italian feast. We were pretty full of chocolate but managed to make room for delicious pasta and bread! OH MY! I am still dreaming of the potato gnocchi with cream sauce...hello yum!
Sunday morning we headed back to the National Archives for an early morning tour of the building. We had the chance to see the Charters of Freedom! The Declaration of Independence, Constitution, and Bill of Rights.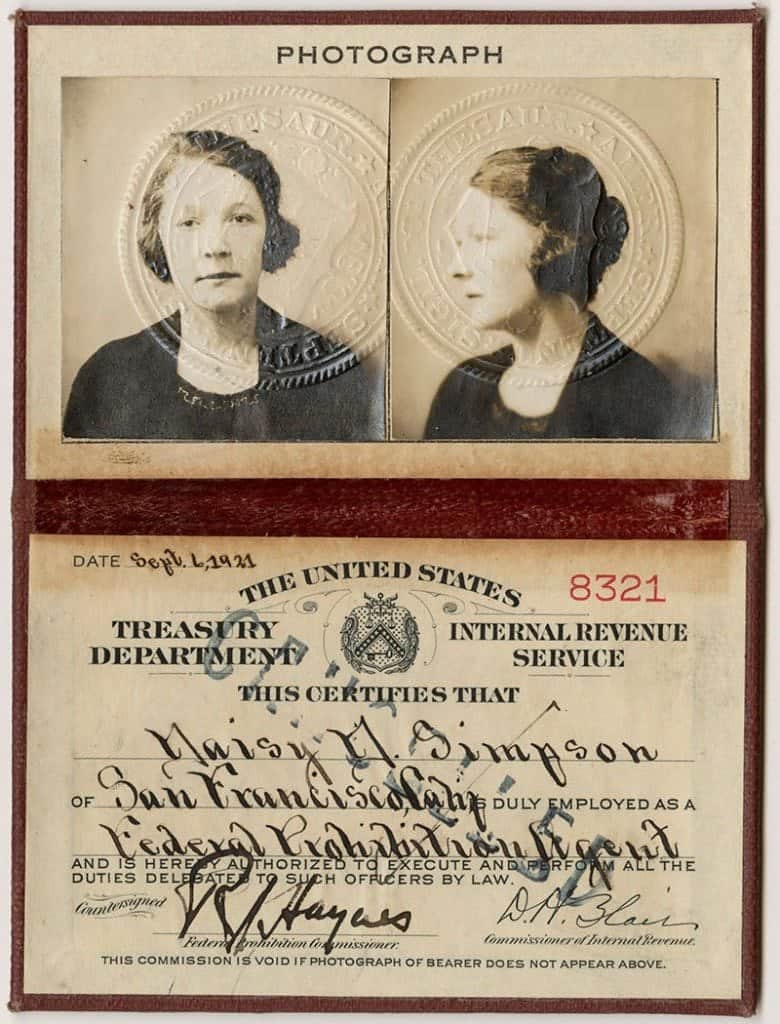 Photo courtesy of the National Archives
Part of the Spirited Republic exhibit shared the story of Daisy Simpson. She was a prohibition agent in 1921 until San Fransisco decided that women could not be agents. Daisy Simpson had one of the best records as a prohibition agent. She would walk outside of a speakeasy and pretend to pass out. When the owners carried her inside and offered her a drink to recover she would pull out her badge and shut down the speakeasy. Sadly her story does not end with accolades of how great of an agent she was. After losing her job due to being female she ended up becoming an alcoholic and going to jail. She was so depressed that she could not be an agent that she committed suicide.
This is just one of the stories you can find within the National Archives. While this one is sad it also shares with us just how far we have come as a country in the past 100 years. Looking at the exhibits was truly amazing. You can see history unfold as you walk through the Archives. Everything from immigration to prohibition and more can be found in the National Archives.
I can't wait to go back and spend at least a day or two just wandering within the National Archives. I wasn't really into history during junior high or high school. Now as an adult I find it fascinating that we still have papers dating back 800 years and you can see them on display. They are not hidden in a warehouse tucked away where we can't view them.  They are shared at the National Archives so each of us can appreciate even a small piece of our American history.
As if getting a private tour of the National Archives wasn't enough for an amazing weekend in Washington DC American Heritage Chocolate set us up on a three-hour driving tour of the city with Washington Signature Tours. If you are planning a trip to DC you have to call up Washington Signature Tours and ask for a tour with Dwayne! oh my gosh, he is a walking encyclopedia of the city and sites. I learned more from him in three hours than I probably did in all of High School. Dwayne shared with us his love of the city and the history that is on every corner of the city.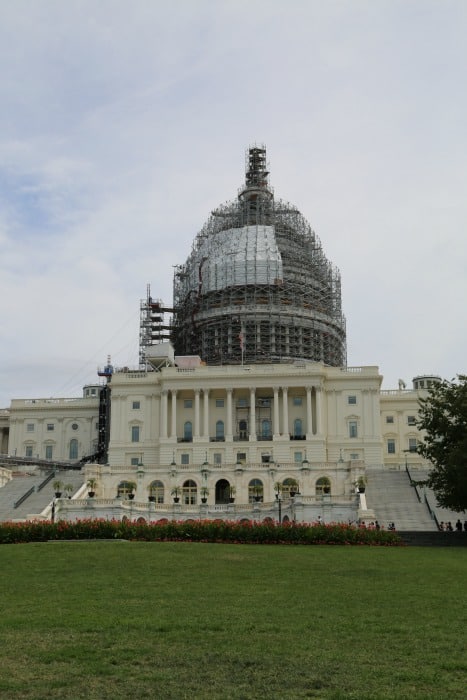 We started at the US Capital that is currently undergoing renovations. These renovations will hopefully keep the Capital looking amazing for the next 100 years.
From the Capital, we headed along the Mall area learning about the different Smithsonian museums along the way. We sadly did not have time to visit any museums during this visit, but it will happen soon!
We saw so many amazing sites in Washington DC in such a short time period. I have so many pictures to share with everyone! Keep an eye out for upcoming posts on the National Archives, Lincoln Memorial, Washington Monument, and more!
Seriously I took so many pics and learned so much I am spreading the posts out so I don't overwhelm you with photos.
Plus American Heritage Chocolate brought in Jennifer from Dove Chocolate Discoveries who was amazing. She taught us all about working with chocolate!
To find out more about American Heritage Chocolate check out the American Heritage Chocolate Website
Great Chocolate Recipes
Slow Cooker Chocolate Covered Marshmallows
Chocolate Peanut Butter Muddy Buddies
Check out all of our hot chocolate recipes and our Christmas Cocktail Recipes.
Don't miss these epic Washington DC AirBNB rentals for your next trip.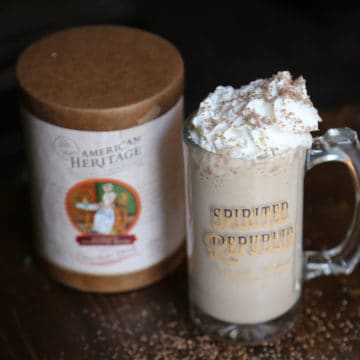 Boozy Hot Chocolate recipe
How to make delicious Boozy Frozen Hot Chocolate
Print
Rate
Ingredients
½

cup

Milk

1

cup

Water

6

spoonfuls

Coffee ice cream

½

cup

ice

1 to 1.5

Ounce

Irish Cream

or Kahlua based on preference
Instructions
Heat water in the microwave until boiling. Add in 4 tablespoon of American Heritage Drink Mix and stir until combined. Set to the side to cool

In your blender combine milk, coffee ice cream, kahlua or irish cream, and ice. Add in cooled chocolate water mixture

Blend until well combined

Garnish with whip cream and American Heritage Chocolate shavings.
Nutrition
Nutrition Facts
Boozy Hot Chocolate recipe
Amount Per Serving
Calories 663
Calories from Fat 549
% Daily Value*
Fat 61g94%
Cholesterol 2mg1%
Sodium 289mg13%
Potassium 96mg3%
Carbohydrates 30g10%
Protein 4g8%
Vitamin A 125IU3%
Calcium 105mg11%
Iron 1mg6%
* Percent Daily Values are based on a 2000 calorie diet.
We were in Washington DC on a sponsored press trip. All opinions expressed are our own. 
Recipe originally shared on December 2, 2015. Updated in September 2020