Soooo if you have an avocado in your margarita that should count as a daily vegetable right?
These Avocado Margaritas are rich, creamy and oh so good! If you love avocados your are going to love these Avocado Margaritas! Plus as a bonus you are drinking a vegetable with just a bit of tequila added to it. 🙂
I have heard that everything is better with tequila....
I was trying to think if there were any other vegetables that would make good margaritas...I am not sure how I feel about a lettuce margarita or a carrot margarita. I really don't think a pea margarita or green bean margarita would work. Can you think of any other vegetables that would make good margaritas?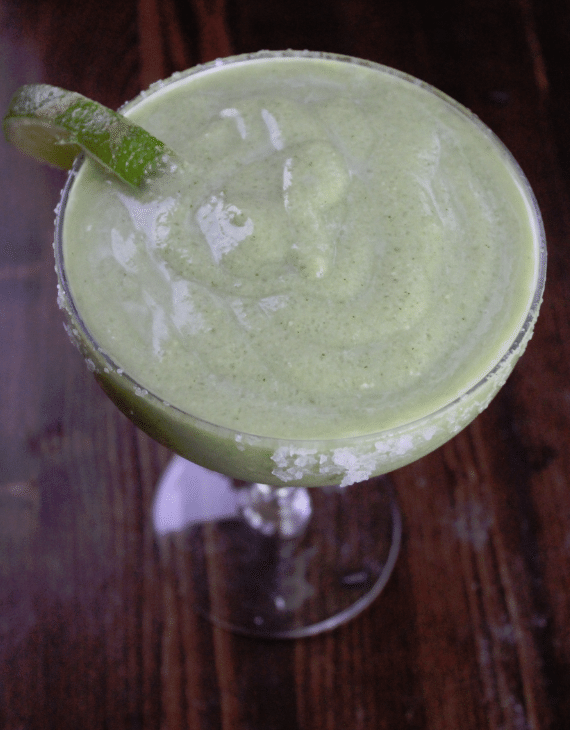 Are you ready to get blending and whip up a creamy delicious Avocado Margarita?
Avocado Margarita
1 avocado, cut into pieces
1 1/2 cups ice
3 oz. lime juice
2 tsp agave nectar
4 oz. tequila
2 oz. triple sec
3 spring cilantro
2 lime wedges, for garnish
Directions
1. Blend Avocado, Ice, Lime Juice, Agave Nectar, Tequila, Triple Sec and Cilantro in a blender until smooth
2. Serve in a margarita glass garnished with salt and lime
This Avocado Margarita is thick and luscious. I was only able to drink one of them since they are so thick and creamy. This would be the perfect margarita for a fiesta party or fun Cinco De Mayo get together.
If you love cocktails and really who doesn't check out our Cocktail section on the blog. We are fans of mixing up great cocktails and trying new drinks. Let us know if you have a favorite drink that we should try.
Recipe adapted from CookinCanuck.com