Celebrate National Tequila Day 2024 or any day with these epic Tequila Recipes! These mixed drinks with tequila are easy to make and taste great.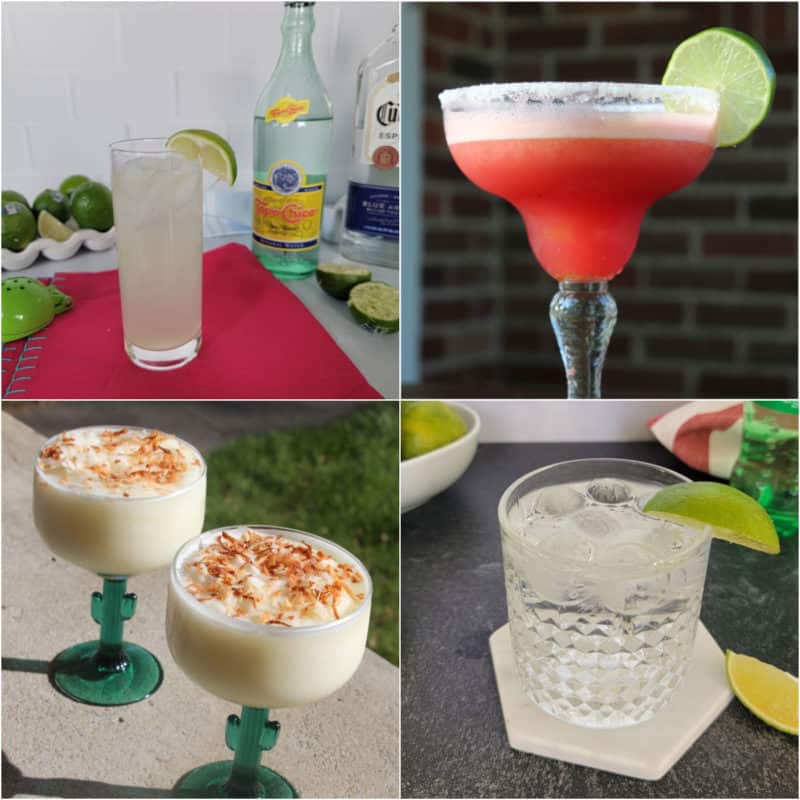 Best Tequila Cocktails
Today we are celebrating National Tequila Day! This is a holiday we can easily get behind! To help celebrate here are great recipes made with tequila! From margaritas to spiked guacamole, there is a huge variety of recipes made with Tequila.
A few years ago, I did a tequila tasting in Puerto Vallarta and learned so much about the different types of Tequila that are available.  From sipping tequilas that are smooth to taste and oh-so expensive to cheaper tequilas that are perfect for mixing in delicious cocktails, today we are celebrating them all!
These easy tequila cocktails range from margaritas to classic cocktails.
There are so many great mixers that pair well with Tequila to make an epic tequila drink.
Common Garnishes - citrus twist, salt rim, celery salt rim, olives, lime or lemon wheel, mint. or Tajin.
Common mixers - lemon juice, grapefruit soda, tomato juice, mineral water, soda water
Happy National Tequila Day 2024!!!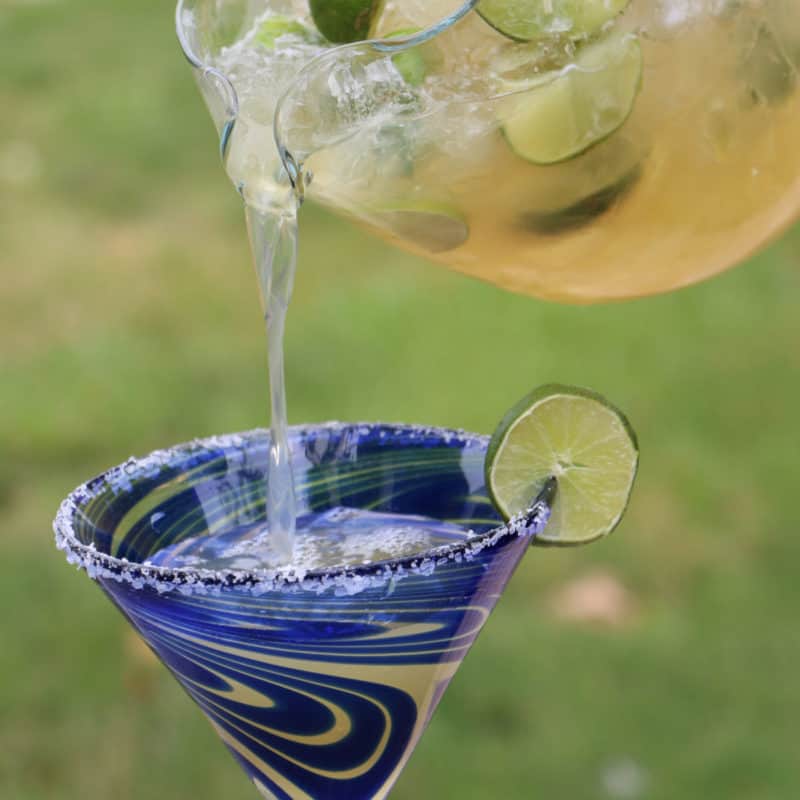 Ingredients: Lime, Corona , Chilled Tequila, Ice
Have you ever been to a party and could not decide whether you'd like to imbibe a beer or a cocktail? With this Corona-based beer margarita made in a pitcher, you won't have to choose and can choose the best of both worlds.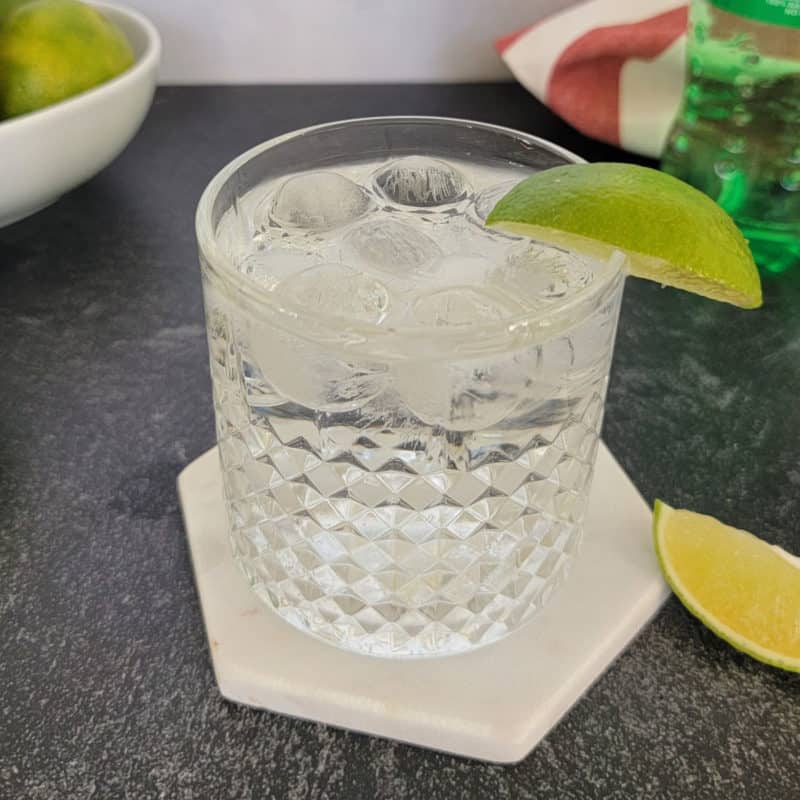 Ingredients: Silver or Gold Tequila, Sprite
This two-ingredient cocktail - affectionately called a budget margarita - gets its fizziness and lemon-lime flavor from Sprite. However, if you don't mind changing the taste, you can use any Sprite variety or flavored soda you enjoy.
Ingredients: Vodka, Tequila, Blue Curaçao
It isn't always possible to hop on a plane for the tropics, but that doesn't mean you'll need to miss out on 5 O'Clock Aloha Fridays. This cocktail with a boozy bite is mostly liquor, with a fun splash of blue curaçao for color. For the full tiki boat effect, serve it in a martini or old-fashioned glass and place a pineapple wedge on the rim.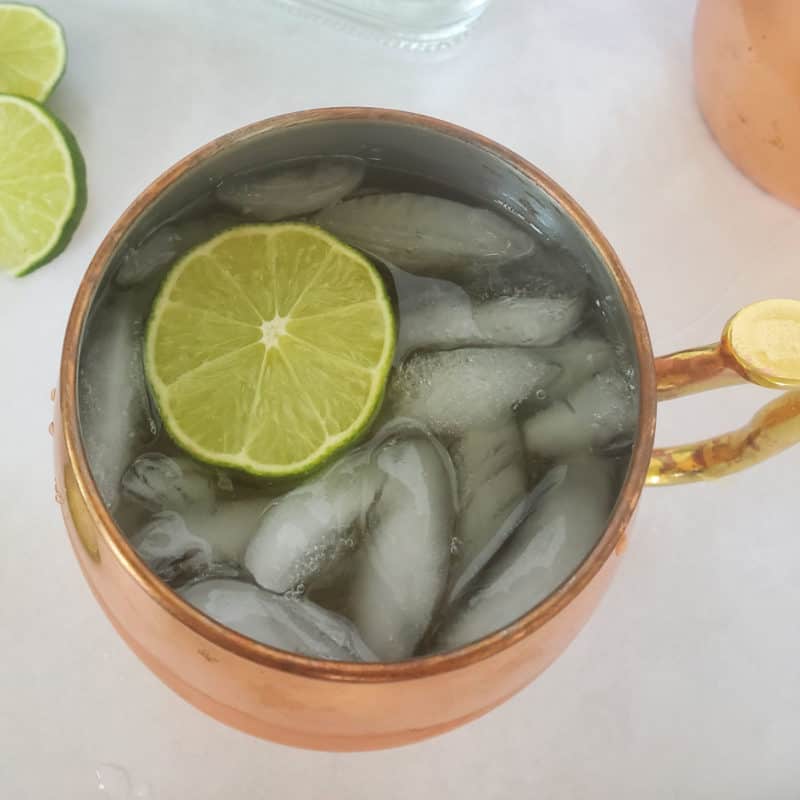 Ingredients: Tequila, Juiced Lime, Ginger Beer, Lime Wheel for Garnish
This south-of-the-border-style take on the Moscow mule swaps vodka for tequila. Spice it up by muddling some jalapeño slices at the bottom of your copper mug before adding the ginger beer.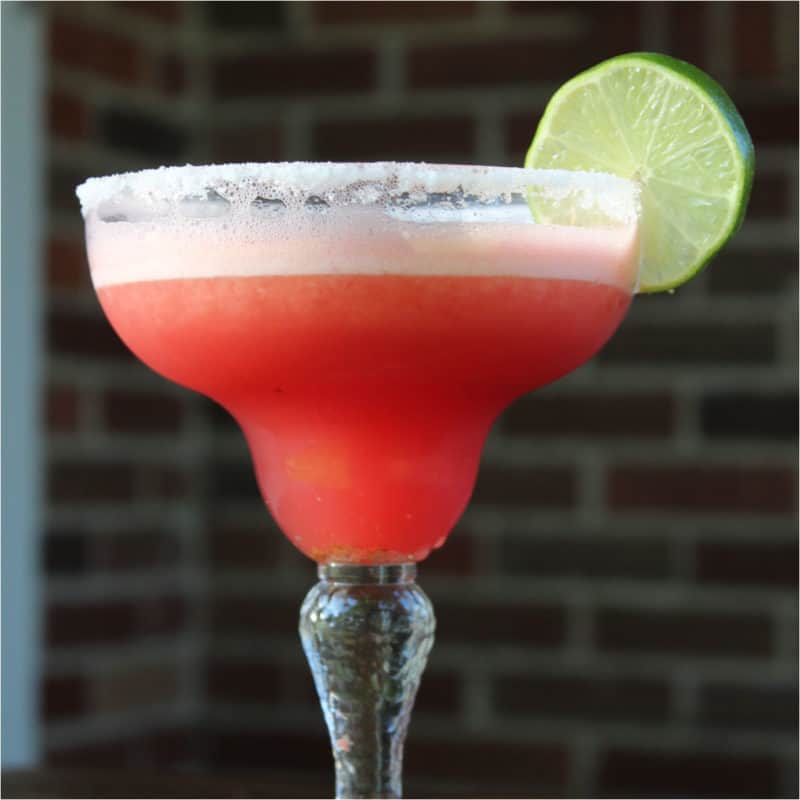 Ingredients: Watermelon Chunks, Silver Tequila, Triple Sec Orange Liqueur, Ice
In this summertime margarita recipe, ruby-red watermelon chunks add refreshment, flavor, and color. This frozen watermelon margarita is a nod to the Chili's watermelon margarita. For the complete experience, serve it in a margarita glass rimmed with lime and sugar (replace the sugar with chili spice if you like yours with a kick), and place a lime wedge on the rim.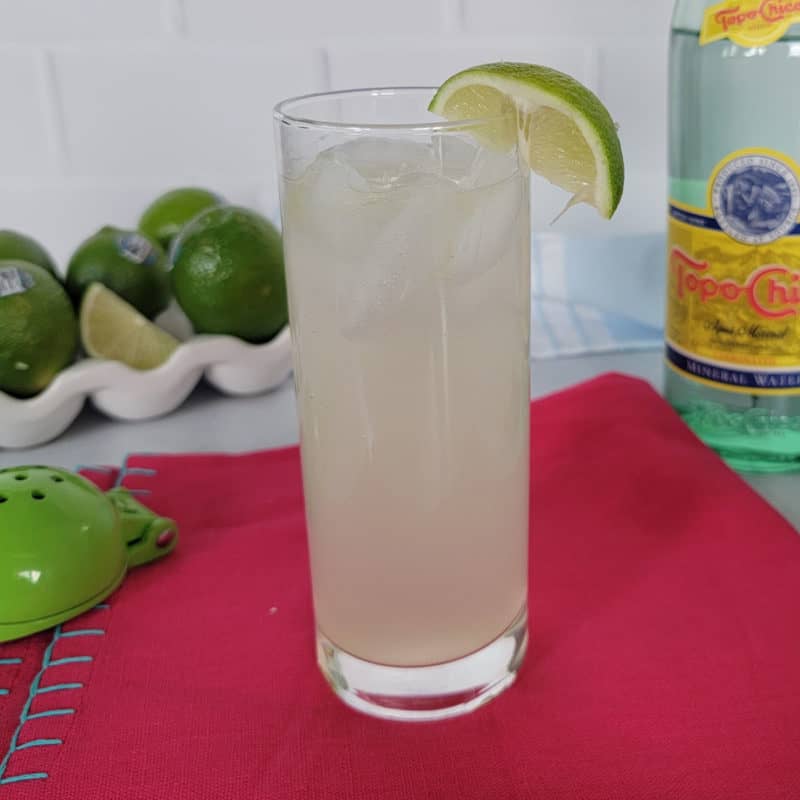 Ingredients: Tequila, Fresh Lime Juice, Topo Chico, Lime Wedge for Garnish
This West Texan margarita-inspired cocktail is made with Topo Chico for bubbly refreshment that especially hits as the weather heats up. Use your favorite tequila or mezcal in this three-ingredient drink, or add a splash of grapefruit juice to make it more like a Paloma.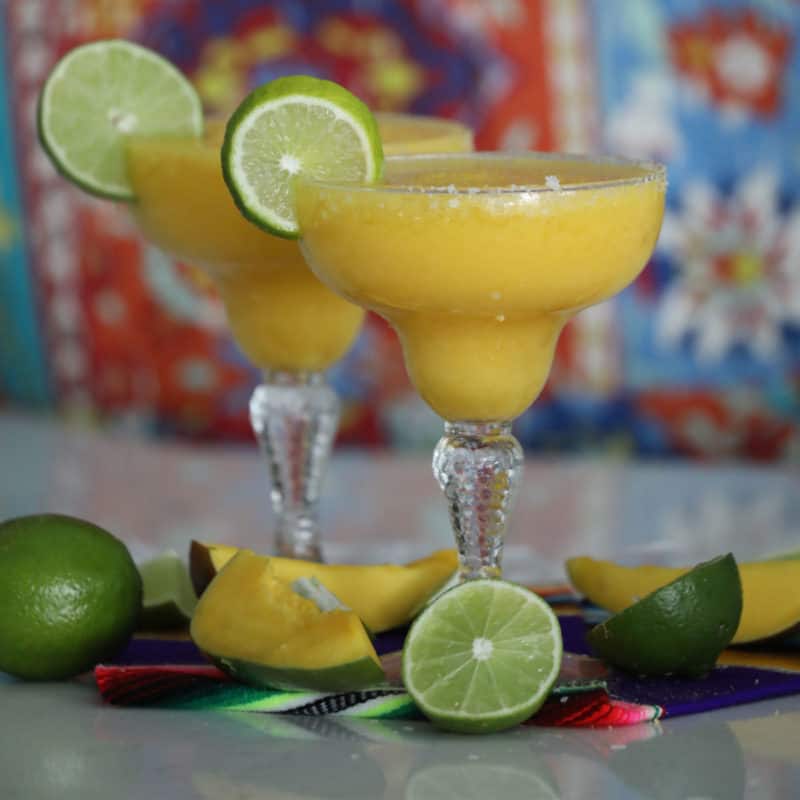 Ingredients: Tequila, Triple Sec, Frozen Mango Chunks, Ice
This toss-and-blend mango cocktail is a ray of sunshine for me whenever I want to transport myself to the tropical beachcomber paradise of Puerto Vallarta. While La Cerveceria Union, the restaurant that inspired this recipe, rims their margaritas with spicy dried red pepper flakes, we rim ours with salt to offer a milder option.
Ingredients: Fresh or Frozen Strawberries, Crushed Ice, Tequila, Fresh Lime Juice, White Sugar
These easy Frozen Strawberry Margaritas can be made ahead of time and stored in the freezer.
Ingredients: Orange Juice, Tequila, Grenadine; Orange Slice and Maraschino Cherries for Garnish
This layered cocktail looks as pretty as a Cabo San Lucas sunset and tastes just as yummy from the fruit-forward blend of orange juice and grenadine. We serve ours in a pilsner glass, adding a paper umbrella to hold the orange slice and a maraschino cherry on the rim.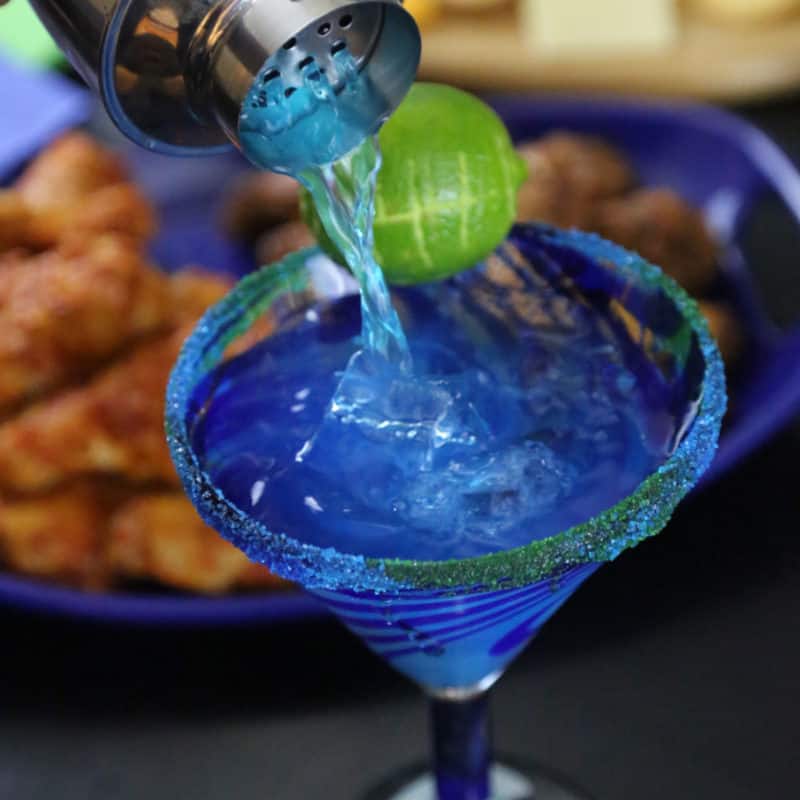 Ingredients: Smirnoff Ice Original, Tequila, Blue Curaçao, Ice, Lime for Garnish
Smirnoff Ice doesn't seem like your typical margarita ingredient. However, its natural lemon and lime flavors complement the tequila and hue-providing blue curaçao, not to mention add extra booziness to this Seattle Hawks-inspired beverage. Etching a football onto the lime on the rim is optional but makes the glass look tailgating-appropriate.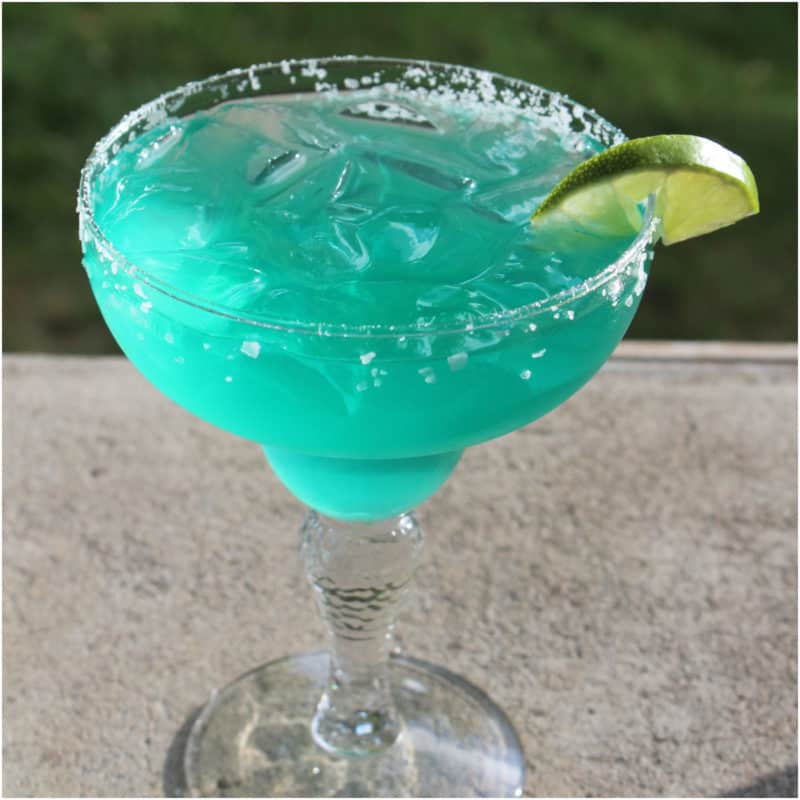 Ingredients: Silver Tequila, Triple Sec, Blue Curaçao, Sweet and Sour Mix
This blue agave margarita is similar to our Blue Margarita included above; only we swap the frozen lemonade mix for a zingy sweet and sour mix to tease out a different flavor. The agave comes from the use of silver tequila.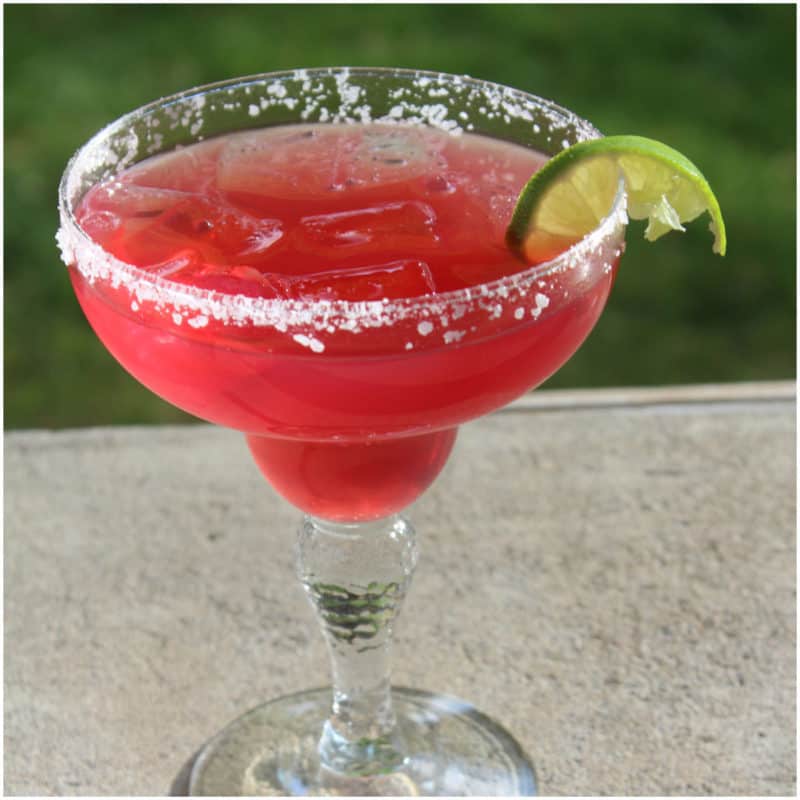 Ingredients: Silver Tequila, Triple Sec, Sweet and Sour Mix, Cranberry Juice
This copycat cocktail from Chevy's Fresh Mex, a Mexican-style restaurant chain with a killer south-of-the-border-inspired cocktail selection, features the winning combination of cranberry and orange from the cranberry juice and triple sec. Make it a meal with our spicy barbecue shrimp, grilled avocados, and this fluffy marshmallow fruit salad.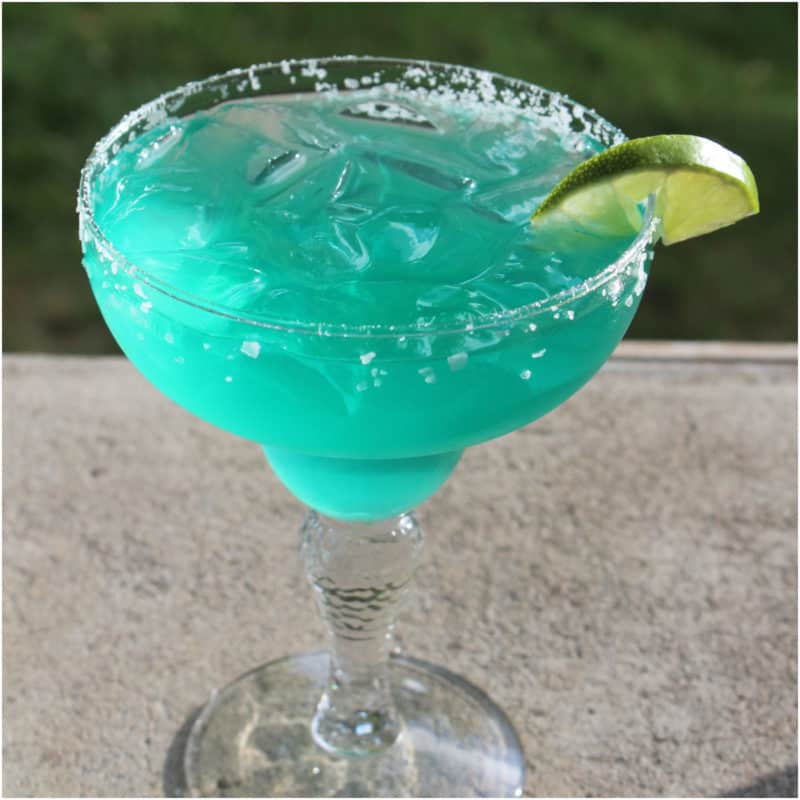 Ingredients: Tequila, Blue Curaçao, Frozen Lemonade Mix, Simple Syrup; Lime for Garnish
One of the downsides to spending lots of time in the sun is getting sunburned, which can put a damper on vacation time. While this aquamarine margarita can't save you from the sun's rays, the color and orangey sweetness from the blue curaçao will leave you feeling boozy instead of blue. Serve this ocean-blue stunner in a margarita glass or a hurricane glass.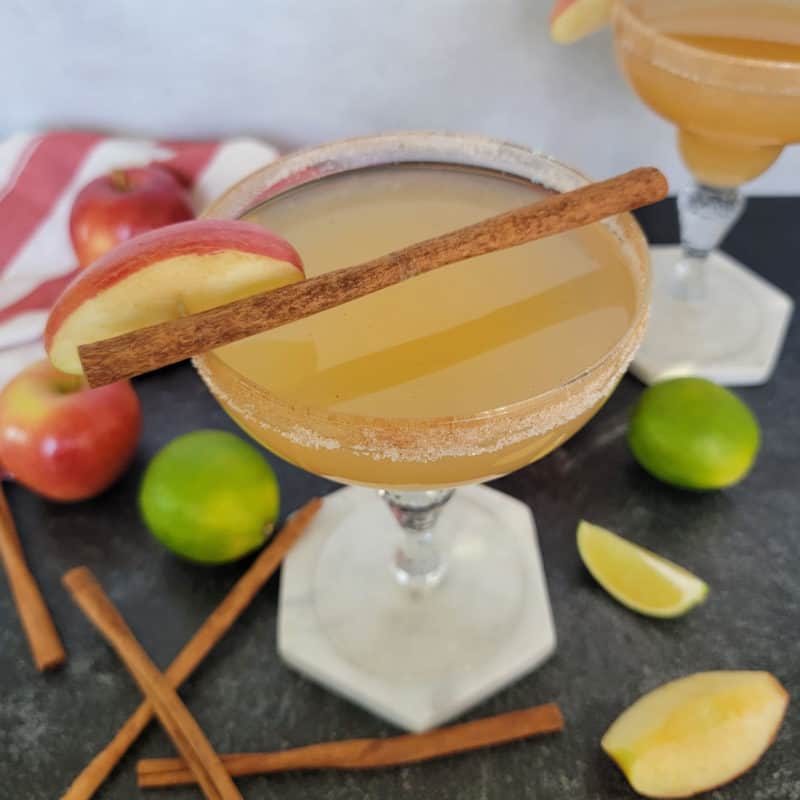 Ingredients: Tequila Blanco or Reposado, Apple Cider, Triple Sec, Cointreau, or Grand Marnier, Lime Juice; Cinnamon sugar for the rim and cinnamon sticks for garnish
This sweater weather spin on the classic margarita is flavored with apple cider and features a cinnamon sugar rim. We use apple cider instead of apple juice for the spices typically infused into apple cider. Serve this fall cocktail in a margarita glass, a rocks glass, or a mason jar for a more rustic look.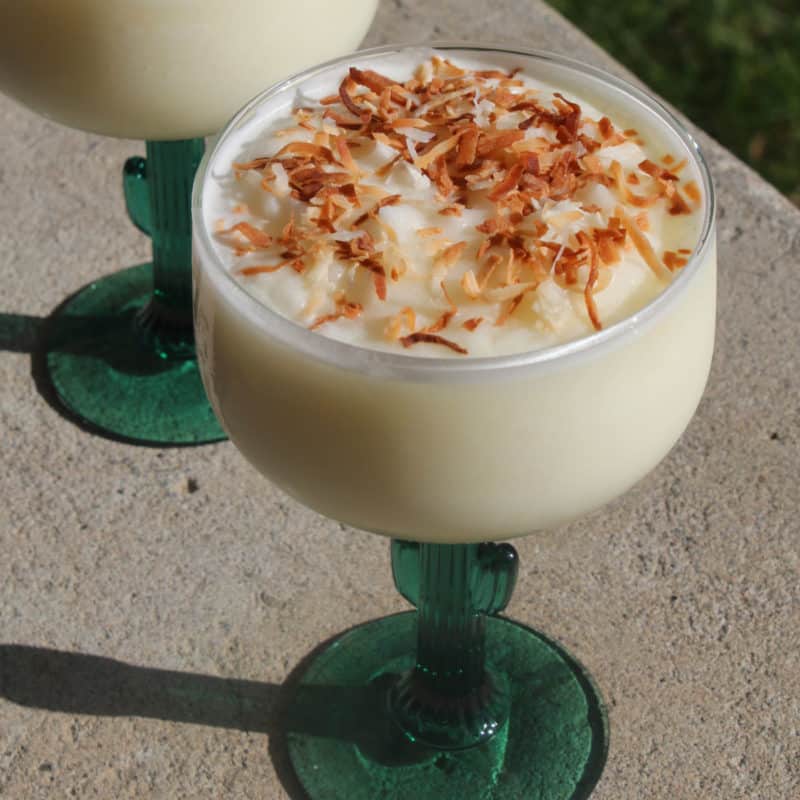 Ingredients: 0.5 cup Sweetened Coconut Flakes, 1 cup Pineapple Juice, 0.5 cup Gold Tequila, 0.5 cup Cream of Coconut, 2 Juiced Limes, 3 to 4 cups Ice
This blended pineapple-coconut sipper is another gem from the 200 Easy Mexican Recipes: Authentic Recipes From Burritos to Enchiladas cookbook. We serve ours in cute cactus margarita glasses to go with the theme.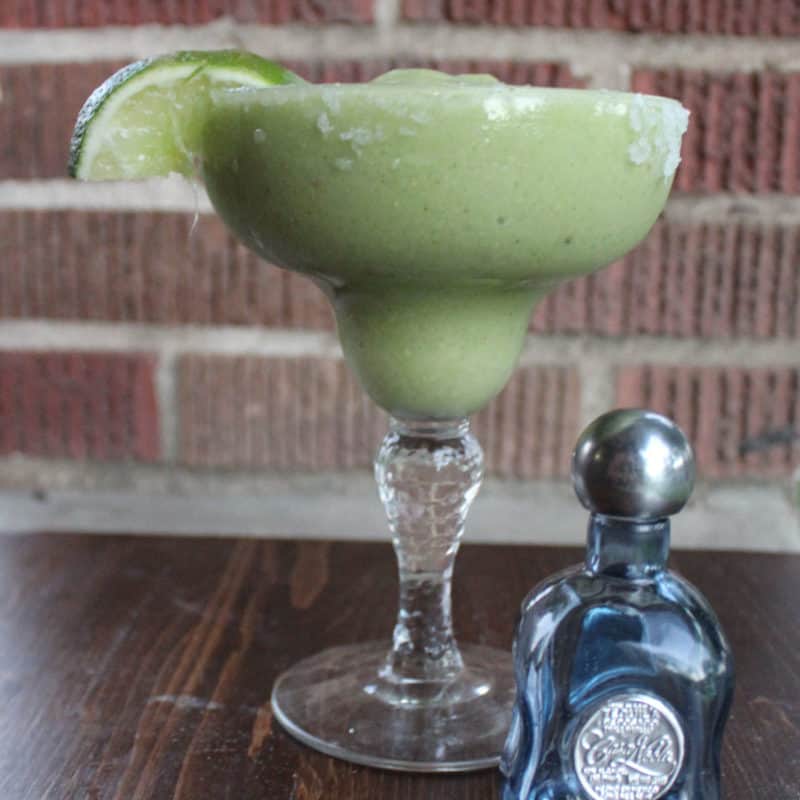 Ingredients: Avocado, Ice, Lime Juice, Agave Nectar, Tequila, Triple Sec, Cilantro;  Lime Wedges for Garnish
While you may think of avocados as a breakfast-time or salad staple, the avocado in this margarita recipe makes it extra creamy. We recommend ripe avocados, as they blend easier than firm underripe avocados.
Bloody Maria - Coming Soon
A fun twist on the Classic Bloody Mary. A bloody maria is a great mixed drink with tequila.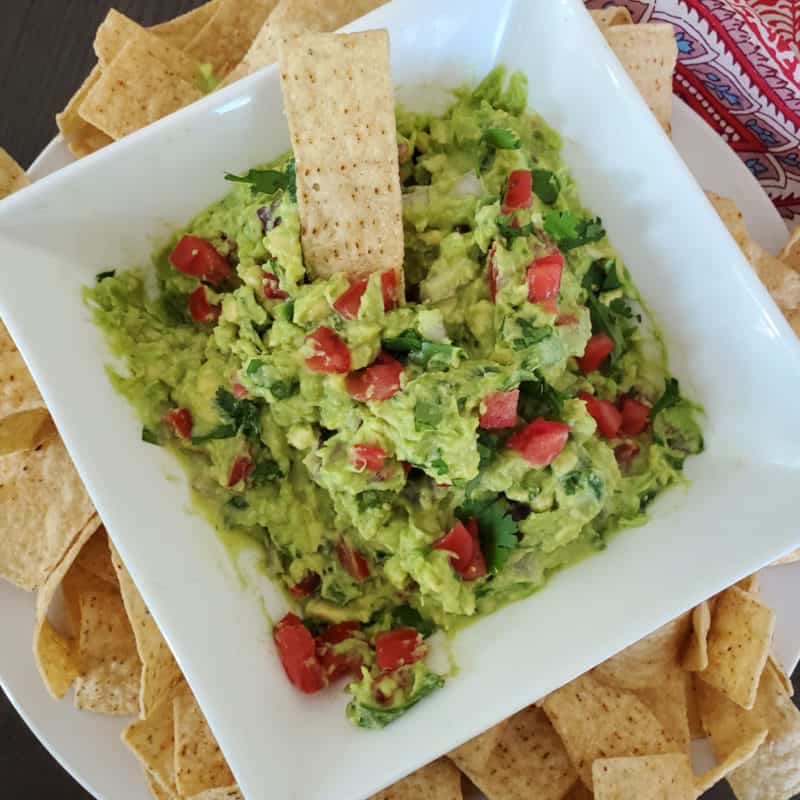 Feast your eyes on this tequila-spiked, tomato-accented spiked guacamole. We crafted this scratch-made guacamole based on the assumption that the typical mainstays in guacamole - namely lime, jalapeño, cilantro, and avocado - would pair well with tequila. In addition, we prefer the crisper, cleaner taste afforded by silver tequila.
Ingredients: Malibu Coconut Rum, Gold Tequila, Midori, Blue Curaçao, Sweet and Sour Mix, Lime Juice
Take a trip to Jamaica through this vibrant copycat version of Chili's Jamaican Paradise cocktail. The Malibu Coconut Rum and gold tequila deliver a double dose of tropical boozy bliss, while the Midori and blue curaçao create a beautiful emerald hue and melon-orange flavor.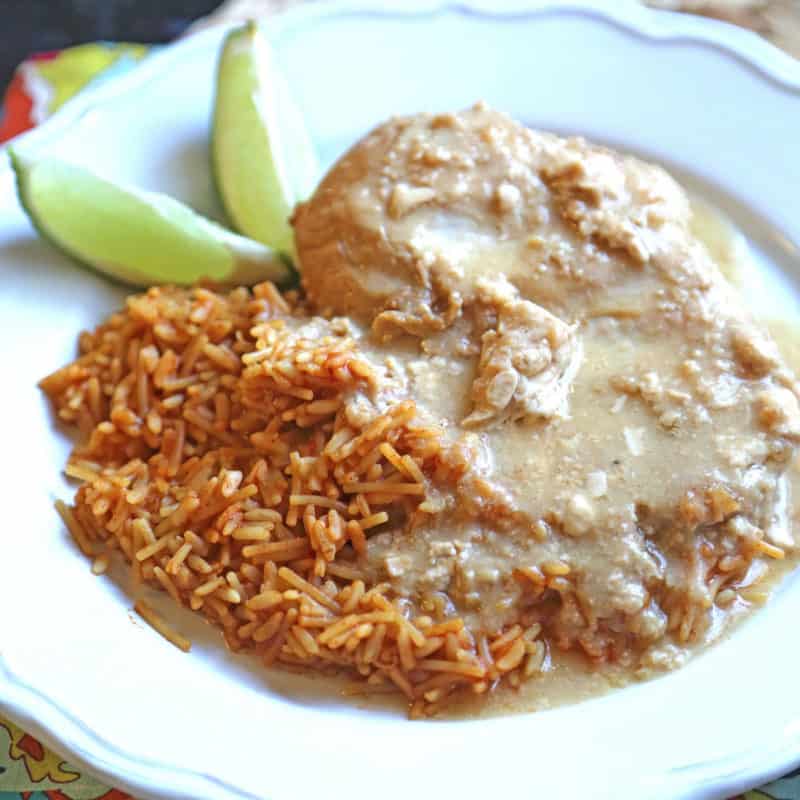 Did you know that, when combined with spices like cayenne and cumin, the ingredients in your typical margarita also make an excellent seasoning for chicken? When the alcohol in the tequila cooks off, you're left with a smoky flavor, making this Crock Pot chicken a yummy and memorable option for homemade tacos and quesadillas. Make it a meal with a helping of Spanish rice on the side.
Upcoming Tequila Cocktail Recipes include a Tequila Sour, Mexican Martini, Siesta Cocktail, tequila old fashioned, el diablo, bloody maria, and more margaritas!
When is National Tequila Day?
National Tequila Day is July 24th!
Is today National Tequila Day?
Is today July 24th then the answer is YES! If not you are just celebrating a bit early or late it is all good! We are celebrating Tequila so there really isn't a bad day for it!
What is National Tequila Day?
National Tequila Day is a day to celebrate amazing Tequila and all of the drinks you can make with it.
While National Tequila Day takes place yearly on July 24, this agave-based Mexican spirit is just as popular as an option around Cinco de Mayo. It also lends so well to sweet, savory, and bold flavors that are enjoyable year-round.
When Was Tequila Invented?
The first form of tequila was pulque, a ceremonial Aztec fermented agave wine that archaeologists documented to exist around 250 to 300 A.D. To achieve a different taste, Spanish conquistadores who arrived in Mexico in 1519 distilled the fermented agave wine in copper stills to produce a distilled agave spirit that mirrors the tequila on the market today.
The agave spirit's name comes from Tequila, a town in the Mexican state of Jalisco that became known for producing these high-quality spirits on a large commercial basis. The word tequila comes from the Nahuatl word for "volcanic rock" and refers to the dormant volcano shadowing the town.
Tequila entered the American market through the 1893 Chicago World's Fair, and by 1902, spirits made from the agave plant acquired the official designation of "mezcal." This designation would later be updated in 2005 to include agave spirits from Oaxaca.
How Tequila Is Made
There are six stages of tequila production:
Harvesting the agave from the blue agave plant
Baking the piña, or agave core, to release its sugars for fermentation
Shredding the piña to extract the sweet agave juice mosto
Fermenting the mosto with ethyl alcohol to turn it into a spirit
Distilling the fermented agave juice twice to produce a clear spirit
Aging the tequila based on the variety the manufacturer plans to make (ex., Reposed, añejo, blanco, joven, oro)
Can Tequila Go Bad?
Yes and no. According to Mezcal Rosaluna, a purveyor of mezcal available in New York, California, and Massachusetts, unopened tequila or mezcal lasts indefinitely due to its low sugar content and high yet similar ABV. In contrast, wine has a high sugar content and ages rapidly. Once opened, a bottle of tequila or mezcal has a shelf life of about a year.
Will Tequila Freeze?
While tequila can freeze, it is unlikely that you'll have to contend with this agave-based spirit freezing on you. The recommended temperature for a freezer is 0°F, or -18°C. In contrast, a 40 percent ABV tequila bottle freezes under temperatures of -10°F, or -23°C.
Tequila vs. Mezcal
Mezcal may seem like the new kid on the block. However, according to experts, mezcal describes any spirit derived from the agave plant, while tequila falls under the branch of mezcal beverages in the same way that bourbon is a type of whiskey.
Taste-wise, the two spirits are distinct. Tequila has a crisper, agave-forward flavor, whereas mezcal is known for its smokiness.
Types of Tequila
These are the main types of Tequila - Blanco, Reposado, Añejo, Extra Anejo
Blanco Tequila - aged up to two months, called silver tequila
Reposado Tequila - aged between two months and one year
Añejo Tequila - aged one to three years
Extra Añejo - aged a minimum of three years
Cristalino - Aging varies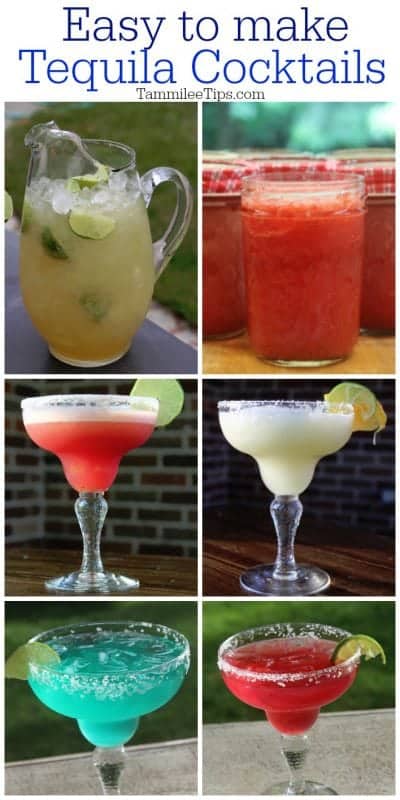 Great Cocktail Tools
2 ounce shot glasses - We love these 2 oz shot glasses especially for layered shots.
Bar Spoon - Bar spoons help to create layers in the cocktail shot. They fit perfectly into the cocktail shot glass.
Cocktail Shaker – This cocktail shaker comes with a fantastic set of tools
Stemless Martini Glasses - These stemless martini cocktail glass are fantastic.
Martini Glass - We like the look of the classic martini glass
Jell-O Shot Cups - We suggest using two-ounce Jell-O shot cups.
OXO angled jiggers - these are our go-to measuring tools for cocktails. They work perfectly for pouring in layers for cocktails.
Margarita Glasses - We like the look of classic margarita glasses but you can use any glass for this great cocktail.
Copper Mule Mugs  - Copper Mule Mugs are the classic way to serve Moscow Mules. The copper mugs keep them nice and cold and look amazing. Check out all of our Moscow Mule Variations.
Great Cocktail Recipe Collections
Funny Cocktail Names - From Duck Farts to Nutty Irishmen, this funny drink names collection will have you giggling and finding tons of great new cocktails to enjoy!
Blue Curacao Cocktails - Epic Guide to Blue Curacao Drinks, including bright blue martinis, cocktails, and shots.
Grand Marnier Cocktails - we have answered your most important questions about this premium French liqueur and shared our favorite Grand Marnier Cocktails.
Fireball Cinnamon Whisky - Epic Guide to Fireball Cinnamon Whisky! This cinnamon-flavored whiskey has become one of the most popular mixers to use.
Cocktails with Grenadine - One of the most popular mixers for cocktails and mocktails. How to mix with it, what it tastes like, and how to use it.
Easy Vodka Cocktails - Check out these great easy vodka cocktails that taste fantastic.
Check out all of our Cocktail Recipes
Do you love recipes? Check out our copycat recipes, dessert recipes, and our CrockPot Recipes.
Follow Tammilee Tips on MSN, Facebook, Instagram, and Pinterest, for all of our recipe posts.