Easy Green Cocktails you can make at home! Whether you are looking for a St. Patrick's Day Cocktail or just celebrating the color green we have the cocktail recipe you are looking for!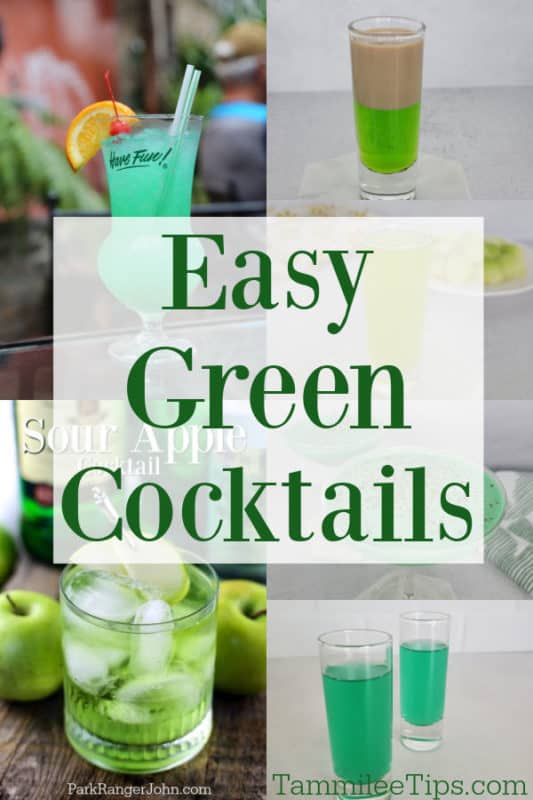 Green Cocktails
Whatever the occasion you will love these green cocktails. They range from neon green to muted green so you can decide how bright green you are going for.
Green Liqueurs used include:
Midori is a sweet, bright green-colored, muskmelon-flavored liqueur made by Suntory. It is manufactured in Japan, the United States, Mexico, and France.
Absinthe
Absinthe is an anise-flavored spirit derived from several plants, including the flowers and leaves of Artemisia absinthium, together with green anise, sweet fennel, and other medicinal and culinary herbs. Absinthe has been called the green fairy.
Chartreuse
Chartreuse is a French herbal liqueur available in green and yellow versions that differ in taste and alcohol content.
The liqueur has been made by the French Carthusian Monks since 1737.
Green Crème de Menthe
Crème de menthe is a sweet, mint-flavored alcoholic beverage. It is available commercially in a colorless version and a green version.
Green vegetables used include mint leaves, avocado, cucumber, jalapenos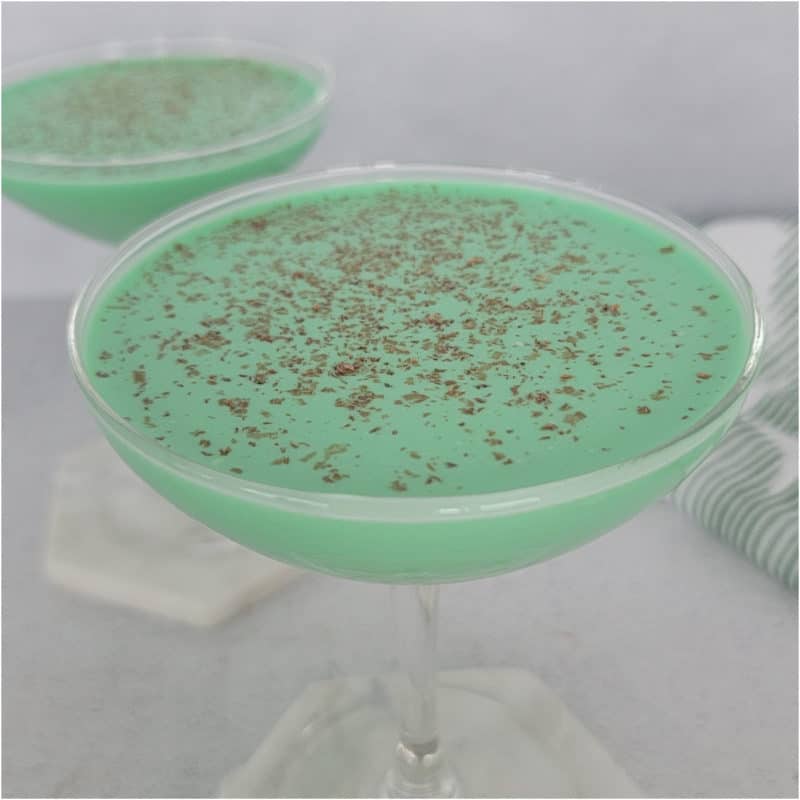 Ingredients: Creme de Menthe, Creme de Cacao, Heavy Cream

Classic Grasshopper Drink is a minty chocolate green drink made with Crème de Menthe, Crème de Cacao, and cream. This is the perfect
St. Patrick's Day cocktail
, after-dinner drink, or fun party drink.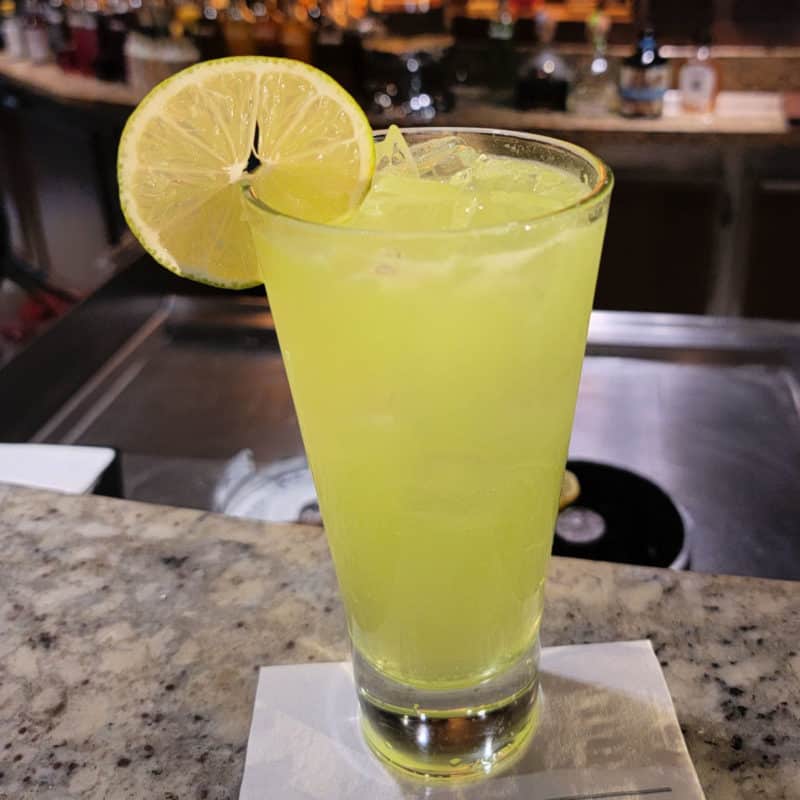 Ingredients: Vodka, Gin, Rum, Midori Melon Liqueur, Absinthe
The Quick Fix Cocktail combines vodka, gin, rum, Midori, and Absinthe to make a drink you won't soon forget.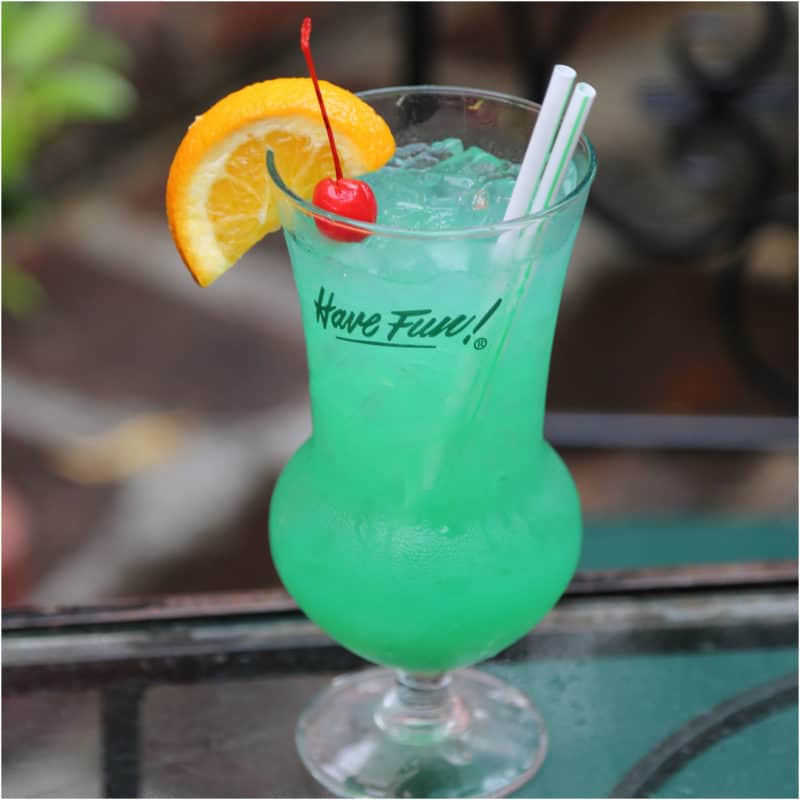 Ingredients: Peach Schnapps, Blue Curacao, Vodka, Orange Juice, Pineapple Juice
The Fuzzy Leprechaun is the perfect St. Patrick's Day cocktail! It is bright green and tastes amazing!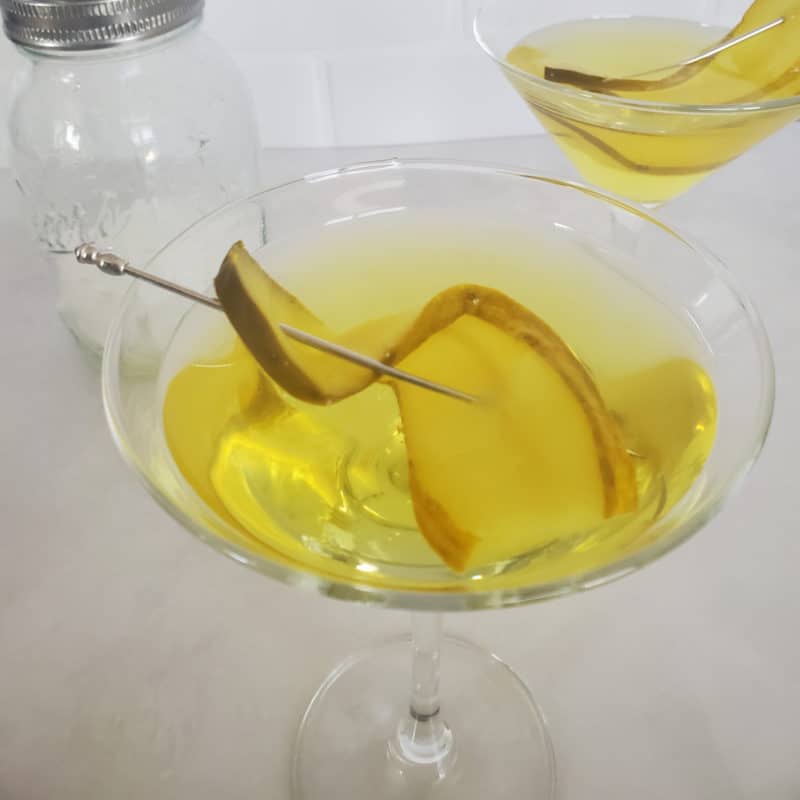 Ingredients: Dill Pickle Juice, Vodka
Dill Pickle Martini is one of those cocktails you either love or don't know what to think. LOL! This easy pickle martini recipe is a fun party cocktail.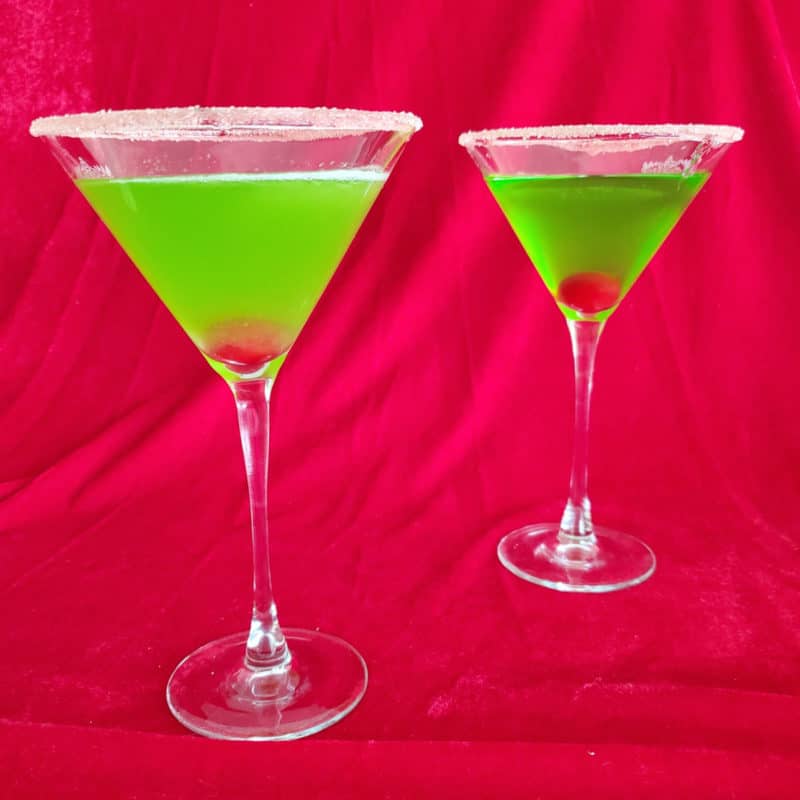 Ingredients: Midori melon liqueur, Pineapple Juice
This boozy Grinch Drink is perfect for Christmas holiday parties! Sweet, fruity, flavorful and so easy to make!
You can make this into a punch if you want to make a crowd happy. We love this Christmas Cocktail Recipe.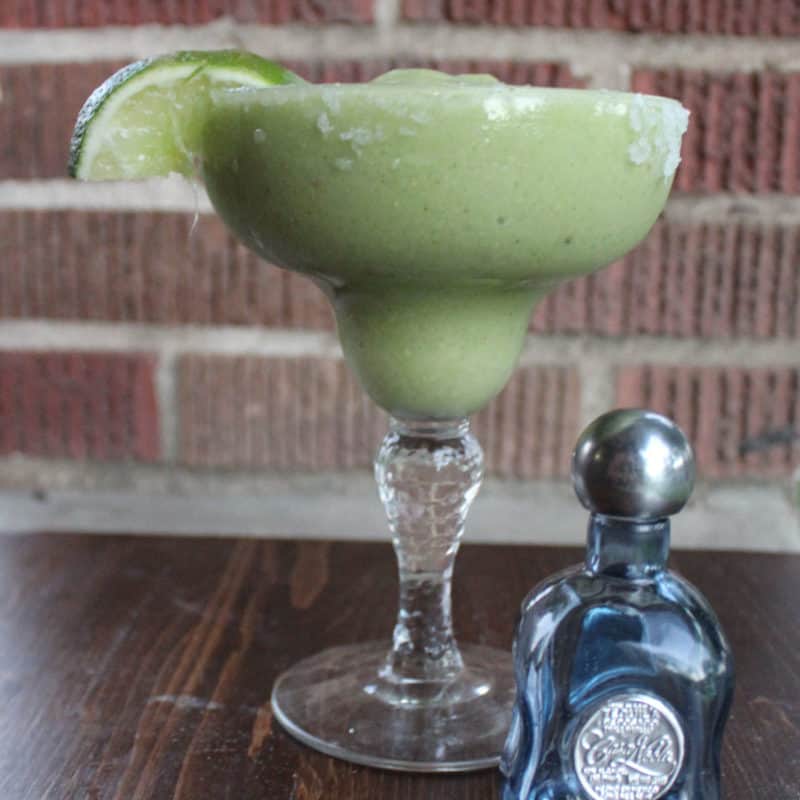 Ingredients: Avocado, Lime juice, Agave nectar, Tequila, Triple sec  - you could also use Cointreau, Cilantro
If you love avocados your are going to love these Avocado Margaritas! Plus as a bonus, you are drinking a vegetable with just a bit of tequila added to it.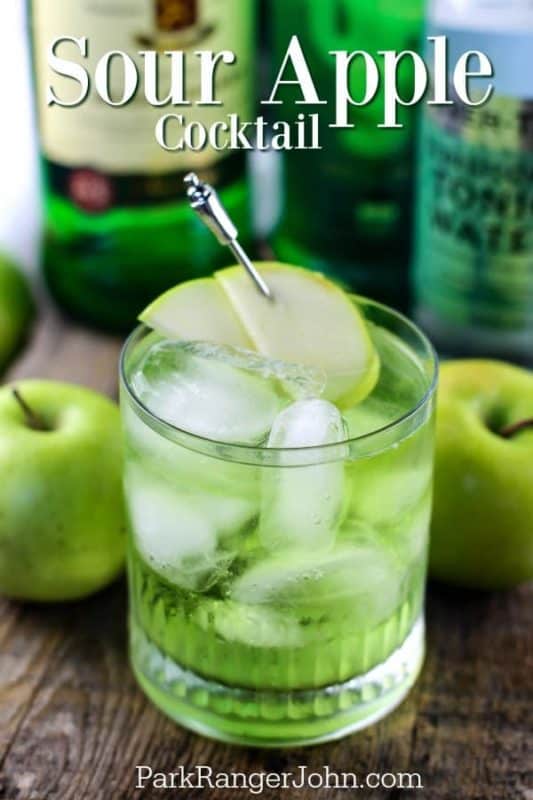 Ingredients: Jameson Irish Whiskey, Sour Green Apple, Elderflower Tonic Water
Easy to make Irish Sour Apple Cocktail Recipe great for St. Patricks Day, Fall or any day of the week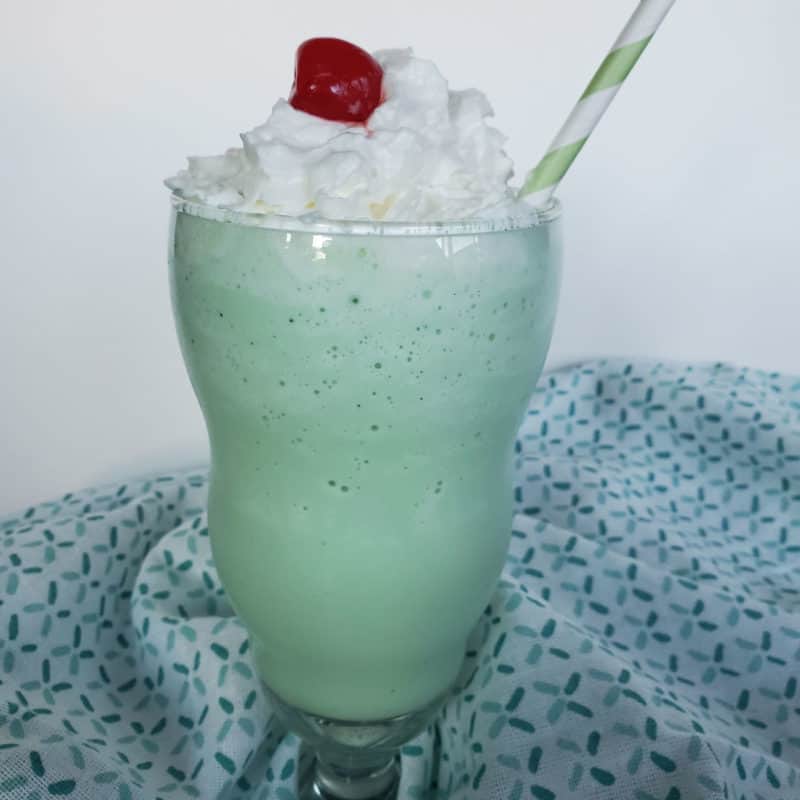 Ingredients: Vanilla Ice Cream, Milk, Green Food Coloring, creme de menthe
Epic Copycat McDonald's Shamrock Shake Recipe you can make all year round. This mint milkshake can be made any day of the year but is perfect for celebrating St. Patrick's Day.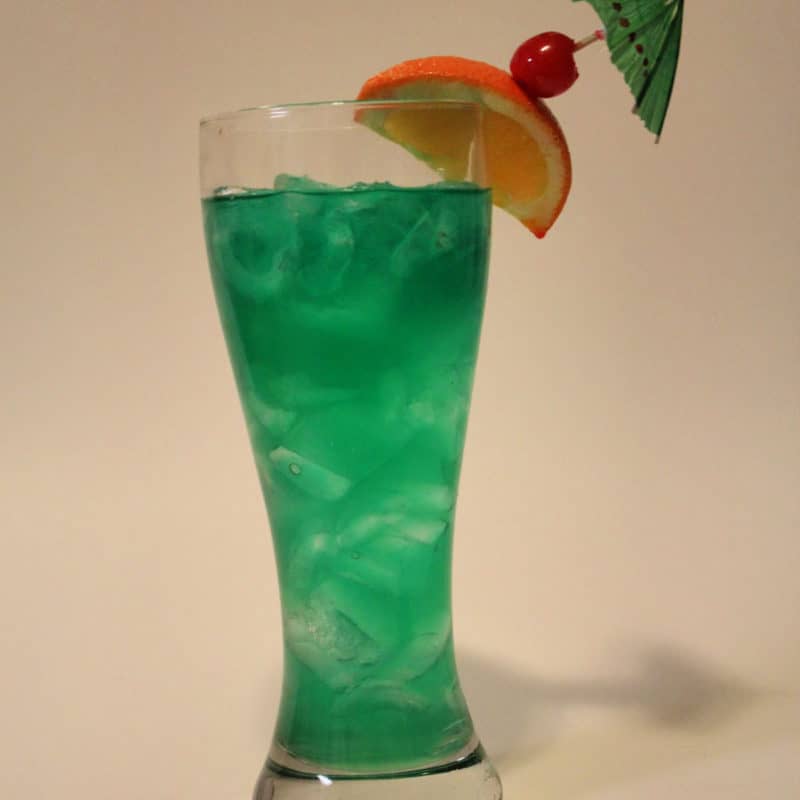 Ingredients: Malibu Rum, Gold tequila, Midori, blue curaçao, Sweet and Sour, Rose's Lime Juice
This copycat Chili's Jamaican Paradise is a delicious green tropical cocktail. Super easy to make and tastes amazing.
Green Beer
Ingredients: Light Beer, food coloring
A St. Patrick's Day classic you may be surprised at how easy it is and what you use to make a green beer.
Green Cocktail Shots
These green cocktail shots are easy to make and taste great. They range from full green shots to layered shots.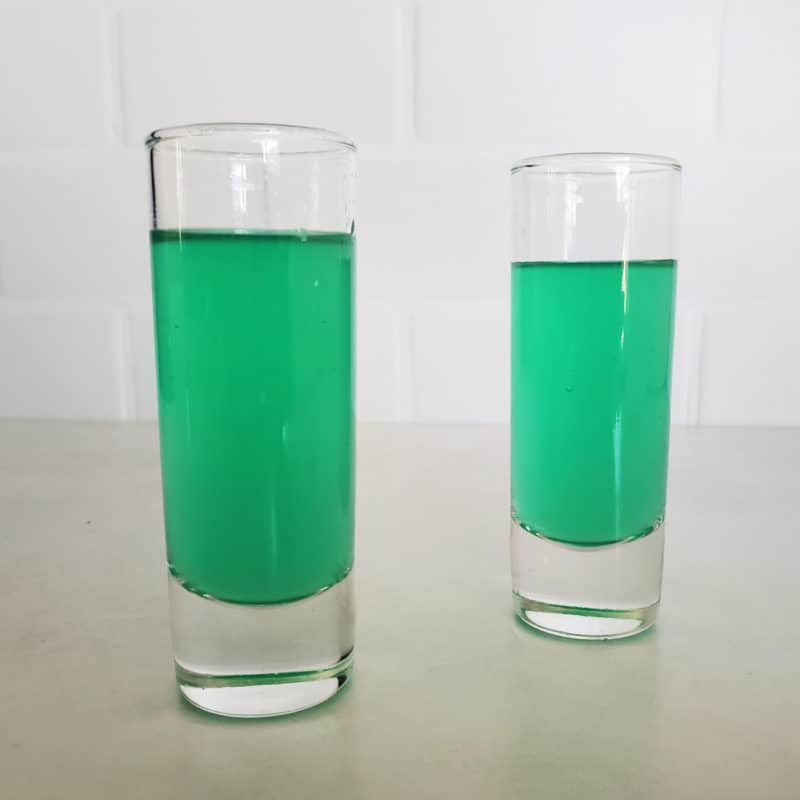 Ingredients - Spiced Rum, Midori Liqueur/Melon Liqueur, Blue Curacao, Malibu Coconut Rum, Sweet and Sour, Pineapple Juice
Liquid Marijuana Drink is a bright green cocktail shot that is perfect for party shots or a tiki party. The gorgeous green color makes this one of our favorite fruity cocktails.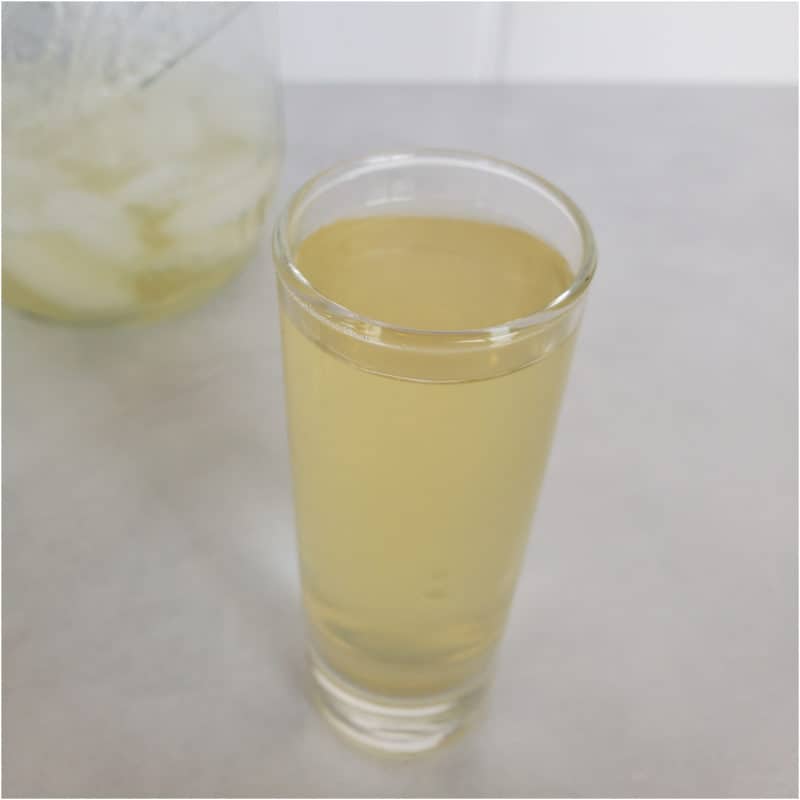 Ingredients: Jameson Irish whiskey, peach schnapps, sour mix, lemon-lime soda
Green Tea Shot is a mix of four ingredients including Jameson whiskey, peach schnapps, and sour mix with lemon-lime soda. There is no green tea in this alcoholic drink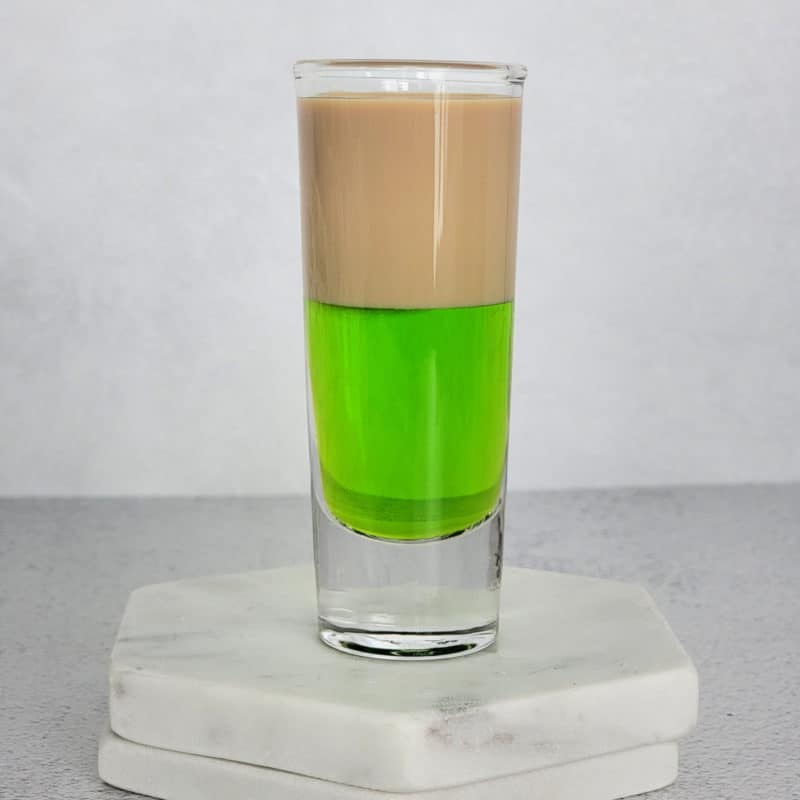 Ingredients: Midori Melon Liqueur, Baileys Irish Cream
This Irish Frog Shooter is a layered cocktail shot perfect for St. Patrick's Day. The combination of Midori Melon Liqueur and Baileys Irish Cream is great.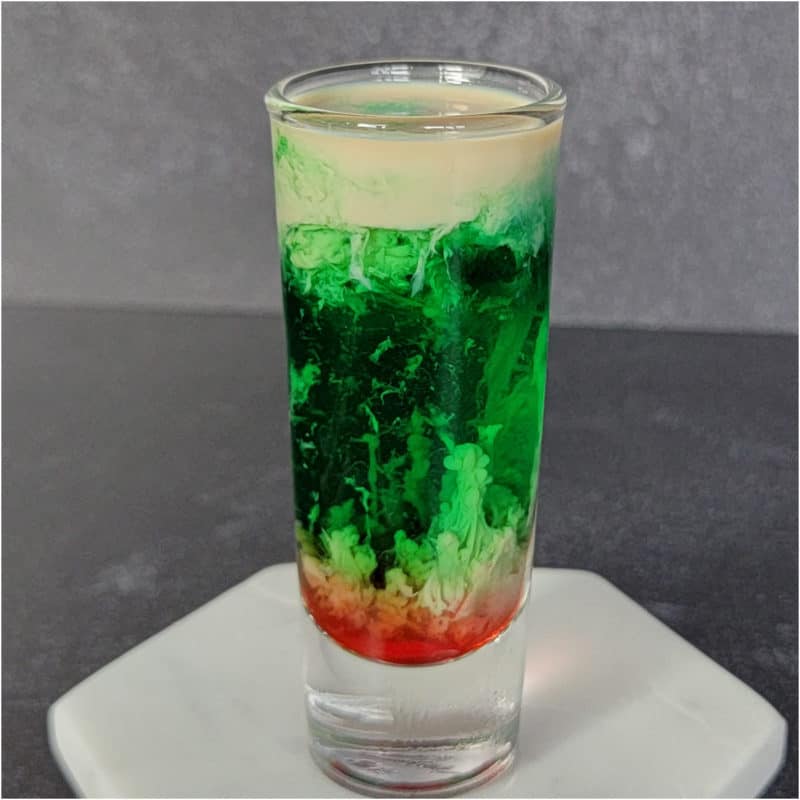 Ingredients: Peach Schnapps, Creme de Menthe, Bailey's Irish Cream, Grenadine
This Zombie Brain Shot recipe is the perfect Halloween Drink! The swirling zombie brains in this creepy drink are a crowd-pleaser.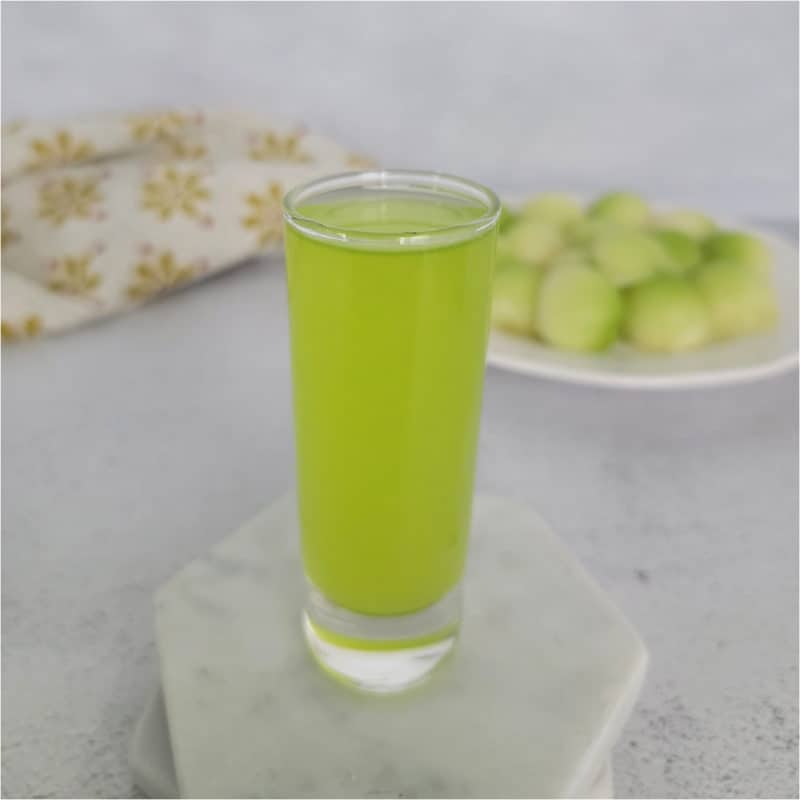 Ingredients: Vodka, Midori, Pineapple Juice
Easy Melon Ball Shot Recipe made with vodka, Midori melon liqueur, and pineapple juice. This easy vodka shot has a great tropical flavor with the Midori and pineapple flavors added to it.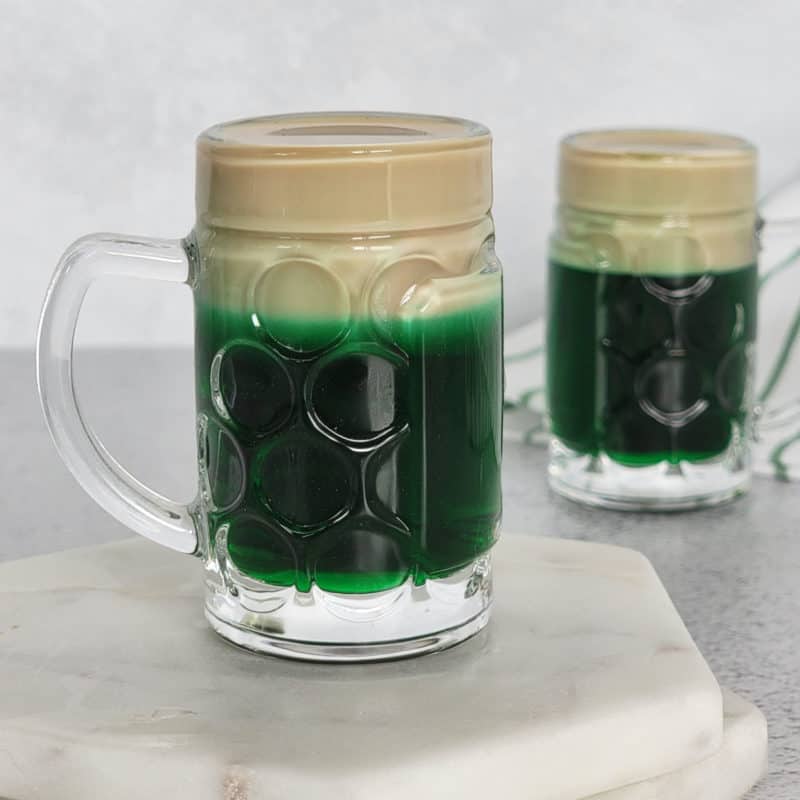 Ingredients: Green Crème de Menthe, Bailey's Irish Cream
A fun layered green beer in a mini beer shot glass. Super fun for St. Patrick's Day parties!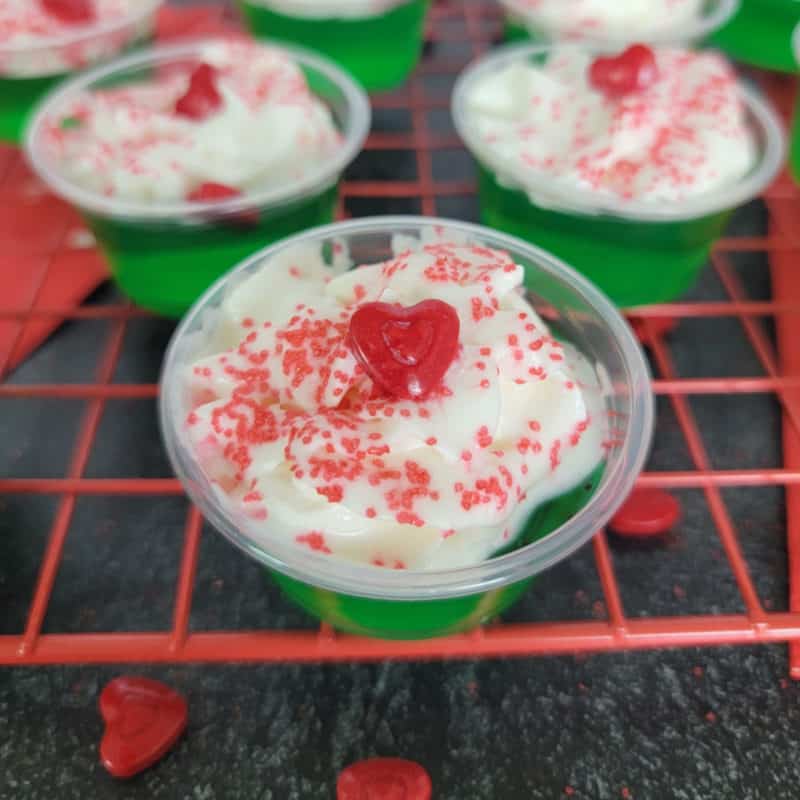 Ingredients: Green Jello, Vodka
Super fun Grinch Jell-O Shots perfect for holiday parties! So fun! The perfect Christmas Cocktail!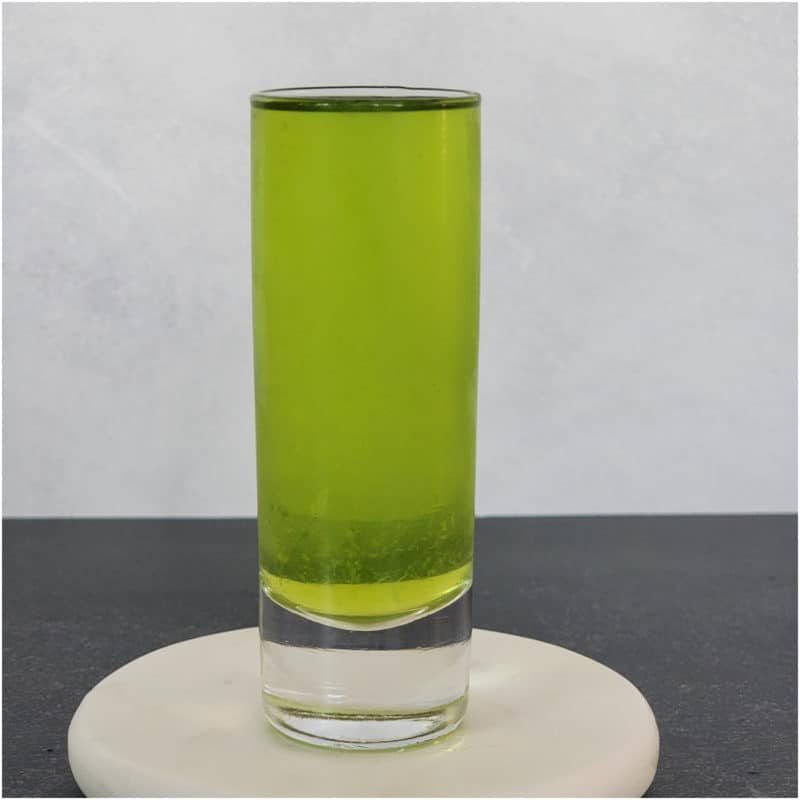 Ingredients: Amaretto, Midori, and Lime Juice
This fun green cocktail shot takes seconds to prepare and tastes great. Perfect for golf parties or events.
Cocktail Tools
Ice Cube maker - This ice cube maker produces the most amazing cubes of ice perfect for cocktails. It easily fits in the freezer and you can make up to 3 trays of round-ball ice at a time.
2 ounce shot glasses - We love these 2 oz shot glasses, especially for layered shots.
Bar Spoon - Bar spoons help to create layers in the cocktail shot. They fit perfectly into the cocktail shot glass.
Cocktail Shaker – This cocktail shaker comes with a fantastic set of tools
Stemless Martini Glasses - These stemless martini glasses are fantastic.
Jell-O Shot Cups - We suggest using two-ounce Jell-O shot cups.
OXO angled jiggers - these are our go-to measuring tools for cocktails. They work perfectly for pouring in layers for cocktails.
Margarita Glasses - We like the look of classic margarita glasses but you can use any glass for this great cocktail.
Hurricane Glass - For a truly tropical look serve this drink in a hurricane glass.
Copper Mule Mugs  - Copper Mule Mugs are the classic way to serve Moscow Mules. The copper mugs keep them nice and cold and look amazing. Check out all of our Mule Drinks.