Prior to our trip to Bali, we had multiple people tell us how amazing the spas are on the island and how we had to experience a Balinese massage. We were so excited to travel to Bali and try out as many spa experiences as we could. Spa experiences in Bali range from massage parlors on every corner to 5-star hotel experiences. We tried out a variety of options during our visit.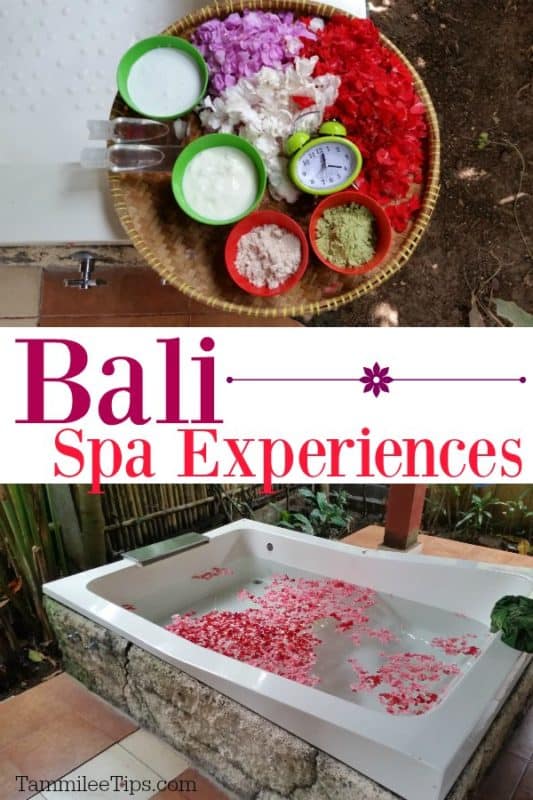 Bali Spa Experiences
The first spa experience we had was on the beach in Legian. Well, sort of a spa experience we had a pedicure and manicure right on the beach from some beach peddlers. I was a bit scared when I agreed to the pedicure but figured I would see what it was like. One thing we didn't realize was when we agreed to the pedicure and manicure the beach peddler would call over 3 of her friends. All of a sudden we had 4 women working on us at one time. I must say that my feet looked amazing by the time they were done. They smoothed out all of the rough edges and painted cute frangipani flowers on my toes.
One word of warning so you do not experience what we did. Each of the women expected to be paid the original agreed upon rate with the 1st person. We paid the first person and then gave a small tip to each of the other woman. They were not happy and badgered us pretty relentlessly for additional money. To the point that they were patting my husband's pocket with his wallet and demanding cash. We ended up giving them a bit more and leaving the beach. While the pedicure and manicure looked good I am not sure I would do the experience again unless I made sure each person knew the agreed-upon rate and we shook on it.
Our first massages were at a local massage parlor directly across from our hotel in Legian.  An hour massage costs 50,000 Indonesian Rupiah or $3.86 US! YES, $3.86 an hour! One thing to know is this was not a fancy spa. When we walked in there was a small child sleeping on one of the massage beds. The "rooms" were portioned off areas with a cover for a door. The massage beds were made with PVC pipes and one wooden one. This was a very rustic spa experience but dang did they do a good job.  One of the rooms my Husband went into had a hole in the floor straight down to the dirt. The place was rustic but they did a great job.   We had both a 60 minute and a 90-minute massage here. A few things we learned that we wanted to make sure and share is that modesty is not huge in Bali. They do offer a towel to drape over yourself but don't be surprised if they lower your underwear to really work your lower back and if your chest is exposed.  During the 90 minute massage the massage got a little more personal you could say. My Husband said that his groin area was worked over quite well without fully exposing his important parts.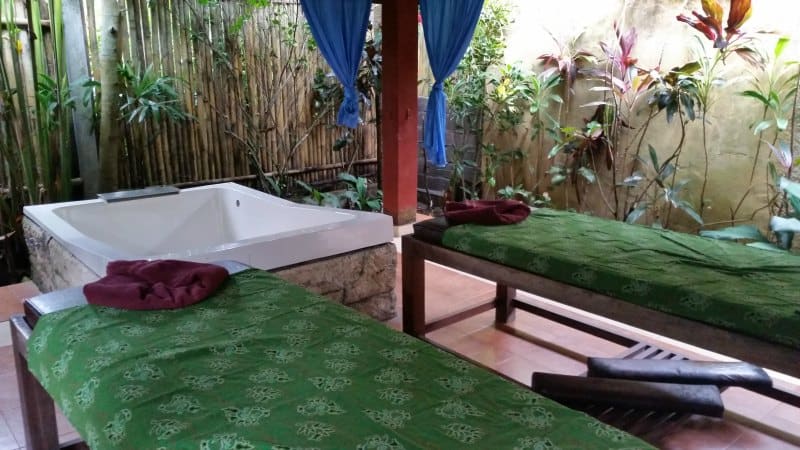 We also tried out the spa in Ubud at the Anniraki hotel. We sampled a couples stone massages, chocolate body scrub, essential oil massages, and Jacuzzi. Each of these massages was amazing. The Jacuzzi was a bit scary honestly. It looked like a washing machine going with waves flowing over the top. I was laughing so hard that I couldn't even stay in the tub. The water was moving so much that it turned super cold quickly.
I have to re-iterate that there is not a lot of modesty in the spas that we visited. The masseuse hung out right next to us while we stripped down to our underwear and laid on the table. My Husband walked over to ask them a question wearing his underwear thinking he would just stick his head out the door and they walked back in with him and had a 15-minute conversation with us. I was wrapped in a towel during this time. It was quite an interesting experience.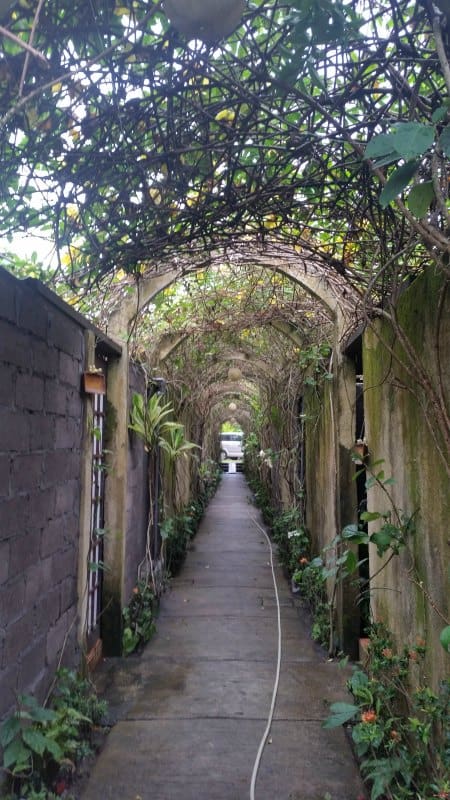 During our stay in Ubud, we also visited the Sedona Spa a short walk from the Anini raka hotel. We were able to walk in without an appointment and be seen within about 5 minutes. We opted for a coffee scrub and Bali fruit scrub. These were both amazing! The Bali fruit scrub literally had chunks of lime, papaya, and other fruit in it. I felt like I was being scrubbed with a fruit basket.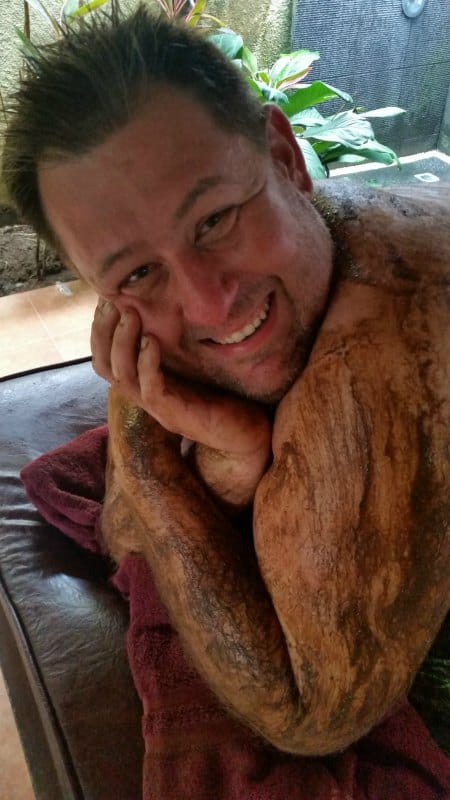 John had the coffee scrub and his entire body looked like it was covered in brown mud. After the scrub, you wash off in an outdoor shower and then enjoy a 20-minute soak in a flower-filled tub. A few things you should know going into this experience. During the scrub, my entire chest was exposed and scrubbed. There is little to no modesty during these scrubs. The male masseuse that was working on John was in the room and right next to me. During our outdoor showers, the female masseuse cleaned the room and prepared the bath. They do provide you with throw away underwear so you do not have to worry about getting your underwear dirty. If you are plus size these may be a bit snug or not fit at all. You may want to bring a second pair of underwear that you can wear back to your hotel afterward since the first pair may be soaked from the scrub.
The massages and spa treatments we experienced were absolutely amazing. We can't wait to visit Bali again and sample additional spa experiences.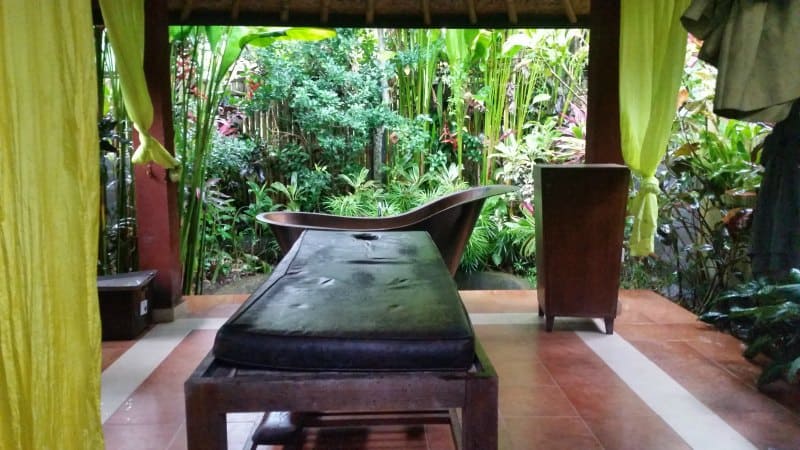 Additional Bali Travel Articles
Saraswati Temple - Ubud
Check out all of our Bali Travel Guides