Today I am excited to share Spokane Donut Shops you need to try! It feels perfect that this week is national doughnut day so we all should celebrate with a sweet bit of fried dough.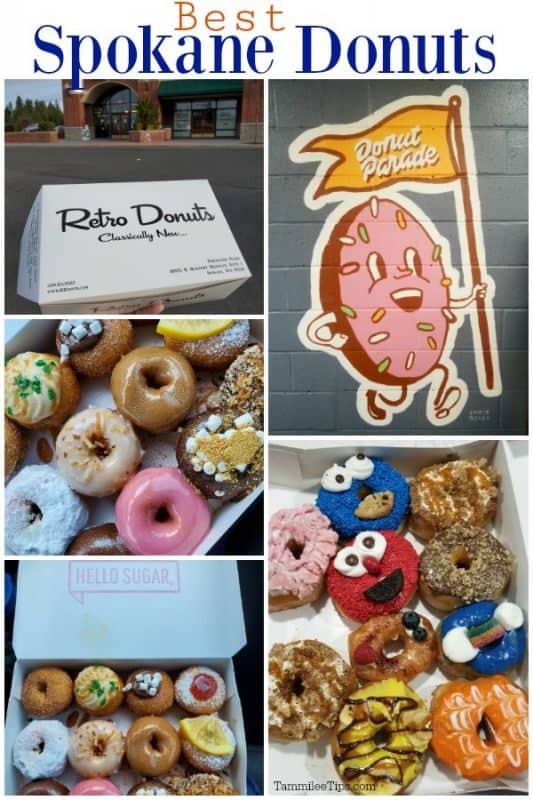 Best Spokane Doughnut Shops
I am going to admit that we had a great time researching this post. LOL! We are trying to share more about Spokane and our home town. We have made it our mission to get out of the house more and try to visit as many local restaurants and businesses as we can.
Spokane has changed and evolved so much in the 15+ years I have lived here. I love that there are now so many great options for doughnuts in Spokane. Don't get me started on how many I tried to make sure we were bringing the best Spokane doughnuts to you in this post.
We love how kid-friendly these Spokane donut shops are and how many different ways you can enjoy fried dough.
If you are looking for a larger breakfast than just donuts make sure to check out our Best Breakfast in Spokane guide.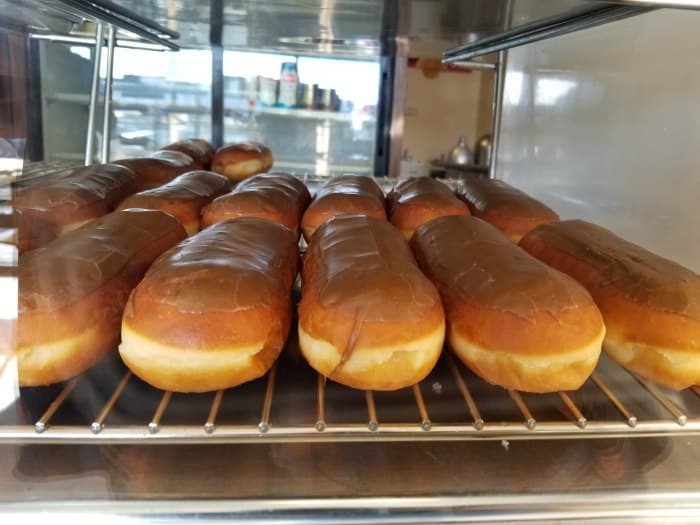 Donuts to Go
Donuts to Go is the oldest consecutively running donut shop in Spokane! They are family-owned and known to sell out early so you will want to get there as soon as you can.
They normally sell out by 9 am but you can call in your order. On the weekends they offer fun different doughnuts. This is a doughnut shop in Spokane that you will want to get to as early in the morning as you can to have the best availability.
Address - 7009 N Division St, Spokane
Phone - (509) 467-6403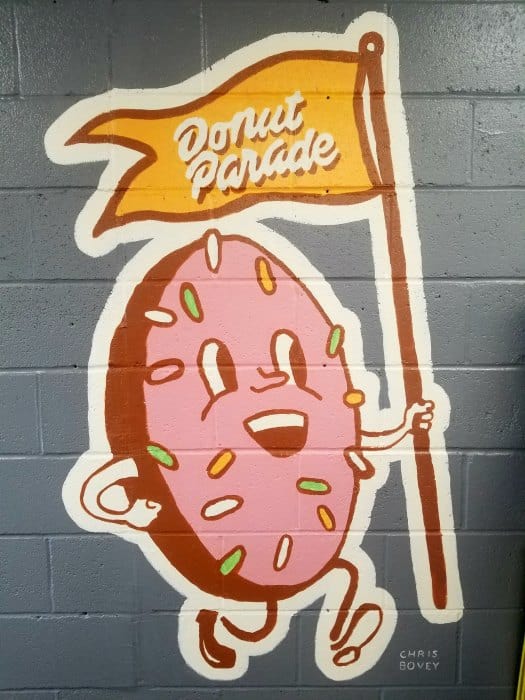 Donut Parade
Donut Parade opened with new owners in March of 2019. They are known for their maple bars. If I am being honest the current maple bars are not quite what they used to be but I have faith as they work the kinks out they will get better and better.
Randomly I spent a few months years ago working at Donut Parade. It was my first and only experience in the foodservice industry and I am so impressed with anyone who can own and run a restaurant.
Address - 2152 N. Hamilton St.
Phone - (509) 473-9870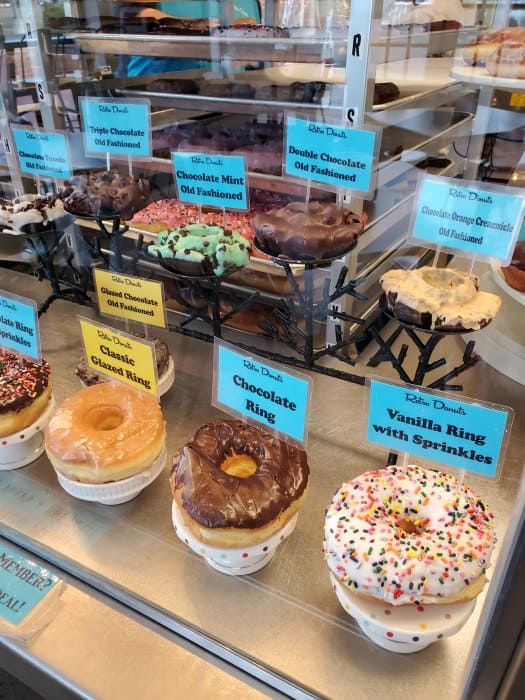 Retro Donuts
Located in North Spokane Retro Donuts has an amazing selection of Doughnuts. You do not want to miss the Canuk Creme! A maple coated doughnut stuffed with Bavarian cream....yes please!
Address - 10925 N. Newport Highway
Phone - (509) 315-9502
Casual Fridays
Casual Fridays used to be the zombie doughnut shop but changed to a more refined coffee shop look a few years ago. They are open the longest hours of any doughnut shop in Spokane so you can get your sweet fix in the afternoon.
Located on Division St. they are easy to find and have a great selection of doughnuts.
Address - 3402 N. Division St., Spokane
Phone - (509) 328-1764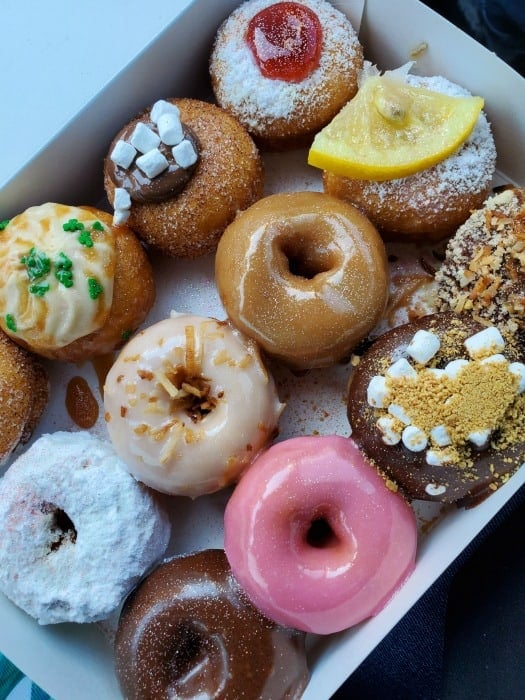 Hello Sugar
Hello Sugar is located in Kendall Yards and has a new location in the Spokane Valley and Liberty Lake. They offer the cutest mini doughnuts you will see in Spokane!
Their menu rotates frequently with seasonal flavors. Make sure to check out their holiday and specialty menus! I love that they have themed mini doughnuts for Harry Potter, Star Wars, and more. They amaze me with their creativity.
Kendell Yards Address - 419 N. Nettleton St.
Spokane Valley Address - 11205 E. Dishman Mica Rd.
Liberty Lake Address - 1950 N. Harvest Parkway Liberty Lake
Phone Number - (509) 868-0475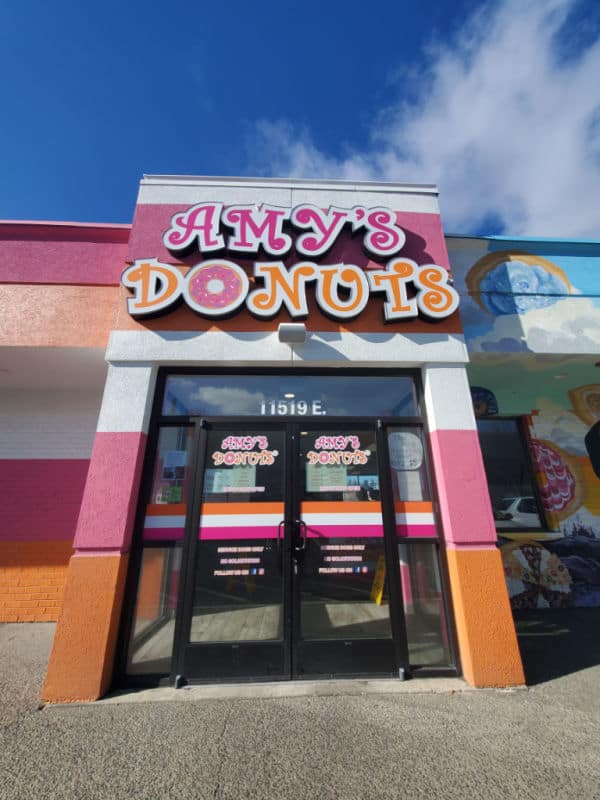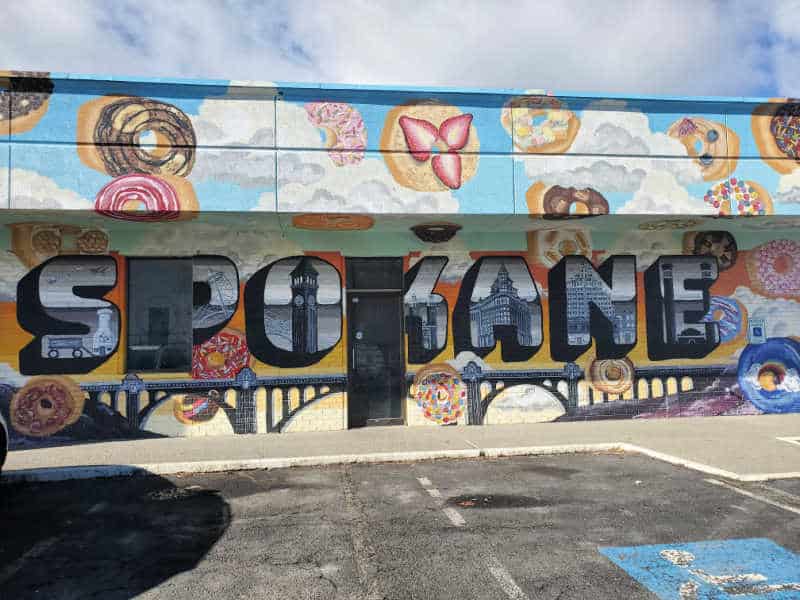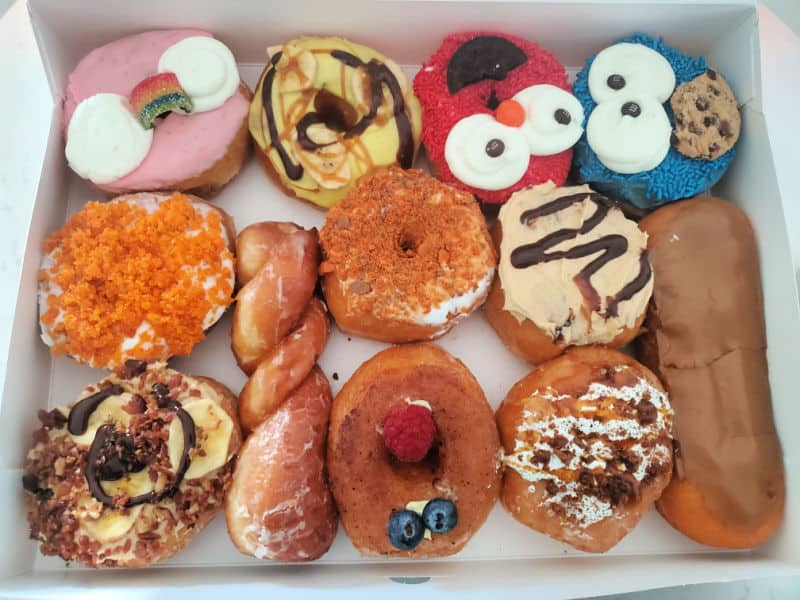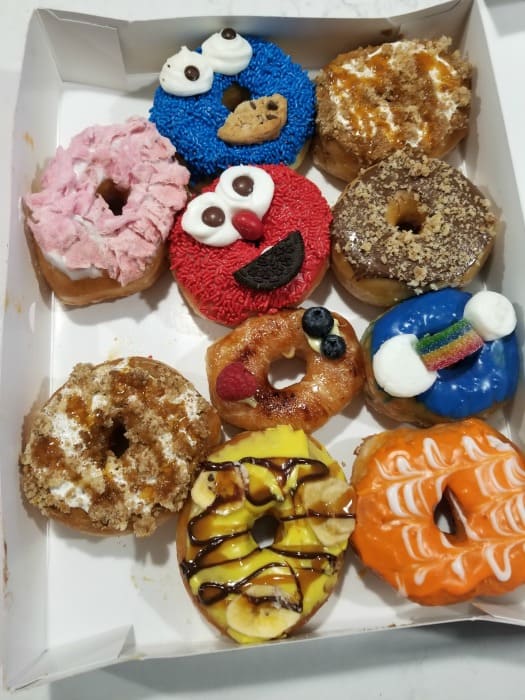 Amy's Donuts - Closed
Unfortunately, Amy's Donuts has closed permanently in the valley.
Amy's is a chain of doughnut shops but we are still including them since they have a huge variety of options. They are located in Spokane Valley on Sprague Avenue. You can't miss their epic murals on all sides of the building.
Address - 11519 E. Sprague Ave. Spokane Valley
Phone - (509) 862-4391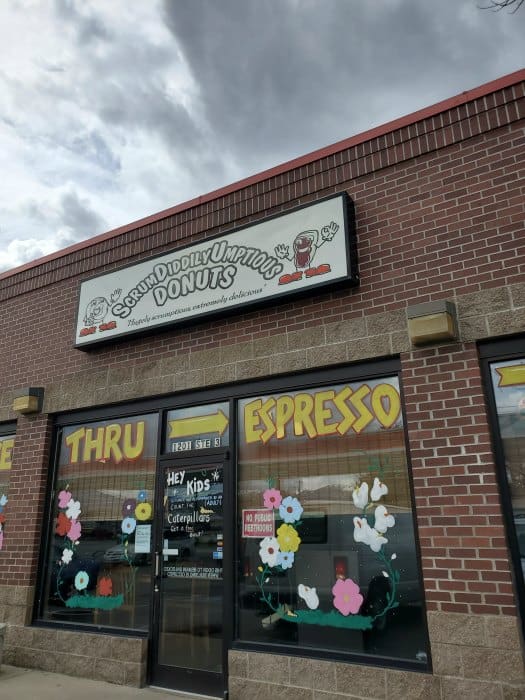 Scrumdiddilyumptious Donuts
It has been a year or two since we have made it to ScrumDiddilyUmptious Donuts but they were great when we did make it there. I have heard a lot of great things about their whipped maple bars.
Address - 1201 N Barker Rd, Spokane Valley
Phone - (509) 924-5129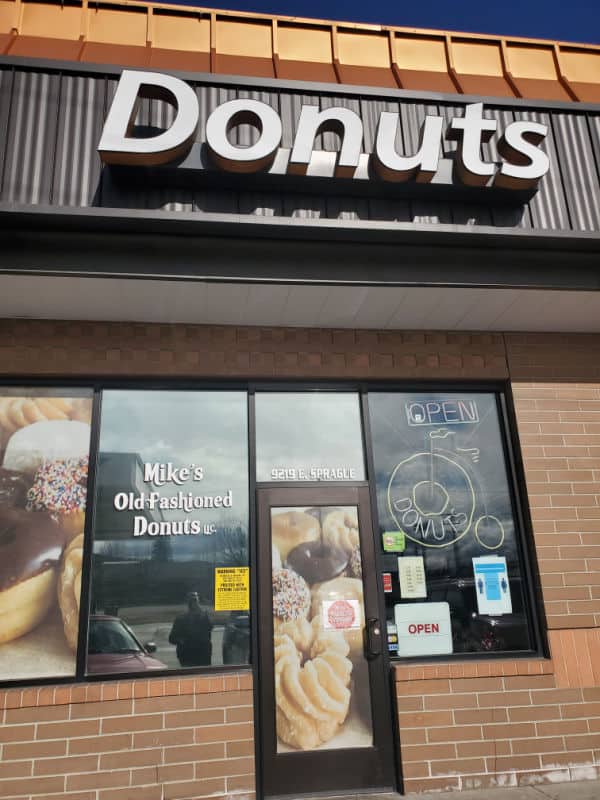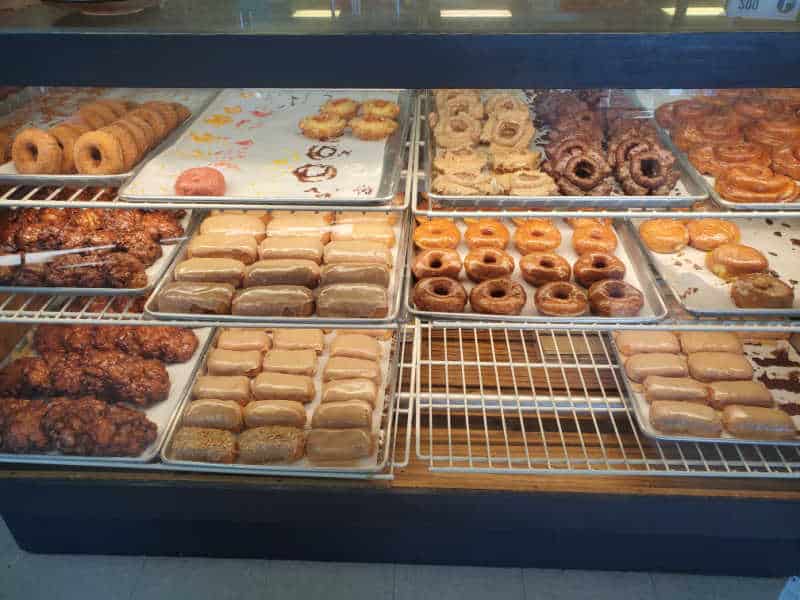 Mikes Old Fashioned Donuts
Mike's Old Fashioned Donuts is located next to a gas station off of Sprague Avenue in the Spokane Valley.
They are so popular that the last time I was there all they had left was maple bars after being packed on a Tuesday morning.
I will say the maple bars were absolutely delicious!
They have a fresh daily timesheet so you know what time each type of donuts should be hot and ready. I was told the optimum time to visit is around 9 am when all of the daily donuts have been rolled out.
Fresh daily times"
6 am - Old Fashioned and Cake Donuts
6:30 am - Bars
8 am - Apple Fritters
8:45 am - Persians and Raised Glazed
These times are estimates.
Daily features at Mike's Old Fashioned Donuts
Monday - French Crullers
Tuesday - Devil's Food Old Fashioned
Wednesday - Buttermilk Bars and Blueberry
Thursday - French Crullers and Cooks Choice
Friday - Blueberry and Devils Food Cake
Address - 9219 E. Sprague Ave. Spokane Valley
Phone - (509) 926-7385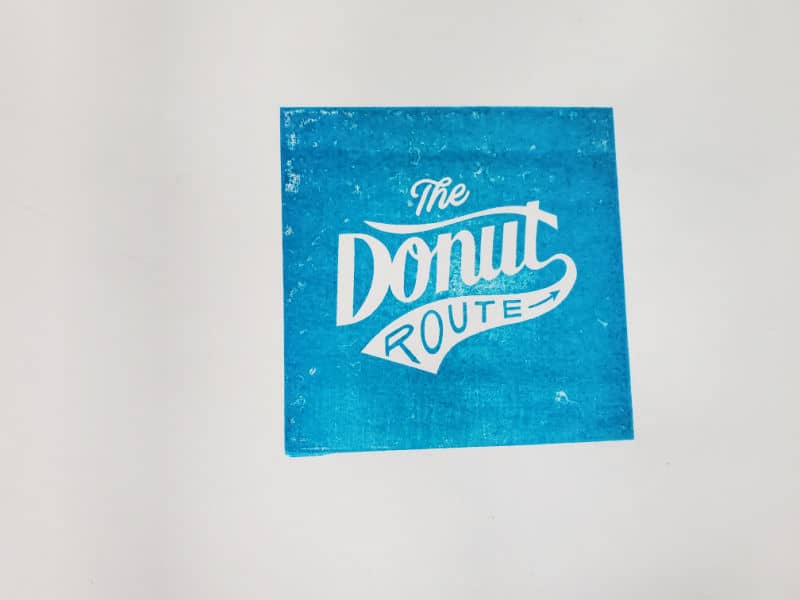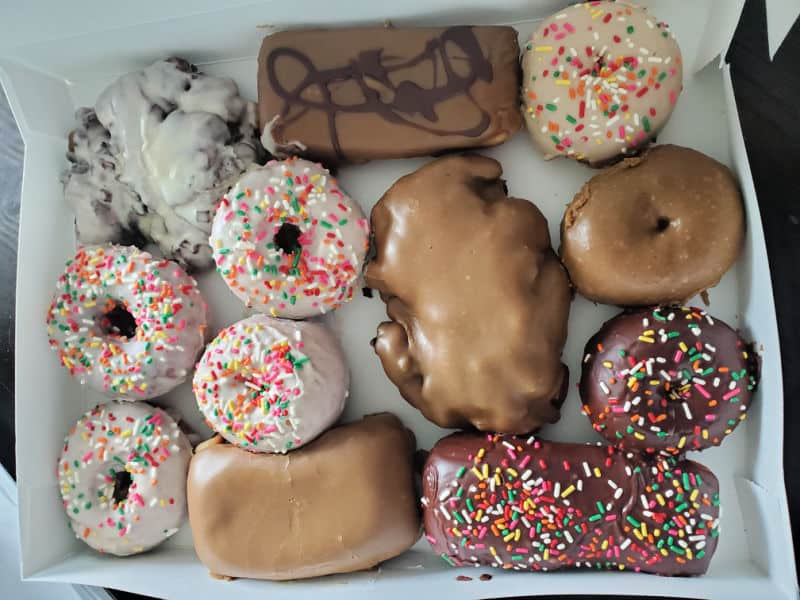 The Donut Route - Possibly Closed
The Donut Route has not updated its information in a few months. We are unsure if they are still in business at this time.
Spokane has an amazing new Donut delivery company! The Donut Route will deliver doughnuts right to your doorstep in Spokane. The doughnuts are fresh-baked every weekend in Downtown Spokane and then hand-delivered to your front door.
It is so easy to order doughnuts with the Donut Route. You place your order on their website, receive a text when they are on the way to your house with an estimated delivery time, and then all you have to do is dive into a box of delicious fresh-baked doughnuts.
The apple fritter from the Donut Route may be my favorite apple fritter in Spokane. It was that good!
Currently, they offer Old Fashion Donuts, Raised Glazed, Apple Fritters, Maple Bars, Chocolate Bar, Vanilla Cake, Chocolate Cake, Maple Cake, Chai Cake Donuts, and a variety box of everything.
You can designate if you want sprinkles...which you can see we did because life is always good with more sprinkles.
Within the Spokane area, it is a $3 delivery fee. Outside of Spokane (Mead, Spokane Valley, Liberty Lake, Medical Lake, Airway Heights), the delivery fee depends on the location/distance.
Deliveries occur between 8 am and 11 am on Saturdays and Sundays.
You can also pick up your donuts downtown if you need them at a specific time.
We do have a Krispy Kreme Doughnuts located off of Sullivan in the Spokane Valley that is open for longer hours. You can also find donuts at most of the local grocery stores.
Please let me know if I have missed any amazing donut shops in Spokane.
Check out our Spokane Restaurants guide for all the amazing places to dine out in town.
Spokane Resources
Top thing to do in Spokane - Check out all of the things you don't want to miss in Spokane
Great places to eat outside in Spokane - Check out the best outdoor seating in Spokane
Oh and if you do get a few donuts check out our Krispy Kreme Bacon Cheeseburger for a fun twist.
You can also make easy homemade doughnuts at home if you are not comfortable heading out to a restaurant right now.
Additional Spokane Food Guides
Make sure to check out the best things to do in Spokane all year round!
We have a giant Spokane Restaurant guide that highlights a ton of great restaurants in town.