When it comes to the best Pizza Spokane has to offer it really comes down to what type of pizza you are looking for. We are breaking down the best pizza in Spokane by type including cheap, delivery, and wood-fired oven pizza.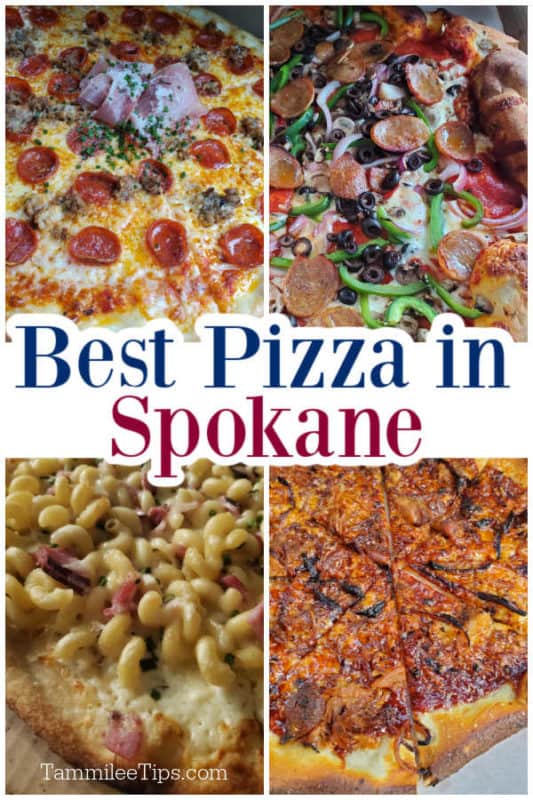 Best Pizza in Spokane
Pizza is the perfect comfort food especially this year when getting restaurant meals has not been as easy as it used to be.
The great thing about pizza is you can easily get it delivered or take-out and it tastes amazing. You don't have to worry about pizza not tasting good when you decide to dive into it.
We focused on local Spokane pizza restaurants for this guide. Spokane does have all of the major chain pizza restaurants including Pizza Hut, Mod Pizza, Blaze Pizza, Dominos, Round Table, and more.
The Inland Northwest LOVES Pizza! From artisan pizza to traditional pizza varieties you will find it here.
Pizza Delivery
One great thing about technology is you can now order pretty much any restaurant you love via DoorDash, Uber Eats, or Postmates.
Many of the Spokane Pizza restaurants have their own delivery options depending on where you need a delivery.
Wood Fire Pizza Restaurants
If you love wood fire pizza restaurants these are the Spokane pizza restaurants you are going to love these great pizza restaurants.
-The Boiler Room
-The Flying Goat
-Republic Pi
Gluten-Free Pizza
If you are looking for Gluten Free pizza in Spokane check out these pizza restaurants.
Cole's Gluten-Free Bakery - If you have celiac disease or are not eating gluten you will want to check out Cole's Gluten-Free Bakery and Restaurant. The entire restaurant is gluten-free so you do not have to worry about cross-contamination.
They offer 8 inch and 14-inch gluten-free pizza crusts. They have a variety of toppings available for the pizzas. They also offer take and bake pre-made pizzas.
Pizza Rita's - Multiple locations, they have gluten-free crust but you may want to ask about how they minimize cross-contamination if you have a serious gluten allergy.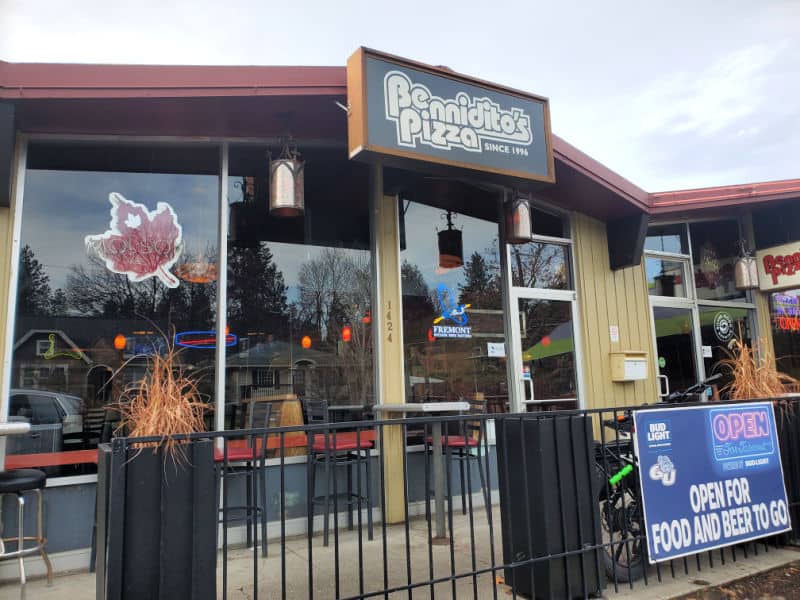 Benniditos Pizza
Location - Lower South Hill
Pizza Type - Classics plus more
We had heard about Benniditos Pizza for years before we finally made it over to the South Hill to try it! I feel like I missed out on years of enjoying their epic pizza by not making the drive. They have been a local pizza restaurant for over 25 years!
I don't know if I have the right words to describe how good that first bite of Benniditos Pizza was. We were sitting in our car having a car picnic and both my husband and I looked at each other with awe in our eyes over how delicious it was.
I do have to admit something about the Benniditos Pizza...it is not small! I mean seriously their pizzas are big. We ordered a couple of large pizzas thinking we would have leftovers for the weekend. When I went into the restaurant to pick the pizzas up they asked if I needed help carrying them to the car...
That probably should have been my first indicator that we were in for a treat. The large pizzas are LARGE! They would be perfect for a family dinner or picking up a few of them for a party. I was barely able to eat 2 slices of pizza and I was stuffed they are that big.
This is a pizza place you can't judge by its website or the outside. Their website is basic, no-frills but gets the job done. We were able to easily order our pizzas and schedule the time we wanted to pick them up.
Benniditos Pizza is hand-tossed pizza dough topped with amazing ingredients. Their crust is thin in the middle and has a thicker breadier crust that you can tell is hand-tossed.
Pizzas not to miss:
6 Cheese Pizza - Red sauce, mozzarella, feta, ricotta, fontina, parmesan & Romano cheese
Chicken Alfredo Pizza - Alfredo sauce, mozzarella, spinach, mushrooms, artichoke hearts, chicken & pancetta bacon
Grand Blvd. -  Red sauce, mozzarella cheese, pepperoni, Italian sausage, fresh mushrooms, black olives, green peppers & onions.
Dessert Pizza - Cinnamon sugar over a buttery crust topped with cream cheese frosting! The large dessert pizza had 16 slices when we ordered it.
Benneditos Address: 1426 S. Lincoln St.
Off of 14th behind the Rosaurs Grocery Store. Your GPS may send you to the Rosaurs parking lot but keep driving around the corner.
Benneditos Phone Number: (509) 455-7411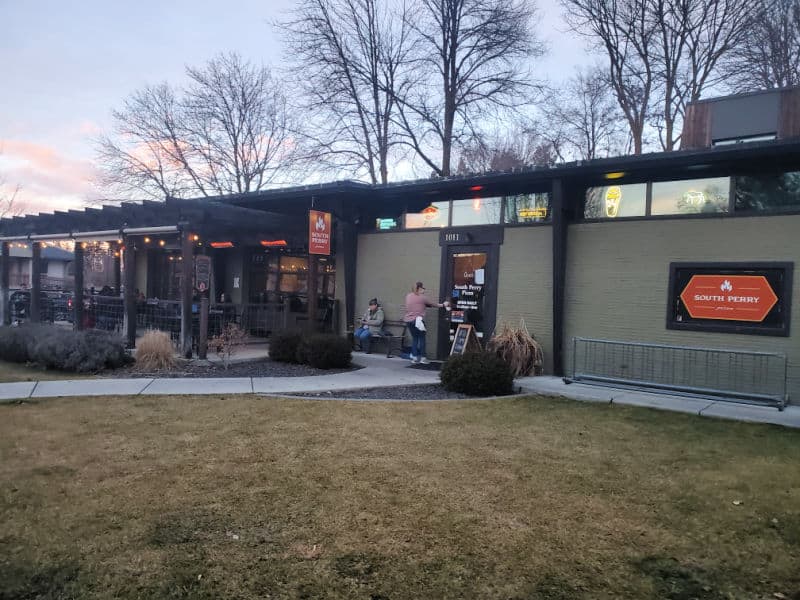 South Perry Pizza
Location - Perry District
Pizza Type - Artisan Pizza
South Perry Pizza offers epic artisan pizzas that taste amazing! My husband took a bite of his house pizza on our date night and told me that he was in pizza heaven!
I mean how can you go wrong when the flatbread has melted Beecher's Cheese curds on it! HELLO YUM!
This is a Spokane pizza restaurant that does not scrimp on toppings. I love that when you walk in the door you can see them hand tossing pizza dough to get the perfect shape.
South Perry Pizza has both regular crust and gluten-free crust pizzas available. Their pizzas are 12 inches except for at lunch when they offer a 7-inch lunch pizza until 4 pm.
Pizzas not to miss:
House Pizza - Tomato sauce, Mozzarella, Casa Cano Farms sausage, pepperoni, mushrooms, caramelized onions.
Flatbread - Extra virgin olive oil, house seasoning, Beecher's cheese curds, and shaved parmesan.
The Neopolitan - Pomodoro sauce, aged parmesan, fresh mozzarella with fresh basil and balsamic reduction
Rosa - Olive oil, provolone, mascarpone, red onions, rosemary, toasted pistachios.
Brooklyn - Red sauce, Casa Cano Farms sausage, mozzarella, parmesan, peppadew peppers, red pepper flake, olive oil, and balsamic drizzle.
South Perry Pizza Address - 1011 S Perry Street, Spokane
Phone - (509)290-6047
The Boiler Room
Location - 5 mile
Pizza Type - Wood-Fired
The Boiler Room offers a great menu of wood-fired pizzas. New owners took over the restaurant in the past couple of years and really upped their pizza game.
The restaurant has a nice outdoor patio and seating for summer. They offer really great happy hour prices!
The Mac n Cheeze Pizza is fantastic!
I will say the three-cheese pizza is good, not great. The flavor was a bit bland when we had it. I would definitely go for a pizza with additional toppings in the future.
Pizzas not to miss:
MAC 'N CHEEZA - Parmesan cream, white cheddar & mozzarella blend, KC bacon & cavatappi pasta. Finished with chives.
THE CUBAN - Spicy brown mustard, pulled pork, Canadian bacon, pickles, caramelized onions & swiss cheese.
THAI ME UP - Peanut ginger sauce, chicken breast, house cheese blend, red bell peppers & serrano peppers. Finished with fresh basil, cilantro, sesame seeds, and sriracha.
They also have a couple of dessert pizzas!
Boiler Room Address: 6501 N Cedar St, Spokane
Boiler Room Phone Number: (509) 863-9213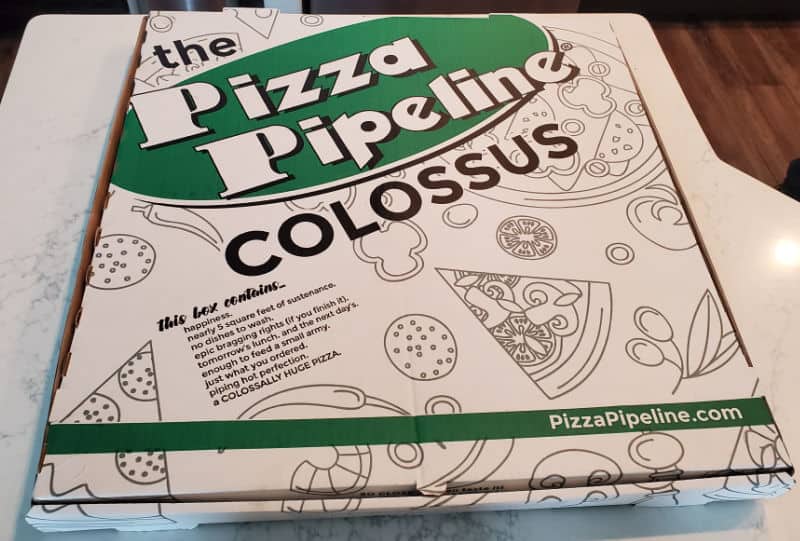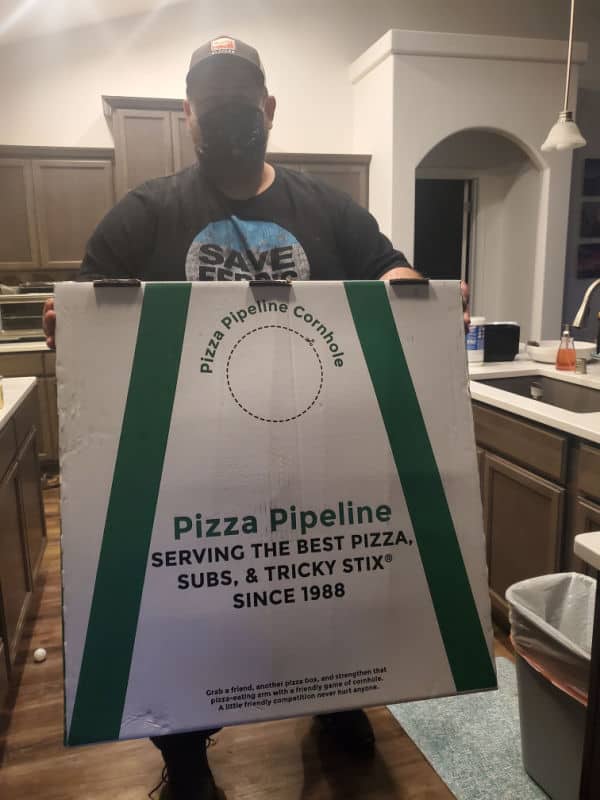 Pizza Pipeline
Locations - Downtown, North Spokane, Spokane Valley, South Hill, Shadle, and Millwood.
Pizza Type - Delivery and Take Out
It may surprise you to see Pizza Pipeline on our list of Spokane Pizza restaurants but they offer a great delivery pizza and are a local favorite. We have been known to order Pizza Pipeline on nights when the last thing we want to do is cook dinner.
Pizza Pipeline has been a Spokane Pizza staple since 1988. There are 6 Pizza Pipeline locations in Spokane spread all over the city and one in Pullman.
When you get Pizza Pipeline you have to get Tricky Sticks (Cheesy Garlic Stix coated with a Parmesan Romano cheese blend and served with traditional pizza sauce.) and Cinnamon Sweet Stix topped with cream cheese icing!
The Cinnamon Sweet Stix are delicious even the next morning! I am going to admit to having them for breakfast a couple of times this past year.
My husband loves to tell me about the Colossus Pizza which is a 26-inch pizza from Pizza Pipeline. He likes to reminisce about his college days when he and the guys would order a Colussus and have pizza night.
We ordered the Colossus pizza one day when we had family over and didn't tell them it was as big as it is. They were shocked when they saw the box and the 30+ pieces of pizza. It is nearly 5 square feet of pizza goodness the box says.
In the photo above you can see just how big the pizza box is. My husband is 6 foot 3 and not a tiny guy and the box still looks huge.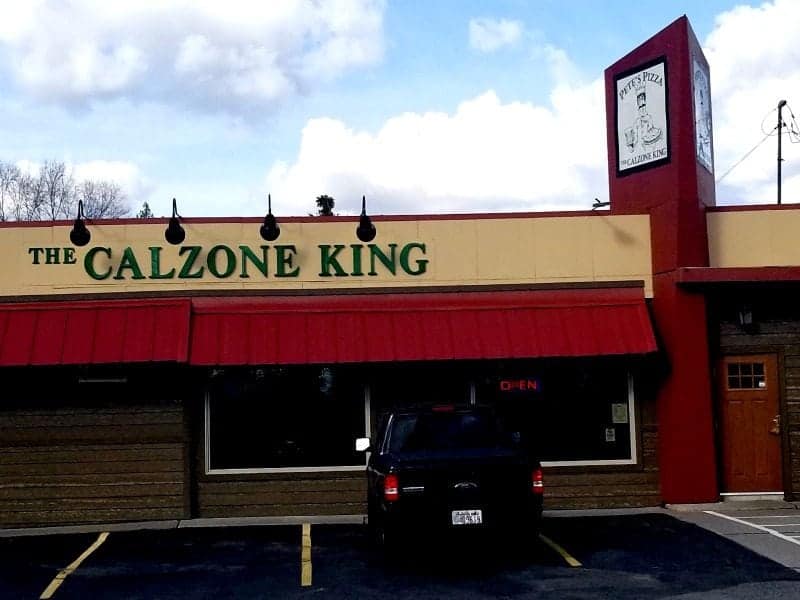 Petes Pizza
Location - Gonzaga District and Shadle Area
Petes Pizza was the first pizza place I tried in Spokane. One of my good friends kept telling me about their epic calzones and that we had to go get them.
This was almost 20 years ago and we still visit Petes Pizza often. They have been a Spokane pizza place since 1972 when the Sharp location near Gonzaga opened.
Petes Pizza makes their pizza dough and tomato sauce fresh daily.
They have fantastic monthly specials and flavors of the month. Make sure to order the garlic cheese bread it is delicious.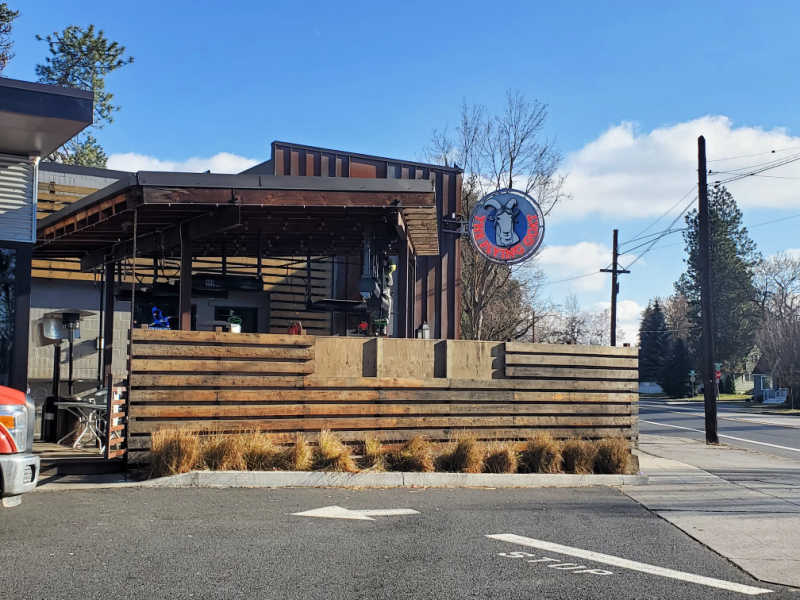 Flying Goat
Location - Audubon Neighborhood
Pizza Type - Neopolitan Style Pizza
Flying Goat makes their dough fresh each morning. The dough is hand-stretched when you order your pizza to make sure the pizza is of the highest quality possible.
They use fresh local ingredients and artisan meats some of which are cured in-house, along with the homemade sauce.
One thing we really like about the Flying Goat is how much focus and care went into building the restaurant. You can see wood reclaimed from a Ritzville grain elevator that was originally built in 1910.
This is a local favorite when it comes to artisan wood-fired pizzas made with incredible ingredients.
Pizzas not to miss:
Fairview - heavy cream, house cheese blend, house back bacon, pears, gorgonzola cheese crumbles, finished with white balsamic reduction.
Dalton - honey apple bbq sauce, house cheese blend, pulled pork, caramelized onion & coleslaw.
Flying Goat Address - 3318 W Northwest Blvd, Spokane
Phone - (509) 327-8277
Iron Goat Brewing
Location - Downtown Spokane - West End
Pizza Type - Foodie
Iron Goat Brewing is located on 2nd Avenue on the west end of Downtown Spokane. This Spokane Brewery is housed in an industrial feeling building and offers a rotating beer selection and epic pizza! They also have wraps and sandwiches if you are not feeling like a great pizza.
One thing we really like about the Iron Goat Brewing pizza menu is the variety of options that are included. These are not your standard pizzas they are foodie pizzas!
You can expect to find fun toppings including house-made calabrese sausage, black mission figs, prosciutto, Thai chicken, and more.
They make both their dough and pizza sauce in-house along with the calabrese sausage.
The Iron Goat Brewery makes it really easy to order vegan, vegetarian, or nut-free menu items even with online ordering. Their menu designated which pizzas and menu items can be made to fit dietary needs.
The brewery is named after the garbage eating Iron Goat that can be found in Riverfront Park. This is a Spokane Pizza/brewery you do not want to miss.
Pizzas not to miss:
2nd avenue combo - Pomodoro sauce, mozzarella, pepperoni, house-made calabrese sausage, prosciutto, grated parmesan, and chives.
Fig and blue cheese - garlic olive oil, mozzarella, black mission figs, buttermilk blue cheese, fresh arugula, prosciutto, and balsamic vinegar.
Spicy banh mi - pulled pork, mozzarella, house-pickled veggies, serrano peppers, cilantro, and sriracha aioli.
Thai - peanut sauce, mozzarella, Thai chicken, roasted red peppers, toasted peanut, fried garlic, black sesame, sriracha aioli, and Thai basil.
Iron Goat Brewery Address - 1302 W 2nd Ave, Spokane
Phone - (509) 474-0722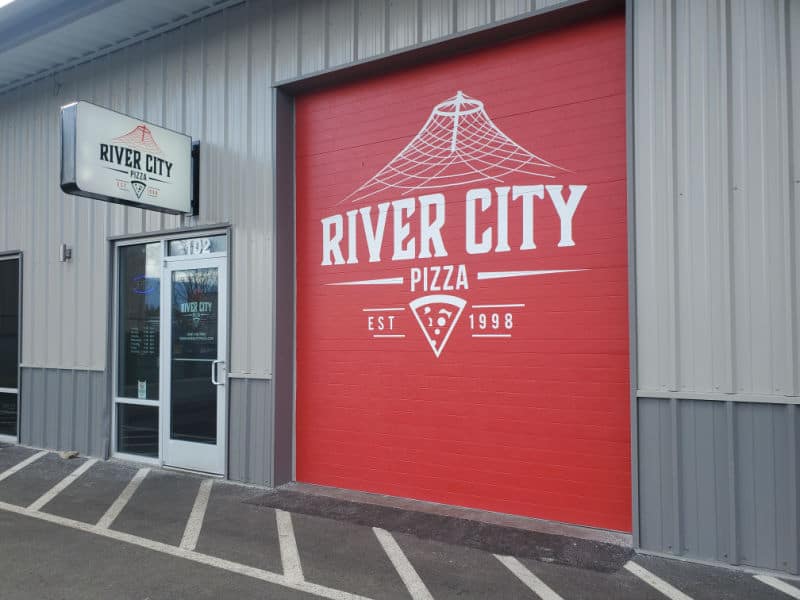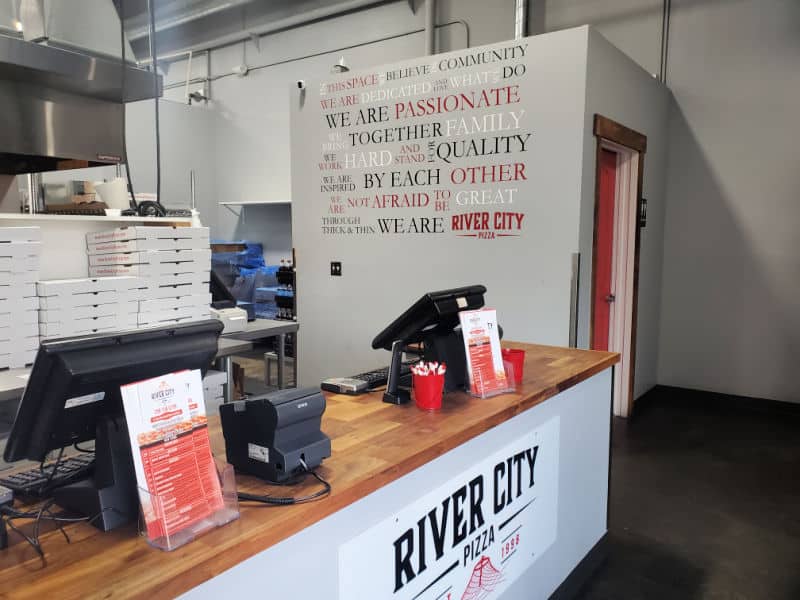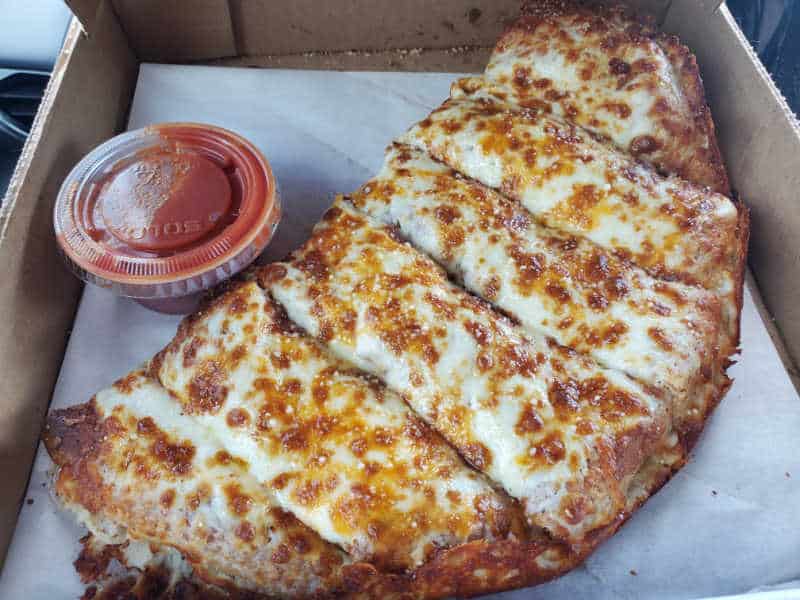 River City Pizza
Location - Spokane Valley, Otis Orchards, and CDA
Type - Delivery and Pick Up
River City Pizza offers delivery and pick up. They do not have a seating area within the restaurant but don't worry this pizza tastes amazing even in the car.
They have wings, mac and cheese, lasagna, salads, dessert pizzas, and a great pizza menu. They also offer stromboli and calzones. When we tried to decide what to order we had a hard time because everything looked amazing.
The calzone was huge and turned into multiple meals. My husband had the Loaded Baked Potato Pizza with spicy white sauce on the regular crust with crispy tater tots, bacon, onion, green onion, mozzarella, and cheddar with a swirl of spicy sauce. Tater tots on pizza should definitely be a thing!
They offer delivery to Otis Orchards, Liberty Lake, Newman Lake, East Valley, and Greenacres.
Pizzas not to miss:
Bacon Cheeseburger - Marinara sauce on the regular crust with beef, bacon, onions, dill pickles, mozzarella, cheddar, and fresh tomatoes with a swirl of yellow mustard.
Balsamic Peaches with Blue Cheese - white sauce on a thin crust with peaches, crumbled blue cheese, chicken, mozzarella, and a balsamic drizzle.
Buffalo chicken mac - Vermont white cheddar mac and cheese on a regular crust with chicken, bacon, jalapeno, green onions, and mozzarella with a swirl of spicy sauce.
Cuban - White sauce on a thin crust with salami, Canadian bacon, bacon, diced dill pickles, and mozzarella cheese with a swirl of yellow mustard.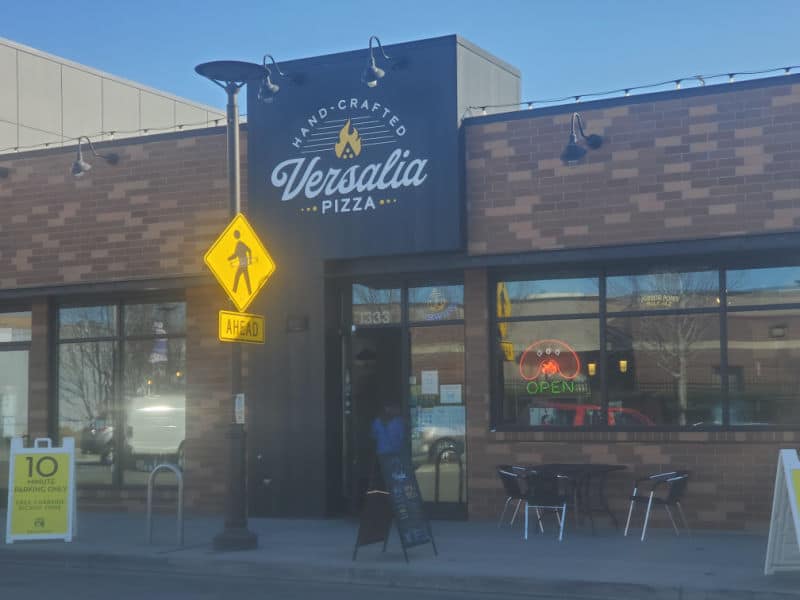 Versalia Pizza
Location - Kendall Yards
Versalia Pizza in Kendall Yards used to be called Veraci Pizza before they changed their names in early 2021. They have amazing wood-fired pizzas, appetizers, and salads.
They offer whole pizzas or by the slice in their Kendal Yards Restaurant. We love picking up a couple of pizzas for date night and parking with a view of downtown Spokane while we savor each slice.
Pizzas not to miss:
Pepe Sal - Italian sausage, pepperoni, fresh mushrooms & provolone on crushed red pepper infused savory red sauce with our three cheese blend
Prosciutto Arugula - Proscuitto, fresh mushrooms, fresh mozzarella on garlic olive oil with our three cheese blend topped with fresh arugula
Carnivore - Pepperoni, Italian sausage, black olives, red onions & shaved parmesan on savory red sauce with our three cheese blend
Brussels and Bacon - Bacon, brussels sprouts, Beecher's flagship aged cheddar, balsamic reduction on garlic olive oil with our three cheese blend
Sienna - Sun-dried tomatoes, artichoke hearts, kalamata olives, and chevre cheese on garlic olive oil with our three cheese blend
Vegan Pie - Arugula, artichoke hearts, spicy portobellos, roasted red bell peppers, caramelized onions on garlic olive oil and savory red sauce base with a balsamic reduction drizzle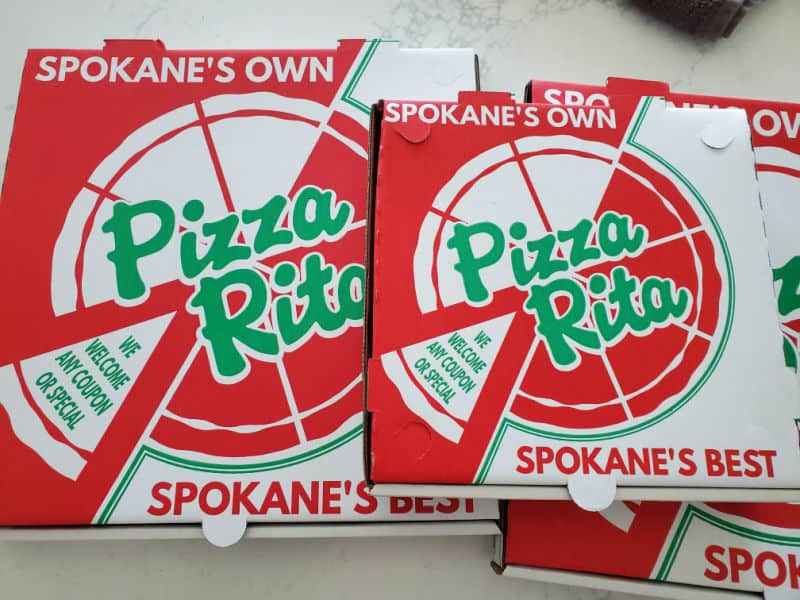 Pizza Rita
Location - Spokane Valley, North Spokane, Central Spokane, Downtown in the STA Bus Plaza
Pizza Type - Classic
Pizza Rita opened in Spokane in 1989 making it one of the oldest pizza places in town. They offer classic pizzas and some fun pizzas including the 5 pounder with 11 toppings.
One really cool thing about Pizza Rita is they will take any local pizza coupon! They make their pizza dough on-site daily so it is fresh and tastes amazing. I read that they go through over a ton and a half of flour every week! That is over 3,000 pounds of flour!
Pizzas not to miss:
5 Pounder - 11 Toppings loaded onto a large pan pizza. Pepperoni, Beef, Sausage, Mushrooms, Black Olives, Onions, Green Peppers, Ham, Pineapple, Bacon, & Fresh Tomatoes.
Cheesy 8's -  filled with melted mozzarella cheese and seasoned with garlic and parmesan cheese. Served with zesty pizza sauce or savory ranch dressing.
How we picked the Best Spokane Pizza Restaurants
We have lived in Spokane for over twenty years and love supporting local restaurants. I am going to admit that I LOVE PIZZA!
If I had to pick one food to eat on a frequent basis it would be pizza. There is just something magical about the combination of a great crust, quality cheese, and fresh-made sauce.
One thing I love about pizza is you can easily enjoy it in the car, at home, or in a restaurant. The past year has made sitting inside a restaurant difficult which has made take-out pizza even more popular.
When we started writing this Best Pizza Spokane guide we sat down and created a large list of every local pizza restaurant we could find in the Spokane Region. I then dived into social media to see what each restaurant's pizza looked like and where they were located.
From this initial list, we started visiting local pizza restaurants all over town. We already had our tried and true favorites that we have been going to for over 20 years but we wanted to expand our pizza favorites as much as possible.
This pizza list is constantly evolving as we try new places. We will continually update this Spokane Pizza Restaurant list with the best pizza we find. If you don't see a specific pizza restaurant on the list we may not have made it there or we may have not loved their pizza or service during our visit.
We are only sharing the best pizza in Spokane! Thankfully we have had great luck with almost every pizza place we have visited but there have been a few that we do not recommend. Instead of listing them here, we have them on a list for return visits. We truly want to make sure that when you spend your hard-earned money you get the best pizza in Spokane.
Additional Spokane Articles
Best Breakfast Restaurants in Spokane
Check out all of our Spokane Food Guides