When it comes to Best Breakfast Spokane Restaurants there are quite a few to choose from. One thing Spokane locals love is breakfast! Trust me we have lived here for years and breakfast is one of our favorite reasons to go out and try a new restaurant.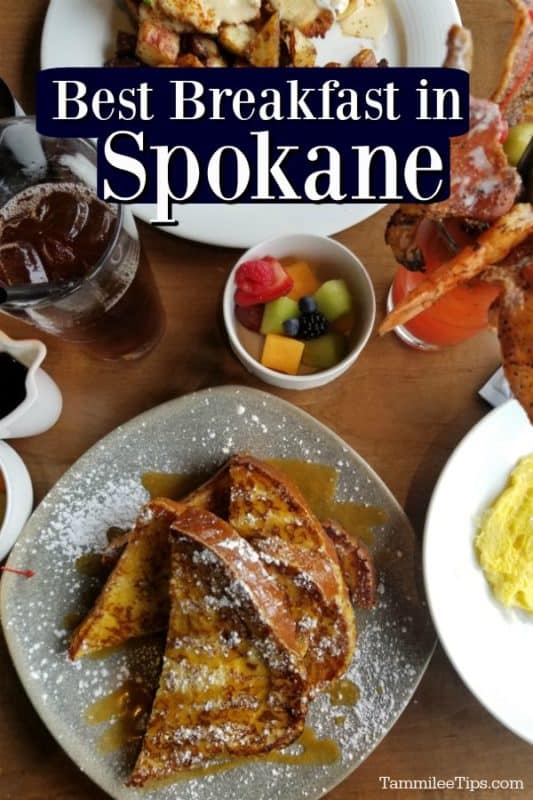 Best Breakfast in Spokane
When we were making this list of best breakfast spots in Spokane we wanted to include everything from foodie restaurants to local hole in the wall restaurants you will want to check out.
Some mornings you need a good local greasy spoon to soak up your hangover and get you on the road to recovery from the night before. Other mornings you want a foodie spot that is perfect for a killer Instagram photo that makes everyone a little jealous and hungry.
They say breakfast is the most important meal of the day which means you need to make sure it tastes amazing.
Whether you are looking for a greasy spoon or foodie spot we have you covered! Make sure to check out the best Spokane donuts if you are looking for a sweet morning treat.
I am so excited to share our favorite breakfast and brunch spots in Spokane with you! You will notice that all of the restaurants are local restaurants and not chains.
While Spokane does have all of the major chain restaurants you think of for breakfast/brunch we wanted to focus on local restaurants you can only find here or in the Inland Northwest.
2020/21 has brought a lot of changes to the restaurant world! Make sure to check each restaurant's website to confirm they are open and serving breakfast. Our local restaurants are adapting as quickly as they can and need all the love they can get right now.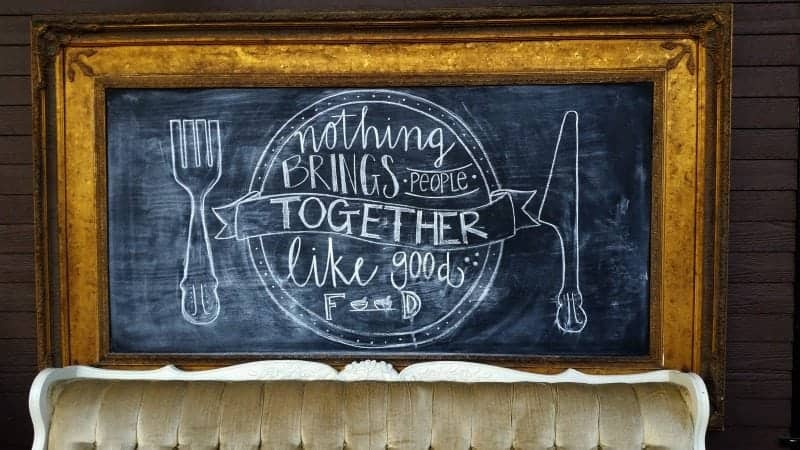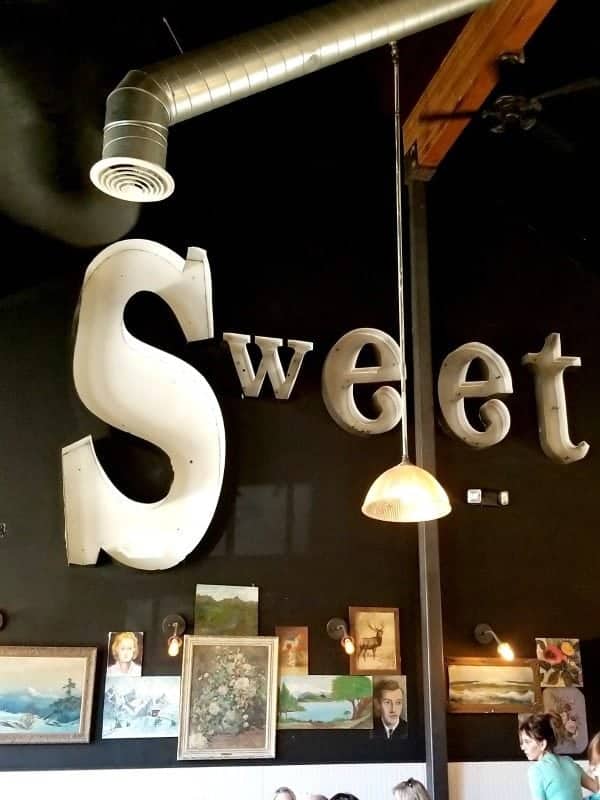 Chaps
Chaps is one of our favorite places for breakfast in Spokane. Hello yum! Located in a 1912 renovated farm house in a grocery store parking lot you may wonder where I am sending you when you pull up but I need you to trust me it is amazing!
We are not the only ones who think Chaps is one of the best breakfasts in Spokane they were featured on Diners Drive-Ins and Dives with Guy Fieri on the Food Network a few years ago.
Chaps breakfast menu rotates frequently so there is always something new to try. They have an in-house bakery that makes the most amazing chocolate orange scone that is drool-worthy. Their cinnamon rolls are epic too. Honestly, you can't go wrong with anything on their pastry shelves or on the menu!
The inside of Chaps is eclectic and draws you in with a comfortable vibe. This is a restaurant you want to spend time in and have to be dragged out of. During the summer you don't want to miss enjoying breakfast outside on the patio surrounded by their gorgeous garden.
Chaps Address - 4237 Cheney Spokane Rd
Phone Number - 509-624-4182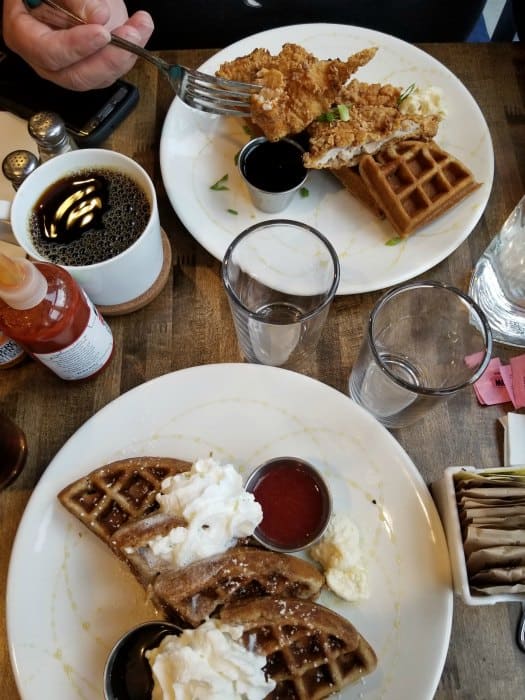 Bruncheonette
Bruncheonette offers breakfast food you are not going to find at other Spokane Restaurants. Upscale but comfortable, delicious,
If you are looking for a breakfast/brunch that is Instagram-worthy this is the breakfast places in Spokane you need to try.
The menu includes drool-worthy options like bacon sticky buns, cinnamon brown sugar waffles (delish), Smoked Brisket Hash, Tamale Waffles, Vegan Breakfast Tacos, Chilaquiles, breakfast burritos,  and Cardamon Blueberry Muffin French Toast just to name a few.
Are you drooling yet because you should be!
One thing I will say about visiting Bruncheonette is plan to pay for parking or plan to walk a little bit. The parking next to the restaurant is all metered.
Bruncheonette Address - 1011 W Broadway Ave
Phone - 509-443-5968
Yards Bruncheon
The Yards is located in Kendall Yards and has a fun upscale diner vibe with epic food.
We were so inspired by their Lemon Dutch Baby we had to make one at home! I sadly don't see this on the menu currently but you can still get a ton of epic breakfast food!
Don't miss their apple cider doughnuts, wild huckleberry pancakes, brunch burger, or the Breakfast Poutine!  My husband orders the breakfast poutine every time we visit. I keep trying to get him to try something different and he keeps telling me why mess with something that tastes amazing every time. lol.
Address - 1248 W Summit Pkwy
Phone - 509-290-5952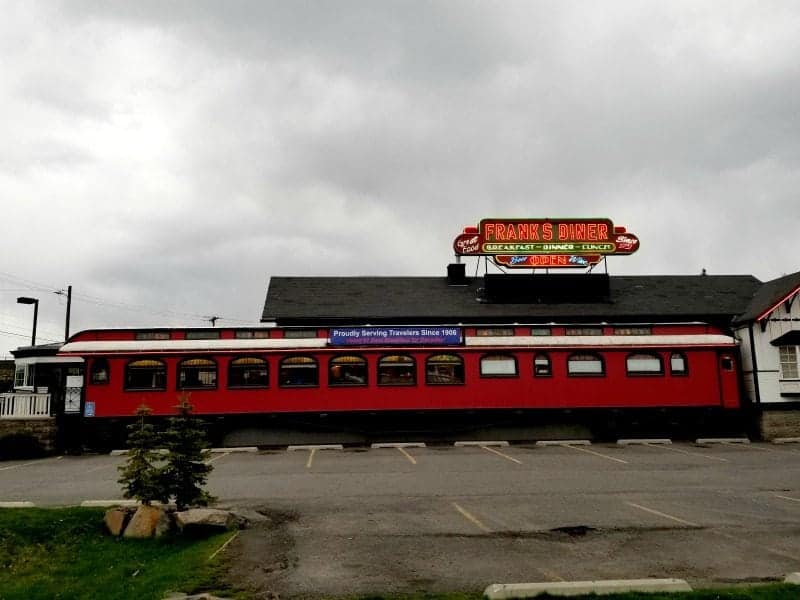 Franks Diner
Franks Diner is also called the train car diner near Downtown Spokane. One part greasy spoon and one part classic Spokane breakfast restaurant.
This is a restaurant that gets packed on weekend mornings. The restaurant is semi-small being inside of a train car so you will want to plan for a wait to get a seat, especially on the weekends.
Thankfully there are two Franks Diner train restaurants in Spokane so you can visit either downtown or in North Spokane.
Franks Diner Downtown Address - 1516 West 2nd Ave.
Phone - 509-747-8798
Franks Diner North Spokane Address - 10929 North Newport Highway
(Pinewater Plaza)
Phone - 509-465-2464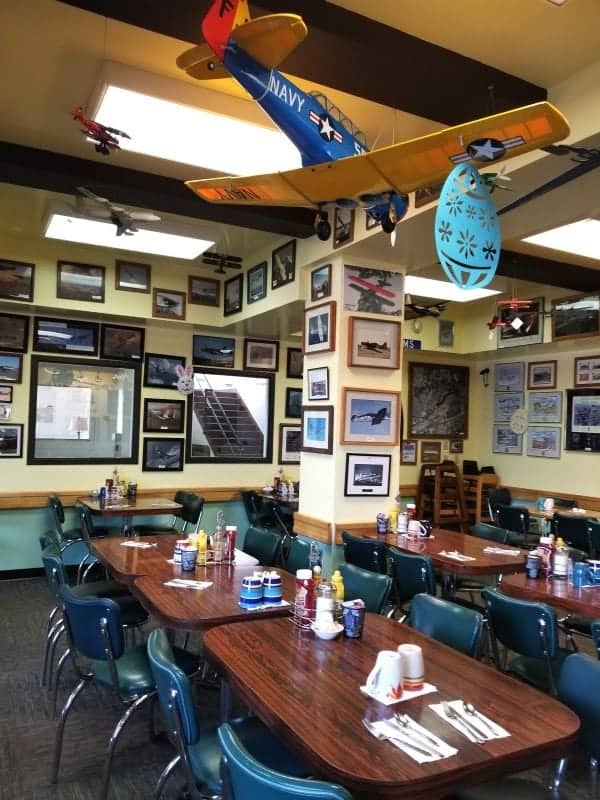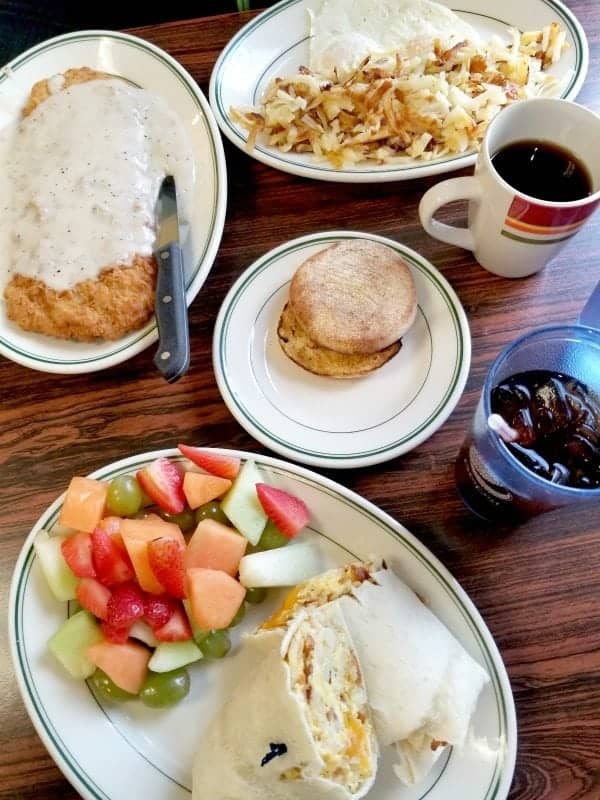 Skyway Cafe
If you like planes and great breakfast comfort food this is the Spokane Valley Restaurant for you! The restaurant is located next to Felts Field offering epic views of small planes taking off.
I will say you want to get to the restaurant early because it is super popular!
This is one of our favorite Breakfast Spokane Valley has to offer!
Skyway Cafe Address - 6105 E Rutter Ave, Spokane Valley
Phone - 509-534-5986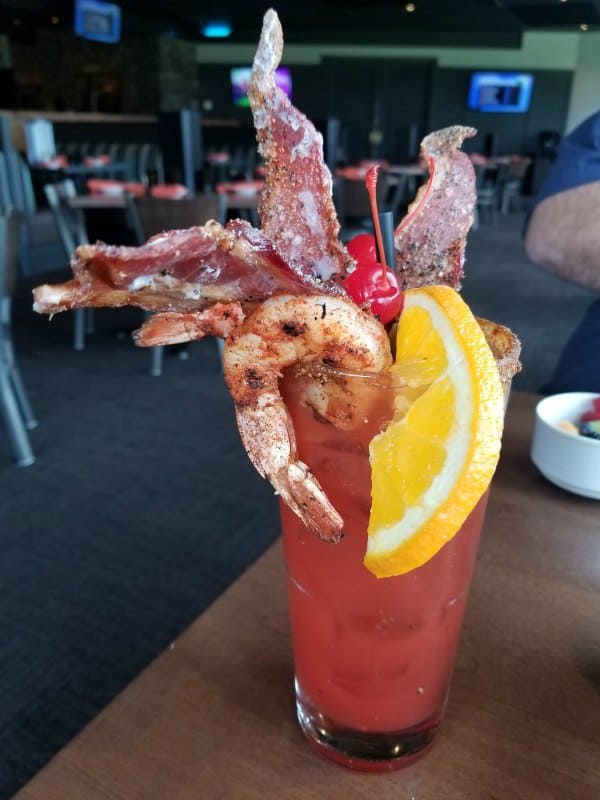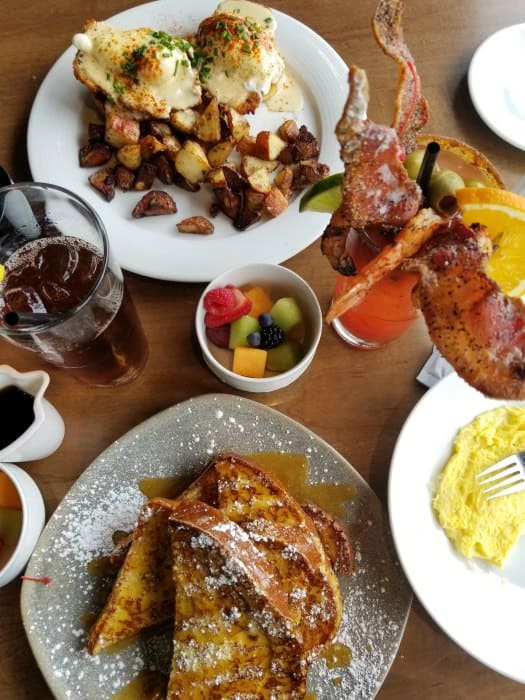 1898 Public House
1898 Public House is located next to the Kalispel Golf and Country Club. This epic restaurant has an amazing make your own bloody mary bar that is simply delish! You can top your bloody mary with peppered bacon, shrimp, and more!
The view from the restaurant over the golf course is amazing and the food truly delicious. We have enjoyed every single meal we have had at 1898 Public House.
1898 Public House Address - 2010 W. Waikiki Rd.
Phone - 509-466-2121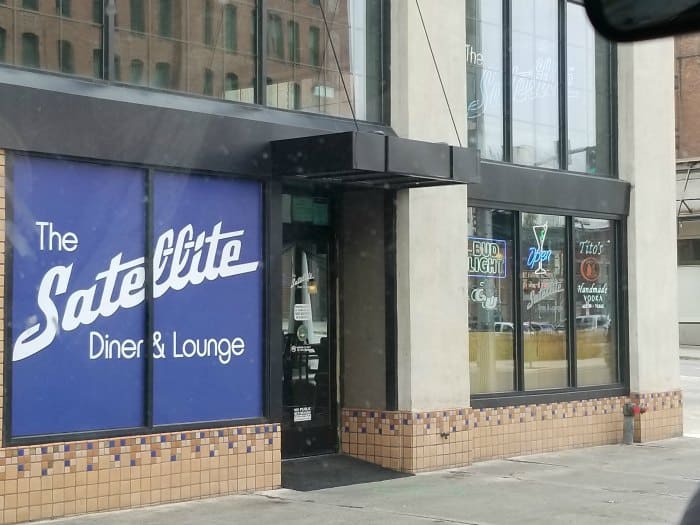 The Satellite Diner
I promised you a local greasy spoon to soak up your hangover at and The Satellite Diner is famous in Spokane for their award-winning bloody mary and epic breakfast menu. I am going to admit to visiting a few times late in the night after visiting a local bar with friends back when I was a bit younger.
One thing I love about The Satellite Diner breakfast menu is they literally have every breakfast favorite and more. You can stuff your hashbrowns with meat and cheese, have biscuits and gravy, breakfast sliders, a hot mess, and so much more!
Located downtown on Sprague Ave this is a great Downtown Spokane Restaurant any time of the day.
The Satellite Diner Address - 425 W Sprague Ave
Phone - 509-624-3952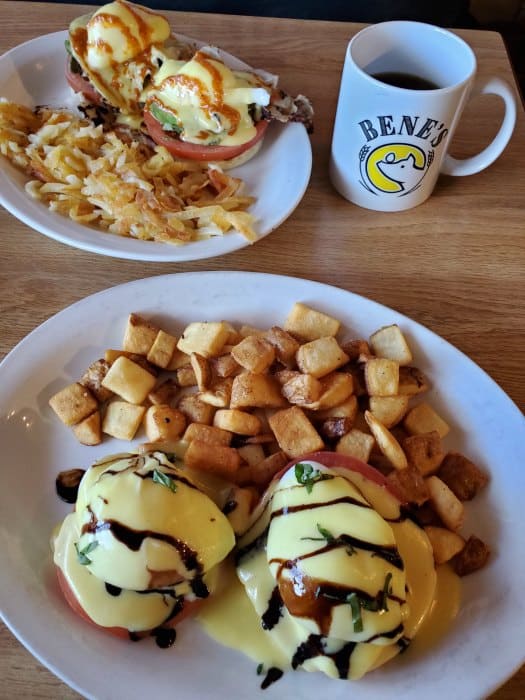 Bene's
While Bene's is located in Cheney and not Spokane it is still one of our favorite breakfast restaurants. If you love eggs benedict you are going to LOVE this breakfast restaurant.
Honestly, their breakfast potatoes are pretty darn epic too! I order their Caprese Benedict even though we make it at home all the time.
Check out these epic Eggs Benedicts!
California Benedict - 2 poached eggs, thinly sliced turkey, avocado, tomato, & sun-dried tomato hollandaise sauce over an English muffin.
Grilled Cheese Benedict - A grilled cheese sandwich topped with 2 poached eggs, & a sun-dried tomato hollandaise.
Avocado Toast Benedict - 2 poached eggs, Avocado mash, & hollandaise sauce over sourdough toast, topped with Everything Bagel Blend.
Don't worry if you are not a fan of eggs benedict they have a ton of other options.
Bene's Address - 24 W 1st St, Cheney, WA 99004
Phone - 509-951-5207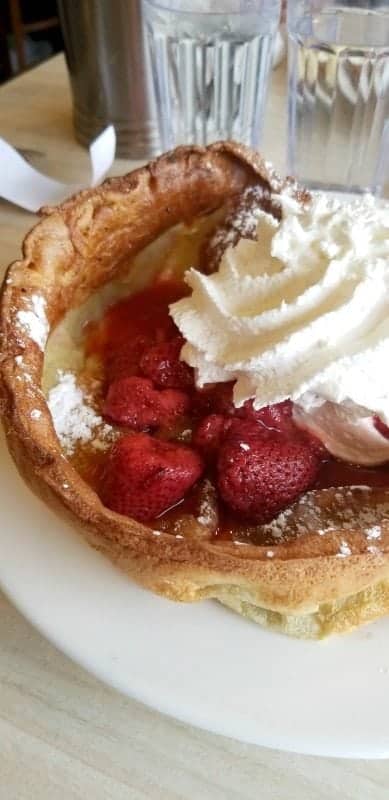 Old European
Old European offers breakfast comfort food plus fun European breakfast options you don't find often including Abelskivers, Lingonberry Swedish Crepes, German Potato Cakes, Dutch Babys, and Austrian Coffee.
My husband LOVES the Old European Hungarian Goulash which has ham, sausage, bacon, pepper, onions, and tomatoes mixed with scrambled eggs, hashbrowns, and cheese.
Make sure to order a fresh-squeezed orange juice! The orange juice is freshly processed when you order it and absolutely delicious.
Davenport Hotel Brunch
We have not tried the Davenport Hotel Brunch yet but it is on our list of must-tries as soon as we can. We had plans to check out the champagne brunch and then well 2020 hit and we didn't quite make it.
Let us know if you have any favorite Breakfast Restaurants in Spokane! We are always looking for new restaurants to visit and check out.
Additional Spokane Articles
Great Places to eat outside in Spokane
Check out all of our Spokane Travel Guides