Cabo San Lucas Cruise Guide!!! Heading to Cabo San Lucas via a cruise ship? Our goal with this guide is to make your days in Cabo San Lucas the best they can be!  Cabo is a really easy port to enjoy while cruising. You can wander around town on your own, take a great excursion, dine on fresh fish, and sip on a frosty tropical beverage all in the marina area.
Cabo is a tender port so you will need to factor in time for the tenders to make it into the marina. Keep an eye out for sea lions jumping onto the back of fishing boats for a great photo opportunity. The views as you tender in and out of Cabo are absolutely gorgeous!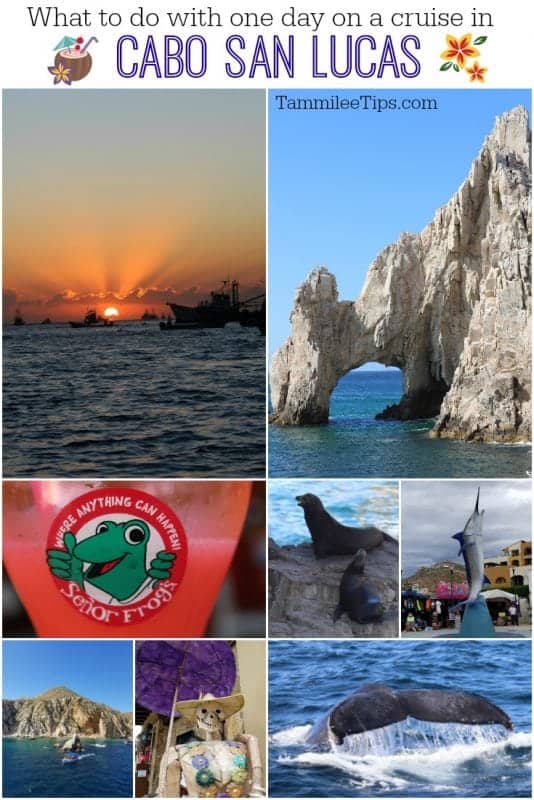 Top things to see in Cabo San Lucas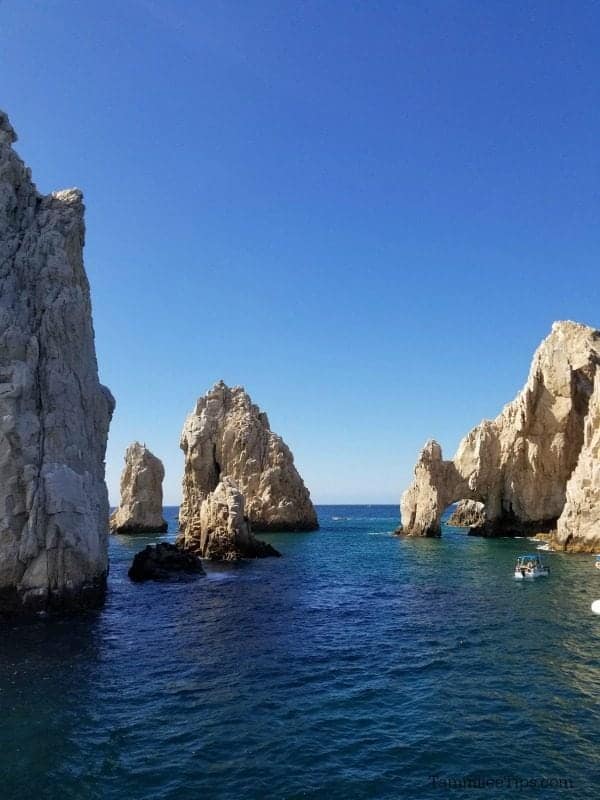 El Arco – the world famous arch can be seen as your ship pulls into port early in the morning, on an excursion or via water taxi.  Los Arcos marks lands end where the Pacific Oceans meets the Sea of Cortes. Guides like to say that the rock resembles a dinosaur drinking water. Do you see the dinosaur? You can see a portion of El Arco when the cruise ship come into the harbor. For the best views, I would suggest taking an excursion that includes scenic sailing past El Arco. You can also hire a guide in town to take you to El Arco via a small motorboat.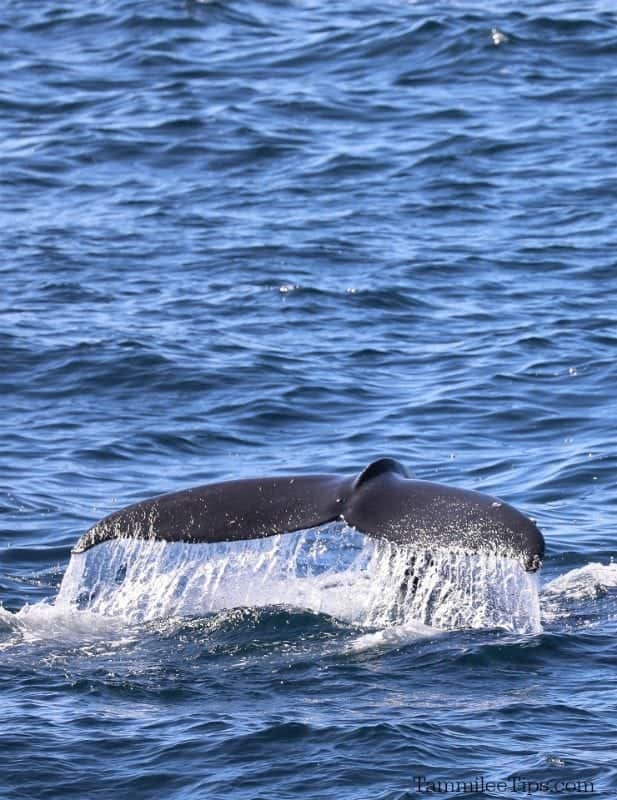 Humpback Whales – Depending on the time of year you are visiting you can view Humpback Whales off of the cruise ship or on an excursion. Check out our post on Cabo San Lucas Whale Watching for more information on this great excursion!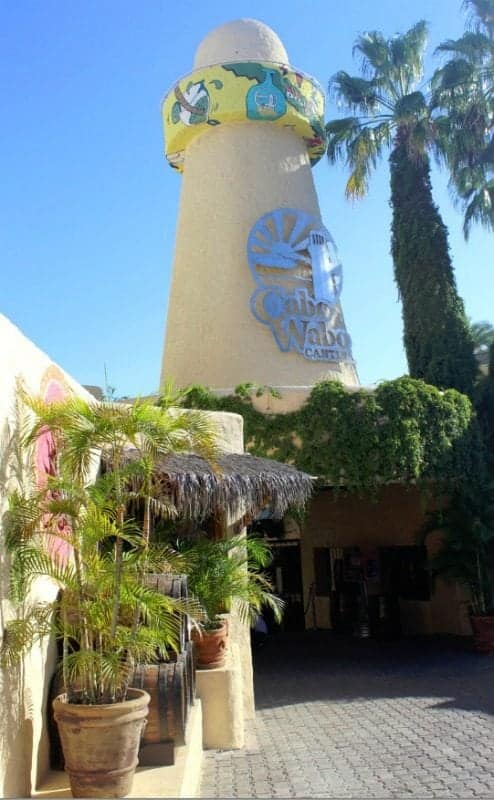 Cabo Wabo – The first Cabo Wabo is located in Cabo San Lucas and well worth a visit for any Sammy Hagar fans. You can indulge in a Can't Drive 55 and other tropical beverages.  The Cabo Wabo Cantina is a short walk from the tender port. There are ample signs in the marina guiding you directly to Cabo Wabo.
Shopping – There is ample shopping in Cabo ranging from local pharmacies to high-end shopping. You can find just about anything you need in town.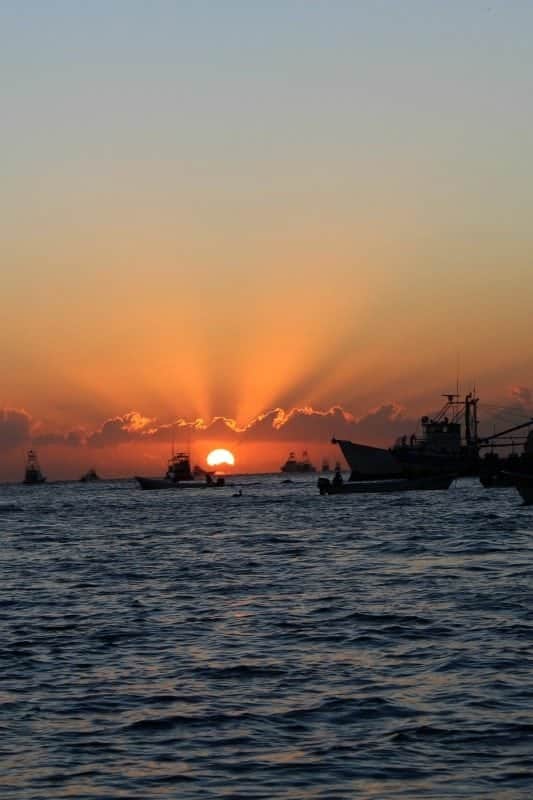 Sport Fishing – Cabo claims to be the striped-marlin capitol of the world. Take a deep sea fishing excursion while in town to see if you can reel in the big catch of the day
Sea Lions – As you tender into town make sure to keep an eye out for the sea lions following fishing boats and hopping on board for a snack or two.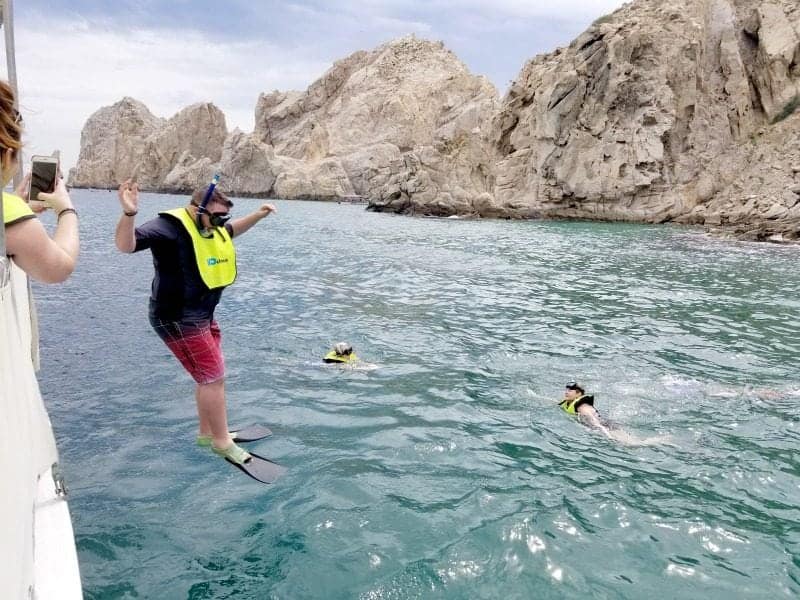 Snorkeling – There is great snorkeling really close to Cabo! In fact, it is so close you may be able to see snorkelers from the decks of your cruise ship. Check out our full post on Snorkeling in Cabo for info on this excursion.
Senor Frogs Cabo – Right near the tender stop is a Senor Frogs. During our last visit, the service was pretty slow but the drinks were cold and delicious. Senor Frogs Cabo has giant yard glasses of tropical cocktails. Give yourself time if you plan to visit in case the service is slow. It took us quite a bit of time to get our drinks after requesting them from two different servers. The restaurant is really popular since it is so close to the cruise terminal.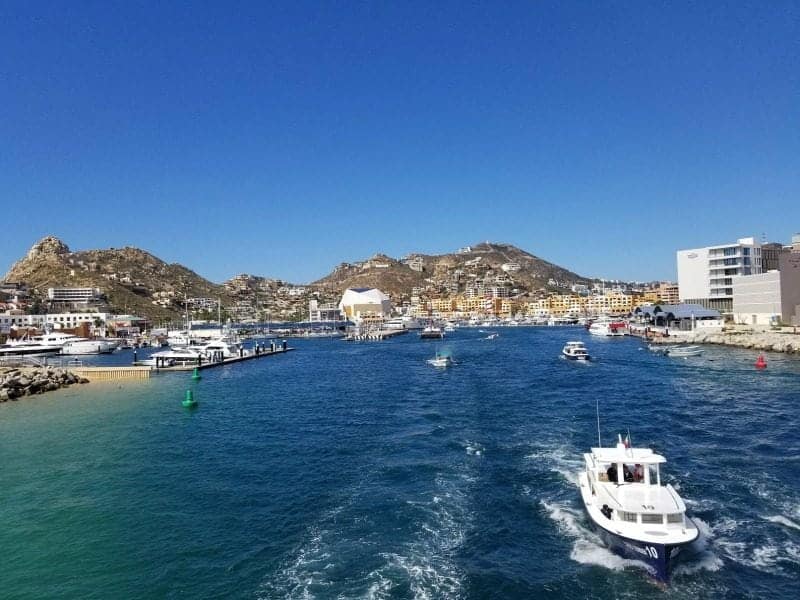 Things to know about visiting Cabo San Lucas via a Cruise Ship
Cabo San Lucas is a tender port so you will need to factor tender time into your time in port. It doesn't take more than 10-15 minutes to get to town depending on the weather.
There is a lot of shopping right in the port area. It is a 15-minute walk to get into the main portion of town.
There is a Starbucks located about 15 minutes walk from the port next to the closed down Hard Rock Café. They have wi-fi and air conditioning!
We wrote a post after our first trip to Cabo about tips for spending one day in Cabo!