Epic Cabo Cruise Guide!!! Heading to Cabo San Lucas via a cruise ship? Our goal with this guide is to make your days in Cabo San Lucas the best they can be!
Cabo is a really easy port to enjoy while cruising. You can wander around town on your own, take a great excursion, dine on fresh fish, and sip on a frosty tropical beverage all in the marina area.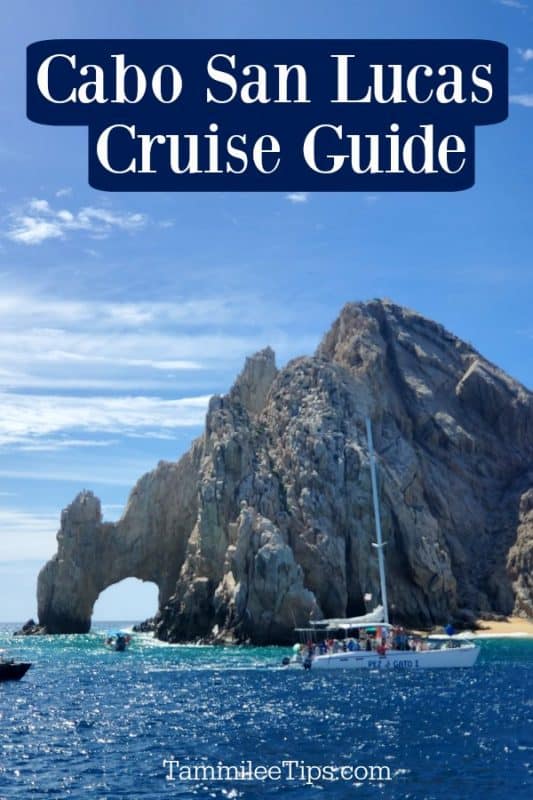 Cabo Cruise Guide
Cabo San Lucas Mexico is a tender port so you will need to factor in time for the tenders to make it into the marina.
Keep an eye out for sea lions jumping onto the back of fishing boats for a great photo opportunity. The views as you tender in and out of Cabo are absolutely gorgeous!
Cabo San Lucas is located on the southern tip of the Baja California Peninsula.
We have found that most cruises to Cabo San Lucas are in port for a fair amount of time. We like to take an excursion in the morning and then spend the rest of the day exploring the town.
Top things to see in Cabo San Lucas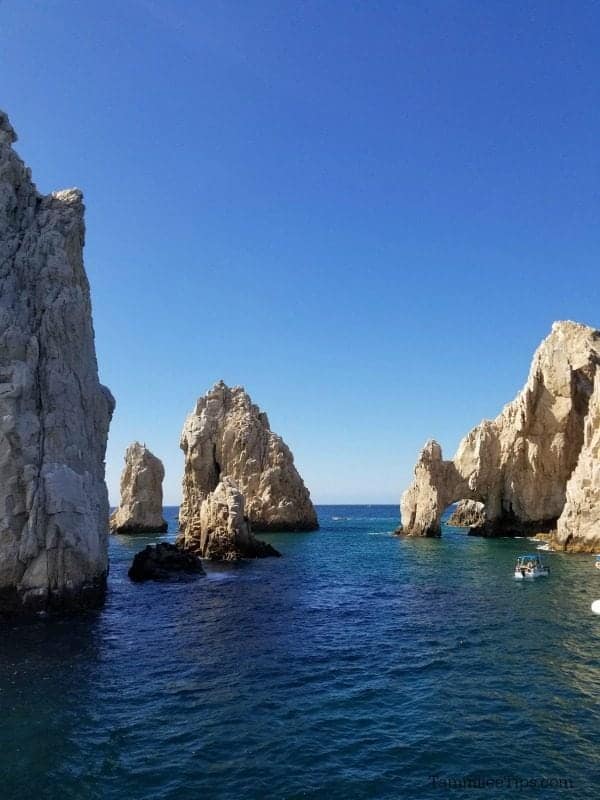 El Arco
The world-famous arch can be seen as your ship pulls into port early in the morning, on an excursion or via a water taxi.
Los Arcos marks lands end where the Pacific Oceans meets the Sea of Cortes. Guides like to say that the rock resembles a dinosaur drinking water.
Do you see the dinosaur? You can see a portion of El Arco when the cruise ship come into the harbor.
For the best views, I would suggest taking an excursion that includes scenic sailing past El Arco. You can also hire a guide in town to take you to El Arco via a small motorboat.
Keep an eye out on the rock formations for sea lions and sea birds.
If you take a local boat out to the arch you can check out Lovers Beach and Divorce Beach.
Lovers Beach is located on the Sea of Cortez while its partner Divorce Beach is located on the Pacific side.
You can relax on white-sand beaches while watching for Humpback whales.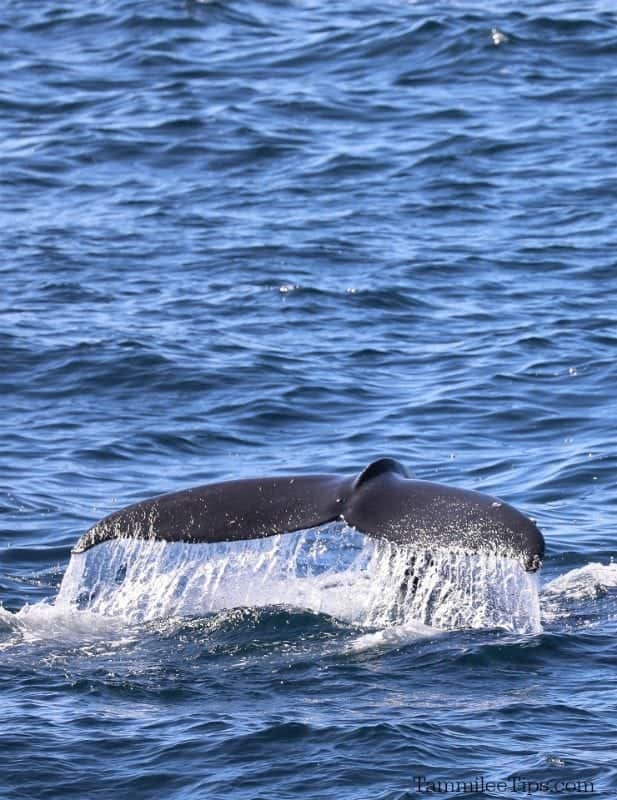 Whale Watching
Depending on the time of year you are visiting you can view Humpback Whales off of the cruise ship or on an excursion.
Check out our post on Cabo San Lucas Whale Watching for more information on this great excursion!
The best time of year for whale watching in Cabo is from January through March.
Even when the whales are not as abundant there are still dolphins and other marine life to check out.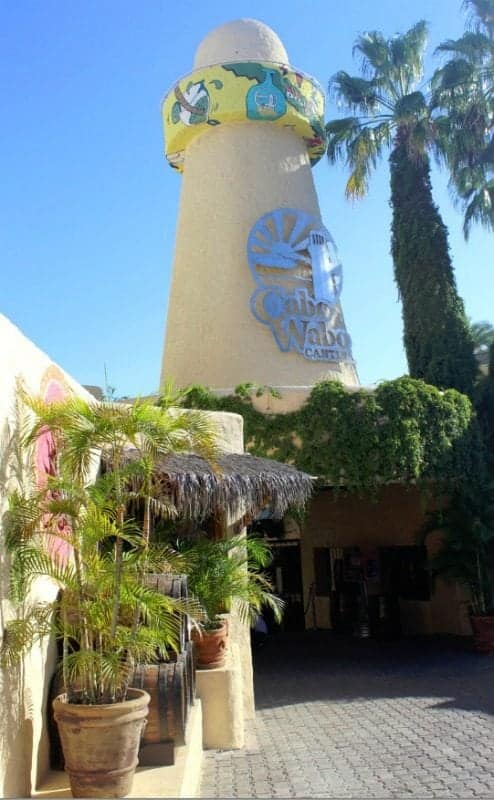 The first Cabo Wabo is located in Cabo San Lucas and well worth a visit for any Sammy Hagar fans. You can indulge in a Can't Drive 55 and other tropical beverages.
The Cabo Wabo Cantina is a short walk from the tender port. There are ample signs in the marina guiding you directly to Cabo Wabo.
If you bring home a bottle of Cabo Wabo Tequila check out how we turned ours into a fun outdoor torch- Cabo Wabo Tequila Bottle Torch.
Shopping
There is ample shopping in Cabo ranging from local pharmacies to high-end shopping. You can find just about anything you need in town.
From the tender docks, you are literally only a few minutes from shopping.  Most of the time there will be a shopping manager onboard passing out a shopping map and coupons. I always grab one to see what free coupons are included. Many times there are free charms or earrings.
If you plan on doing a lot of shopping many of the cruise ships sell a shopping coupon book. These normally include coupons for free jewelry, t-shirts, and other souvenirs. We have not bought one in years but have heard people love them.
Stores include:
Diamonds International - DI is one of the largest tax and duty-free diamond retailer in the Western Hemisphere. You can pick up a free charm in each port you visit that has a DI around the world. When you get off the ship the shopping managers have coupons for free charm bracelets.
Cabo Wabo Cantina - You can pick up Sammy Hagar's brand new spirit, Santo Mezquila. They also sell fun souvenirs.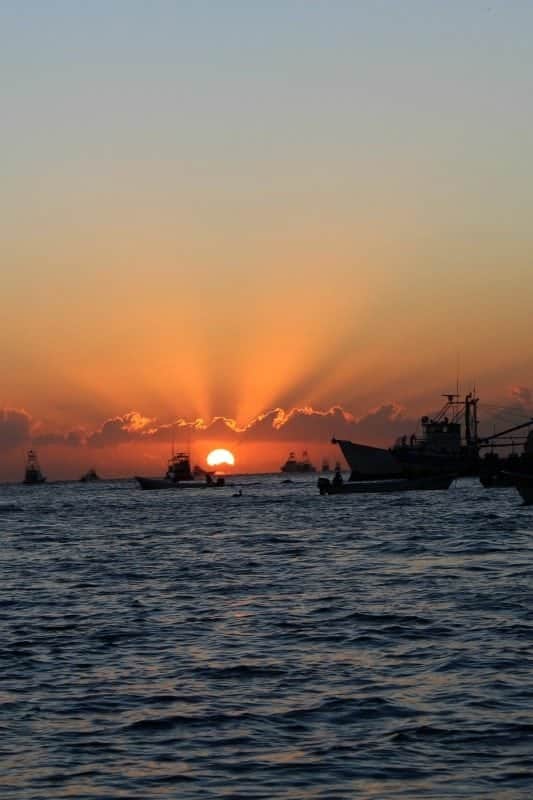 Sport Fishing
Cabo claims to be the striped-marlin capitol of the world. Take a deep-sea fishing excursion while in town to see if you can reel in the big catch of the day.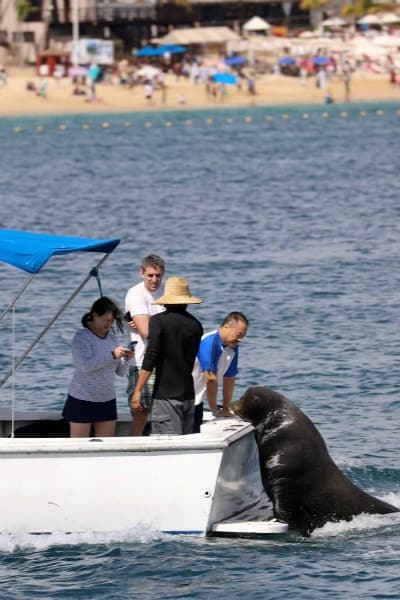 Sea Lions
As you tender into town make sure to keep an eye out for the sea lions following fishing boats and hopping on board for a snack or two.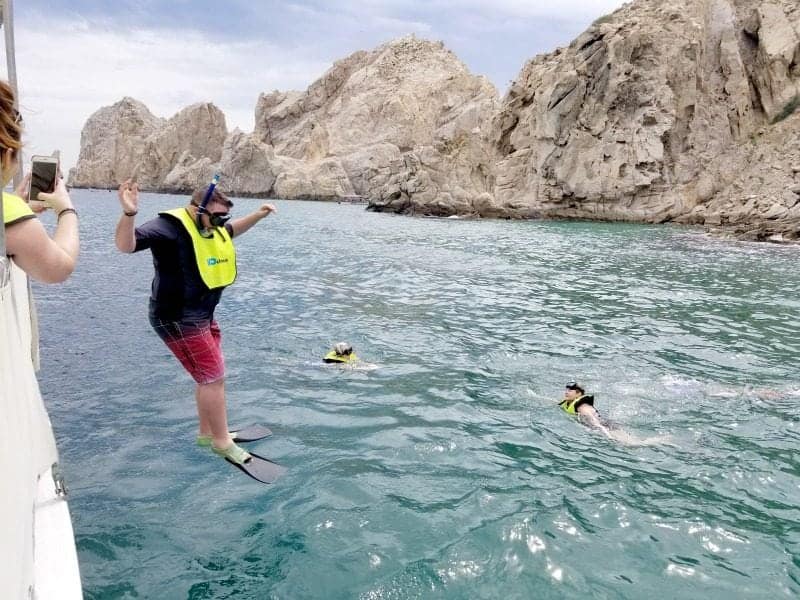 Snorkeling
There is great snorkeling really close to Cabo! In fact, it is so close you may be able to see snorkelers from the decks of your cruise ship.
Order a full face snorkel mask before your trip so you are prepared for snorkeling!
Check out our full post on Snorkeling in Cabo for info on this excursion.
There are a ton of great things to do in Cabo San Lucas with Kids!
Senor Frogs Cabo
Right near the tender stop is a Senor Frogs. During our last visit, the service was pretty slow but the drinks were cold and delicious.
Senor Frogs Cabo has giant yard glasses of tropical cocktails. Give yourself time if you plan to visit in case the service is slow.
It took us quite a bit of time to get our drinks after requesting them from two different servers. The restaurant is really popular since it is so close to the cruise terminal.
Tequila
You are in Mexico which means it is time to enjoy a bit of Tequila!
If you are planning on bringing Tequila home with you make sure you know the prices at home before your cruise.
You can enjoy tequila tasting while exploring the town and pick up a great souvenir for home.
We found the prices to be pretty good in Cabo but we always like to know what they would be at home. When you get back on your cruise they will hold your Tequila until the end of your cruise.
If you plan on bringing Tequila or Wine home with you we suggest packing these bottle bags with you. We have used them on all of our cruises and they have saved our clothes when bottles leaked on the flight home.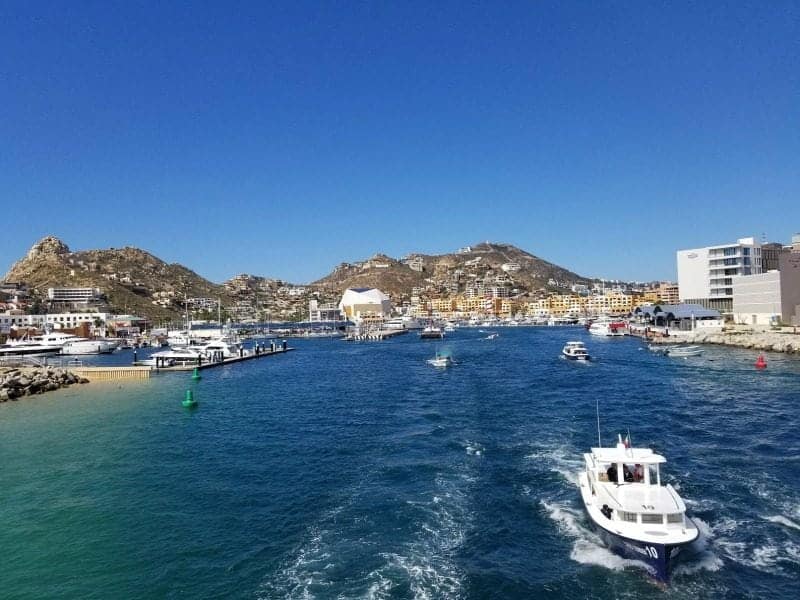 Things to know about a Cabo Cruise
Cabo San Lucas is a tender port so you will need to factor tender time into your time in port. It doesn't take more than 10-15 minutes to get to town depending on the weather.
There is a lot of shopping right in the port area. It is a 15-minute walk to get into the main portion of town.
There is a Starbucks located about 15 minutes walk from the port. They have wi-fi and air conditioning!
The marina is filled with stores, restaurants, fishing boats, and great detailed maps. One of the things I really liked about this port area were the maps that were all over the place. They clearly show exactly where you are in the marina and what is located near you. We did not have any problems walking around the port area. We were able to easily find Starbucks, Hard Rock Café, Cabo Wabo, Senor Frogs and other major sites.
When you walk along the marina you will be offered fishing trips, glass-bottom boat rides, tours of the bar and Lovers Beach. The prices for these trips were significantly lower than what we saw on the cruise ship.
There were some vendors and peddlers walking along the marina but not very many. There was a section of fence that they had items lined up on and were offering products through the fence. Near the town there is a flea market filled with crafts and souvenirs. The flea market had small aisles and was packed with products.
There is a really nice large open store near the tender pick up. I found pretty good prices on tequila, glasses, a Christmas ornament and a sombrero hat for John. The staff was really friendly. They also had T-shirts for great prices and lots of other souvenirs.
What to bring to Cabo
Check out our Ultimate Mexico Cruise Packing list for all of the things you don't want to miss packing.
Photo ID - You will need a government-approved photo id and your cruise card to get back onto the ship.
Sunscreen - Make sure you are prepared for an amazing day in the sun.
Carry Bag - Since this is a tender port you will want to make sure you have everything with you when you head into town. I like these cross body bags that leave my hands free. These PacSafe bags have anti-theft functions built-in for extra security.
Collapsible Travel Bag - I really like having these foldable bags with us while traveling. They work great for anything from wet swimsuits to souvenirs you buy in town.
What not to bring with you
Fruits/Vegetables - no fruit or really any food can be taken off the ship and brought into town.
Jewelry/Bling - Leave the bling on board in your room safe so you don't have to worry about it while in port.
Mexican Cruise Resources
Tips for spending one day in Cabo!
Puerto Vallarta by Cruise Guide
Top things to do in Puerto Vallarta 
Epic Puerto Vallarta Restaurants
Ensenada Mexico Wine Excursion