We recently enjoyed a 7 day Mexico Cruise from Long Beach, California on the Carnival Panorama.  Cruising from Long Beach is really easy and the perfect port to leave from on a Mexican Riviera Cruise.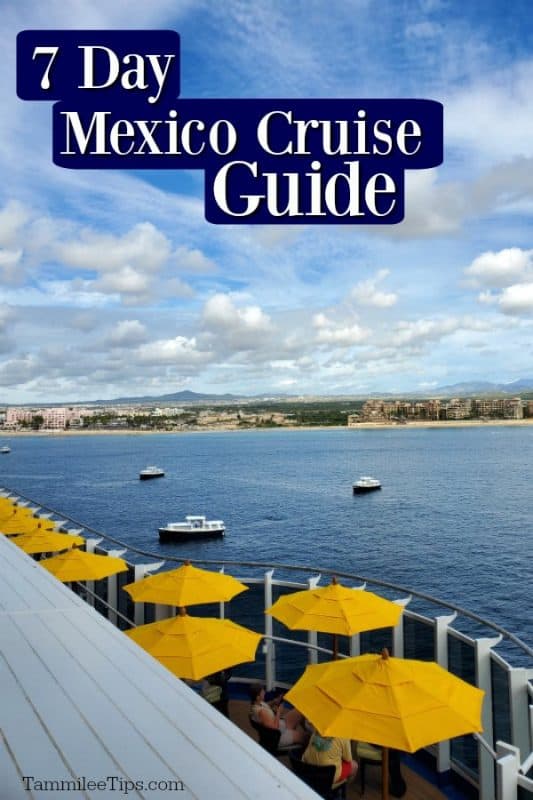 7 Day Mexico Cruise from Long Beach
The 7 day Mexican Riviera Cruise from Long Beach follows along the Pacific Coast of Baja, Mexico as you sail towards your first ports. This cruise offers the chance to enjoy world-class food, entertainment, and ports in Mexico.
We sailed as guests of Carnival Cruise Line for this itinerary and are so thankful for the opportunity. All opinions expressed are our own. We truly love cruising and a cruise to Mexico is one of our favorite ways to relax.
Cruise Itinerary
Day 1 - Embarkation in Long Peach, California
Day 2 - Day at Sea
Day 3 - Cabo San Lucas, Mexico
Day 4 - Mazatlan, Mexico
Day 5 - Puerto Vallarta, Mexico
Day 6 - Day at Sea
Day 7 - Day at Sea
Day 8 - Disembark in Long Beach

Long Beach Cruise Terminal
The Long Beach Cruise Terminal is used exclusively by Carnival Cruise Line. The terminal is inside the world's largest, free-span geodesic dome which used to hold Howard Hughes' famous Spruce Goose seaplane.
Carnival Cruise Line did a multi-million-dollar renovation in 2018 to the cruise terminal to make it even more amazing.
You will want to set an arrival time before your cruise. When you are filling out your Carnival Cruise docs make sure to pick the time you want to arrive at the Long Beach Port Terminal.
Trust me when I tell you they will only let you in when it is the time of your appointment. You are not going to be able to get past the gatekeepers even 10 minutes early! There is a waiting area inside the Long Beach Port Terminal with park benches and fun art to look at.
We sat outside and soaked up the sun for about 30 minutes before our scheduled arrival appointment.
The gatekeepers check every single boarding pass and you will not get in if it isn't your time yet!!! I honestly can't stress this enough. If you want to get on board early you may want to look at the Carnival Faster to the Fun program.
When it is time for your arrival appointment make sure every person has a boarding pass and their photo identification. Once you are past the gatekeepers the entire embarkation process is really quick.
You will wait in a short line to reach a Carnival representative. They will check your boarding pass, scan your passport and ask for your medical forms. Once you have cleared this section you just walk to the ship.
It is worth knowing that it is a bit of a walk to the cruise ship. You will go up a couple of ramps before crossing a bridge to the ship. If you or anyone in your group is not able to walk a fair distance you may want to ask for assistance getting onto the ship.
How to get to the Long Beach Cruise Terminal
We flew into LAX on a late-night flight and stayed at a hotel close to the airport. After enjoying a nice calm morning at the hotel we took an uber down to the port terminal. It was a really relaxing way to start our cruise.
The Long Beach Cruise Terminal is located right next to the Queen Mary.
Long Beach Cruise Terminal Address - 231 Windsor Way, Long Beach, CA 90802.
Long Beach Airport (LGB)
Long Beach Airport serves nearly three million commercial airline passengers annually, offering direct flights throughout the United States with easy domestic and international connections, with service by Alaska Airlines, Jet Blue, Delta, Allegiant and Frontier.
Direct flights are available to many major cities, including New York, Washington DC, Austin, San Francisco, Seattle, Oakland, Las Vegas, and more.
Los Angeles (LAX)
Long Beach Cruise Terminal is between 25-60 minutes from LAX depending on traffic. One thing about Los Angeles is you never know when traffic is going to hit. You can easily take an uber from the airport or an LA hotel to the cruise ship.
Orange County (SNA)
Orange County Airport is 25 minutes from the cruise terminal.
Parking at the Long Beach Cruise Terminal
Parking is available at the cruise terminal for $23 per day (rates subject to change).  If you are getting dropped off there is no charge to pull into the cruise terminal.
One thing to know is the garage Height Limit is 7'0"! Vehicles that need more than one space will not be accommodated in the parking terminal.  There is an adjacent lot they may be able to park in.
Many Long Beach hotels offer a stay and cruise parking offers.
Are there restaurants in the Long Beach Cruise Terminal?
There are no restaurants within the Long Beach Cruise Terminal. Hopefully, you will not need to spend much time in the actual terminal and can quickly board your cruise.
World's Largest Mural painted by Wyland
One cool bonus as you look out from your cruise ship in Long Beach is you should be able to see the world's largest mural painted by Wyland.
Wyland, completed Planet Ocean on the Long Beach Arena in 1993 with the Guinness Book of World Records certifying it as the world's largest mural. It took four weeks and 3,000 gallons of paint to create it.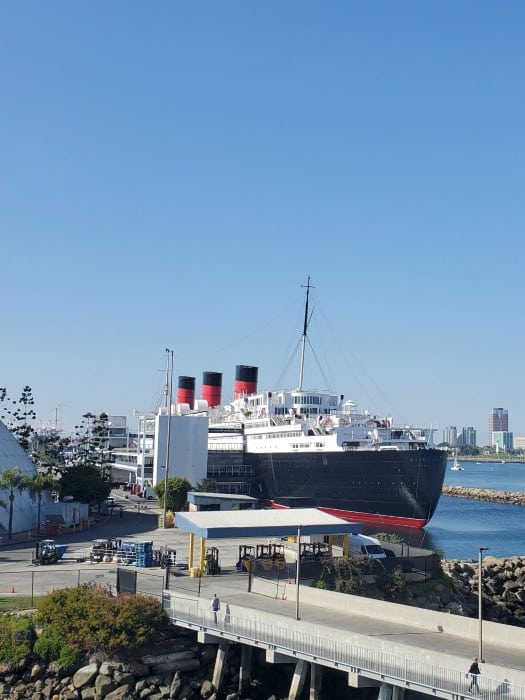 Queen Mary
The Queen Mary is docked next to the Long Beach Cruise Terminal. You can even stay on the Queen Mary if you want to before or after your cruise.
The RMS Queen Mary was the largest, fastest and most elegant ocean liner in the world when she sailed on her maiden voyage in 1936. With a gross tonnage of 81, 237 and a length of 1,018 ½ feet, you wouldn't think such a huge chunk of steel could move very fast. But from 1936 to 1952, Queen Mary held the Trans-Atlantic speed record between New York and Southampton.
Visitors to the Queen Mary can stay on board in one of 360 converted 1st class staterooms, dine in the ship's restaurants and shop on the Promenade Deck. Guided and walking tours bring back the grand history of this famous ship
Whale Watching
As you cruise out of Long Beach keep an eye out for whales! From June through October, visitors can expect to see and learn about Blue Whales, the largest animals to have ever lived on this planet.
From December through mid-May the California Gray Whales pass close by Long Beach on their annual migration from the Bering Sea in Alaska to Baja California, Mexico.
Mexico Ports of Call
These are the ports of call that we visited on our Mexico Cruise from Long Beach on the Carnival Panorama.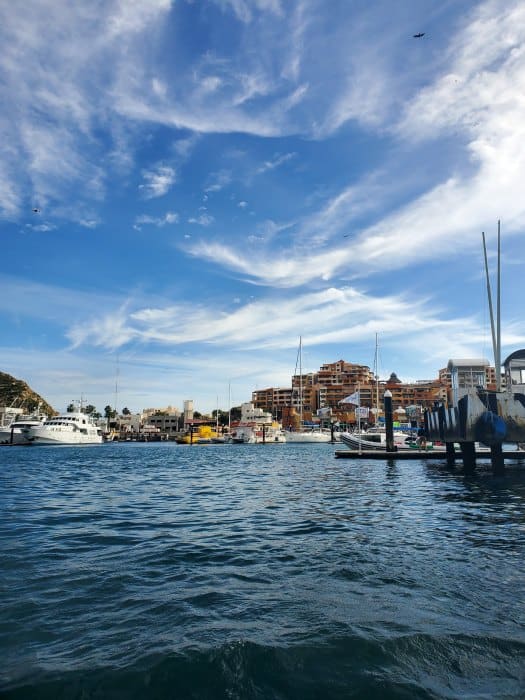 Cabo San Lucas, Mexico
Time in port - 10 am to 7 pm
Cabo San Lucas is a tender port so you will want to be prepared! If you are on a shore excursion you will be given a tender time with your excursion. If you are not on an excursion you will need to get a tender ticket the night before.
If you want to get off the ship right when the tenders start to make sure you look at the Carnival Hub App or the FunTimes to find out when they will be passing out tender tickets. You will not be able to get on a tender especially during the first couple of hours in port if you do not have a tender ticket!
If you are not worried about getting into port early I would suggest sleeping in a bit, getting a leisurely breakfast and avoiding the main elevators that go down to deck 0. Let all of the crazy excitement calm down a bit and then head into port.
During our 7 day Mexico cruise, the first water shuttle into Cabo was scheduled for 10:30 am. Please know this can be moved around a bit depending on the ship clearing Mexican customs.
Once the ship has cleared for the tender boats the cruise director will call out the tender ticket numbers over the main ship intercom. These announcements are not always made in the staterooms so make sure you are someplace you can hear all the announcements.
If you or a person in your group uses a motorized scooter or wheelchair you will want to make sure and check with the crew to find out where on the ship you need to proceed to. The crew will help you make sure you are on an accessible water shuttle.
Once you are in port you can easily wander around town or take an excursion. Don't miss the fresh churro cart in the port area! Holy Yum!
If you are on a shore excursion you can go into town ahead of your excursion you just want to know the time your excursion leaves from the port area. You will want to plan to get on a water shuttle about 45 minutes before your excursion leaves to make sure you have more than enough time.
One thing to note is the ship may stay on ship time versus Cabo San Lucas time! During our cruise, we stayed on ship time and had to make sure when our phones updated to Cabo time we took into consideration what time it was onboard.
Cabo San Lucas Excursion options:
Cabo Wabo - not really an excursion but a fun stop in town.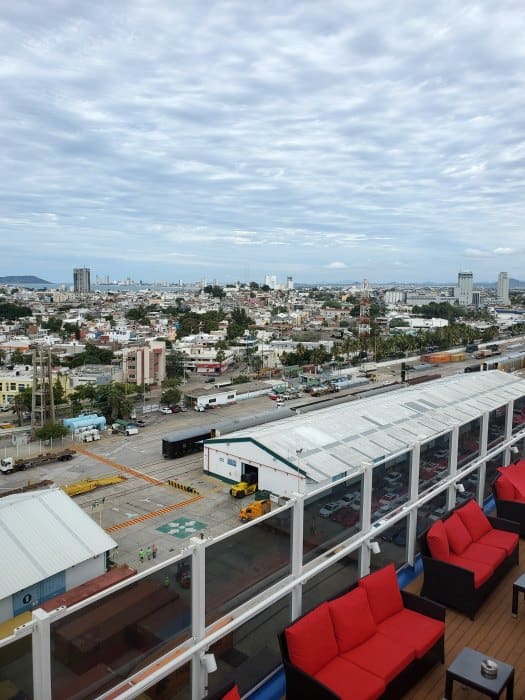 Mazatlan, Mexico
Time in port - 8 am to 5 pm
We decided to not get off the ship in Mazatlan. The ship docks in an industrial area and you can take a shuttle to the port area with taxies into town. We really wanted to explore more of the Carnival Panorama and have a chill day so we were well rested for Puerto Vallarta.
Mazatlan Excursion Options
They do offer the Salsa & Salsa excursion in Mazatlan. We took it in Cozumel and had a great time.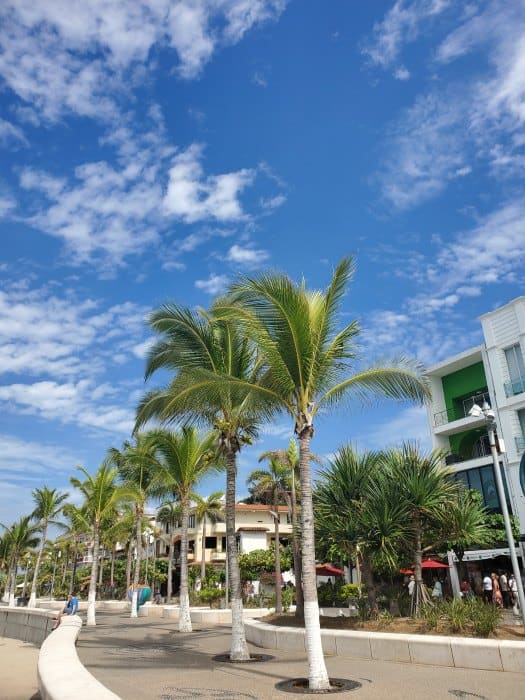 Puerto Vallarta, Mexico
Time in port - 8 am to 8 pm
Puerto Vallarta by Cruise Ship Guide
Puerto Vallarta is one of my favorite cities in the world! I was so excited our 7 day Mexico Cruise went to PV!
The ship docks approximately 20 minutes from the heart of Puerto Vallarta and the Malecon. You can easily grab a taxi or uber from the port and spend all day wandering in town.
There is a great new Puerto Mágico shopping center that has opened at the port terminal! The chocolate shop is epic!
Puerto Vallarta Excursion Options:
Give back with purpose excursion
Top things to do in Puerto Vallarta 
What to pack for a Mexico Cruise
We have an entire Mexico Cruise Packing Guide to help you pack for your trip.
Debarkation in Long Beach
When it comes to disembarkation your Mexico Cruise from Long Beach you have the choice of carrying your luggage off the ship or having your bags moved by the crew to the port terminal. It really depends on your choice and how many bags you have
If you carry your bags off the ship you need to be able to manage them on your own.
You will need to exit your stateroom by 8:30 am. You can still enjoy breakfast in the buffet dining room for set times. They will call deck numbers over the loudspeaker so you know when you can disembark.
If you have an early flight you will need to find out where you line up to be able to walk off the ship as early as possible. Make sure you have your bags with you if you plan to disembark as early as possible.
You will need your sail and sign card to disembark! Make sure you don't leave it in your cruise cabin or pack it in your suitcase.
Carnival also offers west coast Mexico Cruises that set sail from San Diego and San Francisco.