Have you ever finished a bottle of alcohol and wondered what to do with the nice looking bottle. Some alcohol bottles are so cool looking I hate to throw them out. We decided to make a Cabo Wabo Tequila Bottle Torch. I figure we paid enough for the bottle we needed to find something to do with them.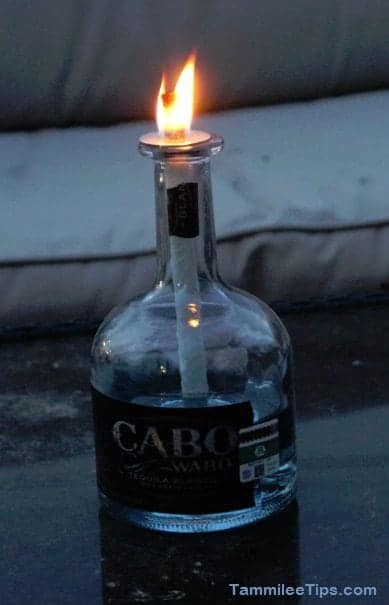 Liquor Bottle Tiki Torch
We brought this Cabo Wabo Tequila back from Cabo San Lucas thinking it would be cheaper to buy it from the source than buy it here locally.  It was a bit cheaper to buy it in Mexico but the fear of having it implode in our suitcases might have been more than the few dollars we saved. The odd shape of these bottles made it so they wouldn't fit in a bottle bag. Thank goodness for tons of ziploc bags and a few prayers.
The Cabo Wabo Tequila Bottle Torches are super easy to make and look great when lit.
These Cabo Wabo Tequila Bottle Torches are super easy to make. We just had to run to the hardware store to pick up a couple of things and we were ready to go.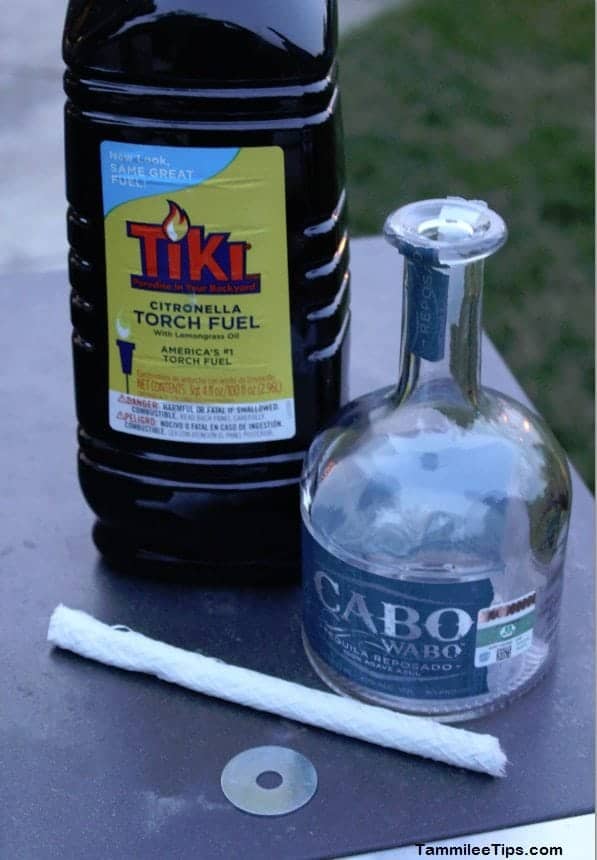 What is needed
-Cabo Wabo Bottle
-Washer
-Tiki Torch Rope
-Torch Fuel
If you can not find the replacement Tiki Torch Rope packages you can also buy a random tiki torch and just use the rope from it. We were able to find the Tiki Torch Rope in the summer section of Target.
Make sure the washer fits snug around the Tiki Torch Rope
Trim the Tiki Torch Rope so it is only a little over the edge of the Cabo Wabo Bottle
Fill the Cabo Wabo Bottle with the torch fuel and place your Tiki Torch Rope into the bottle
Allow the rope to sit in the torch fuel for a while to soak up the fuel before you try to light the Cabo Wabo Tequila Bottle Torch.
Fun DIY Projects