If you are visiting Puerto Vallarta make sure to be prepared for amazing food! Be ready to eat! There are so many amazing restaurants in Puerto Vallarta!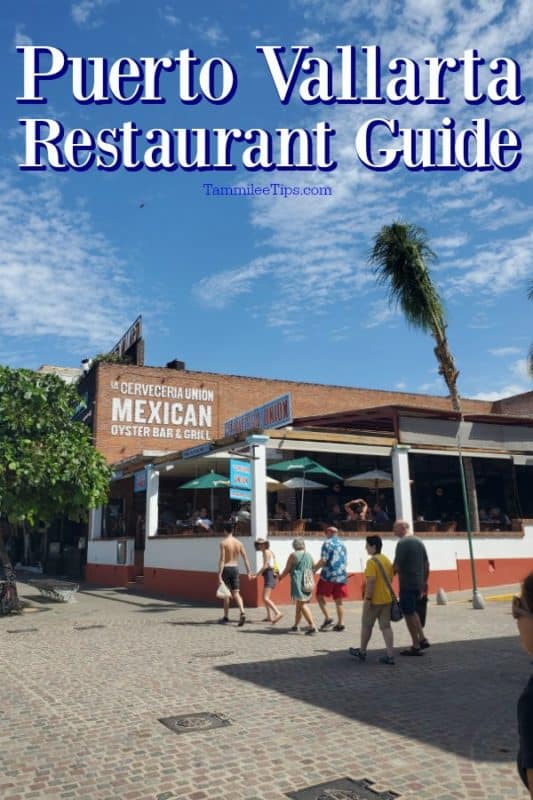 Puerto Vallarta Restaurants
It was hard to just pick this list of restaurants and not have a giant list. I wanted to make sure and highlight restaurants that I absolutely loved and can't wait to go back and enjoy.
Amazing Restaurants in Puerto Vallarta, Mexico! From taco stands to fine dining these are the restaurants not to miss during your trip!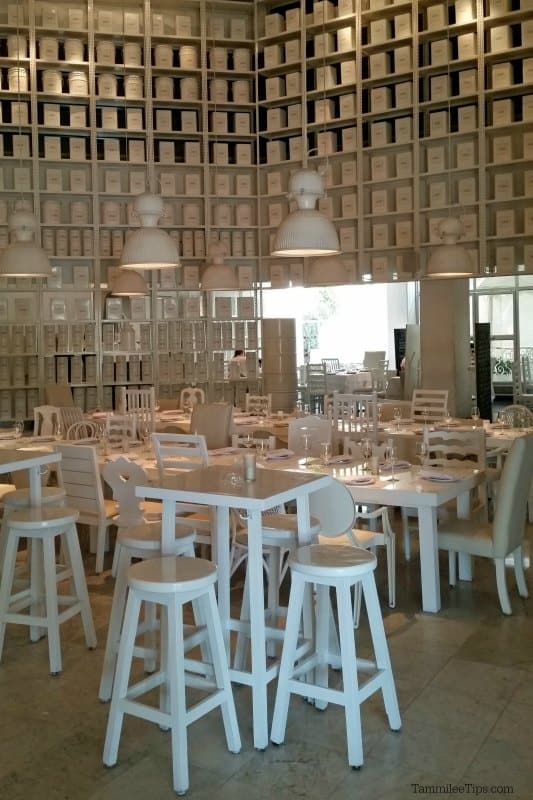 La Leche
When you think of Puerto Vallarta do you think of 5-star dining?
Do you think of a restaurant that does food differently than you expect? One that hopes to entice your taste buds into trying something different?
That is exactly what La Leche Restaurant Puerto Vallarta hopes to do. They want to take our taste buds on the ride of a lifetime while giving us an amazing dining experience.
From the moment you walk into La Leche Restaurant, you know you are in for a treat.
The restaurant is visually amazing. Everything is white on white. The white canvas is perfect for highlighting the amazing food and cocktails.
One thing to know is that the dining tables are communal. There are tables that only fit 4-6 people but the large tables in the middle of the restaurant are communal. Everyone sits together and gets to experience the amazing food that La Leche offers next to each other.
Each night the menu at La Leche changes based on the fresh ingredients the chefs receive from local vendors. The majority of the ingredients are sourced right from Puerto Vallarta.
The goal of the restaurant is to pair foods together you might not think of pairing. The night we were there they had Escargot Quesadilla. Everyone at the table said that they were fantastic.
The staff at the restaurant is highly trained and knowledgeable about the menu. They spend time each night learning the cooking process for each dish and what goes into the dish.
If you have questions about something on the menu or need more information the staff is happy to answer anything you need!
Make sure and ask your server about the upstairs club that is only available for guests of La Leche! The club features a totally different decor and vibe compared to downstairs.
You can find out more about La Leche Restaurant on their website , Facebook and Twitter
La Leche Restaurant is located at
Boulevard Francisco Medina Ascencio Kilómetro 2.5, Pablo Picasso, Las Glorias, 48333 Puerto Vallarta, Jalisco, Mexico
+52 322 293 0900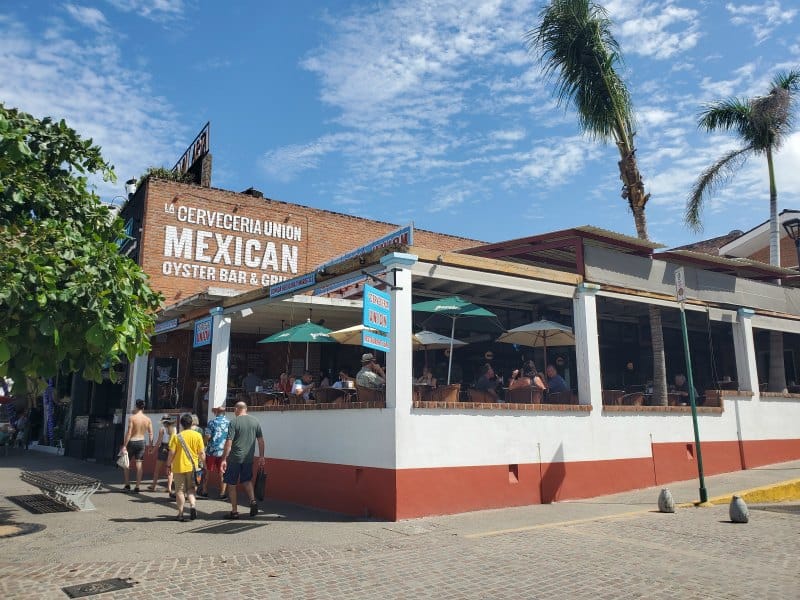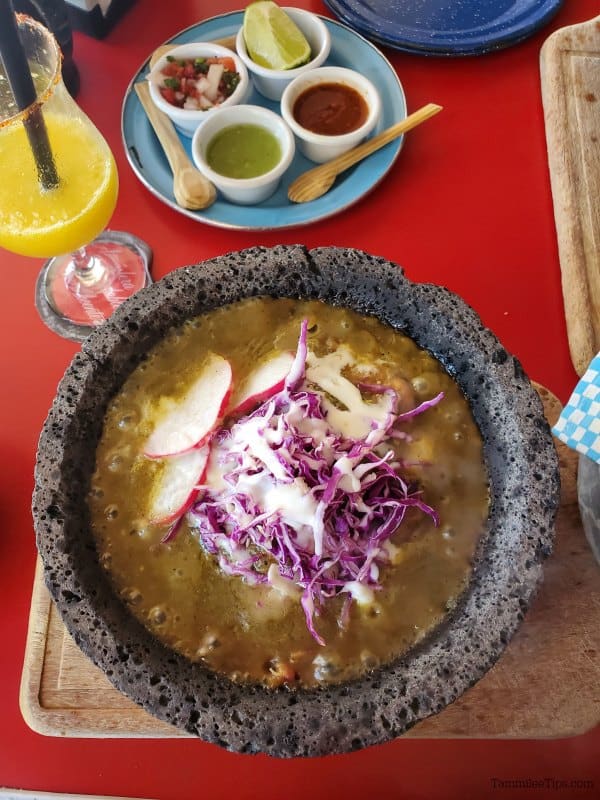 La Cerveceria Union
Located right on the Malecon in the heart of Puerto Vallarta La Cerveceria Union is one of the first beer-focused restaurants in Puerto Vallarta.
Don't worry they also have amazing food and margaritas! Please order the Molcajete Queso Verde from the appetizer menu. You will not be disappointed in this bowl of bubbling cheesy goodness.
I wasn't sure what to expect when I ordered it and I have to say it blew my mind and taste buds. So dang good!
They also have an oyster bar with fresh oysters prepared however you like them. My entire table raved about how great the food was and how much they enjoyed the restaurant.
It has an open view out over the Bay of Banderas and you can enjoy the breeze while enjoying lunch or dinner.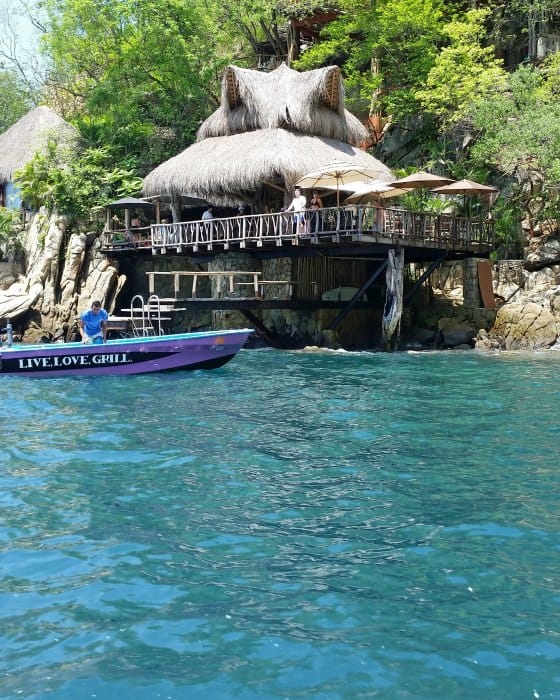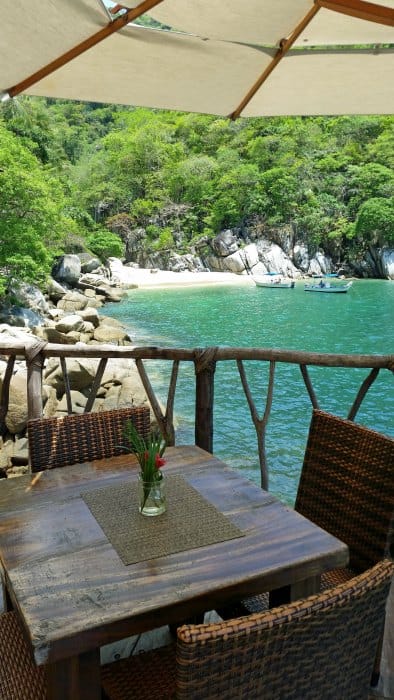 This may be one of my top 5 restaurants in the world. Only accessible by boat or hiking this reservation only restaurant will blow your mind.
I highly suggest taking a water taxi to the restaurant so you get the experience of pulling up and seeing the restaurant perched on the hill.
Bring a swimsuit so you can visit the private "island" in front of the restaurant.
Check out this post to see more photos and my review of the Ocean Grill.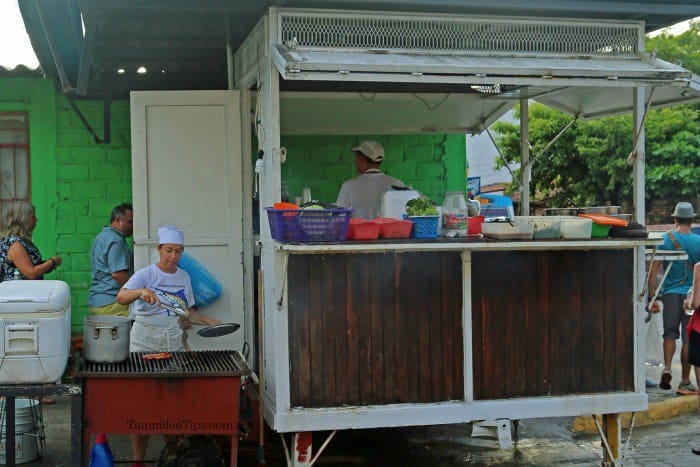 Ok, I know this is not a restaurant per se but you will eat a lot of food and not leave hungry so it works.
The PV Taco Tour takes you to 8 stops around town that specialize in tacos, also churros, and mezcal.
When you take this tour make sure you are hungry and ready to eat delicious tacos!
The Puerto Vallarta Taco Tours inspired me to make these Carne Asada Street Tacos!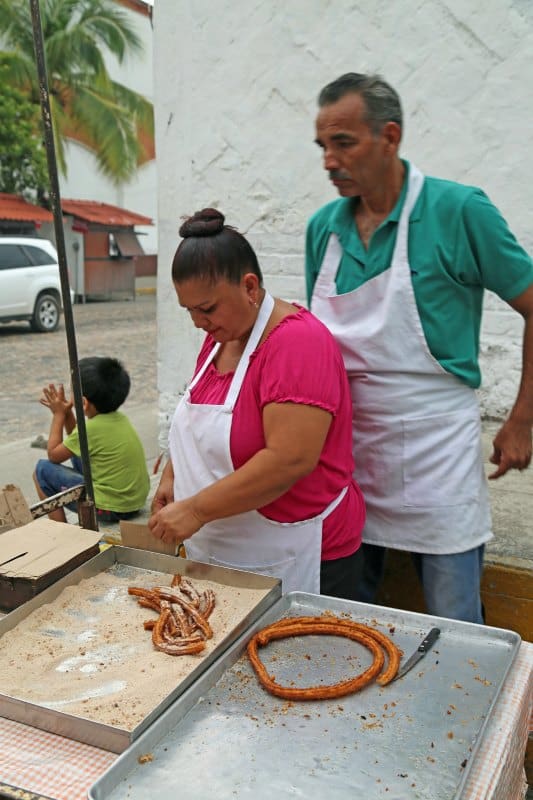 Churro Stand
During the PV Taco Tour, you visit an amazing churro stand. This churro stand is worth stopping at any time you are near it!
Trust me Costco churros will never be the same after you enjoy a fresh one on the side of the road in Puerto Vallarta

Gabby's
Gabby's is located a few blocks off the Malecon and has one of the best mango margaritas I have ever tried. They serve Mexican food that is beyond delicious!
Make sure and try the mole, John said it was very complex in flavor and delish! Also, the guacamole is meant to be shared but we won't judge if you eat the entire bowl yourself...it is that good!
These are just a few of the amazing restaurants in Puerto Vallarta! This is a city that you can visit a different restaurant for every meal for a week and still find a new one the next time you visit.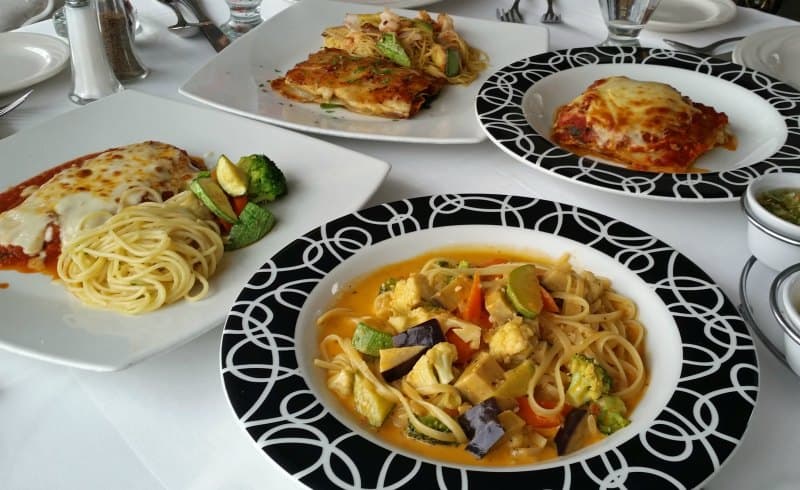 Porto Bello Restaurant
The food at Porto Bello Restaurant was truly amazing. Each course was better than the last course if that is even possible!
Every course at Porto Bello Restaurant Puerto Vallarta was delicious but dessert was truly amazing!
Basil Ice cream over fresh kiwi and passion fruit mousse! Oh my! This was the first time I have tried basil ice cream and I was not sure what to expect.
Let me tell you if you have a chance to try Basil ice cream do it! It was so fresh tasting and really light. I am sure that the calories didn't count because it was fresh herbs right?
I couldn't have an amazing meal in Mexico without having a margarita. That would just be wrong on so many levels! This strawberry margarita was fantastic. I have to admit I had a couple of them they were that good!
Now that we have talked about dessert and drinks lets dive into the amazing entrees offered at Porto Bello. We dined family style so we could all try each dish. Each of these dishes was absolutely amazing! Hello YUM!
We each kept going back for the 2nd and 3rd of each of these dishes. I highly recommend the veggie lasagna and the vegetable primavera. They were both delicious!
Last but certainly not least we must talk about the amazing appetizers available at Porto Bello Restaurant.
The view from Porto Bello is fantastic. We sat outside and had a great view of the yachts docked in the marina.
There were mariachi bands wandering the marina that you could hire to serenade your table
Find out more about Porto Bello Restaurant on their Website, Facebook, and YouTube pages!
Porto Bello Ristorante Italiano is located in the exclusive area of ​​the Marina in Puerto Vallarta, you will enjoy the magnificent view of the spectacular yachts and sailboats while enjoying a glass of wine and a good pasta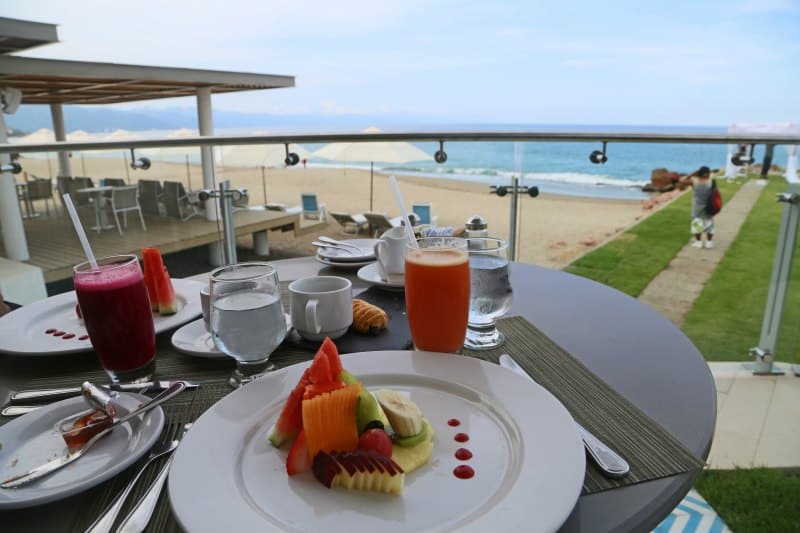 There are a couple of restaurants at Villa Premiere Boutique Hotel and each of them is amazing!
Our favorite breakfasts have been sitting at La Ceiba looking out over the Bay of Banderas. Epic food and a killer view!
For dinner, Murales is open for dinner and offers traditional Mexican cuisine with a set menu.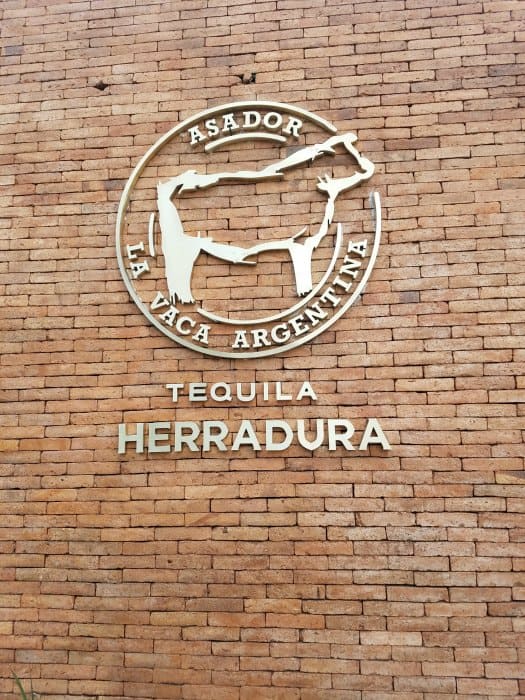 Asador La Vaca Argentina
This gorgeous Argentinian restaurant offers amazing meals in a gorgeous restaurant.
I was so impressed with each of the menu items we tried during our visit. Be prepared and make sure you make a reservation because this Puerto Vallarta restaurant is popular!
Additional Puerto Vallarta Resources
Things to do in Puerto Vallarta - All the things you do not want to miss during a trip to Puerto Vallarta.
Puerto Vallarta by Cruise - Check out what it is like to cruise into Puerto Vallarta
Puerto Vallarta Botanical Garden
Villa Premiere Boutique Hotel - Check out what it is like to stay at this gorgeous hotel right on the Bay of Banderas
Check out all of our Puerto Vallarta Travel Guides.