THANK YOU to Disney and Marvel for making my bucket list dreams come true!
I am SOOOO excited to finally share with all of you a secret I have been keeping for 9 months!
9 months is a really looooooong time to hold onto a secret let alone one that I am so excited about.
OK, here it is.......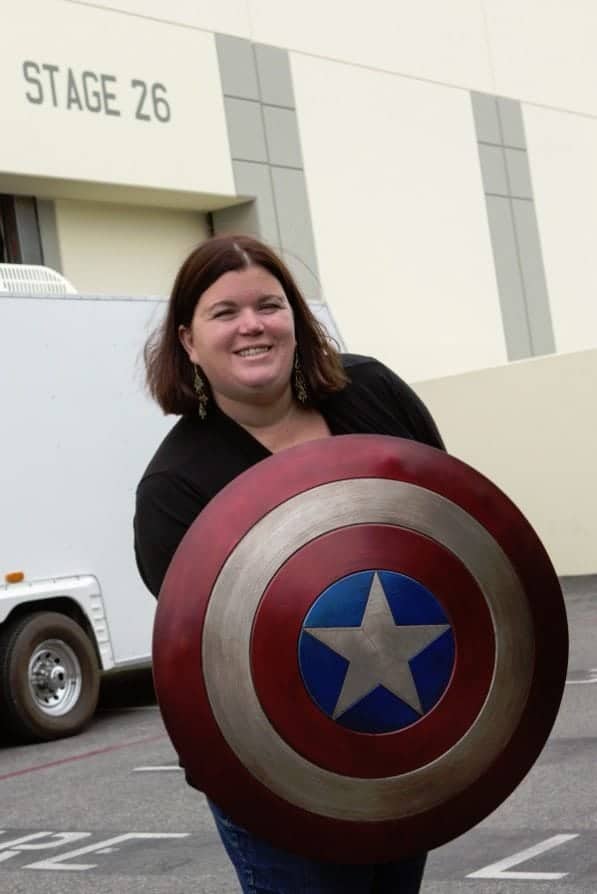 Captain America Shield and Interview with Prop Master Russell Bobbit from Captain America!
Do you remember back in April when I walked the Red Carpet for Iron Man 3 and got to interview Gwyneth Paltrow thanks to Disney and Marvel?
Well.....I also had the opportunity to do something I never in my life thought I would get to do!
We visited the set of Captain America 2 and interviewed Prop Master Russell Bobbit AND...........................
We got to have our picture taken with the Captain America Shield that is used in the movie......Yes, I squealed in excitement just a bit!
There are so many things I want to tell you about this Bucket List moment. Even 9 months later I get a bit giggly in excitement thinking about this day.
Ok first...Let's talk about the Captain America Shield
1. It is not as heavy as you would think it is
2. There are more than 1 of them, in fact, there were 50 of them made for Captain America 2
3. Not all of them are made with the same material. Some are metal, hard rubber like the one I am using and others are fiberglass and soft rubber.
4. Prop Master Russell Bobbit makes them and ensures they are perfect for the movie.
5. Yes I did see Chris Evans but that is another story for another day 🙂
Prop Master Russell Bobbit is the man in charge of all of the props you see in the Captain America movies and many other Marvel Movies!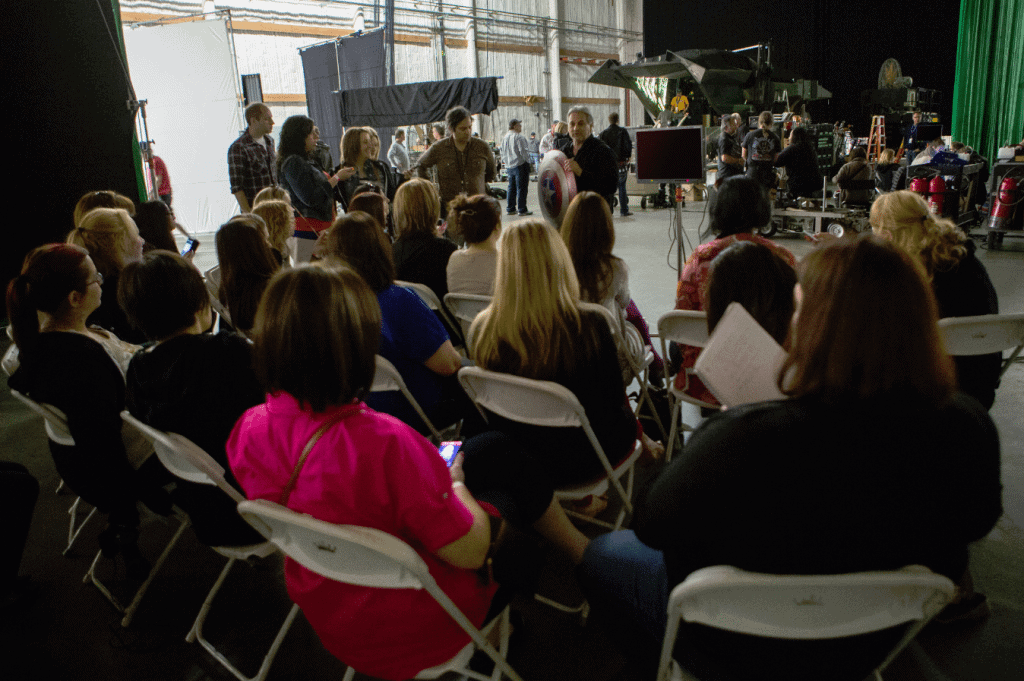 He is absolutely amazing. So humble, genuine, and friendly. He spent quite a bit of time answering our questions and sharing with us what it is like to work on Captain America 2.
Here's a hint about the movie...Keep an eye out to see if there is one shield or maybe multiple shields.........
Want to see some behind the scene pics of Captain America and the Captain America shield?
I hope you said YES! Because I am so excited to share them with you.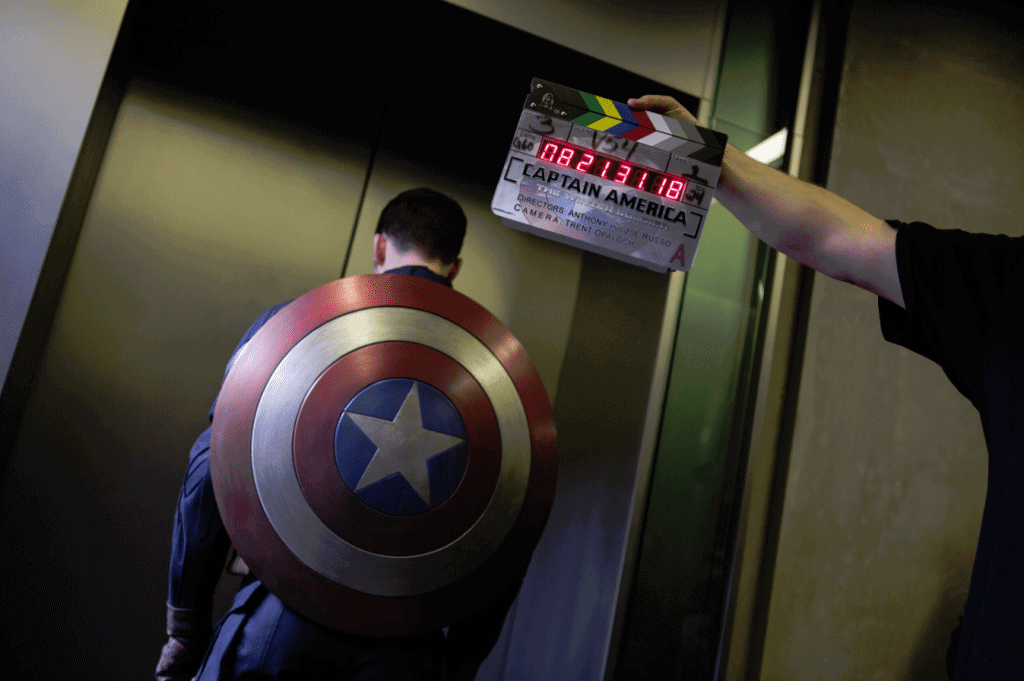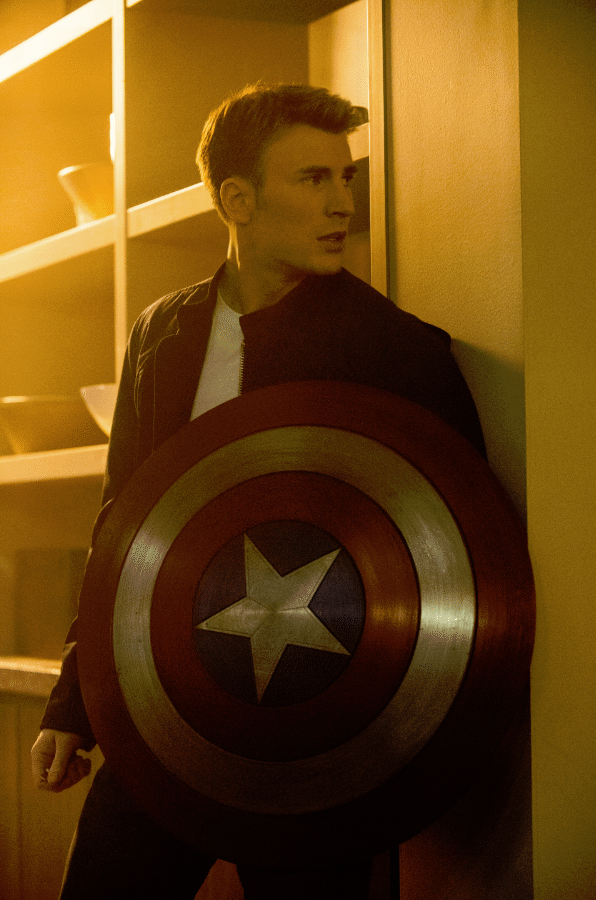 These photos were sent over by Disney and Marvel so I could share them with all of you!
Sooooo Who is ready to see Captain America 2 in theaters on April 4th?
I know I am! I can not wait to see this movie! Thankfully we are on the countdown until the movie hits theaters. I am telling myself I waiting 9 months to share my Captain America Shield Secret certainly I can wait 2 months to see the movie.....
Additional Avengers and Marvel Articles