Are you heading out on your first cruise? Are you a cruise veteran? One thing we find on our cruises is there is a very specific set of cruise terminology that is good to know before you embark on your cruise. Did you catch the cruise term I threw in there for fun?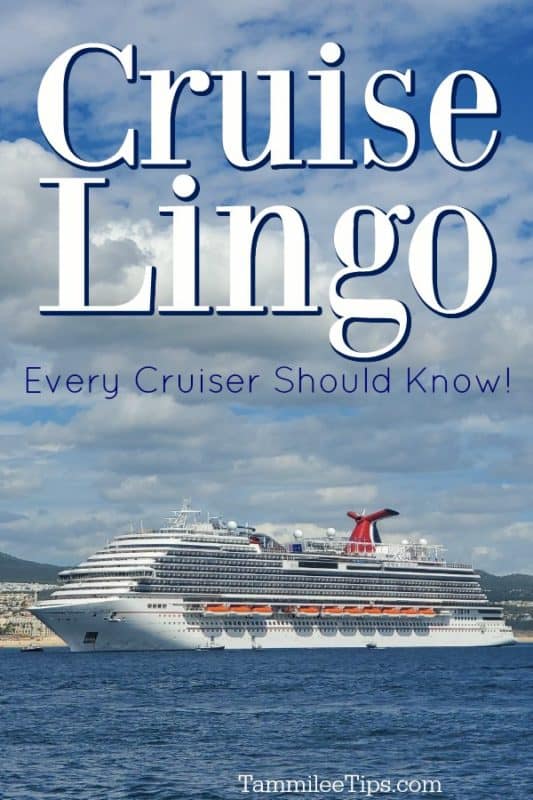 Common Cruise Terminology to know for your Cruise Vacation
Here are the Cruise terms you should be aware of while on your cruise vacation! Many of these will become second nature to you by the end of your cruise vacation others well I have to stop and think about what side is port and what side is Starboard still.
I also tend to get lost on cruise ships and forget which side of the ship our room is on but that is a story for another day 🙂
Onto our cruise vocabulary terms. Don't worry there is no test at the end!
Tender
A tender is a boat that is used to shuttle passengers from the cruise ship to the port terminal. Tenders are used in ports that are not deep enough for the cruise ship to safely dock next to land. Each cruise ship has its own rules and policies for tender days. Make sure to check out your cruise newsletter to find out how the tenders will be handled.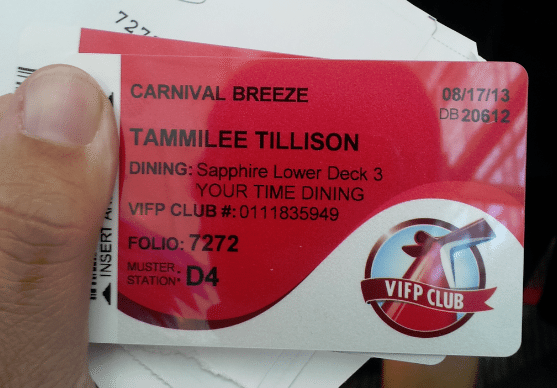 Cruise Card
Your cruise card is pretty much the lifeblood of your cruise! It gets you into your room, more importantly, it gets you back onto the cruise ship after being in port, it is your credit card on board the ship, it truly is your lifeline for the time you are on the ship.
Your cruise card is issued to you when you check-in for your cruise. You will have your photo taken by security as you enter the ship. Each time you use your card your photo will appear for security to confirm that you are the person the card was issued to.
Anytime Dining
Anytime Dining allows you to dine...anytime! There is no set schedule for any time dining as long as you stay within the posted dining hours. You can make a reservation for a set time or wander down to the restaurant when you are hungry.
We prefer anytime dining on our cruises. We like to be able to eat when we are hungry and not have to keep to a specific schedule while on board.
Traditional Dining
With traditional dining, you are assigned a set table and time for dinner. You have the opportunity to eat with the same group of people nightly.
This is a great option if you are traveling with a group, like to meet and get to know the same set of people during your cruise or like to keep a specific schedule for dining.
Muster Drill
On the first day of your cruise, you will get to participate in a muster drill. This is not an optional event it is a must-do for your cruise!
Trust me you do not want to skip the muster drill. Check out our story about muster drills to find out what happens when you do skip the muster drill. Don't worry it wasn't us.
The muster drills only take a few minutes and provide great safety information for your cruise. We always feel like we are on our cruise vacation when we attend the muster drill. I take a photo of John in his life jacket every time to start off our vacation.
Room Steward
Your Room Steward is there to help make sure your room is cleaned during the day, answer questions, and make sure you are having a great time.
We have had amazing Room Stewards on our cruises. We like to bring a gift from our local area to give to our Room Steward at the end of the cruise. Local chocolates, candy, or other treats have been great to leave as a gift.
Port and Starboard
These are directional terms used on the cruise ship. You can figure out which side is port and starboard by facing towards the front of the ship.
The Portside is the left side and the Starboard side is the right side.
Quick tip - Port has 4 letters as does left. This is how I remember which side is Port versus Starboard.
Aft - Near, towards, or in the rear of the ship
Atrium - The multi-deck open area of most large cruise ships. There is normally a bar, photo center, shopping, and guest services in this area.
Bow - Toward or in front of the ship
Bridge - This is the navigation and command center for the ship. Where the captain and their crew are located.
Disembarkation/Debarkation - Exiting the ship
Embarkation - Boarding the ship
Gangway - The ramp or steps in which passengers enter and exit the ship
Knot - Unit of speed equal to one nautical mile
Lido - The deck that features the main swimming area and outside bars and eateries
Repositioning - Cruises that move the ship from one home port to another for changes in itineraries. Example - Miami to Seattle for the Alaska cruise season.
We hope this Cruise Terminology guide helps you understand all of the cruise lingo as you get ready for your cruise vacation.
Additional Cruise Resources
1st Time Cruise questions answered
Check out all of our Cruise Travel Guides